Feb 9, 2019; Ames, IA, USA; Iowa State Cyclones head coach Steve Prohm reacts during the second half against the TCU Horned Frogs at Hilton Coliseum. Mandatory Credit: Jeffrey Becker-USA TODAY Sports
You know, for some reason, I've discovered that people tend to ask pretty interesting questions for the mailbag following excruciating losses like the one Saturday against TCU. I think it's amplified a bit this week too just because Iowa State doesn't have an early-week game to distract everyone from the current pain and suffering.
Of course everyone has different methods to dealing with losses… Some fans go full-on sadness meltdown, others get angry and throw stuff, some try to keep a level head and tell themselves that things are never really as bad or good as they seem (it's true – most of the time), and others crack jokes after the initial shock as a way of coping. I think I've fallen into each category at one point or another.
Thankfully, all of those reactions usually lead to good questions to answer in the Mid-Week Mailbag, and since we still have to wait a few more days until ISU takes on K-State in a redemption game, I'm going to do my best to provide you with some cheap entertainment in the meantime.
Bring on the questions!
clones8232: Should Saturday's game decide who I am going to cheer for to win the regular season title?
Basically what you're asking is if we should start cheering for K-State to win the whole thing if they capture the season sweep of the Cyclones.
To that, I say NO WAY JOSE.
Admittedly a loss to the Wildcats would make it much more difficult for Iowa State to grab at least a share of the Big 12 title at season's end, but we can still root for a chaos scenario. It'd be premature to drop all hope with six games still remaining on the schedule – no matter how improbable the odds are.
I hate Kansas and their streak as much as the next guy, but whichever team ends up breaking the streak will be remembered for quite a long time. Selfishly, I'd hate to see another school be the one to do it, even if it means the evil empire finally gets dethroned. There's no scenario where I root for KU, ever – though it'd sting a bit if Kansas State (or any other Big 12 member not named Iowa State) were to be the ones forever immortalized as "The team that ended the streak."
My conclusion? Root for the Cyclones until there's a 0.0% chance. After that…well, I don't want to decide.
LurkingClone (forums) asks: If you had a nickel for every time ___________ happened, you could fully fund the new ISU Sports Performance Center. Fill in the blank with something Cyclones related.
It's MATH TIME.
Cost of new ISU Sports Performance Center: $90 million.
$90 million = 1.8 billion nickels.
Hmm… What's something Cyclones-related that has happened/can happen nearly 2 billion times?
The answer, of course, is Matt Campbell, his staff, and anyone else in Cyclone Nation referencing "The Process." If I would get a nickel for every time that happened, it would give a whole new meaning to "Trusting The Process" because every time we trusted The Process, we'd get closer to that beautiful Sports Performance Center.
#TrustTheProcess #JustGotANickel
Cyched (forums) asks: The American business environment has fundamentally changed following the insider trading and savings and loan scandals. Explain business ethics, and how they are applied today.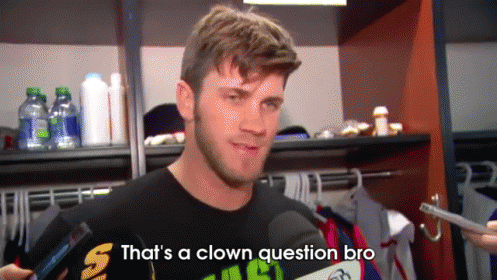 CyberJJJ (forums) asks: You have to compete in a two-on-two series. You get 1st choice for partner from the current ISU roster. Who do you pick and why?
Talen Horton-Tucker. Shot-creating ability is key in a 2-on-2 scenario and all that floor space would perfectly lend itself to THT's play making skills. I could trust him to take people off the dribble while I stand in the corner ready to jack up 3-pointers at a blistering 15 percent accuracy rate.
On defense, we'd play the innovative "dot and one" junk D, in which he hounds the ball constantly and I try to just clog things up where I can.
Sounds like a match made in 2-on-2 heaven.
Gunnerclone (forums) asks: If you had to cut one starter from our basketball team and replace them with their positional equivalent from the Iowa Hawkeyes starters who are cutting from ISU and who are you taking from the Hawks? Just to make it clean:
PG: Babb/JBo
SG: Tyrese/Moss
SF: THT/Wieskamp
"P"F: Shayok/Garza
C: Jacobsen/Cook
Forcing me to say nice things about Hawkeyes on Cyclone Fanatic? Bold move.
Of the lineup you listed, I'd immediately rule out the shooting guard and power forward slots. Bohannon has hit some big shots lately and I feel like that boosts his profile a bit, but I'd still prefer Nick Weiler-Babb's consistency. Wieskamp's shooting ability is intriguing, however I still think THT is the better overall player.
That leaves Tyler Cook over Michael Jacobson, which is my pick by process of elimination. Jacobson is one of my favorite players on Iowa State's roster and I love what he brings to the table – I just think the talent differential between he and Tyler Cook is most apparent in all of the comparisons. Cook is a good rebounder and can eat people's lunch inside on occasion using his strength.
So Tyler Cook is my final answer, which I type while gritting my teeth.
rochclone (forums) asks: Rank the Big 12 basketball coaches from #1-10.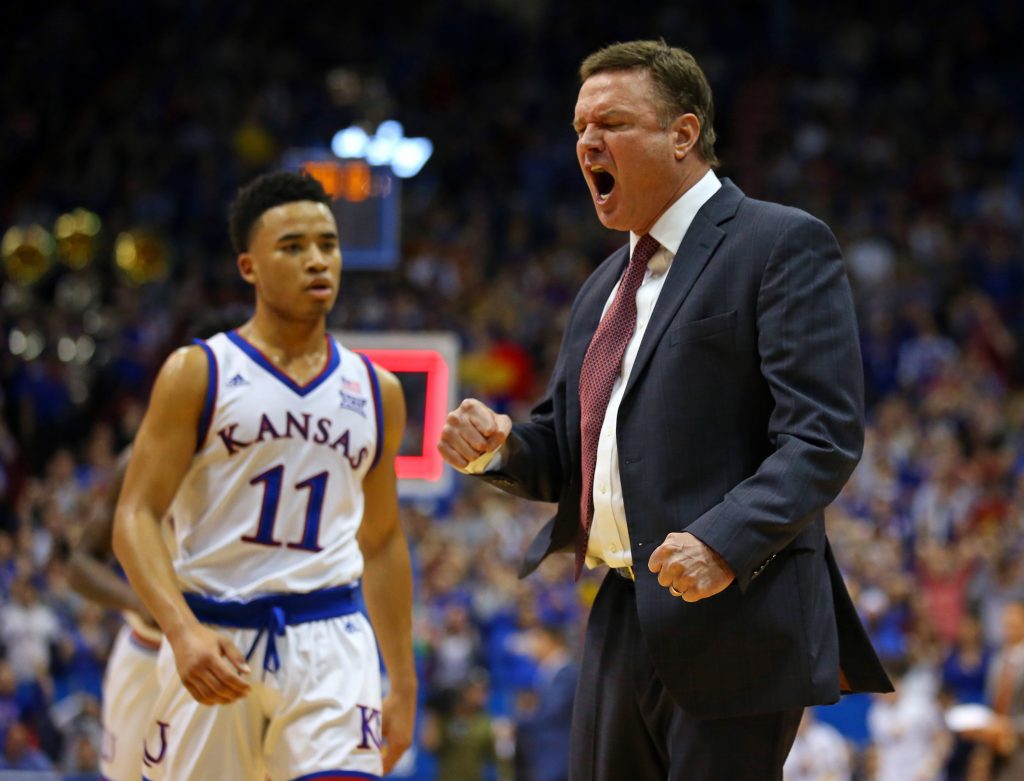 No. 1 – Bill Self. He is until he's not, suspicious recruiting tactics and all.
No. 2 – Bob Huggins. This year has been rough for Huggy but all programs outside of the blue bloods are going to have a down year or two occasionally.
No. 3 – Lon Kruger. Taking five different programs to the NCAA Tournament over the course of 30 years (including two Final Fours) is no small feat.
No. 4 – Bruce Weber. An array of gifs that feature Weber looking goofy on the sideline make me want to slot him lower, but he's solidified himself the last couple years.
No. 5 – Scott Drew. Two Elite Eights and two Sweet 16s in the past decade.
No. 6 – Steve Prohm. I'll be a bit of a homer and put Prohm here. I think you can make an argument that 6-9 are interchangeable on this list.
No. 7 – Chris Beard. The speed in which he turned around Texas Tech's program was nothing short of remarkable.
No. 8 – Jamie Dixon. Dixon has an Elite Eight appearance under his belt, but that was a full decade ago at this point.
No. 9 – Shaka Smart. It's tough to rate Smart this low because I think he could be in the top three of this list, but he's definitely underachieved at Texas and the 2011 Final Four at VCU seems more like a fluke at this point.
No. 10 – Mike Boynton Jr. In just his second year of head coaching, Boynton rounds out the list.
ZZZ (forums) asks: Let's say Iowa State's athletic department tanks and no longer has sports. Who would your new favorite college team be?
We heard and learned quite a bit about Washington State due to the Alamo Bowl matchup and I think they'd be pretty easy for me to root for, especially as long as Mike Leach is in charge of their football program. For something closer to home, Oklahoma State has always been my second favorite Big 12 school. Really, any program that isn't the "flagship" in their state would work, simply because I don't think I could get myself to easily root for any school equivalent to Iowa.
intrepid27 (forums) asks: With a presumed significant increase in betting on college sports do you foresee college programs having to put out accurate injury reports similar to the NFL?
For some reason I just don't see the NCAA willingly embracing the gambling side of things since they've tried to hold onto the "amateur" image for dear life all this time. The more they lean into letting people profit off of their unpaid athletes, the more hypocritical they will seem, and that will lead to more pressure and criticism.
College football betting will only get bigger if sports gambling gets universally legalized, but that doesn't mean the NCAA is going to accept it with open arms, even though they could probably make more money that way.
coolerifyoudid (forums) asks: You're playing a pick-up game of basketball with your fellow CF staffers. After you hit the showers, you realize you didn't bring extra clothes to change into. If size isn't a factor, whose clothes are you stealing? Conversely, whose style of dress is so bad you would rather put on your sweaty gym clothes?
Thankfully, none of the CF staffers dress in a way that I'd consider embarrassing. Pretty much everyone is comfortable rolling with jeans, a shirt, and sometimes a baseball cap.
The real determining factor would be what I'm doing after we're done at the gym… Am I going somewhere businessy? I'd probably see what Brent Blum has available. Am I heading straight home or going somewhere else casual? Jared's my age and chances are he has some kind of hoodie or T-shirt representing the 76ers available.
Thank goodness you said size isn't a factor though because I'm pretty sure I just picked out the two staffers who have the biggest size differential.
WalkingCy (forums) asks: Let's say a Genie makes you a proposition: Could you wear a Michael Myers mask for 365 days straight? All day – every day for 1 Million dollars? Ok, so if you say "sure, I can do that easy." What would be your "low" to do it? $750K? $500K? Would you grow to love it? Devoting one year of life for it? I mean, you can't take it off for anything, or the Genie will know and thus, no cash.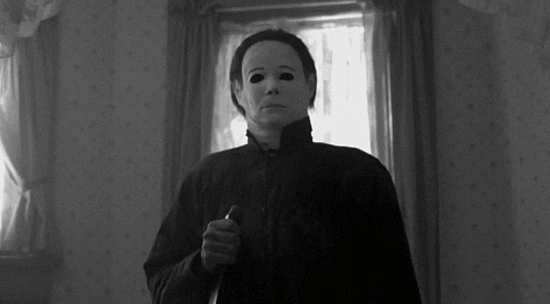 Sure, I can do that easy.
I think I'd go as low as $100K. I'd take a year off work and just stay home, doing all of my necessary shopping through Amazon and grocery stores that deliver. I don't think it'd be worth the risk going out in public because people would be freaked out by the mask even if I mean no harm. Heck, remember a couple years ago when people dressed up as clowns in public? I'd give it a month before a suburban Ankeny Can I see your manager? mom alerted the authorities about "Someone dressed up like Michael Myers endangering our children!"
Eventually I'd get stir-crazy, but then again, I'd view it as my job to stay home and play video games all day. A $100K payday at the end of the year for just keeping a mask on would be worth it.
If anyone wants to make the challenge and payout a reality, my Twitter inbox is open. Feel free to slide in my DMs.