It's Wednesday and you know what that means… That's right, yesterday was Tuesday and tomorrow is Thursday.
Alright that wasn't my best joke ever, but I also finish this week's Mid-Week Mailbag with a bad joke so I figured I'd go ahead and make a nice sandwich for you. Bad joke, questions and answers, bad joke. That's nice and symmetric.
Iowa State travels to Stillwater this week in hope of coming away with its first conference win this season. The Cowboys aren't competing at the level they've been accustomed to over the past few seasons, but they still have quite a bit of talent and the Cyclones will have to play well in order to escape with a victory.
I don't want to think of the questions I'll have to answer in next week's mailbag if the ISU offense sputters again.
SO, let's go ahead and get the pink elephant in the room out of the way today.
NebraskaCy (forums) asks: What are your thoughts on the offensive struggles? Do you still believe in the offensive coordinator by committee being successful, or has this experiment been a failure?
FinalFourCy (forums) asks: Why do people continue to think our futility on offense is due to not having an OC this year? Did they not watch the latter part of last year when we had an OC? We struggled against bad defenses then, and that was with Lazard. So, does that mean we have an even bigger issue, or is it as simple as the staff hasn't trusted the offense since Park bailed?
DandyCyclone (forums) asks: How many more Ls before Noland gets benched for Purdy/Mitchell?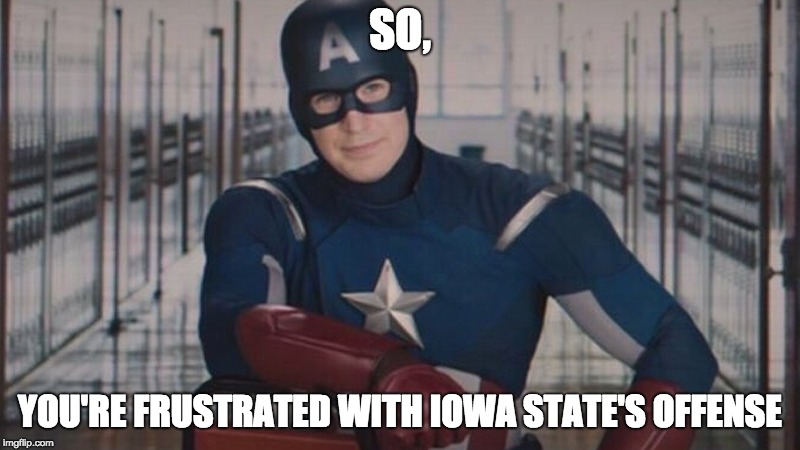 As I expressed on Twitter following the TCU game, there are multiple problems going on with the offense: the line continues to be sub-par, the play calling hasn't been spectacular, and Zeb Noland hasn't played his best lately.
That's what frustrates me when people go on a rant about how "changing X will solve the offense!"
Hiring an offensive coordinator right now and having them call plays (never mind the logistics) isn't going to help the offensive line get great at run blocking overnight or prevent the quarterback from missing a few throws. Likewise, putting in Brock Purdy or Re-al Mitchell won't drastically change the plays the offense runs. In fact, the playbook might shrink even more given those two have had less time with the program than Noland.
Given his comments on game planning following the losses against Iowa and TCU, it's apparent that Matt Campbell believes the team can lean on the run game and grind out wins that way. If that's true, I can't say I agree based on what we've seen so far. I'm not claiming to possess the knowledge of a Division I coach by any means, but you can't just run straight at the defense without some creativity involved in the play calling when your offensive line rarely gets a good push. Especially with a banged-up David Montgomery.
So if Campbell (and his conglomerate of coaches with offensive input) continues to call plays that would work much better if ISU had Wisconsin's offensive line, then that puts the players at a disadvantage, including Zeb Noland or whoever's playing quarterback.
I'm at the point where I agree something needs to change, but it's probably a few things, and making multiple changes rarely goes smoothly. If you haven't already, you should go read Jay Jordan's column this week. He does a much better job explaining what's going on than I do.
We haven't seen the last of Iowa State's offensive struggles, but thankfully the schedule gets a little bit more forgiving going forward. Even if the Cyclones' problems won't completely disappear, going against lesser defenses should help.
@5thGoal (Twitter) asks: With a slow start to the season in addition to Kempt being injured and Montgomery being day to day, do you still think we get six wins for a bowl game?
Yes. Kansas and Incarnate Word should be automatic wins. The Cyclones SHOULD beat Baylor and *gulp* Kansas State. A bowl would then require just one more win against Oklahoma State, West Virginia, Texas Tech or Texas. I'd be shocked if this team lost to all four.
Cykobabble (forums) asks: Do you foresee Kamilo Tongamoa entering the two-deeps any time this season?
No, barring injury. The ISU defensive line has been one of the best units on the roster so far. There's no reason to shake things up unless Tongamoa flashes game-breaking abilities in practice. If he had done that already, he would be playing right now despite his off-field issues.
coolerifyoudid (forums) asks: If you had to pick one Iowa State athlete, past or present, to have a drink with, who would it be? Similarly, pick an athlete that you would want on your side in a bar fight.
Georges Niang just seems like an all-around likable guy and I was able to see him play during my lifetime, so he's my pick to share a beer with. We'd be able to bond over trolling Iowa fans and I bet he has a lot of fun stories about the basketball team from his time in Ames.
As for a bar fight, Kelechi Osemele appearing behind my shoulder should be enough to scare any would-be challengers off. He's a mountain of a man, is strong as hell, and has a mean glare. Game over.
CyJeans (forums) asks: Over/under 2.5 posterizing dunks from the Lindell Wigginton and Cameron Lard combo this season?
I gotta go with the over. An improved basketball team should mean more opportunities to put guys on posters, right?
How awesome would it be to see the dunk below happen in the midst of a run against Kansas in Hilton Coliseum? The place would probably get its roof blown off.
bozclone (forums) asks: Which Cyclone basketball player do you think will be the biggest surprise this season?
Lots of people think Talen Horton-Tucker is gonna be good, so he's not eligible as a surprise at this point.
Personally, I'm going with George Conditt IV. I watched a bit of the games he played with Puerto Rico in the U18 FIBA Americas Championship and he provides a fluidity in the post that is different from what the other bigs on Iowa State's roster can provide. While Solomon Young and Cameron Lard tend to be more physical, Conditt should provide some finesse this season.
Yes, Conditt could afford to put some more meat on his frame, but his height and timing abilities should allow him to make an impact. I think he'll be a pleasant surprise for people who might have guessed he'd redshirt this year.
Another guy I could see carving out a bigger role than anticipated is Zion Griffin. He's got a Big 12-ready body and people forget that Kansas was recruiting him pretty hard up until he committed. I could see his career shaping up a lot like Melvin Ejim's.
cyclonespiker33 (forums) asks: Will we ever see the sun in central Iowa again?
Sigmapolis (forums) asks: What is the highest math class you took while in school? What is the highest sort of math that you ever USE nowadays?
The last year I took math in high school featured trigonometry and pre-calculus. I limped through those semesters like Derrick Rose circa 2012.
Statistics and basic algebra are still common in my everyday life, but I don't believe I've used a single thing from that final year of trig and pre-calc since then. If it wasn't for college requirements I probably would have stopped taking math sooner.
Speaking of math though, it's funny because I grew up in probably the last generation where teachers got to pull the "You have to learn this because you won't always have a calculator with you!" line. Smart phones quickly made that excuse obsolete.
jbindm (forums) asks: Best mayo-based salad – chicken, tuna, egg, or pasta? Sub question – best additional ingredients in chicken salad?
Chicken salad is the answer, but I'm guessing you already knew that since you included it in your sub question.
I'm not positive my mom's version of chicken salad is the most common version, but there are two ingredients in her recipe that make it a hit for me: celery and feta cheese. The celery provides a nice crunch to contrast the soft pieces of chicken and the feta cheese pairs well with the mayo base.
Now I'm craving chicken salad and might have to whip up a batch tonight. Thanks, jbindm.
B787 (forums) asks: Dream vacation. Assume money is no issue. Where are you going and why?
Well if money is no issue then my dream vacation is a never-ending trip around the world visiting all the vacation hot spots!
But… Since I assume you're looking more for a singular answer, I'll limit this to a week-long trip. In that case, I have to go with an overwater bungalow in Bora Bora.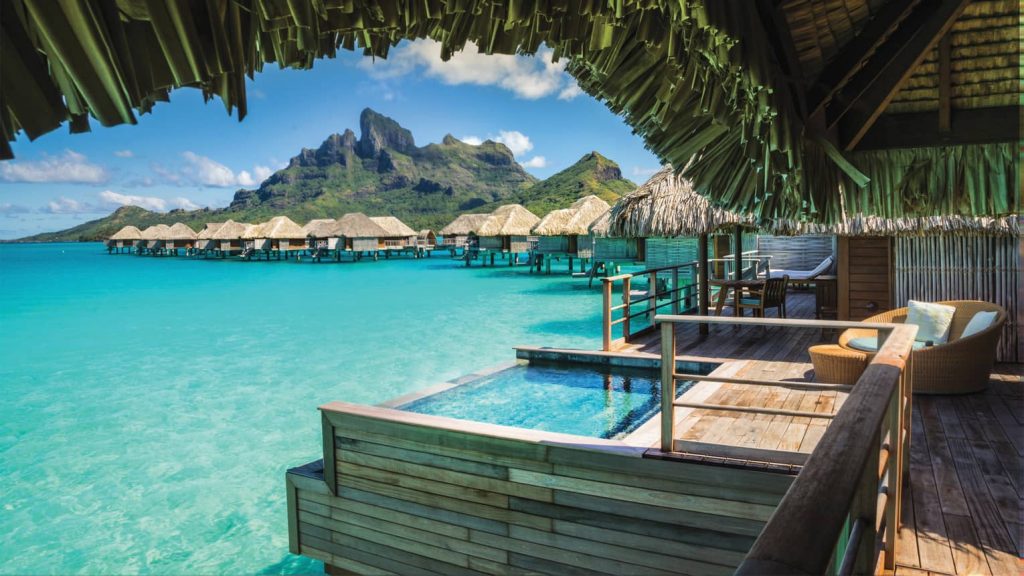 Hitting up all the locations in Europe would be cool, but that's still more affordable than Bora Bora so I'll save that for my actual life where I take cost into account. If someone else is footing the bill, I'm going somewhere that I wouldn't consider going if it was going to put a large dent in my bank account.
ISUCubswin (forums) asks: Jupiter has 79 known moons, each with a unique name such as Europa, Callisto, and Io. Saturn has 62 known moons, each with a unique name such as Titan, Dione, Mimas, and Rhea. Mars has Phobos and Delmos. Bottom line, planets have cool moons with cool moon names. Scientifically speaking, why is our moon named moon? It's like naming someone "Guy." Gross. What steps can we take to ensure our moon gets a proper name?
First step: email Jamie Pollard.
Second step: start referring to the moon in normal conversation with whatever you want it to be named. Your friends will ask you what the hell you're talking about and you can explain that the moon is now called Moony McMoonface. Urge your friends to start using this name too and get at least three of their own friends to do the same.
Third step: watch word-of-mouth marketing work its wonders.
Fourth step: ???
Fifth step: Profit.
srjclone (forums) asks: Jeff Woody laughs at F.A.R.T. jokes on his and Jared's podcast. What is your one immature gaff/joke/thing that makes you laugh no matter what, every time?
I'm a big fan of dad jokes. They make a lot of people groan but they are right up my alley humor-wise. My actual Dad introduced me to the "man with no arms and no legs" jokes at some point growing up and they still get a chuckle out of me to this day. My favorites:
What do you call a man with no arms and no legs floating in a pool? Bob.
What do you call a man with no arms and no legs floating in a hot tub? Stu.
What do you call a man with no arms and no legs on a hill? Roland.
What do you call a man with no arms and no legs stuck in a forest fire? Bernie.
I also appreciate a good pun more than I used to. Not all of them are well-done, but letting the fear of failure stop me from making puns would be a misteak.
*exits stage right to a chorus of boos*
---
That's all for this week, gang. Hopefully next week, everyone can submit questions about why Iowa State's offense waited this long to score 50+ in a game. Peace out!