Oct 27, 2018; Ames, IA, USA; Iowa State Cyclones tight end Charlie Kolar (88) and Iowa State Cyclones wide receiver Hakeem Butler (18) celebrate after the touchdown against the Texas Tech Red Raiders at Jack Trice Stadium. The Cyclones beat the Red Raiders 40 to 31. Mandatory Credit: Reese Strickland-USA TODAY Sports
Happy Halloween, Cyclone fans! I hope your kids found the house with the full-size candy bars so that you could smuggle them to work and power through hump day on a sugar high.
The Mid-Week Mailbag was off last week due to Big 12 Basketball Media Day coverage, but thankfully the wait is over. All the answers you desire will soon be given to you in a tasty package of words that contains exactly zero calories. In fact, in the time it takes you to read this article, you'll probably burn a few calories, helping to offset that miniature peanut butter cup you just wolfed down. You're welcome.
Onto the questions…
iowast8fan (forums) asks: If the Clones win the next 2 games (Kansas, Baylor), do you think they make the top 25?
I assume you're talking about the AP poll specifically since the Cyclones were ranked No. 24 in the initial College Football Playoff poll…
If Iowa State wins the next two games, then its record will be 6-3 with two top-25 wins and two of its three losses will likely be to other ranked teams. That's plenty good enough to be ranked and in my opinion, that should settle them easily into the No. 15-20 range with the potential to take a sizeable jump with a victory over Texas the following week.
BCoffClone125 (forums) asks: Given the choice that you could guarantee a win against any of the remaining opponents on this year's football schedule, who would it be and why?
Texas, simply because I think that's the toughest game left on the schedule and Iowa State SHOULD be able to beat its other remaining opponents.
Outside of the Longhorns, Kansas State is the only other option I'd consider and that's just because of the Cyclones' recent history of struggles against the Wildcats. But this year, Bill Snyder's crew hasn't looked the same and unless ISU comes out flat or the vampire works his voodoo magic, the streak should come to an end. K-State has lost to West Virginia by 29, Baylor by 3, and Oklahoma by 37. They are not good.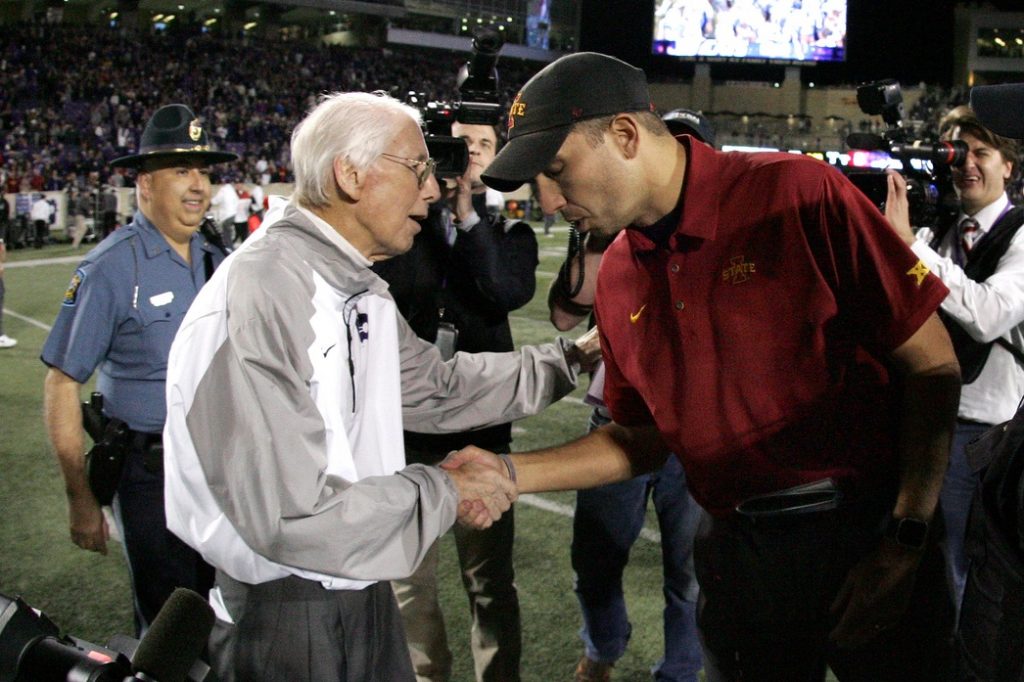 @BurnerIsu (Twitter) asks: Say ISU makes the Big 12 Championship game. And you can only go to one. You going to the bowl or championship game?
This is a great question. I think the answer has to be to attend the Big 12 Championship game.
A bigger bowl would be appealing, but the chance to play for a Big 12 title would be monumental. All bowl games outside of the College Football Playoff are glorified exhibitions anyway, right? And since ISU wouldn't really have a shot at the CFP even if they ended up winning out, I think the fan base would be best to support the team the most if they qualify for the game in Arlington.
But go to both if you can, of course.
FinalFourCy (forums) asks: Will we be able to redshirt Will McDonald and Zach Petersen or will Kamilo Tongamoa seize the opportunity to back up Matt Leo?
Kamilo Tongamoa got a bit of run in the Texas Tech game and from what I saw, he held his own. I can't say for sure what the coaching staff will decide to do, but if they think that playing Will McDonald or Zach Petersen (or any of the other redshirt-eligible players) will give the team a better chance of winning games this year, then they shouldn't hesitate to do so.
It would be different if the Clones were middling or worse, but with the way the schedule sets up, they can still make a push to win the conference and opportunities like that don't grow on trees, especially in Ames. In the words of Herm Edwards – "YOU PLAY TO WIN THE GAME."
RedBlooded (forums) asks: A lot of the national media thinks that ISU is strategically better than other Big 12 opponents, not more athletic. What is your take?
I'm glad you brought this up because I've noticed the same thing and it's begun to bother me a bit. This might have been the case for most of the last century, but the Cyclones have closed the talent gap recently and have arguably more athleticism on the roster now than they ever have.
The national perception of ISU, at this point in time, is still along the lines of "pesky team to play but still not that good." And until ISU does something more notable on the national stage (like qualifying for or even winning the Big 12 Championship game) then that perception will remain.
It's great that journalists are giving Matt Campbell credit for his coaching abilities. I just hate that it can often come off as a backhanded compliment when the "more with less" narrative is leaned on. No, Iowa State doesn't have the amount of athleticism across the board as teams like Ohio State, Alabama, or Texas do. But those programs have been college football blue bloods for decades.
Guys like David Montgomery, Hakeem Butler, Ray Lima, Marcel Spears Jr., Brian Peavy, etc. would start for virtually any team in the country. They deserve some credit too. People who have actually watched more than a quarter or two of Iowa State football would agree.
CloneinWDSM (forums) asks: You only get 1 person back next year. Would you rather have Montgomery or Butler?
If you would have asked me this question at the beginning of the year, I wouldn't have had to think twice before I said David Montgomery. Now, I think the answer might actually be the opposite.
Coming into the year everyone was confident about the team's receiver depth. Technically, most people probably still are, but Butler has proven to be a true freak of nature catching passes this season. At 6-foot-6, he can "Moss" virtually any defensive back and adds speed along with run-after-catch skills too. He's made himself money this season with his play, no doubt.
We always knew Montgomery was a beast, but what we didn't know was if the backs behind him could fill in without a noticeable dip in production. When Montgomery had to sit out against Oklahoma State and Kene Nwangwu and Sheldon Croney Jr. averaged 4.9 and 5.0 yards per attempt (on 14 combined attempts) in his place, it proved the Cyclones can get along fine even without a future NFL running back toting the rock. Nwangwu and Croney will both be back next year along with Johnnie Lang, and ISU also adds talented 2019 recruits Breece Hall and Jirehl Brock. The running back position is set for years to come.
That's why I think losing Butler would be more of a noticeable impact. Someone else could step up at receiver if he does leave early, but getting him back would be yuuuuge. And I'm saying that as a big fan of Montgomery.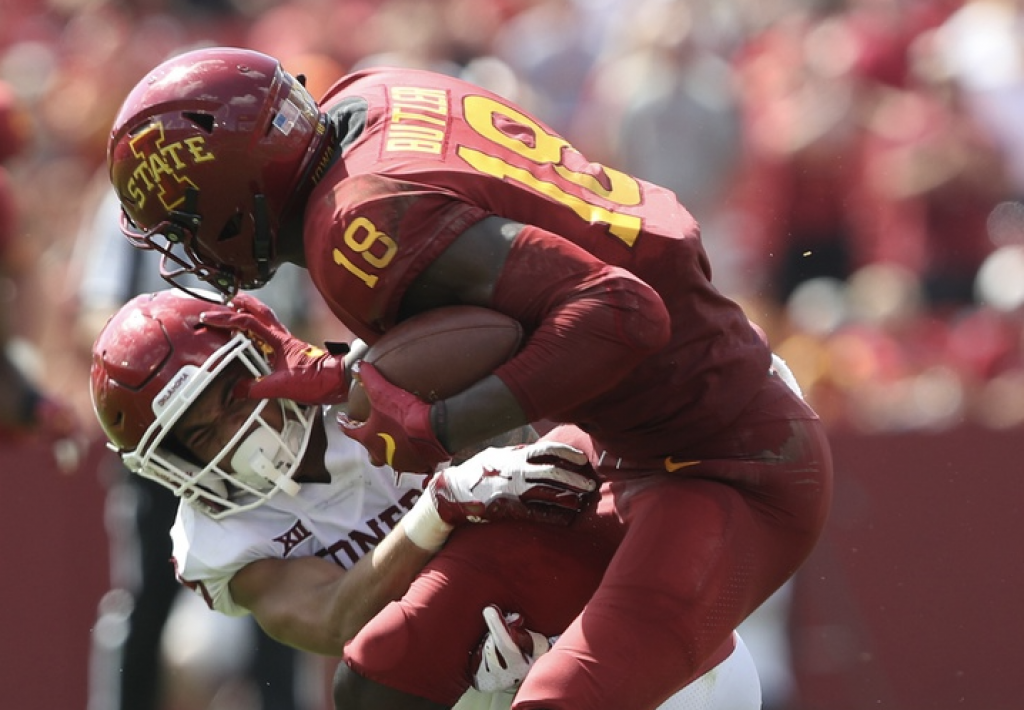 VeloClone (forums) asks: Will there be more Cyclone fans or Jayhawk fans at the game on Saturday? Do ISU fans storm the field after a Cyclone win and if so, who does Bob Bowlsby fine?
It's basketball season now, so there will be more Iowa State fans since the KU fans will have retreated to Allen Fieldhouse even though their football team beat TCU last week.
I think you know the answer to the second question.
SpokaneCY (forums) asks: Are there ANY concerns about QB depth this year?
BWRhasnoAC (forums) asks: Do you think Zeb Noland leaving is a sign Re-al Mitchell and Devon Moore are moving up the depth chart?
Without any actual insider information I would say that Zeb Noland leaving has more to do with Zeb Noland than it does with any of the backups. If the kid wants to ensure himself more playing time and he thinks he can get that at another school, then that's his choice and Iowa State fans should thank him for his service and support his decision.
Since Kyle Kempt is back in uniform and Re-al Mitchell can still play four games without burning his redshirt, the QB depth should be fine if something were to happen to Brock Purdy. I'm not concerned.
JM4CY (forums) asks: What Cyclone game HAUNTS you the most?
I answered the question about which game I would change the outcome of in a prior mailbag, but this one is slightly different to me and I have a different answer.
The one that HAUNTS me is the one that flat-out bothered me the most last year, which was the flag pick-up travesty at Kansas State. That was the most mad I've been while watching a game live in my life, and that includes all of the "Cyclone-esque" games where things turned south for one reason or another. I screamed at the TV. I punched the couch. I said words that I don't usually say in the presence of my parents. I could even hear the lamp on the table next to me thank God that we were in the basement and not near a window on the second floor.
Get you a girl who hugs you like Duke Shelley hugs @AllenLazard pic.twitter.com/f9YQHs4Qdt

— Texas Cyclone 🌪🌪🌪 (@TXCyclones) November 26, 2017
I'm desperately hoping that Iowa State gets revenge in a big way on November 24.
CyJeans (forums) asks: What are the chances that Iowa State ends up in Des Moines for the first and second round of the NCAA tourney?
As much as I would LOVE this, hasn't it been proven that the NCAA Tournament committee rarely rewards teams with first round locations near home if they aren't a top 3-seed or better?
The Cyclones should get back to the Big Dance but I'd guess they'll be more in the 6-9 seed range.
Still, everyone should buy tickets ASAP anyway. You never know!
Triggermv (forums) asks: Yay or nay candy corn???
Here is the definitive take on candy corn: It is neither good, nor bad.
Every time I eat candy corn, I bite into a few pieces and wonder why everyone seems to hate it. It's not that bad and I'd rather eat it than Tootsie Rolls or Raisinets. Then, a few pieces later, I realize it's also not that good and wish I had some Sour Patch Kids or Mike & Ikes instead.
Thus, my verdict is it's okay to serve around Halloween, but it's also the easy way out. Candy corn is cheap and cliche. I won't blame you for going that route, but I also won't commend you.
jcyclonee (forums) asks: Do you have any good Nate Stanley is fat jokes?
I used to, but he ate them all.
Blandboy (forums) asks: Does Herky wear a cup?
Thanks for giving me an excuse to post this gif from Saturday. It's clear he doesn't, which is just asking for trouble.
At least after he got racked the expression on Herky's face, possibly for the first time ever, finally matched how he really felt.
Iowa's mascot got rocked in the beans by an errant pass. https://t.co/8701cZPQX4 pic.twitter.com/eL3lXlLB3g

— Deadspin (@Deadspin) October 29, 2018
---
Until next week, witches and wizards. Thanks as always for your questions!