Jan 7, 2017; Ames, IA, USA; Iowa State Cyclones guard Monte Morris (11) controls the ball during the second half against the Texas Longhorns at James H. Hilton Coliseum. Iowa State won 79-70. Mandatory Credit: Jeffrey Becker-USA TODAY Sports
Sometimes, the right words are difficult to find.
Cyclone fans are often lauded for their passion and commitment in the well-known tale that has spawned and fueled Hilton Magic. The fans have never scored a point for an Iowa State basketball team but on a near weekly basis between November and February, every year the fans provide the sorcery that makes the unbelievable, believable.
The existence of the passion and participation in every game from fans began with Johnny Orr but has lasted through the decades because it has been deeply rooted in the relationship with the team. The relationship as we watch and cheer for them playing the game they love with the effort we so easily identify with and the off the court personalities of the guys.
It is a relationship that has transcended the last seven head coaches, more than 250 players, and withstood the test of time and even losses.
There are numbers to try and put their legacies in context, both individually and their team accomplishments…
-There have been 132 players in Iowa State history that have made a 3-point shot totaling in 5,743 made. To date, Matt Thomas, Naz Mitrou-Long, and Monte Morris have made 626 of them; three players have made 10.9 percent of ALL 3-pointers in school history.
-The total senior class has scored 1,908 points of the 2,343 team points this season. 81.4 percent of this team's points has come from the senior class, a number topped only by the legendary class of 1995 that scored 2,097 of the team's 2,153 points—an astonishing 97.4 percent.
-By the end of this week, Iowa State will have played 113 games as a ranked team in the past four seasons and the Cyclones have only played 145 other games in school history as a ranked team.
-The past 113 games as a ranked team covers the last four seasons but from 2012-13 going backward, to amass the next 113 games that ISU played as a ranked team you have to cover a span of 21 seasons all the way back to 1991-92.
-By the end of this week, the Cyclones will have been ranked for 11 games this season. That may seem unimpressive, but 11 games as a ranked team in a single season is still the 11th most in school history.
-Previous to the 2013-14 season, the Cyclones were 29-140 vs. top 10 teams. In the past four seasons, the Cyclones are 9-10; more than 31 percent of all wins vs top ten teams in program history have happened with Monte Morris, Matt Thomas, and Naz Mitrou-Long on the court.
-As of right now, the past four seasons have amounted to 96 wins and just 38 losses overall and in conference play, 45 wins and 26 losses. By win total and winning percentages, those numbers are very much in the elite level of Cyclone Basketball lore.
But there simply are not the right words in the English language to encapsulate four and five years of memories.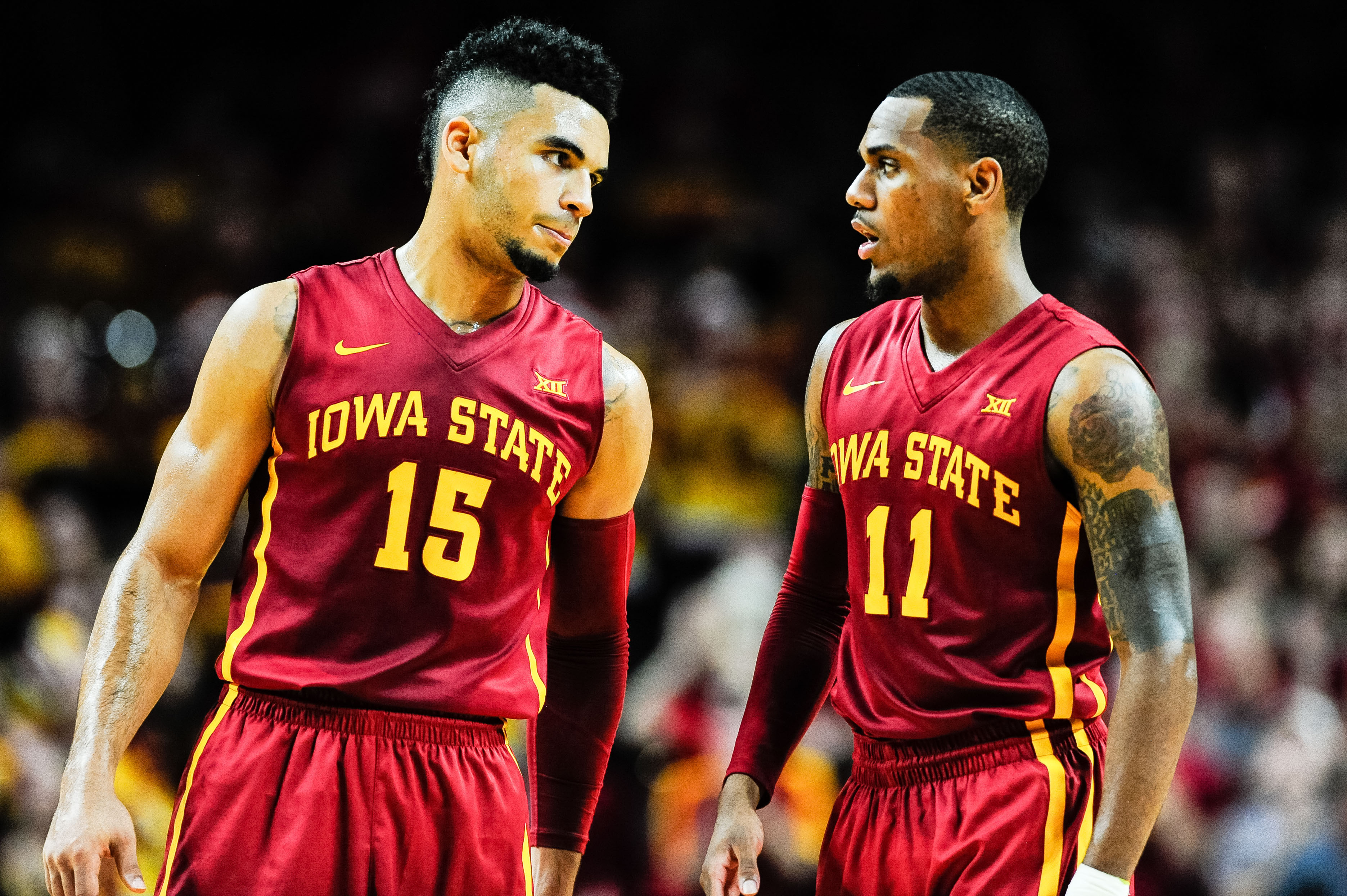 Maybe you remember Monte Morris for his game winning shot against Texas or the smooth floater against Iowa to seal an improbable comeback against the in-state rival.
Maybe you remember the countless lobs he has thrown, the sweetest dime I've ever seen that he dropped against North Carolina Central in the NCAA Tournament when he threaded a one touch pass that he gathered at half court to a breaking Melvin Ejim in transition that bounced perfectly through two defenders…
Maybe you remember the countless big shots that Naz Mitrou-Long has hit in the clutch. Fittingly against Oklahoma State or maybe against North Carolina when the odds seemed so bleak – down eight with the minutes waning to reach the Sweet 16 – Naz hit three gigantic 3-pointers to spur a comeback that turned out to be an omen and perfect summarization of his persistence and career path that was yet to unfold, but is now well-known.
Maybe you remember Matt Thomas and his game sealing steal and dunk against Kansas in Hilton last season or for exploding for seven 3-pointers twice this season or any one of his 240 career made 3-pointers.
I still remember the first Matt Thomas 3-pointer assisted by Monte Morris that came in the second half of the first game of their careers against UNC-Wilmington. Monte pushed up the middle of the floor and hit Thomas on the left wing for a transition bomb. It was the first of many but at the time it seemed like we had so much time.
Each of the seniors has their own story, all different, yet all woven together though the fabric of Iowa State basketball. Perhaps this senior class is more special because every fan and observer has someone that they can relate to personally, not just through basketball, but through life.
Deonte Burton has a game as flashy as his pink shoes that he wears in honor of his mother, has continued to work to find his perfect niche as an imperfect player.  His game is the exact opposite of his quiet and unassuming personality.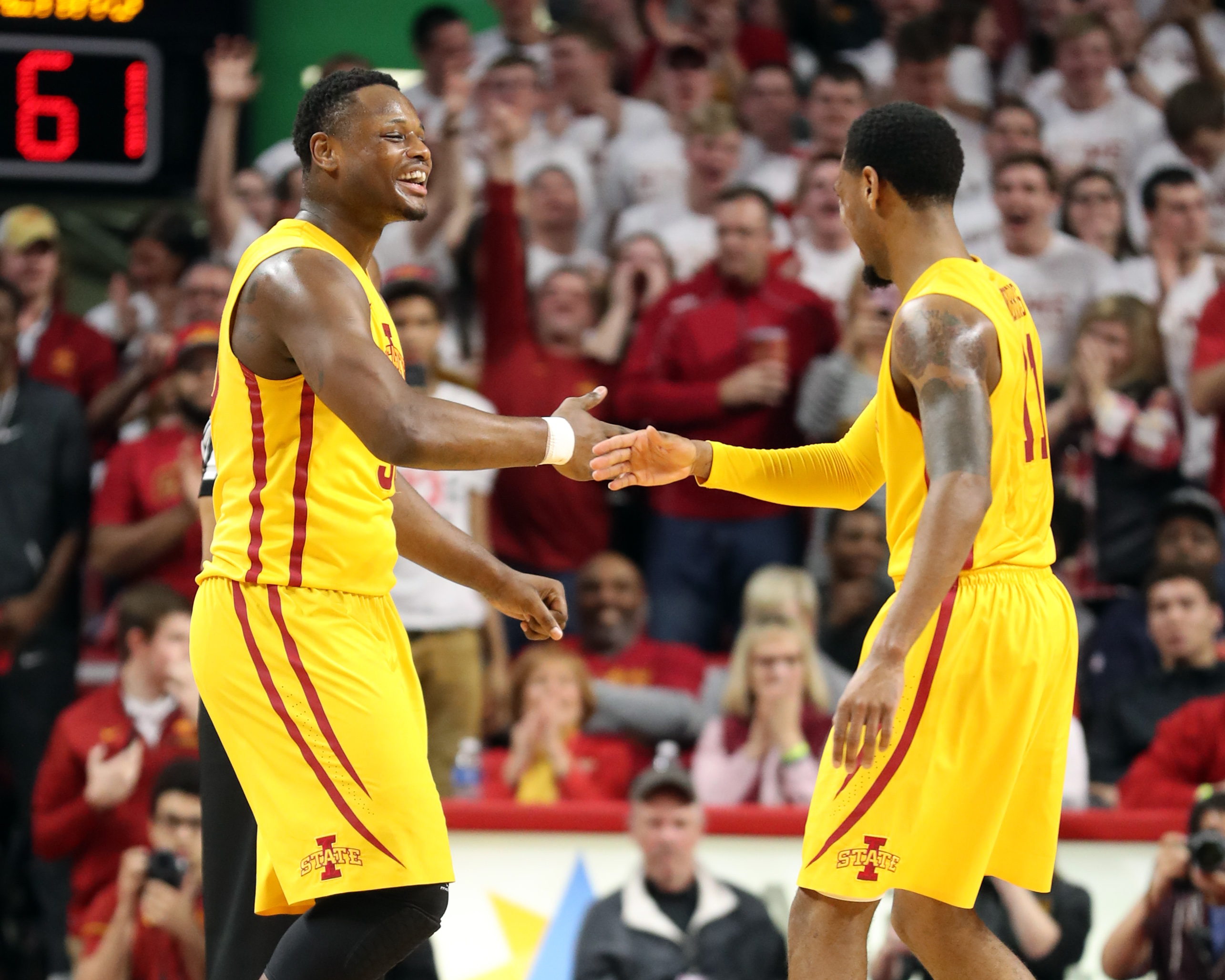 He's been asked to guard guys with huge height advantages and an immeasurable experience advantage of playing on the block. But he's used his wide frame, his freakish reach, and quickness to torment larger guys as he's wreaked havoc on both ends of the court.
Offensively, he's always been a dynamic mismatch that could single handedly transition from a snowball rolling down a hill to an avalanche taking over a game. But in his last month he's raised his floor as his decision making and shot selection have improved. He's become a playmaker capable of setting up his teammates and registered 10 assists against West Virginia. He has slowly become a player of consistency that can impact the game in many ways instead of one that lives on flashes of brilliance.
Monte Morris has played in 134 games at Iowa State and averaged 34 minutes per game and throughout much of that time he has been the primary or secondary ball handler heavily involved in the offense. In 119 of those games he had two turnovers or less.
He's made thousands, if not millions of decisions with the ball in his hands and he only has 152 career turnovers to his name. In 2006-07, Mike Taylor had 168 turnovers and Jamaal Tinsley had 156 turnovers in the 1999-00 season alone.
He has been the steady hand and the calming force to settle his teammates and comfort the fans just by taking care of the basketball. When things got hectic he took control. At the end of the game when we needed big shots, he often delivered. A big corner 3-pointer in Stillwater as a freshman or in a late run to topple North Carolina in the NCAA Tournament or the eventual game winner versus No. 1 Oklahoma in 2016 comes to mind.
He came in a scrawny kid from Flint and has done nothing but make winning plays when they were needed the most. That was never more apparent that his steal with eight seconds remaining in his Hilton farewell last night.
Naz Mitrou-Long may be one of the most improved players from freshman year to senior year in the history of the program. As a freshman, he couldn't get off the bench but by his sophomore year he carved out a specialty that forced coaches to play him. Since then, the work hasn't stopped and the evolution of his game has continued.
Not only that, but he has been the heart and soul of the program, even when he has been sidelined with injury. His mental approach to the game that is on display for all of us to see that oozes with positivity and the attitude to keep grinding no matter what comes your way.
His charisma off the court as an ambassador to the university and as a guy that will go out of his way to make a fan smile with an autograph or a picture has made him one of the most special Cyclone personalities that I can recall.
If the Matt Thomas story was written two or three years ago, it would look a little bit different. He was a highly-touted recruit with lofty expectations. Those expectations were slower to come to fruition than many wanted as he struggled to find his role and fill his role. Then there were the troubles off the court.
By the time his junior season arrived Iowa State had a loaded team that entered the season in the top 10. Through the first eight games he had an important role playing from 20 to 28 minutes, but then Naz Mitrou-Long was sidelined with his hip injury. The rest of the season he played less than 34 minutes just three times. Last season wasn't the Final Four run that was dreamed at the start of the year but the reason it was salvaged after Mitrou-Long's injury is largely due to the emergence of Matt Thomas. I don't think he ever got the necessary credit for what he did to help his team in that season.
His personal tragedies he experienced growing up that are now known (but weren't until the start of his junior season) and no doubt shaped him as a person before he ever got to Ames but likely propelled him to be even greater.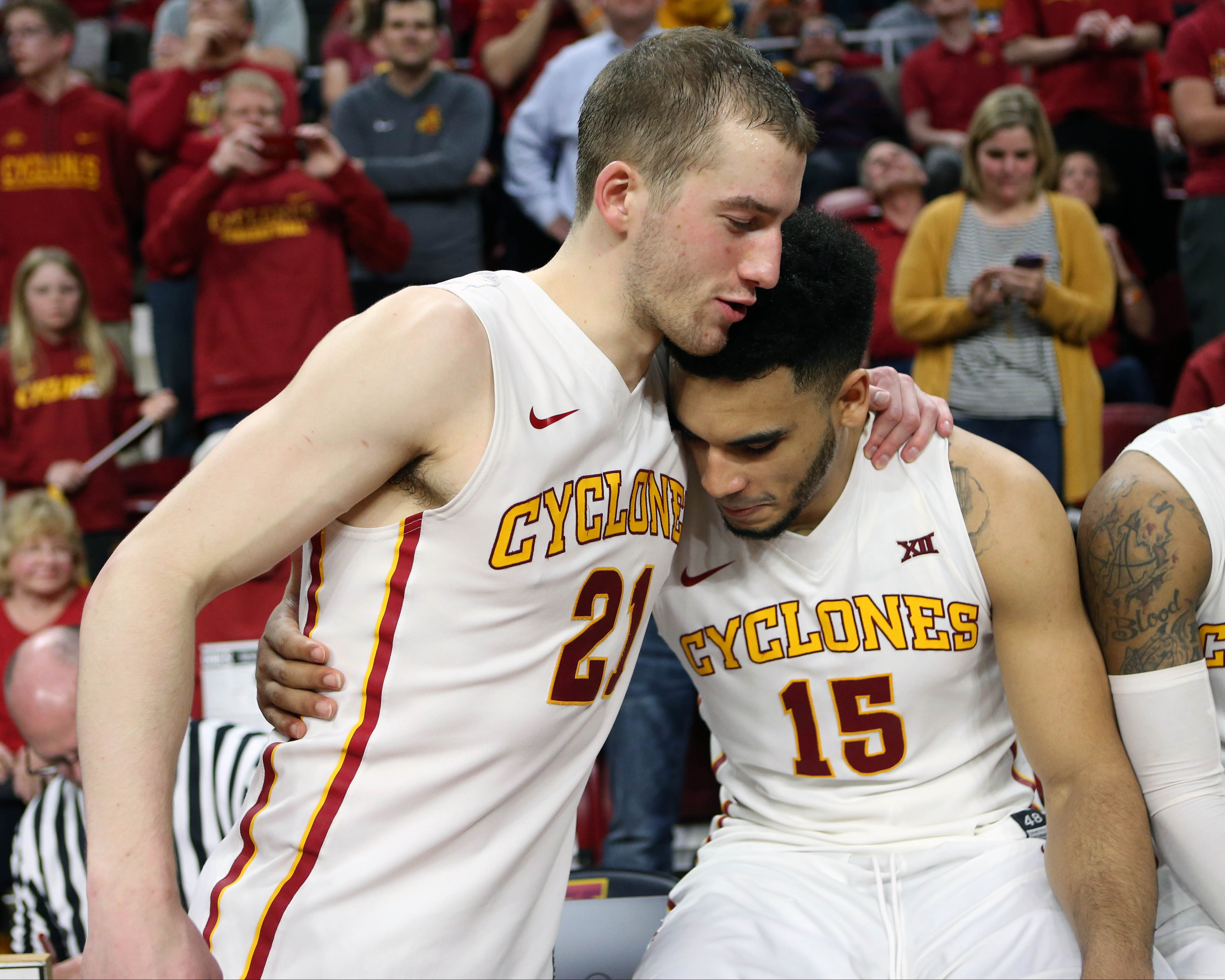 I don't think I could ever quantify my admiration and respect for him for the things that he has overcome off the court and on the court to get to this point.
Morris, Mitrou-Long, and Thomas all have a chance to leave Iowa State as the winningest players in school history and unprecedented success in conference play and in the post-season. However their stories continue through this March, their lasting legacies are already firmly in place.
But their success on the court is only part of their story that has unfolded in Ames. The mutual love affair with the fans and the sharing of their personal stories and paths and adversity has again solidified the relationship between the players and fans that is the foundation of the program.
Their character and work ethic has been more impressive than any feat on the court on notch in the win column.
These seniors still have things to accomplish but as Monte Morris said after the game, "the program is in good hands with these young guys and these coaches."
To these seven seniors, I hope your experience was everything you hoped it could be when you committed to Iowa State. Thank you.