Feb 28, 2017; Ames, IA, USA; Iowa State Cyclones senior guard Matt Thomas (21), guard Nazareth Mitrou-Long (15), guard Monte Morris (11) and guard Deonte Burton (30) watch the post game video after beating the Oklahoma State Cowboys at James H. Hilton Coliseum. The Cyclones beat the Cowboys 86 to 83. Mandatory Credit: Reese Strickland-USA TODAY Sports
AMES — Monté Morris sauntered confidently to center court, a broad grin spanning his sweat-streaked face.
Mic in hand, Iowa State's all-time leader in assists and steals began his Senior Night speech with heartfelt words of appreciation for the Cyclone fan base, his teammates and the coaching staff.
Then he turned to family, starting with his mother, Latonia.
"I get jokes and tweets about, 'When your mom coming to the next game,?'" Morris said after his 12-point, 11-assist and nine-rebound effort helped No. 24 ISU hold off Oklahoma State 86-83 late Tuesday before a sellout crowd of 14,384 that lingered at Hilton Coliseum until the final poignant words were spoken. "So when you all do that, I relay the message back to her and she always tears up."
She did tonight, too. Just like her son, when he paid tribute to his grandpa, who also was in attendance, and his beloved late grandma. Just like damn near everybody else who stuck around after an oh-so-typical and strikingly exciting and pulse-quickening win — the last on Hilton's magical floor for Morris, Naz Mitrou-Long, Matt Thomas and Deonte Burton.
They would be the Cyclones' show-stopping seniors otherwise known as the Core Four.
"We haven't had them all four play great in one night," ISU coach Steve Prohm said. "Tonight we needed it and we did that. We beat a really good team."
And won a sixth straight Big 12 game to improve to 20-9 overall and 12-5 in Big 12 play.
The Core Four — led by Thomas's 25 points — accounted for all but 12 of the team's final tally of 86.
They also dished out 18 of ISU's 21 assists and grabbed 21 of its 27 rebounds.
Tuesday was their night. Fittingly. Breathlessly. Emotionally.
"It hasn't been easy," Prohm said to the fans and his players after the game. "We've gone through a lot of adversity and you guys have stayed the course because your character (won) out."
INSTANT REACTION PODCAST: No. 24 Iowa State 86, Oklahoma State 83
Mitrou-Long choked up when addressing his parents. He'd sung along to "Oh Canada" before the game, pausing to compose himself at times before tip off. Now he held court, tugging expertly and genuinely at the heartstrings.
"At 15 years old, y'all let your little boy go off on his own and pursue a scholarship," said Mitrou-Long, who scored 17 points in his Hilton swan song. "And although that was the hardest time of our lives, look around. This is what you let your baby boy come to."
Cheers erupted. Mitrou-Long took a deep breath and looked up.
"No matter where I go, no matter where I'm at, no matter who I talk to, when I talk about my blood family, I truly bleed cardinal red and gold," he vowed. "I love you Cyclone Nation. I will never forget about you."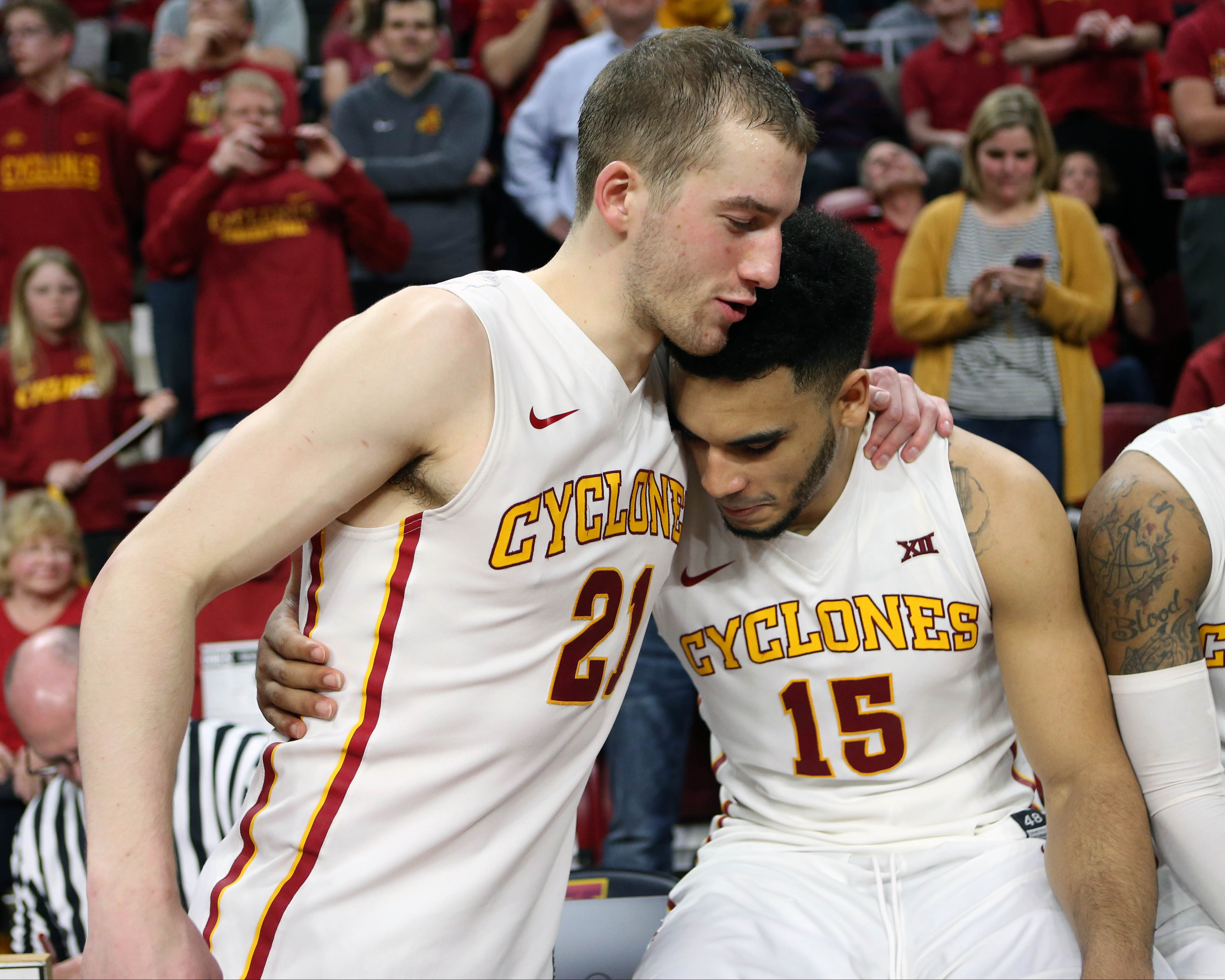 At that, he dropped into a slow pushup that ended with his lips lovingly smacking the floor.
Unsurprisingly, the other three members of the Core Four pronounced Mitrou-Long's presentation the best.
"Politician," Burton said.
He was joking, of course. It's highly unlikely any of the words uttered — and raw emotions struck late Tuesday — were coldly calculated for effect by anyone who communed with the crowd after that draining win.
They flowed from true feelings of love and respect for the fans perched highest in the rafters and the teammate occupying the last bit of the bench.
They could exhale, exult and revel in the moment. They'd earned it.
"We never make it easy on you guys," said Thomas, who drained seven of the Cyclones' 15 3-pointers. "We always keep it close. It's special to come out here with a win. … I want to thank you guys, Cyclone Nation. You guys are truly second to none. You're the best fans in the country."
And they know know what the Core Four has helped build. ISU — once teetering at 13-8 this season before a landmark win at Kansas — carved out its school-record sixth straight 20-win season. The Cyclones will play in the NCAA Tournament for a school-record sixth straight time, too.
And the best part?
Only this chapter's over. The calendar officially reads "March." It's game on and tears are now optional — or hopefully of the joyful variety.
"There's nothing else we probably could do (except) make the tournament and have an opportunity to make a run this year," Morris said. "So I just want to say my era's ending. Our senior's era is ending, but you take a look at those guys up there. This train isn't going to stop rolling."