This weeks musings are brought to you our CycloneFanatic.com Sponsor of the Week, Capital Orthopaedics and Sports Medicine. 
Let's begin this frigid first Monday of March with a rhetorical question, shall we?
How do you lead the Big 12 Conference in rebounding at the undersized height of 6-foot-6?
Well, what do most great undersized rebounders have in common? I'm thinking of guys like Dennis Rodman and Charles Barkley. Two characteristics come to mind. There is the effort. This is characteristic is the most important but in addition to "wanting it more," there is an element of flare that each man brings to the table in his own unique way. 
Melvin Ejim, Iowa State's 6-foot-6 forward who currently leads the Big 12 in scoring at 18.9 points per game and is second in rebounding at 8.6 per, possesses this flare that I'm speaking of. It isn't as extravagant as Rodman's. He doesn't talk as much as Barkley. Ejim's game isn't flamboyant at all but indeed, this flare is there. 
Since the day he arrived on Iowa State's campus, Ejim has had a significant chip on his shoulder. Playing out of position on a bad team during his freshman season, he had to have it to survive. Ejim never let that go and in large part because of that, he has transformed from an average Big 12 basketball player to perhaps the league's best over the course of his career in Ames. It is because he works harder than everybody else and to steal a line from Wichita State, Ejim plays angry.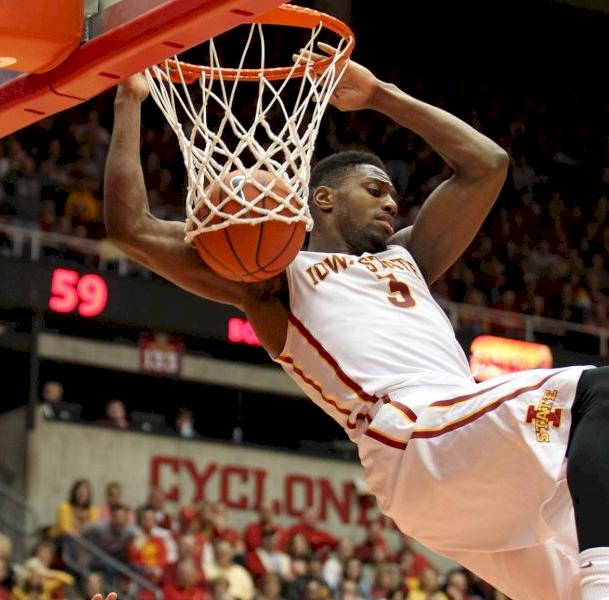 Ejim, a guy who will usually tell you what he thinks, has now received technical fouls in two straight games and as expected, the Twitterverse was quick to judge. 
"Your senior leader can't act that way!"
"Where did this attitude come from?" 
In an ideal world, the best player on your team who happens to be a senior, shouldn't be picking up silly technical fouls during critical games in late February and March. Folks who have vocalized this analysis, without question, are spot on. But chances are, those same people who are criticizing Ejim for this so called new-found "edge" are the same ones who praise him for the hard-nosed, "don't give a crap," style of ball that Iowa State's third all-time leading rebounder has constantly brought to the hardwood for four straight years.   
Two games, two technical fouls. Is it frustrating? Uh huh. But is Ejim doing something now that he's never done before? I do not believe that to be the case at all.    
Last Wednesday's contest against West Virginia was one of the most emotionally charged games that Iowa State will play in all season. However, Ejim's technical was silly. For the sake of objectivity, I'll give him a slap on the wrist for that, I guess. But I won't critique a guy with Ejim's resume for talking trash to an opposing player after hitting a big shot.
"Keep your mouth shut and play the game!"
Please. This is big boy basketball. Guys talk trash. It's part of the game. Deal with it. That should have never been a technical foul. Perhaps last Wednesday's technical put a bit of a target on Ejim's back Saturday? I'm just spit-balling now… 
Ejim, who scored 30 points to go with his 16 rebounds, absolutely without one single solitary shadow of a doubt did not lose that basketball game on Saturday night for Iowa State. The Cyclones wouldn't have even been in it without him.
Don't make this two-game technical streak out to be more than it is. Asking Ejim to lose that flare would be like asking the late Dale Earnhardt to not drive aggressively during his prime. That was the Intimidator's identity. The same goes for Ejim. He's one of the smartest basketball players in Division I hoops. He will learn from this. 
And most importantly, at the end of the day I'd stomach a few technical fouls and pick the 6-foot-6 four-man with a chip on his shoulder to be on my team over a 6-foot-6 four-man without a chip on his shoulder any day of the week. I can only assume that Ejim's critics would too.