By Chris Williams, CycloneFanatic.com Publisher
Iowa State's 2011 spring football game will take place on April 16 at 2 p.m.
But today, let's pretend that the game is tomorrow.
Here is my top five list of offensive players that I'd be most excited to watch and why. I'll post my defensive list later on.
5 – Duran "Duck" Hollis, RS FR RB – While the chances of Hollis (pictured below) being Iowa State's featured back on Sept. 3 appear to be rare, something still intrigues me about this guy. Maybe it is all of the conversations I've had over the past year when people told me to keep a close eye on the "Duck." From what I understand, playing Shontrelle Johnson over the Hollis last season wasn't the slam-dunk that many fans thought it was. Now don't get me wrong here. I think that Johnson has the potential to be a special back at Iowa State. But I think that Hollis can be too. You can't ever have too many high-quality running backs right? With Jeff Woody, James White, the incoming freshmen and Hollis, Iowa State appears to be in good shape at this position for years to come.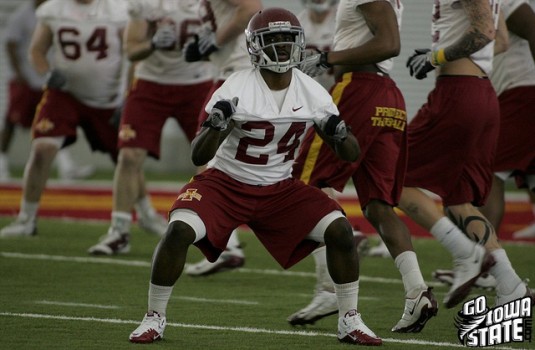 4 – Jerome Tiller, JR QB – I know. I know. This one is boring with a capital B. We've already seen plenty of JT right? Correct. But I'm looking for any sort of positive that I can find from this guy right now. Regardless of what many of you would like to believe, there's no such thing as a "sure thing" when it comes to a JUCO quarterback. Now Steele Jantz very well might have the best name in all of college football next season, but we're still out in the woods on if he can quarterback a Big 12 football team or not. For the first time in Jerome Tiller's (pictured below) career, he doesn't have to look over Austen Arnaud's shoulders. He is first in line right now. Has he somehow turned into a Big 12 quarterback during the offseason or is he the same guy?
3 – Tom Farniok, RS FR C – Full disclosure – I'm no "expert" when it comes to judging offensive linemen. All I know is that for the last two years, crafty seniors have started at center for Iowa State. Now, all signs point to redshirt freshman Tom Farniok (pictured below, No. 74) getting the nod. After the spring game, I'm going to dial up my good pal Ben Bruns for some analysis on this first-year offensive lineman. His performance could be crucial for this line's success in 2011.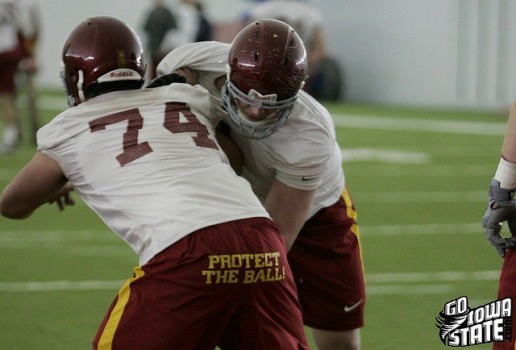 2 – Jarvis West, RS FR WR – I've heard a lot about this guy. I've written a lot about this guy. Now, I want to see this guy. Is Jarvis West (pictured below, from 2010) Iowa State's playmaker of the future or is it all hype? The good news is that West was recently named Iowa State's 2010 Offensive Scout Team Player of the Year. I found it very telling that Paul Rhoads went on the record last week and said that had West not gotten injured during camp, he would have played last year as a true freshman.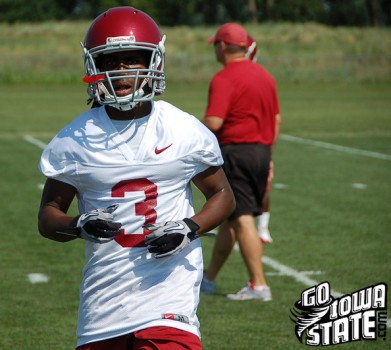 1 – Steele Jantz, JR QB – This one was a no-brainer. Is JUCO transfer Steele Jantz (pictured below and at the top of the page) the savior of Iowa State football or is he a two-year backup? Who knows? Up until now, I like what I've heard about Jantz. He isn't a flashy guy and it seems like his new teammates have appreciated that. It sounds like he is a smart player so I'm not sure that learning the playbook will be a major issue. It all comes down to tools really. If he's got them, he'll likely be Iowa State's starter in 2011.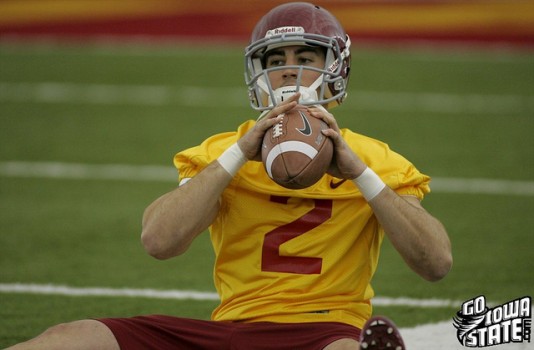 Honorable Mention: Aaron Horne (WR), Jared Barnett (QB) and James Capello (QB).