By Kirk Haaland, CycloneFanatic.com Contributor Follow Kirk on Twitter @khaal53
I've already offered up some different viewing angles to put this past season into perspective on the team level (Recap 1 & Recap 2), now let's take a closer look at the individual performances—starting with the departures.
Darion "Jake" Anderson
Jake only spent one season in Ames, but he made quite the impact in such a short amount of time.  His grittiness and leadership can't be overlooked when considering the relative success of the season for the Cyclones.  I have picked out some of the highlights of his short career at Iowa State (mostly centered on comparative one year players):
*  Amongst one year players at ISU, Jake finished fourth in points per game average and third in career points scored :
* Amongst one year players, Jake is tied for second in career starts: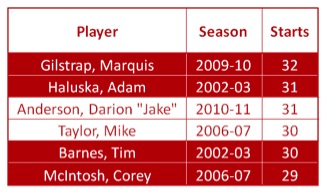 * Again, amongst one year players Jake finished fifth in career assists per game played:
* It was fairly well documented throughout the season, but Jake also pulled down a record number of rebounds for Cyclones 6-foot-2 and under by averaging 7.22 rebounds per game—1.1 rebounds per game better than the next man on the list, Sam Mack.
* For perhaps an interesting take on things, when compared with other Cyclones from Chicago Jake is first in career made 3's (39), first in career rebounds per game, first in career assists per game,  and second in career points per game with 12.84 (Kenny Pratt, 15.07).
Jamie Vanderbeken
The 2010-11 season was somewhat of a breakout season for "Big Silky" (as coined by our own Brent Blum) making 30 more 3 pointers than in his only other season of complete action (2008-09).  Jamie Vanderbeken will go down in the record books for this season as having the rare combo of 3 point shooting ability and a plethora of blocked shots on the season.
Let's start off with some notable season stats for Vanderbeken:  Other than the likes of guys named Kelvin, Loren, and Jared, Vanderbeken had the most prolific season of blocked shots in Cyclone history (blocked shots tracked since 1979-80):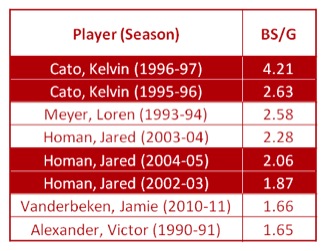 Vanderbeken also finished 10th in most 3-pointers made on a per game basis for a season (minimum of 25 threes made):
JVB's 65 made 3-pointers in 2010-11 is the most ever in a season by a player 6-foot-8 or taller.  In fact, his 35 made threes is second all-time amongst the "bigs".  Craig Brackins is the next player even in the same neighborhood as Jamie with 27 made in 2009-10.
Also in 2010-11, Vanderbeken shot the three ball at a clip of 42.48 percent, good enough for the 12th best season all-time for guys that made at least 20 3-point shots.  His 40.70 percent rate in 2008-09 climbs in as the 21st most efficient year.
Now, more on his three point shooting touch and his career numbers; Vanderbeken finished his career with the tenth most made treys on a per game basis with 1.54.  Jamie also wraps up his career very favorably by comparison of 3 point shooting percentage (note the man at the top of the list):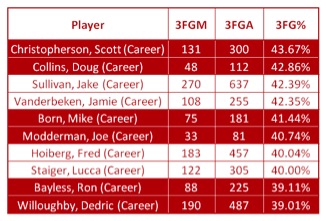 One final foray into the world of Jamie Vanderbeken swatting shots…JVB finished his career averaging 1.11 blocked shots per game.  That is tied for fifth all-time with Jackson Vroman (Kelvin Cato—3.44, Jared Homan—1.88, LaRon Dendy—1.33, and Loren Meyer—1.21).
For the "interesting take on things" for Vanderbeken, instead of comparing him with guys from the same home city as I did with Jake Anderson, I'll compare him with the career numbers of all the other international Cyclones.
* Jamie is fourth on the international scoring list with his 535 career points (Julius Michalik—1,825, Martin Rancik—980, and Jiri Hubalek—936.
* Vanderbeken is fifth on the total games played list with 70 (Michalik—126, Rancik—110, Hubalek—87, and Tony Rampton—80).
* JVB is second in career 3 pointers made with 108 (Lucca Staiger—122)
Diante Garrett
For as maligned as Diante Garrett was in his senior season he will be leaving his mark on the ISU record books, largely in a positive way.  Not to mention that he is one of the very rare players in the last 15 years that stayed in Ames for all four seasons of his eligibility.
Think about that one for a moment, the other scholarship players that enrolled at ISU for the 1996-97 season or later and played for four years?  Paul Shirley, Martin Rancik, Rahshon Clark, Andrew Skoglund, Jake Sullivan, Stevie Johnson, and Jared Homan.  Eight players used all four years in Ames in the last 15 seasons.  You should have that many in three season—not 15.
In 2010-11 Garret became the 28th member of the 1,000 point club and finished his career with 1,364 points.  I'm not going to argue he was better than these names that will follow, but checkout who is below him on that scoring list:  Jeff Hornacek, Loren Meyer, Gary Thompson, Jared Homan, Will Blalock, Elmer Robinson, Gary Thompkins, etc…
The 2010-11 season was a breakout year for DG and he blossomed in the new offensive style and his new role on the team.   Garrett made one of the biggest jumps in scoring from one season to the next in Cyclone history.  Improving from 9.22 points per game to 17.28 this past season for a total jump of 8.06 points per game, good enough for the 21st biggest jump all-time (Lafester Rhodes holds this record with an astounding jump of 19.67 points per game).
Not only did Garrett drastically improve his scoring, but his 3-point shot.  While his percentage was roughly the same as previous seasons, the offensive change allowed him more freedom to take that shot.  In 2009-10 Garrett averaged making 0.59 3-point shots per game.  In his senior season that number improved to 1.84 for an overall jump of 1.25 made 3-pointers per game.  That is the third largest jump all-time: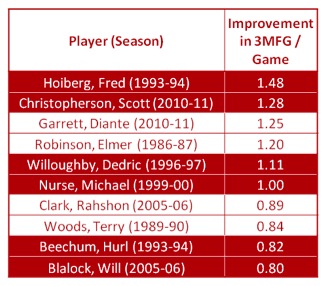 Aside from the scoring improvements for Diante, he also had an excellent season in creating for his teammates.  He became just the fifth Cyclone and notched better than six assists per game for the seventh time in Cyclone history: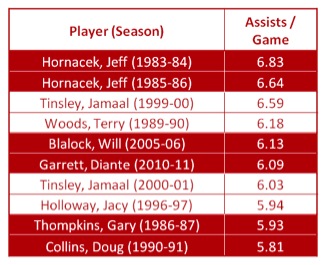 Now let's look more closely at Garrett's most notable career numbers.  As a sign of his longevity that was mentioned above, Garrett now holds the record for the most games ever played by a Cyclone with 128 while never playing in more than one Big 12 Conference tournament game per year or any post-season games.  His 99 career starts in those games is the 11th most in Cyclone history (starts have been tracked since the 1979-80 season).  Behind names like Grayer, Hoiberg, Sullivan, Stevens, Hornacek, Thigpen, and Michalik.
What may come as a bit of surprise to some, given DG's lack of 3-point shooting, his first two year's especially, in Ames is that he has made 98 career 3-pointers.  That is the 13th most made 3-pointers in ISU history.  Think of the great sharp shooters since the 1986-87 season and the only one's not in that group that are ahead of Garrett are guys like Rahshon Clark and Will Blalock.
The blemish on his career marks comes in the turnover category, but in all reality it isn't as much of a blemish as his biggest detractors would like to believe.  Garrett has turned the ball over more than any other Cyclone (362).  While that isn't a glowing attribute, consider his longevity as noted above and his overall exposure rate during his time in Ames.  The past three seasons he has been the guy with the ball in his hands and usually the only capable one in handling the pressure.  Even when such things like that are considered, if you look at his turnovers per game numbers to make them apples to apples with other players it sheds a different light on things: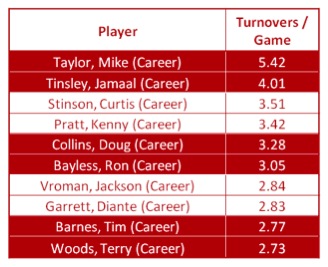 To wrap things up let's look again at Garrett's success in creating for his teammates.  During his senior season he surpassed the 600 career assists mark.  Jeff Hornacek and Gary Thompkins are the only other Cyclones to notch that achievement.  Garrett's career 611 assists leaves him only behind Hornacek's 665.
Those are the outgoing seniors for your Cyclone Men's Basketball program.  Next week we'll look at the returning players that will play a key role in getting ISU back to playing important games in March.
If you like this kind of analysis and want to see more, visit my site www.encyclonepedia.com