By Chris Williams, CycloneFanatic.com PublisherFollow Chris on Twitter @ChrisMWilliams  
Before we begin…Watch this promotion of our spring game preview show (sponsored by Wilson Toyota of Ames of course) that will be heard on 1460 KXNO this Saturday from 11:30 to 1.
You saw that right? Listen…Just stop by and say hello…Do something. The last thing that we need is an angry Tron Smith at 2 p.m. on Saturday afternoon in Jack Trice Stadium.
That's when Iowa State will host its annual spring game, an event where hype machines are guaranteed to be put into full effect. Regardless of that fact, I happen to love the spring game and spring football in general. It's where programs develop, youngsters get a chance to climb the depth chart and real diehard fans can discuss the three-deep at middle linebacker without being frowned upon.
This year's spring game will be like the others in Paul Rhoads' tenure at Iowa State. Sideline vs. sideline in a standard scrimmage. It's the best type of spring game, mainly because it actually looks like a football game to those in attendance.
In this scrimmage, there will be winners and there will be losers. With Iowa State being on both ends of that (duh), do you want to the offense shred the defense? How about the defense forcing some turnovers? What should fans want to see on Saturday? Paul Rhoads addressed what he's hoping for in a press conference earlier this week.
"I want to see the defense make great plays to take the ball away. I don't want to see the defense given plays to take the ball away. We gave them some picks, offensively speaking on Saturday. You better makes those plays defensively and they kill you on offense. If a DB is running blind with a receiver and turns late and reacts quickly and snaps the ball out of the air, I'm going to be thrilled. I'm not going to be overly disappointed offensively if that happened. If the ball is stripped out, I'll be happy and mad on that one. The ball should never be stripped out from a ball carrier but glad that the defense is being aggressive and taking the ball away."
There you have it. Keep it clean Cyclones. That was Rhoads' message. Here are the top five things that I'll be watching for.
5 — The trenches — 
Defensive line play is always a major concern at Iowa State.
Watching the big guys up front (on either side) isn't what most fans will be doing on Saturday afternoon, but on both sides of the football, everything begins in the trenches. Keep an eye on not only the starters at each position up front, but what the twos and threes are doing as well.
Below: So. DE David Irving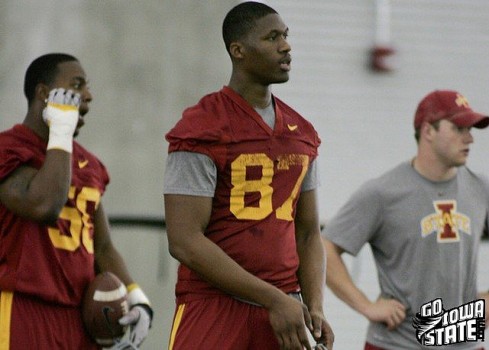 4 — Defensive backs —
It's a group that has intrigued me all spring long. With Leonard Johnson's graduation and Jeremy Reeves being out with an injury, cornerback has been up for grabs and this competition has left Iowa State's coaching staff optimistic about the 2012 secondary.
Redshirt freshmen Kenneth Lynn and Sam Richardson both appear to be the real deal. In addition to that duo, junior college transfer Clifford Stokes brings length (6-foot-1) to the position and he supposedly has a knack for intercepting the football.
And don't forget about junior Jansen Watson, the man who came into the spring atop the depth chart and should be the front-runner heading into the fall. Watson was nasty (that's slang for good) on special teams last year and that's carried over to his coverage skills this spring.
Iowa State's depth at cornerback is exciting. When you throw sophomore Matt Thomas into the mix, Rhoads could realistically have six guys to rotate at cornerback next season. Of course, that number will likely shrink by the time that Sept. 3 comes around but still, the competition is a very positive thing.
At the safety positions, Jacques Washington is a lock at free and according to Rhoads, senior Durrell Givens has been a standout at strong. Givens' two backups, youngsters Jared Brackens (So.) and T.J. Mutcherson (Fr.) will compete right up until the end of fall camp.
3 — Young running backs —
I've heard so much about freshmen DeVondrick Nealy and Rob Standard (pictured below), I want to watch the duo for my own eyes. Both will be in position to see playing time this fall, but remember that three quality backs (if Shontrelle Johnson can play next season) are still above the freshmen on Iowa State's depth chart.
Still, running back is one of the most exciting positions in the game of football. Catching a glimpse of Iowa State's running game should be exciting.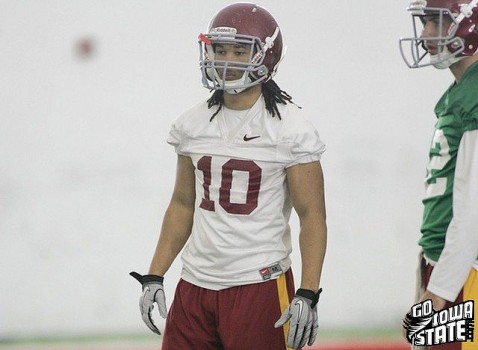 2 — Young wide receivers — 
Does Iowa State's quarterback play need to improve next season? Absolutely.
What's one way to assure this will happen? The wide receivers HAVE to be better in Ames. It's been a weak link in this program throughout the last three years and finally, Rhoads' offense appears to have the athletes and depth in place to take Iowa State's passing game to a new level.
Freshmen Ja'Quarius Daniels, Quenton Bundrage and Tad Ecby will all make their Jack Trice Stadium debuts on Saturday, while senior Jerome Tiller has an opportunity to turn heads at his new position.
1 — Quarterbacks — 
Duh. This one is a no-brainer. It's the topic that we'll all hash out over the next four months.
Who doesn't love a good quarterback competition?
Jared Barnett and Steele Jantz both do certain things well. However, both men need to be more efficient and turn the ball over less in 2012 than they did a season ago.
Scoring points is what really matters though. Which man leads his team down the field better than the other? Which man has the better understanding of what new offensive coordinator/quarterbacks coach Courtney Messingham is trying to accomplish?
Jantz has flash, but is often times prone to major mistakes. Barnett made plenty of mistakes of his own last year but seemed to be a bit more steady. Has he developed more of an ability to make the big play during the winter?
How will the young freshman Sam Richardson look in front of Cyclone fans for the first time?
Rhoads isn't going to name a starting quarterback when Saturday's scrimmage wraps up, but the performance of the quarterbacks will likely add fuel to the fire (good or bad) of this fan base until fall camp begins in August.