By Chris Williams, CycloneFanatic.com Publisher
Let me guess…You've got football fever?
We hear you. We understand.
I come bearing one large gift to you today my fellow Cyclone fanatics. Iowa State's spring football practices are stet to begin on Tuesday.
Here is my list of top offensive storylines that we'll be covering over the next month at CycloneFanatic.com.
THE QUARTERBACK COMPETITION
One thing is a stone cold lock heading into Iowa State's 2011 football season. That is the fact that an unproven quarterback will start the season opener against Northern Iowa on Sept. 3.
This will be the most talked/written about topic surrounding the team all spring long. It should be. After all, quarterback is in fact the most important position on the field.
Austen Arnaud is gone. Who will replace him?
According to THIS PIECE published by Cyclones.com, junior Jerome Tiller is number one on the depth chart heading into spring ball. While being number one right now actually means next to nothing, that's how it should be. JUCO transfer Steele Jantz certainly has a cool name, but he's done nothing up to this point to prove he is a legitimate Big 12 starting quarterback. He surely has plenty of talent. The 6-foot-3, 216-pound signal caller threw for 3,075 yards and 23 touchdowns last season for an 11-1 football team. Will that translate to the Big 12 level? Hopefully, but nothing is a guarantee.
While head coach Paul Rhoads has called this a "wide-open" quarterback battle for months, if anyone other than Tiller or Jantz escapes the spring with the number one job, it will be a surprise.
Two other men will join this battle in redshirt sophomore James Capello and redshirt freshman Jared Barnett.
Even if neither of those two win the starting spot, tracking their development will be an interesting story throughout the spring and also when fall camp begins in August.
REPLACING ROBINSON
"Here's to you, Alexander Robinson…"
It will be odd not seeing number good ole number 33 in Iowa State's backfield next fall. Replacing Iowa State's fourth all-time leading rusher will not be easy, but the good news is that Paul Rhoads will have plenty of options at this position.
True sophomore Shontrelle Johnson will debut at the top of Iowa State's depth chart but guys like Jeff Woody, James White and Duran Hollis can't be too far behind.
Johnson and Woody are both proven Big 12 backs that compliment each other to create a formidable backfield.
The real questions come surrounding White (pictured below) and the man they call "Duck" Hollis. White barley caught a whiff of playing time as a redshirt freshman and the staff elected to redshirt Hollis. Still, word from within the program is that Iowa State's coaching staff is high on both of these prospects. Will one of them emerge as a contender to snag some playing time next fall?
Johnson and Woody combined for 293 yards and two touchdowns last season.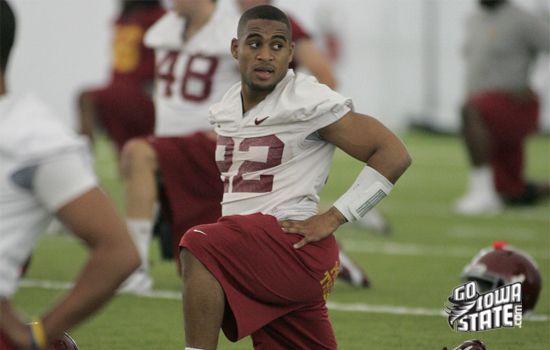 WHO TO THROW TO?
So you want to make things easier on a first-year starting quarterback? Having some quality targets will help. The fight for playing time at wide receiver is one of the most intriguing battles within all of spring camp in my opinion.
Gone are Jake Williams and Collin Franklin (that equals 934 yards and seven touchdowns). Back for Iowa State is a mix of experienced players who really have never reached their full potential and young guys who are waiting to prove themselves this spring and beyond.
The two seniors, Darius Darks and Darius Reynolds need to take things up a notch in 2011 if this offense wants to move the football consistently. Darks has been and will likely always be solid. He'll likely never be a guy who defensive coordinators have to game plan around. Now is Reynolds' time to shine in my opinion. Big plays are what this offense has lacked from the wide receiver position for the last two years. He is a guy who can potentially fill that void. Will "Money" finally break out during his senior campaign?
Junior Josh Lenz is a guy who nobody seems to talk about, but he just might be Iowa State's best all-around receiver heading into 2011. If Lenz can somehow fill Jake Williams' massive shoes, that would be a nice security blanket for Tom Herman.
Other guys to watch this spring include: Jarvis West (pictured below), Keith Blanton Jr., Albert Gary, Aaron Horne, Donnie Jennert and Chris Young.
As you can see from that list above, the staff will have a healthy amount of options at this position. I will specifically keep a close eye on West, whom many have been amped up about since his arrival in campus last summer. While he's only 5-foot-7, West's elusiveness could potentially bring a much needed home run threat to this offense.
I'll also be asking a lot of questions regarding Aaron Horne, the JUCO teammate of Jantz. Horne enters the spring third on the wide receiver depth chart behind Darks and Gary. That was expected, but how Big 12 ready is he?
Donnie Jennert impressed many with a salty performance in last year's spring game. At 6-foot-7, surely there are some scenarios in place to use that size in 2011?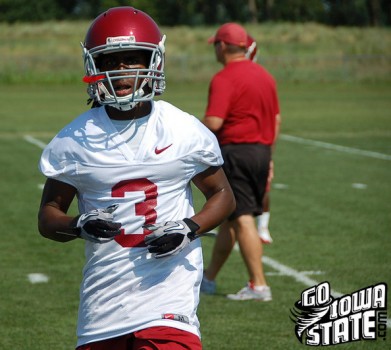 THE BIG BOYS UP FRONT
According to THIS Cyclones.com article, Paul Rhoads feels like the offensive line could be his team's biggest strength next season.
Former starters Kelechi Osemele (LT), Hayworth Hicks (RG) and Brayden Burris (RT) return, while the center and left guard spots appear to be up for grabs.
I'd say that the left guard spot will be the biggest battle on the line, as redshirt sophomore Ethan Tuftee is listed as number one heading into the spring. Right behind him are two redshirt freshmen in Shaban Dika and Ben Loth.
Redshirt freshman Tom Farniok is currently listed as the team's top center, but JUCO transfer Sam Tautolo should be a factor as well.
Regardless of who starts, it is hard to not get excited about Iowa State's future on the offensive line. This has been a recruiting priority since Rhoads got to town and the program should finally start reaping those benefits in 2011 with a deep, balanced line.
Keep an eye on Kyle Lichtenberg
Rhoads has hinted around moving this 275-pound sophomore from tackle to guard, in an attempt to add depth the interior line.
Below: Jon Caspers is entering his second spring session as a Cyclone after transferring to Iowa State during the winter of 2010. Caspers went on to redshirt in 2010, but is now second on the depth chart behind Hicks at right guard.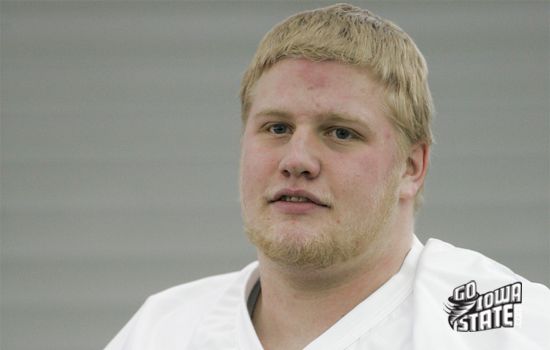 Check back to CycloneFanatic.com later on for a preview of Iowa State's defense heading into spring ball.