By Chris Williams, CycloneFanatic.com Publisher
Iowa State's quarterback competition is garnering most of the fan conversation this spring and rightfully so. But Bob Elliott and Wally Burnham have their work cut out for them with Iowa State's secondary in 2011.
Iowa State lost three players (David Sims, Mike O'Connell and Zac Sandvig) at the safety position alone to graduation and replacing them could be one of the most crucial chores for Paul Rhoads leading up to Sept. 3.
The good news is that the coaching staff has an abundance of options.
Here's the latest on Iowa State's situation at defensive back this spring.
The hot name
This guy is no stranger to you Cyclone fanatics. Ter'Ran Benton's stock has always been high, but it it is now at the mountain's peak. At 6-foot, 207-pounds, Benton just might be the Big 12's most versatile defensive back next fall. Cornerback, strong safety, nickel or whatever floats your boat. Benton will line up there at some point next season.
"Ter'Ran is a smart football player," said secondary coach Bob Elliott. "He will have played every position in the book by the time he leaves here. "I think that is really an important thing. Ter'Ran wants to win here. He's not thinking about anything else but if he gets that chance to go to the next level, his versatility will really be valuable."
When Iowa State released its pre-spring depth chart last week, Benton made his debut at strong safety, where he's set to replace 2009's Big 12 Defensive Newcomer of the Year David Sims.
"Really, he is the prototype body for what we need at safety," Elliott said. "That was a pretty natural thing. He's smart. We thought that he could pick it up and help direct traffic."
Get this burned into your brain right now. Benton is still Iowa State's top nickel and he'll play there a lot next season. That's just another reason why Iowa State needs to develop depth at both safety positions in a hurry.
Benton (pictured below) recorded 58 tackles last year for Iowa State, with four of them being for a loss.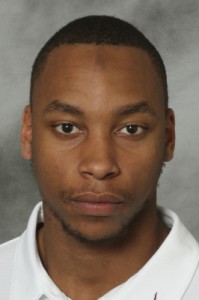 "LIKE" CYCLONE FANATIC ON FACEBOOK TODAY
The next Ter'Ran Benton?
Versatility seems to be the word of the day when discussing defensive backs here at CycloneFanatic.com. With Benton being a senior, the search for a younger version of him is already on. I nominate sophomore Jensen Watson (pictured below) to be that guy.
"Halfway through last season he started to catch fire," Elliot said. "I expect big things out of him."
Watson is currently listed as a second-string corner back behind junior Jeremy Reeves. Like Benton, Watson is seeing time at multiple positions this spring, specifically at nickel.
"He has always been physical enough. He's strong enough. He's fast. He's maybe our fastest player," Elliott said. "He has all of the skills that we need. Now, he needs to learn and that's where he's really improved."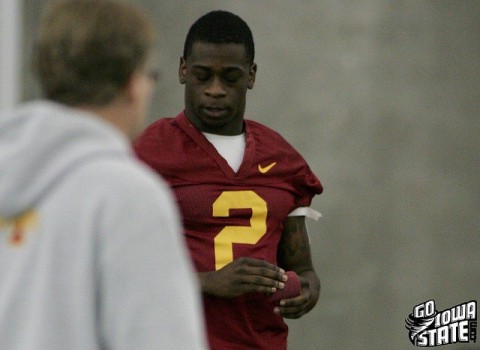 The corners
Cornerback should be one of the strongest positions on Iowa State's roster next fall. On one side, there's a guy who appears to have NFL written all over him in senior Leonard Johnson.
Beside him is junior Jeremy Reeves, who showed a heap of promise during his sophomore campaign by picking off two passes (returning one of those for a touchdown) and recording 62 tackles.
"Jeremy played pretty well last year I thought for a sophomore," Elliott said. "Jeremy is an undersized guy so he's got to work on getting bigger and a little bit stronger. Those are the things that we really emphasize with him."
Reeves is 5-foot-9 and weighed in at 165-pounds this spring.
The group as a whole
On average last season, Iowa State played six and sometimes seven guys in the secondary per game. Elliott doesn't expect that to change much in 2011.
"It could be any number of combinations," Elliott said. "They are good enough to win for us. As long as they focus and improve, they are good enough to win."
Physically, the Cyclones should be fine. It is the mental aspect of the game that guys like Reeves, Watson, Earl Brooks, C.J. Morgan, Jacques Washington, Deon Broomfield and Durrell Givens need to work on. It's ironic that the guys who the above are going to replace, thrived off of their knowledge of the game.
"Those were guys who when they were on the field, everybody around them played better," Elliott said. "That's what we need. They have to be that kind of guy, the traffic cop."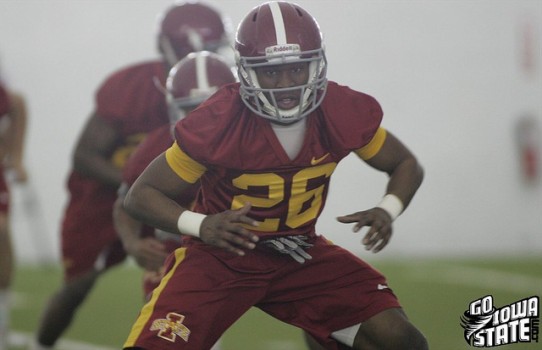 Tasty tidbits
–       It sounds like at this time, sophomore Jacques Washington has a bit of an edge on his competition at the free safety spot.
"He probably stands out more than the rest of them as far as taking charge mentally," Elliott said.
Washington played in nine games last season for Iowa State, recording 12 tackles along the way.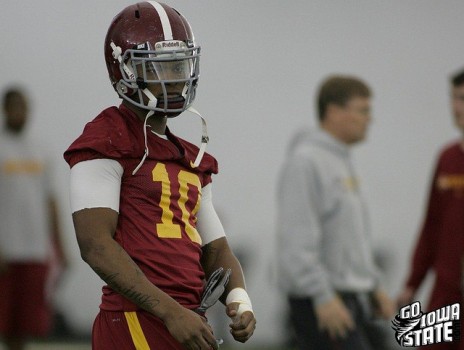 – Elliott mentioned that both Durrell Givens (junior) and C.J. Morgan (redshirt freshman) have seen time at nickel, along with their perspective safety positions.
"He has a bright future," Elliott said of Morgan.