Cyclone Fanatic's coverage of Iowa State spring football in 2014 is brought to you by A+  Lawn & Landscape. Check out our football coverage all spring long for coupons and great deals from A+ Lawn & Landscape, a proud supporter of Cyclone Fanatic. 


—————————————————————————————————————————————–
Imagine this Iowa State football offseason had Paul Rhoads not made a splash offensive coordinator hire…
Mark Mangino truly did save the day.
Most educated Iowa State fans can understand how a down year occurred in 2013. Youth was going to be a sure thing. Injuries sealed the deal when it came to a down 3-9 season. But two numbers accurately describe why a diehard Fanatic is rightfully frustrated with Iowa State's lack of progress on offense. They will also explain why the Mangino hire proved to be so refreshing to many. 
The numbers are: 92.8 and 84.6.
Those figures represent Iowa State's average finish in scoring offense and total offense during the five years of the Paul Rhoads era under offensive coordinators Tom Herman and Courtney Messingham.
The Cyclones finished 99th in total offense last season and 89th in scoring offense. That is in the Big 12, a league known for its high scoring affairs. 
While the defense has its fair share of questions to tackle with the spring season nearing, one opinion (that I believe is more of a fact) is obvious heading into year six or the Rhoads era. If Iowa State wants to take that next step as a program, the offense HAS to be exponentially better. 
Here is a preview of what's to come during spring football, 2014 on the offensive side of the football.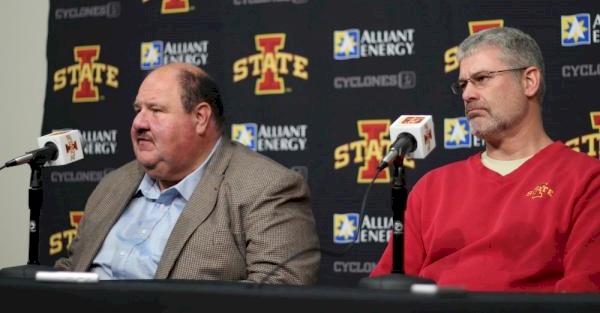 Biggest story
Mark Mangino: The honeymoon is over. Iowa State fans have gushed (rightfully so) about their new offensive coordinator for the last few months but now, it is time to get to work.
Welcome to Mark Mangino's world. Everyone else is simply living in it.
From the sound of things, Paul Rhoads has all but given Mangino the keys to his Big 12 program's offense for 2014. In addition to Mangino coming to town, the guy who once led Kansas (not Kansas State, Kansas) to a BCS game (if you're a young Fanatic reading this, I swear I'm not making that up) brought his son Tommy (new wide receiver's coach) and longtime confidant Brandon Blaney (offensive line) with him. 
That is always a question when coaching changes are made. Offensively, the only coach that is still around from last season is Todd Sturdy, who has moved from wide receivers to coach the quarterbacks this season. 
How will the Cyclones respond to Mangino's fresh approach? That is a logical question heading into the spring.
Remember those magic numbers though of 92.8 and 84.6. The good news is that it is next to impossible for Iowa State to get any worse on this side of the football.
Top position battle
Quarterback: Iowa State's situation at quarterback reminds me of the old Bill Murray movie Groundhog Day. We've all been to this rodeo before. It wouldn't be the offseason without a good old-fashioned quarterback competition in Ames. 
As a redshirt freshman, Grant Rohach showed promise at the end of the 2013. The California native completed 62 percent of his passes for 676 yards, five touchdowns and two interceptions in his last four starts last year. Two of those starts equaled wins, at home vs. Kansas and on the road at West Virginia (That's not the greatest competition but hey, it's better than losing to Kansas and West Virginia, right?). The point is that Rohach did what you hoped he would do during his rookie campaign – get better. 
*** LINK: How much weight have the Cyclones gained during the offseason? ***
While he lost his starting job and struggled mightily during his sophomore campaign, Sam Richardson has still shown glimpses of a guy who can win in the Big 12. Based off of what I've heard this offseason, No. 12 was hurt a lot more than the program made public during 2013.
The wildcards are redshirt freshmen Joel Lanning and Trevor Hodge, two guys who clearly have a lot to prove if they hope to surpass the veterans in the offseason. 
I view Iowa State's 2014 quarterback competition a little bit differently than I have in years past, though. Going into next season, Mark Mangino has two legitimate starting options to work with. Both men have starting experience in the Big 12 and have shown that they can win, albeit not consistently. But the pieces are there.
When you are rebuilding an offense that was clearly never built correctly in the first place, an experienced quarterback (or two) is a great place to start.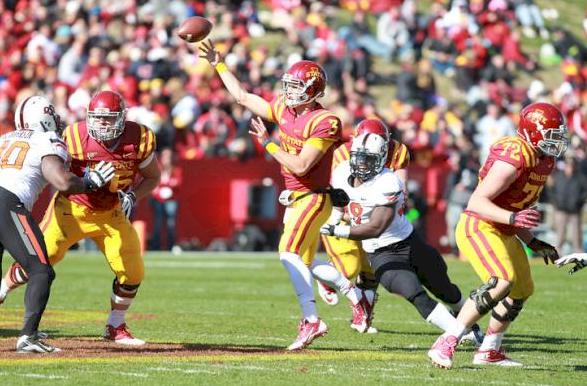 Up in the air
Offensive line: The Cyclones took a rusty old butter knife to a bazooka fight during 2013 in regards to its offensive line. Injuries were plentiful and as a result, a handful of guys who played a plethora of minutes should have never been on the field. 
Assuming that guys like Oni Omoile, Jamison Lalk, Daniel Burton and Jacob Dunning are all Big 12 talents (as opposed to recruiting misses), this unit should be better off for it in 2014. 
Iowa State's spring depth chart (that I assume will be released on Monday) will be interesting though, to state the obvious. Which young guys will crack the two deeps? Should we expect any position changes?
Stay tuned.
There is where it all starts though. New offensive line coach Brandon Blaney has inherited an experienced group, so that is a positive. It is getting this group to improve and work together that will be the real challenge from now until Aug. 30.
The time is now; five Cyclones who need to step up
Jarvis West, wide receiver – He was injured for a good chunk of last year but tallying only four touchdowns in three seasons has been a bit of a disappointment for senior wide receiver Jarvis West. In a world where folks are constantly looking for that next young playmaker, Iowa State could have one right in front of its very eyes in the form of a senior. At 5-foot-7 though, he has to be used correctly. That is the key here. Perhaps the new offense will open things up for Jarvis West during his final year as a Cyclone. 
Duaron Williams, offensive guard – With all of the injuries that Iowa State suffered up front last year, it was disappointing to see that this sophomore didn't draw any playing time. This will be Williams' third spring at Iowa State. It is time for him to make his presence felt in the two-deep.
D'Vario Montgomery, wide receiver – Where will the South Florida transfer fit in Iowa State's rotation of talented wide receivers? At 6-foot-5, Montgomery is easily the biggest wide receiver on this roster but at this position, the competition will be heated. Making an impact early will go a long way for Montgomery in terms of playing time next season.
Tad Ecby, wide receiver – Despite his experience, Ecby is in the same situation as Montgomery. There is so much depth and young talent at this position for Iowa State. Ecby needs to prove himself once and for all this spring as he struggled during the second half of his sophomore campaign.
Sam Richardson, quarterback – Hopefully, this signal caller is on pace for a healthy junior season. If that is the case, the time truly is now for Richardson to prove that he can compete with Grant Rohach for the starting quarterback job. You only get one chance in life to make a positive first impression. That is what Richardson will be itching to do this spring with Mark Mangino. 
Count on these guys (five Cyclones who will lead the way in 2014) 
Tom Farniok, center – He's a dude.
Aaron Wimberly, running back – The senior had a great junior season where he averaged 4.0 yards per carry. Injuries hindered him but with an improved line and a more complete offense around him, Wimbelry could be due for a true breakout season in the Big 12 in 2014. 
DeVondrick Nealy, running back – This junior is probably the most underrated player on the offensive depth chart, in my opinion. I fully anticipate Nealy to get nearly as many carries as an undersized Wimberly in 2014.
E.J. Bibbs, tight end – Of all the seniors on this roster, E.J. Bibbs might be the best NFL prospect in Ames (Farniok might disagree). Biggs caught two touchdown passes as a junior. I expect that number to at least double in 2014. 
Quenton Bundrage, wide receiver – Despite his consistency issues, proved himself to be a legitimate playmaker in the Big 12 last season, scoring nine touchdowns along the way.