By Chris Williams, CycloneFanatic.com Publisher
After the last two weeks of the Iowa State football season, looking forward to the future is inevitable for Cyclone football fans. During his press conference on Monday, Paul Rhoads alluded to progress that is being made within Iowa State's scout team on Sunday nights. After Tuesday night's practice, I asked the head coach to elaborate on that.
"I think that the linebackers are making good progress right now," Rhoads said, referring to Adrian Bennett, Floyd Mattison, C.J. Morgan and defensive back Matt Thomas. "That offensive line is getting better and better every week. Duran Hollis is doing a nice job."
What about the quarterback position? Jared Barnett, who is currently redshirting, suffered from a disc injury at the end of fall camp. He's now back and practicing with the team.
"He's starting to improve again," Rhoads said. "With the quarterback position, that is awfully important to get that early development."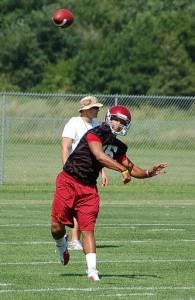 In one other scout team note, from the sound of things, junior college transfer Rony Nelson will be a legitimate contender to start at defensive end for Iowa State next season.
"Rony Nelson has shown that he can be a player around here," said defensive coordinator Wally Burnham.
For more on the development on Iowa State's young offensive linemen, CLICK HERE.
Lattimer & Maggitt bring something to the defense
Expect to see a lot more of Jacob Lattimer and Roosevelt Maggitt on Iowa State's defensive line this Saturday. Lattimer just jumped over Patrick Neal on the depth chart, while Rashawn Parker being dinged up will allow Maggitt to see more playing time.
"Those two kids have really shown up over the last couple of games," Burnham said. "I know that you guys can't tell it but if you sat down and watched the film with us, we could show you some things that they have done."
"To me, Jake is an old time football player. He is a tough son of a gun who loves to go hit people. That is something that we need around here. Rosie uses speed to get around people."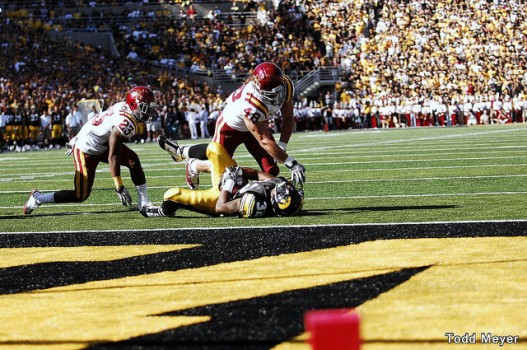 Will the real Garrett Gilbert please stand up?
Texas quarterback Garrett Gilbert blew me away on Saturday against Nebraska. I couldn't believe how much the sophomore tucked the football away and ran against the "Blackshirts."
There was a reason that Gilbert was able to run for 71 yards in Lincoln.
"I think that when you watch the Nebraska tape, they were playing five in the box," Burnham said. "They thought that they could beat them with five in the box. I guess most people wouldn't do that with Texas because their offensive line is the best that we have played against this year."
"I think that they took advantage of some things that Nebraska was doing," said Rhoads. "They had a good feeling and tried to run him because of that."