By Chris Williams, CycloneFanatic.com Publisher
Through the first seven games of 2010, Iowa State's defense has only sacked the opposition's quarterback six times for 36 yards. Three of those sacks came against FCS opponent Northern Iowa. That average of .86 sacks per game ranks the Cyclones 112th in America in that category.
I'd say it is time to shuffle things up bit. That's what Paul Rhoads and his staff did when they released their latest depth chart earlier today.
CLICK HERE to take a look at it.
I actually wasn't surprised when I saw junior defensive end Jacob Lattimer surpass junior Patrick Neal on the chart. Lattimer led all defensive linemen in tackles against Oklahoma with five. He also recovered a fumble. To my naked eye (and I'm no Kirk Herbstreit), Lattimer appears to be the most physical option that Iowa State currently has at the defensive end position. I assume that Neal had the edge on him during camp due to his experience at the position.
"Jake has outplayed him (Neal), especially recently," Rhoads said during his weekly press conference.
Remember that before the spring of 2010, Lattimer was a linebacker at Iowa State.
"Jake has really started to show up in the last two or three weeks and is making more plays," Rhoads said. "He's elevated himself into a starting position."
Lattimer has 17 tackles on the season with one sack. Neal has 19 tackles and a sack. Nose guard Stephen Ruempolhamer leads all Cyclone linemen with 26 tackles.
Another spot where you might see a little bit of change on Saturday is at the opposite end position. Senior Rashawn Parker banged up his knee in Iowa State's 52-0 loss against the Sooners on Saturday. Because of that, expect redshirt sophomore Roosevelt Maggitt to see increased minutes against the Longhorns.
"Rosie has also improved," Rhoads said. "Per play, he is as productive of a defensive end as we have had all season. He hasn't played as much as those guys so the more you play, the more that can even out a little bit. I think that Rosie's opportunities will grow also in the next five games. I'm pleased with this growth and maturity. The future is very bright with his two years remaining for him to become the guy we want at that position."
Maggitt has 20 tackles on the season. He is a former scout team player of the year at Iowa State.
Rightfully so, defensive line play has been a very hot topic surrounding the Iowa State football program over the last couple of weeks. It doesn't take Mel Kiper to see that this is an area where this program has a ways to go. Rhoads addressed this during his meeting with the media.
"You can only take this size and this shape so far," Rhoads said. "There is a true statement where the more you give a strength coach to work with, the more he is going to give you back. You don't take 6-foot, 250 and make him 6-foot-4, 290. That's just not going to happen. That strength and explosiveness that goes with people of that frame, you have got to bring in and help develop. The guys we have, we are excited about their growth. As a matter of fact in our staff meeting this morning, we talked about all of our kids who are redshirting and kids in their second year and their development and their place in the program right now. We think that we are on pace with where we want to be at this point. Everybody always wants it to be faster. You have to keep that in perspective and keep doing what you know is right to build the program."
Injury Updates
For the most part, Iowa State's loss to Oklahoma looked worse than it actually was from an injury standpoint on Saturday night. While a handful of guys got dinged up, it doesn't appear that any of those players will miss Saturday's game at Texas.
Defensive end Rashawn Parker was "better than expected" on Sunday, according to Rhoads. "Better than expected. He probably will be available on Saturday."
Wide receiver Darius Darks made "good improvement," Rhoads said. "We are optimistic that he will be able to play on Saturday in a limited role."
If Darks has anything to say about it, he will play. He's a native of Austin, Texas.
Running back Alexander Robinson and safety Michael O'Connell should be good to go as well.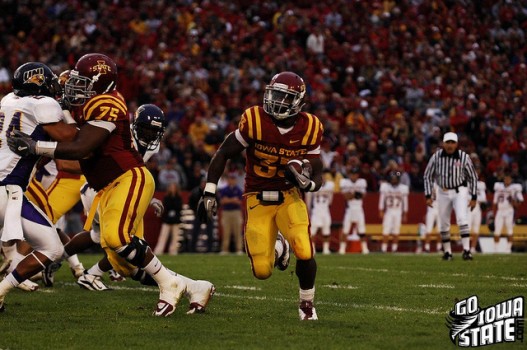 How tough is tough?
Seven of Iowa State's 2010 opponents are in the top 22 of the first BCS standings that were released last night. Three out of Iowa State's next five opponents are in the top 19 of the BCS.
For more on this, CLICK HERE to read a blog entry from Iowa State's Steve Malchow. Malchow points out that in addition to Iowa State, only three other schools in America have played three top 10 opponents to this point in the season.
More quotes from Paul Rhoads
On Texas' Offense
"Certainly the emphasis is on running the football, but they aren't doing that without eliminating working to stay balanced. If you look at them, they are somewhat comparable to us in terms of schemes. They still will spread it out, they operate from the zone read also. It's probably the team that's most comparable to us from an offensive standpoint from the groups that we've played so far."
On Texas v. Nebraska
"I studied their film against Oklahoma, because we've played Oklahoma so that would give something to gauge on. That was a very tightly fought game and Oklahoma might have had the upper hand in it, but the score remained close and in a rivalry game as strong as that one, it's a good one to make comparisons in for going into the next game. Nothing surprises me about Texas beating Nebraska. Texas has the number four total defense in the country. Any time you're playing a game with a defense that good, you're going to be in every single game that you play. I got to see the start of that game in the hotel room in Norman. The field was played on one side of the 50 (yard line). Texas took advantage of that, and got a lead."
On Iowa State players from Texas playing in Texas
"A key role in recruiting those kids is having the opportunity to go back and that's going to become even stronger in the future with the new Big 12 schedule. We'll be schedule two trips to the state of Texas every year. There's an anxiety and an excitement for those guys going back home. There's going to be a lot of people in the stands to watch them play, and it's always enjoyable for a player to have that opportunity."
On Iowa State's chances against Oklahoma / Texas
"We don't go into any game just desiring to be competitive. We certainly go into every game wanting to win. When we left the locker room at at 6:05, if we went out and played well, we thought we'd have that opportunity. We didn't go out and play well. We also played a very good football team. We're going to play another good team this Saturday. Our goal would be to win the football game, but in doing that, the goal will be to play better and not make mistakes, be aligned right, do the things that give us the opportunity to find success. I didn't think we always did that Saturday night. Their tempo affected us, certainly as a defensive football team. There were no surprises. Our kids knew what to expect. When you're playing a team as good as that, and they're operating that efficiently, it makes it a challenge. We put ourselves in way too many third and long situations as an offensive football team. You're not going to find success with a pass rush and coverage like Oklahoma has. We have to avoid that. We have to be third and medium or third and short, or we have to move the sticks on first and second down. Defensively, we have to get ourselves aligned right and give ourselves a chance to compete and tackle on every down."
On opponents' speed
"It's a numbers game. We certainly aren't without athletic and speedy players. We just don't have them at the numbers that opponents like this (Oklahoma, Utah, Texas) do. Recruiting philosophy is a part of it. Development is another part of it. When you look at all 22 positions on the field, it's hard to get certain players at certain positions because there's less numbers of them available. You have to identify those players, locate them, and then have success in recruiting them, and then develop them once they get here."