By Ian Smith, CycloneFanatic.com Contributor
Follow Ian on Twitter @IanWSmith3
Jacob Lattimer is part football player, part WWE wrestler.
The Iowa State defensive end brings an unmatched attitude and intensity to the Cyclones defense. Most importantly, he can dominate a game.
With Lattimer leading the way, the Iowa State defensive line is hoping to harass opposing offenses this season.
"We'd like to get at least three turnovers a game, whether that's fumbles or interceptions – however they come," Iowa State defensive coordinator Wally Burnham said. "If we can do that, we'll be in pretty good shape."
That's because against the explosive offenses in the Big 12 turnovers change games. Need evidence? See Nebraska 2009 and Texas 2010.
Luckily for Iowa State, Lattimer brings a hoard of experienced teammates with him. Opposite Lattimer at right end is junior Roosevelt Maggitt or senior Patrick Neal. Inside are Jake McDonough at tackle and Stephen Ruempolhamer at nose guard.
Those won't be the only Cyclones seeing action at defensive line. Iowa State head coach Paul Rhoads said to expect anywhere from 6-10 guys play. The depth is crucial to keeping the players fresh through the fourth quarter.
"We have a number of guys that are going into their third year of playing," Rhoads said. "With three years, there's been a lot of growth and development that's taken place physically as well as mentally. Guys like Stephen Ruempolhamer, Jake McDonough, Patrick Neal, Jacob Lattimer, they've been out there playing. They haven't gone from 2009 to 2011 without improvement."
Lattimer brings the heat
The sight of Jacob Lattimer's free-flowing hair probably gives Texas quarterback Garrett Gilbert nightmares. In a 28-21 upset victory in Austin last year, the 6-foot-3, 247-pound senior came after Gilbert all game.
He finished with two sacks and forced a huge fumble when he drilled Gilbert in the fourth quarter. His teammates should feed off that same type of oomph this season.
"The biggest thing Jake brings is so much energy," defensive ends coach Curtis Bray said. "He is going to bring it, bring it, bring it and outwork people a lot. The way he hits, he has a chance to create turnovers. He's an excitable player that brings energy to the defense."
While Lattimer put up solid numbers last season (39 tackles, four sacks, 6.5 tackles for a loss), he should only get better in 2011. Remember, he made the switch to defensive end from linebacker during the 2010 campaign.
"He's a heck of a football player," McDonough said. "He knows what he's doing. Having him switch from linebacker to defensive end was the smartest decision. He's been improving everyday since then. He's not afraid to get after somebody if they are not picking up the slack."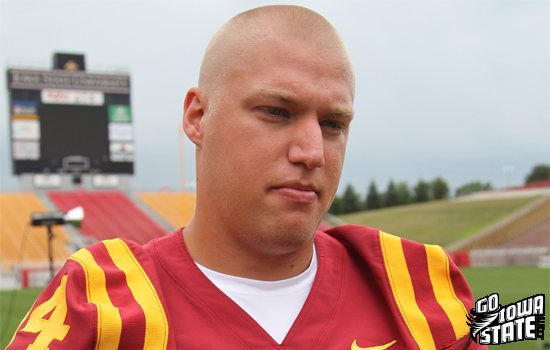 On the attack
If Lattimer can draw the opponent's attentions, it could be his teammates that benefit most.
Ruempolhamer and McDonough proved to be capable last year. Now a year stronger and more experienced, the duo could start consistently collapsing pockets.
"The experience is so valuable," Burnham said. "It just takes time to learn how to play football. Up front you're taking on big, humungous offensive lineman. It just takes a while to refine your defensive guys and get them to understand all the blocking schemes they are going to face and what they need to do to counter those type of things. It's a process. You're getting your brains beat in every snap."
At media day, Rhoads talked about mixing up his blitzes to attack offenses. It'd be even better if they front four could do it alone.
"The defensive line, we took it upon ourselves to made personal improvements – get stronger, bigger, faster, work on our technique," Ruempolhamer said. "Our biggest goal is to get to the quarterback this year."
Iowa State hopes that pressure forces turnovers and seals more big wins in 2011.