Sep 10, 2022; Morgantown, West Virginia, USA; Kansas Jayhawks running back Daniel Hishaw Jr. (20) runs the ball for a touchdown during the fourth quarter against the West Virginia Mountaineers at Mountaineer Field at Milan Puskar Stadium. Mandatory Credit: Ben Queen-USA TODAY Sports
Two weeks into the college football season, the Big 12 has confirmed what I greatly pondered during the offseason. This is going to be an absolute meat-grinder of a league this year. Cannibalization will occur often.
I will once again ask this rhetorical question: Is there a dominant team in the Big 12?
The answer is a clear no.
Texas showed us all something against Alabama last week, but it's easy to get up when Nick Saban and Co. are in town. Let's see how the Horns do over the next month with quarterback issues and the grind of a conference season. Perhaps they really are "back." The Longhorns are clearly much better on the defensive line, as last Saturday was an impressive performance.
What do we know about Oklahoma after games vs. UTEP and Kent State?
Baylor's double-overtime loss at BYU doesn't do much to change my opinion at all on the Bears heading into league play. Baylor is still very much a threat to win the thing.
I am high on Kansas State as a true Big 12 title contender. I wouldn't call the Wildcats a favorite though.
Texas Tech is better than most thought and will not be an easy out.
What about the top-scoring team in college football through two weeks ….. KANSAS. 
And Iowa State finally got that Cy-Hawk monkey off of its back. Eight to nine wins seem like a real possibility in Ames. 
It is going to be a fascinating fall.
Let's get to this week's games.
CW's record on the season: 11-8 (5-3 last week)
Texas State at Baylor (-30.5) — Texas State isn't terrible. The Bobcats throttled Florida International 41-12 last week. But it feels like a "get right" game for Baylor after averaging only 2.92 yards per rush on the ground in last week's double-overtime loss at BYU.
THE PICK: Baylor 42, Texas State 7
Oklahoma (-11) at Nebraska — Fascinating theater will take place this weekend in Lincoln. Scott Frost got canned and after years of throwing his players and coaching staff under the bus at every opportunity he got, I'm guessing we see a bounce-back game by the Huskers. Despite last week's disappointing loss to Georgia Southern, the Lincoln crowd will be electric. We should finally learn something about the Sooners too, as they have feasted on cupcakes in the opening two weeks of the season.
THE PICK: Oklahoma 38, Nebraska 30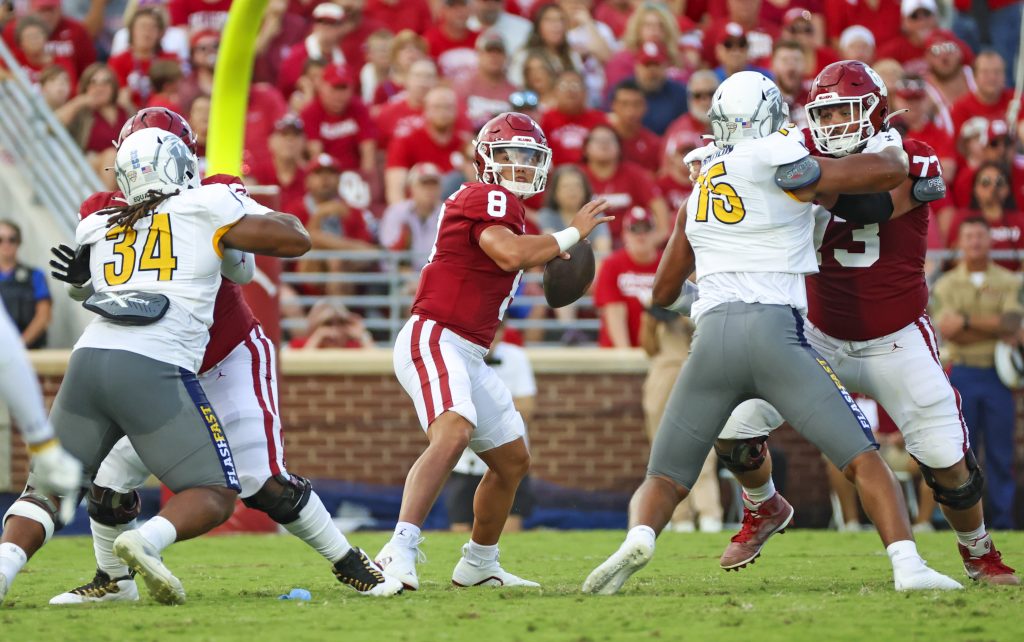 Ohio at Iowa State (-18) — I'm excited to see Iowa State's defense get tested by a real offense for the first time this season. This is usually the week of the season that Campbell teams start rolling. Avoiding an emotional letdown is key. Campbell being a "MAC guy" probably helps fight that off here.
THE PICK: Iowa State 41, Ohio 17
Tulane at Kansas State (-14) — Few people have been higher on the Wildcats than me over the last few months but after routing Missouri last week and with Oklahoma on the schedule next Saturday, this feels like a trap game.
THE PICK: Kansas State 27, Tulane 17
Kansas at Houston (-8.5) — Did you know … that Kansas currently has the top scoring offense in the country at 55 points per game. Kansas! Lance Leipold can coach, friends. If Kansas goes on the road and wins this one, it is officially time to take the Jayhawks seriously as a middle-of-the-pack Big 12 team this year. Seriously. 
THE PICK: Houston 42, Kansas 35
Texas Tech at NC State (-10) — Joey McGuire's start at Texas Tech has been sensational. Last week's win over Houston, in my opinion, was a flag-in-the-ground moment for Tech. This team might not be ready to contend for a Big 12 title, but the Red Raiders are going to be a brutal out this season. Now, they go on the road to take on one of the best teams in the ACC – a different kind of challenge but albeit, one I think the Red Raiders will be well prepared for. 
THE PICK: NC State 34, Texas Tech 31
Texas San Antonio at Texas (-12.5) — A tricky spot for Texas vs. a game UTSA squad that will be full of piss and vinegar. Really, a brutal spot for the Horns who have injuries at quarterback and are due for a letdown after NEARLY knocking off top-ranked Alabama. UTSA is a very solid football program with a Texas guy as head coach. This is the biggest game in the history of that young program and I expect the Roadrunners to play like it. 
THE PICK: Texas 31, UTSA 21