Sheesh, the Mid-Week Mailbag gets posted on Thursday ONE TIME and…
Of course I might be exaggerating a bit. But let me tell you… You guys let me know loud and clear that you're ready for your mailbag fix by the time Wednesday rolls around and I will not let this holiday-shortened week stop me from giving you what you need. I'm a man of the people, after all. That's why it's hump day and you're reading this now. You scratch my back, I'll scratch yours. Kapeesh?
Anywho, Iowa State acquired the services of Penn State transfer Rasir Bolton last night and that's reason for celebration, especially since it sounds like he and his family are confident that he'll get a waiver to play immediately. That would be a big boost to Steve Prohm's 2019-20 squad and, in my opinion, would put the team solidly in NCAA Tournament territory once again.
Let's roll right into today's mailbag by kicking things off with a question that relates to the recruiting process Bolton just went through…
Bubba Hubba (forums) asks: The next Iowa State national championship comes in which sport? What are your top 5-ish selling points for recruits (all sports or one sport, you pick) to choose ISU?
The last TEAM national championship that Iowa State won in any sport currently listed on Cyclones.com (Wikipedia, my 100% trusted source of all information, claims the dance team won championships in 2016 and 2017), was the 1994 men's cross country title. The '94 title was coach Bill Bergan's second on the men's side (the other happened in 1989) and Bergan also led the ISU women to cross country titles in 1975, '76, '77, '78, and '81.
The 60s/70s were also when Harold Nichols had the Cyclone wrestling program clicking on all cylinders. Between 1965 and 1977, Nichols led ISU to six team titles. The most recent wrestling championship, however, came in 1987 under Jim Gibbons.
Outside of cross country and wrestling, the only other program to win a national championship at Iowa State (1971, '73, '74) is men's gymnastics, which is no longer active.
With the knowledge of which programs have "been there, done that" at ISU already, and also taking into account the current state of those programs, my prediction is the next Cyclones national championship will come from one of the cross country teams. Just last year, the men's team finished 7th in the nation at the NCAA Championships and the women's team finished 15th. They're knocking on the door – they just need one or two key recruits and one or two spectacular runs at the right time in order to bring home the bacon.
Speaking of recruits… Here are a few of the biggest selling points about Iowa State on the recruiting trail, to me.
– Loyal, involved fan base that doesn't just support football.
– A town/community/campus in Ames that is family-friendly and beautiful, and just the right size
– Strong academics, especially if you're interested in engineering or agriculture
– Play in the Big 12 Conference, which is a great conference no matter what you hear from coastal elites or brainwashed Oklahoma/Texas fans
jbinm (forums) asks: Now that the dust has more or less settled on the spring recruiting period and we know what the basketball roster will look like for 19-20, which returning player will be under the most pressure to step up and shoulder a bigger load next season?
Tyrese Haliburton is going to have to look to be more of a scorer due to the departure of essentially every other primary guard/wing scorer off of last year's team. He's definitely in the conversation. Another option is Terrence Lewis, who has shown flashes of productivity over the past couple seasons but has been a bit too inconsistent thus far in order to stick in the rotation.
However, I think with the addition of Bolton to the roster, Iowa State is going to be flush with guard/wing options. Granted, most of those options are unproven at the Big 12 level, but surely a few of them are going to prove they have the moxie to thrive when they turn the lights on at Hilton Coliseum. If Lewis, or even Haliburton, struggles to step up out of the gates then Prohm is going to have other puzzle pieces to try to fit in his back court as the non-conference slate works out.
That's why my pick for who will be under the most pressure to step up and shoulder a bigger load is George Conditt. Cameron Lard's departure means those minutes are up for grabs. At this point, I think we know what we're going to get out of Michael Jacobson and Solomon Young, who will both be solid on both ends of the floor. But if Conditt can capture just a taste of what his potential appears to be, then it'll raise the ceiling of next year's group immensely. He can be an impact player protecting the rim on defense and a threat to flush pick & roll lobs down every possession on offense. "Can be" being the two key words there.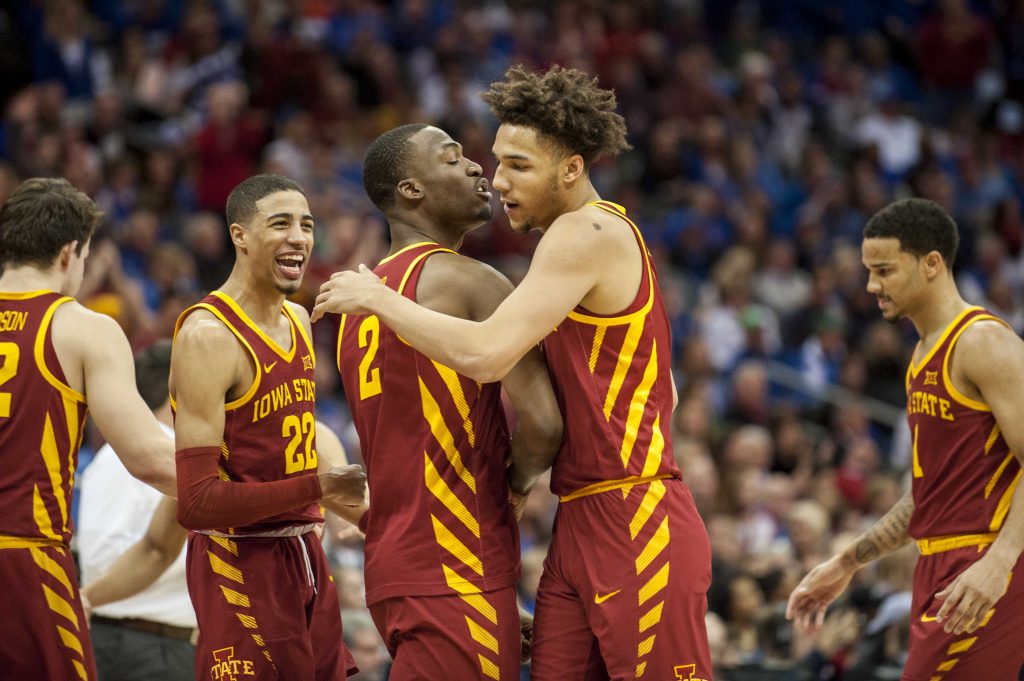 cyfan10 (forums) asks: Does the tradition of a DE wearing Coach Bray's number 58 continue this year and if so who do you think will wear it?
Will it? I can't say for sure, but I kinda hope it does. It's a nice nod to a man who made a positive impact on the lives of many younger men.
Since Bray passed away in January of 2014, a defensive end has donned 58 (Bray's playing number) every year to honor the fallen coach. Cory Morrissey was the first in 2014, followed by Mitchell Meyers (2x), J.D. Waggoner (2x), and Spencer Benton most recently in 2018.
It should be noted that all four of the guys who have donned number 58 were on the 2014 roster. Benton was a freshman that fall and may not have been coached by Bray directly, but surely met and interacted with Bray in some regard during the recruiting process. That means this may be the first year where no current defensive end on the roster had met Coach Bray. I'm not saying that's a reason the tradition should end this year, and I hope it continues no matter what, but if 58 doesn't make its way on the field this year then that might be why.
As for candidates for who might wear 58 this year… It has to be a current defensive end. Additionally, everyone who's worn 58 so far has been at least a junior. Using those requisites, that leaves these guys as the options: JaQuan Bailey, Eyioma Uwazurike, and Matt Leo. Digging a little deeper, Uwazurike played with number 50 last year but is listed as number 5 on the current 2019 roster, which makes me think he picked that this off-season and intends on sticking with it.
So we're left with JaQuan Bailey and Matt Leo. Flip a coin, I guess? I suppose I'll go with Leo to be #AussieNice and don 58 this season.
scottwv (forums) asks: Should Iowa State change JTS from Natural Grass to artificial turf (field turf)?
Short answer: No.
Long answer: I understand artificial turf is more team-friendly from a coach's perspective and I wouldn't blame Matt Campbell if he wasn't completely in love with the natural grass currently residing in Jack Trice Stadium. However, the turf crew generally does a fantastic job with it and it's a point of pride for a University that also prides itself on its agricultural roots. I don't foresee a switch to turf happening in the near future.
Cycsk (forums) asks: If you could name the Georges Niang podcast, what would you call it?
"Old Man Game" is a real winner that I've seen tossed out there already.
"The Unathletic Podcast" is my original idea that I don't believe has been suggested yet. It works since Niang has been called that on scouting reports his whole life (despite him being far more athletic than the average guy) and Chris, God bless him, probably fits unathletic in the traditional sense. I get that Niang is the main draw, but you gotta include CW somehow too, people. He's in charge of the site after all.
NWICY (forums) asks: Why has the popularity of NASCAR fallen off?
Because the Earnhardts, Gordons, Stewarts, etc. are no longer racing. I say that as someone who grew up a big Jeff Gordon fan and would tune into the occasional race just to see how he was doing. I was/am the definition of a "casual fan" and it was mainly due to the fact that my enjoyment was tied to Gordon's success.
Dale Earnhardt Sr. was by far the most popular driver before his tragic accident in the 2001 Daytona 500. After he passed away, essentially all of his fans instantly transferred their support to his son, Dale Jr. The elder Earnhardt had been in a big rivalry with the up-and-coming hotshot Gordon and that rivalry carried over a bit in the 2000s between Gordon and Junior. But once Gordon ended his run as a full-time driver in 2015, the link to the heyday of NASCAR essentially weakened to Earnhardt Jr., who retired himself from NASCAR's Cup Series in 2017.
The Golden Age of NASCAR happened in the late 20th century and essentially no "star" drivers remain that were part of that era. The diehards may still be on board, but for people like me, there's no compelling reason to tune in any more to see guys like Kyle Busch (gross), Brad Keselowski, and even multi-season champion Jimmie Johnson compete. I understand that there are a handful of uber-talented young drivers competing now, like Chase Elliott and Kyle Larson, but I couldn't pick either of those guys out of a lineup if my life depended on it.
NASCAR has to find better ways to reel in casual viewers. I'm not sure if it needs more innovation, better storylines, greater villain drivers or what. But it needs something to bring back the magic of the 80s and 90s.
ScottyP (forums) asks: May 28th is national burger day. What do you prefer on your burger?
Cyched (forums) adds: To piggyback off this, what is the most overrated condiment? Underrated?
Lettuce, onions, bacon, pickles, and sometimes tomatoes (depends on my mood) are my preferred burger toppings. The sauce is an entirely different thing in my opinion, but usually, I go with standard ketchup and mustard.
Most overrated condiment, even though I just said I usually go with it, is ketchup. It's not that ketchup is bad – it's just used far too often as a default when there are other options out there to try in order to reach burger nirvana.
Most underrated condiment for me is this stuff, which works on basically any burger or sandwich and hits the perfect "tangy, but not too spicy" sweet spot in my mouth:
coolerifyoudid (forums) asks: I feel like I can just about prepare an entire meal on a grill, but I suck at grilling chicken breasts. They are either underdone (no bueno) or overdone about every time. To my defense, I much prefer boneless skinless thighs, so it doesn't affect me much. What food is your undoing?
I share your pain on the chicken breasts. I haven't done much outdoor grilling yet (that will change this summer since we just bought a house in April) but I have a George Foreman grill and unless the chicken breasts are bought/sliced/pounded thin, it's always a struggle to get the middle cooked without overdoing the outside.
It used to be eggs-over-easy until my wife showed me that spraying the pan with oil beforehand essentially cured all of my charring/flipping problems. Boy, I felt dumb after that easy fix.
My biggest food nemesis in recent memory has probably been pie crust. I know I could just buy a pre-made crust at the store, but doing it from scratch just tastes better to me and (if done right) feels like way more of a baking triumph when the pie is all said and done. Problem is, when a from-scratch pie crust flops, it makes you want to give up and join the masses on getting the pre-made version. That's how I feel currently.
LoyalFawker (forums) asks: Now that wedding season is now in full swing, what is the best gift to give a couple as a baller on a budget?
It depends on the couple for sure, but if you have made some good memories with one or both of the bride and groom, then I think writing out a personal, extended note/card/letter to accompany a gift on their wedding registry is a classy and stand-out way to go. Go with one or two of the registry gifts they've selected (they obviously want those items, so they'll appreciate them!), just make sure it's not the cheapest item on the list otherwise you'll look like a bummer on a budget.
Writing out more than the typical "Congrats on getting married, Sincerely, Fitzy" and referencing some of the bride/groom's best qualities along with the memories you've shared with them will make them smile and they'll appreciate the thought you put into it, unless they're materialistic monsters who only care about things and not people, of course. It's a baller move to tell someone you care for and are happy for them in a manner that goes beyond the basics, and all it costs for you is a little more time and effort.
VikesFan22 (forums) asks: I'm currently on my honeymoon which has me wondering what your top places you'd like to visit are?
I'd love to visit and swim in the infinity pool on floor 57 of the Marina Bay Sands luxury hotel in Singapore. All other places take a backseat to that.
CyArob (forums) asks: Dear Fitzy, I walked into my backyard yesterday and turned a corner and nearly **** myself because I was about 2′ away from a group of 4 deer. Note that the deer were also freaked out and ran away. This brings me to my question. What is the most annoying yard animal? Squirrel, rabbit, deer, chipmunk.