Hello again, friends. Welcome back to your weekly five-minute escape from the terrors of an honest day's work.
When I last left you, David Montgomery and Hakeem Butler had yet to be drafted. Now, Montgomery is the new Jordan Howard replacement in Chicago (YAY and BOO as a Vikings fan) while Butler has gone off to join Ryan Gosling's Kliff Kingsbury's crew in Arizona. Somewhat surprisingly, no one had any questions to ask about those two for this week's mailbag. Perhaps that means that everyone is perfectly happy with the result? Hooray for contentment!
We've got about a 50/50 split of sports vs. off-topic questions for the Mid-Week Mailbag this go-around. Strap yourself in and let's get started.
LarryISU (forums) asks: After two 8-5 seasons, our "success" has hinged on some pretty thin margins. No one beats us by much, but we don't beat anybody by much. Even Akron and Drake, we just kind of did enough to win. When we will start building up a lead and putting in our subs? Is 2019 going to be any different, why or why not?
As with pretty much any answer related to the success of our football team, the ability to blow out opponents will come once the offensive line becomes consistently good. Blowouts usually happen due to two main things: an offense that can move the ball efficiently plus a defense that can quickly get off the field (by forcing punts or turnovers). I swear I didn't mean to make that sound as "score more points than the other team" as it did, but it's true.
We've seen the Cyclone defense improve tremendously under Matt Campbell. It's at the point it needs to be in order to win games despite an offense that has been inconsistent. Traditionally in the Big 12, it's the opposite for most teams.
The offensive inconsistency for ISU is mostly due to the line play. The pieces are in place now at the skill positions to do damage, but those pieces can't do near as much damage without holes to run through or time to throw and receive the ball.
The first year under Campbell that the Iowa State O-line starts pushing opposing defensive linemen 2-3 yards down the field on every run play will be the first year in school history that results in double-digit wins. And there will also be a few huge blowouts that year too, whenever it happens. Book it.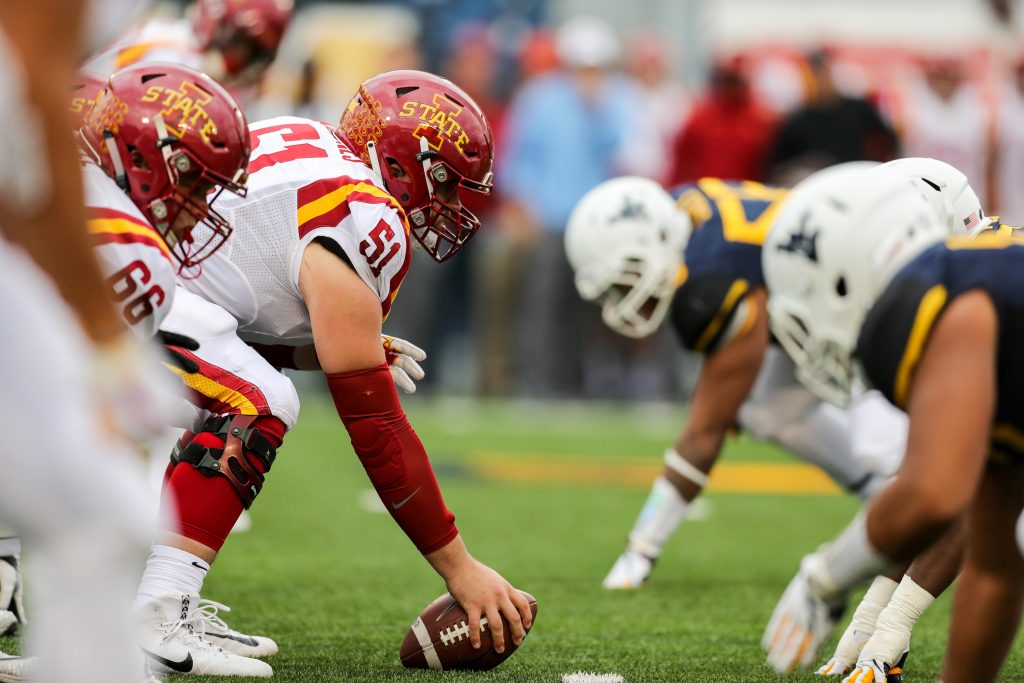 BCClone (forums) asks: Everything else the same. Would you rather have Lazard size and speed receivers or 5'9 receivers who run 4.3-4.35 40s?
That's tough. It kinda depends on if you'd let me adapt the offense to the type of receiver I choose. I'd choose the bigger receivers for sure if you also factor in that they're likely to be better at blocking on the perimeter than the smaller guys, but I'm going to assume that you want to make the blocking abilities equal in your scenario and go strictly off the difference in size and speed.
As much as it pains me, I think I have to go with the shorter, speedier receivers. Yes, not being able to do a typical bail-out jump ball to the Lazard/Butler mold would hurt, but there's a lot of value in quicker guys who can consistently get separation and into space to run after the catch.
Maybe to make up for the lack of height, I'd just make a few plays where two of my shorter receivers run down the field and one jumps onto the shoulders of the other. Seems like a fool-proof plan to tower over defensive backs and secure the lob from the QB. I'll be sure to pass on this idea to Coach Campbell.
Dandy (forums) asks: Steve Prohm turned down an interview with UCLA. Is UCLA still considered a blue blood?
In name only. The last time UCLA advanced beyond the Sweet Sixteen in the NCAA Tournament was in 2008 – over a decade ago.
Could they get back to blue blood status again in the future? Yeah, I think so. The location and rich history are there and can't be affected. But I think the Wooden era's influence on recruits diminishes with each passing year, and playing in the Pac-12 is a pretty big disadvantage at this point just because the level of play is poor compared to other power conferences.
Sigmapolis (forums) asks: ISU basketball — 2010 (when Fred came back) to last season (ended in Tulsa). With any of the players from that era, build me your best eight-man rotation, including five starters and three guys playing significant bench roles. And remember, I said an eight-man roster, not just the best eight players. Ideally, if you are making the best you can out of the players available in that era, the whole should be more than the sum of the parts, and the rotations have to make sense.
G Monte Morris
G Naz Mitrou-Long
G Marial Shayok
F Georges Niang
F Royce White
B DeAndre Kane
B Melvin Ejim
B Chris Babb
There you go. Obviously, I didn't include some guys with quite a bit of talent, but I think this roster checks almost all of the boxes you'd look for in a winning basketball team.
The two starting forwards are two of the most versatile offensive posts to come through the Big 12 in the past decade. White is unquestionably the biggest match-up nightmare with his ability to handle the ball and distribute if needed. Niang can score from anywhere on the court and in a variety of different ways. Neither of those guys was particularly great on defense, but I don't think either would be considered a liability either. I could have added a guy like Jameel McKay or Cam Lard for defensive purposes, but those guys are more limited on offense and I think Ejim brings some toughness down low off the bench even though he sacrifices a few inches.
As for the guards… Monte Morris, 'nuff said. Naz provides the perimeter shooting threat and a great leadership/morale guy while also being adequate on defense. Shayok gives me some length on the perimeter while also being a threat to score the ball. Off the bench, Kane is a perfect guy to come in and bully smaller guards while being the primary ball handler if necessary. Babb gets the nod over former Big 12 Sixth Man of the Year Tyrus McGee just because of his ability to serve as a lockdown perimeter defender on top of his shooting ability.
How'd I do?
cycophagus (forums) asks: 9 of the 10 Big 12 schools have baseball teams. When will Iowa State restore that sport to make it 10 of 10?
Sadly, the answer is probably never. RIP, Iowa State baseball.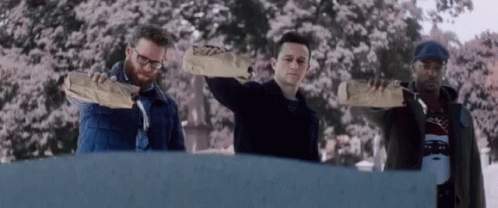 cmjh10 (forums) asks: Since its gonna be May tomorrow: Favorite NSYNC song.
LoyalFawker (forums) asks: With Thanos's snap half of both NSYNC and Backstreet Boys are dusted and the remaining ones join up to become a super boy band if you could choose which 5 do you save? 3 from one, 2 from the other.
Two NSYNC questions in one mailbag? Why do you guys hate me?
My "favorite" song is probably Bye Bye Bye. I'm no hipster when it comes to NSYNC. The music video is pure late 90s / early 2000s at its best.
I'd save the following from NSYNC and Backstreet Boys: Justin Timberlake (duh), Joey Fatone (anyone who goes on Impractical Jokers deserves to stick around), JC Chasez, Nick Carter, and Brian Littrell. I know next to nothing about any of those guys outside of JT and Fatone, so take my answer with a grain of salt.
coolerifyoudid (forums) asks: Everything has an expiration date anymore. What food/drink do you strictly adhere to those dates? Which ones are you lax with? What's currently in your fridge that expired when dubstep was cool?
After accidentally pouring spoiled milk over my cereal once and not realizing it until I had swallowed a spoonful, I have been permanently scarred for life and always check the expiration date on milk containers. I'll even throw out milk a day or two before the expiration date if I get even a hint of aging when I take a whiff.
Meanwhile, a food that I'm usually pretty lax with would have to be spices. I know a lot of them will lose their "pop" or freshness after a while, but at least most of them won't taste BAD if they're past the expiration date. We have a lot of spices in our cabinet at home that are probably due to be thrown out and replaced, but for some reason that just seems like a waste.
The oldest thing in my fridge right now is probably an old bag of frozen asparagus – the kind you just throw the entire bag in the microwave for five minutes and then it's ready. I have no intention of ever eating it (it was one of those "I'm going to be healthy now!" purchases while strolling through the aisles of the grocery store). Probably should just throw it away, but it's not doing any damage in the back of my freezer and I'm not pressed for space. I'll allow it to continue being part of the family for now.
JP4CY (forums) asks: Most popular TV series your friends watched and talked about regularly but you've never seen an episode? (Due to the GoT talk). Me: Scrubs.
Breaking Bad. I want to see it and will get around to it eventually.
Cycsk (forums) asks: Spoiler or anti-spoiler? Do you like to dish out spoilers? Or hate it when people give spoilers?
For movies and shows that release entire seasons in bulk (think Stranger Things and other Netflix series) I am strictly anti-spoiler. Not everyone is going to get to see a movie the day it's released and not everyone is going to binge an entire season the day it gets dropped. Thus, the right thing to do is to remain silent for at least a couple weeks to give people time to work it into their schedule.
For shows that are released on an episode-by-episode basis and air at a specific time set in advance, I think people should be able to freely talk about them as they happen. It's no different than a live sporting event… Yeah, it sucks for the people who can't watch as it's happening, but if you're really concerned about not spoiling it for yourself then it's on you to take measures to avoid spoilers.
JHUNSY (forums) asks: In the spirit of the NBA playoffs and Avengers Endgame, give us your Marvel starting 5.
Captain America (leadership, intangibles, spirit-booster)
Iron Man (brains, swagger, financial support)
Spider-Man (more brains, witty banter, versatile)
Doctor Strange (more brains, essentially the Gandalf/Dumbledore of Marvel)
Thor (physical strength, lightning powers, is a god)
That five, with Deadpool providing play-by-play of everything as it happens, please. Heck, make Wolverine the color commentator to really make things interesting.