Feb 28, 2019; Indianapolis, IN, USA; Iowa State running back David Montgomery (RB16) speaks to the media during the 2019 NFL Combine at the Indianapolis Convention Center. Mandatory Credit: Brian Spurlock-USA TODAY Sports
Hello and welcome back for another off-season edition of the Mid-Week Mailbag. This week, we have the pleasure of talking about the 2019 NFL Draft, which will be happening this Thursday through Saturday. More specifically: What will happen to former Cyclones Hakeem Butler and David Montgomery?
Additionally, I name a few of the current players on Iowa State's roster who I could see getting selected at the draft within the next 2-3 years.
Let's roll.
IndyClone15 (forums) asks: When do Butler and Montgomery get picked?
Dandy (forums) asks: Will Hakeem Butler finally break ISU's horrible NFL Draft first round drought?
Jared and I touched on the draft a bit in this week's episode of Stanz & Fitz, and in it I predicted that Butler would go early in the 2nd round and Montgomery sometime in the 3rd round.
Here are my personal best-case and worst-case picks for both (strictly meaning the earliest and latest I could see both being picked – nothing to do with the state of the team they'd land with):
Butler best-case: Round 1, Pick 27 (Oakland Raiders). The Raiders have three 1st round draft picks this year and I could see them going with a wide receiver or running back with their third pick. Other than the newly-acquired Antonio Brown, the Raiders' receiving corps includes Tyrell Williams, Keon Hatcher, J.J. Nelson, and Marcell Ateman. Not exactly a list that makes opposing secondaries shake in their boots.
Butler worst case: Round 3, Pick 37 (New England Patriots). In this scenario, I think there would be two main factors working against Butler. The first is this is a pretty deep draft as far as receivers are concerned, so teams may feel that they can wait a few rounds and still come away with a quality wide-out. The second factor – again, hypothetically – would be many teams simply think the NFL is trending more toward smaller, quicker receivers and that dampens what makes Butler so dangerous. Regardless, I can't see a player of Butler's size and athleticism falling beyond the end of the 3rd round.
Montgomery best case: Round 2, Pick 31 (Kansas City Chiefs). Montgomery has drawn a lot of comparisons to former Chief Kareem Hunt and would immediately be able to contribute in KC's high-powered offense led by Patrick Mahomes. We will likely see running backs who have "more upside" get taken before Montgomery, but there are not very many backs who are a safer pick than David.
Montgomery worst case: Round 5, Pick 7 (Tampa Bay Buccaneers). The Bucs took Ronald Jones in the 2nd round of last year's draft, but he mostly underwhelmed in his rookie season (1.9 yards per attempt on 23 rushes). Additionally, talent evaluators say that Jones has bricks for hands and will never be a big contributor in the passing game. I could see Tampa Bay taking Montgomery here and think he would instantly be an upgrade over Jones and Peyton Barber in their backfield.
Like the rest of Cyclone Nation, I'm rooting hard for a team to take Butler in the 1st round on Thursday night because I'm tired of hearing about "the streak" of 45 years without a 1st-rounder. It sucks because looking back, Kelechi Osemele clearly should have been taken in the 1st round of the 2012 draft to end the streak (he's a two-time Pro Bowler and was first-team All-Pro in 2016). Instead, he was taken by the Baltimore Ravens in the 2nd round in the same draft where the Minnesota Vikings selected human turnstile Matt Kalil at No. 4 overall (barf).
It's not like Iowa State football has been completely devoid of top-end talent during the streak – the few guys with NFL talent just haven't been taken in the 1st round. If I had to bet money on it right now, I could see Butler falling into the 2nd round and then becoming a great NFL receiver that pundits agree should have been taken in the 1st round when we're looking back 5-10 years from now. That, as a fan, would suck… But hey, if we're being realistic, I'd rather have ISU guys get drafted in the 2nd round and go on to be fantastic NFL players than have guys get drafted in the 1st round and fail out of the league.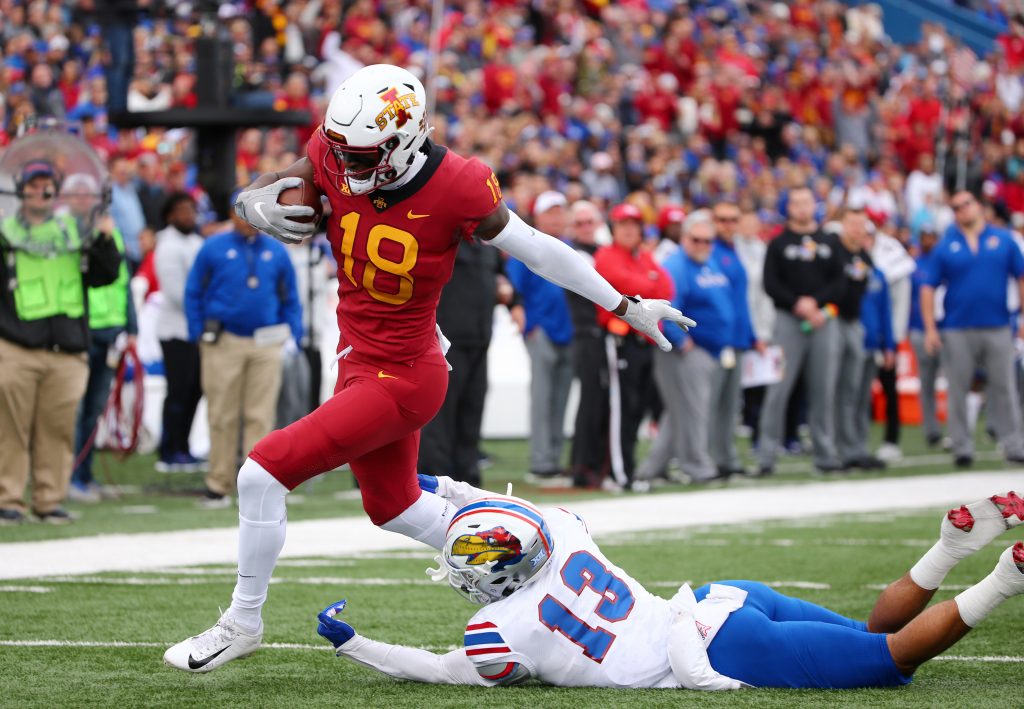 cyclones500 (forums) asks: Choose one:

A. Butler and Horton-Tucker both are selected in first round of their respective drafts.
B. Bulter 1st round, THT not.
C. THT 1st round, Butler not.
D. Neither chosen in 1st round.
I'll pick scenario C.
Again, I think Butler will be taken in the 2nd round, so that rules out the first two choices. In most mock drafts these days, experts have Talen Horton-Tucker going in the 1st round of the upcoming NBA Draft and I think that's going to end up happening. Rough patches during his lone college year aside, he's got immense potential with his body type and room to develop at just 18 years old. Some NBA team that has the ability to be patient is going to take a flyer on him with their first pick.
RealisticCy (forums) asks: Of everyone on the 2019 football roster, who eventually gets drafted and who has the potential to go the highest? Anyone gonna break the first round drought?
Lots of things can change, but I think Marcel Spears Jr., Ray Lima, JaQuan Bailey, and Josh Knipfel are the guys we'll be discussing this time next year. I might throw Julian Good-Jones in that list as well depending on how his senior season goes.
As for 2021 and beyond, I'll take a wild stab and say these guys have the potential to become NFL players: Greg Eisworth, Eyioma Uwazurike, Tarique Milton, Datrone Young, Colin Newell, Robert Hudson, Charlie Kolar, Brock Purdy, Mike Rose, Anthony Johnson, Joseph Scates, Will McDonald, Breece Hall, and Blake Peterson. Hopefully more guys develop over the next few seasons and can work their way into the discussion.
Breaking the 1st round drought hopefully won't be needed after this year's draft, but I'd select Rose, Hall, and McDonald as my three with the potential to go highest. Rose has that "it" factor, Hall will have every opportunity to fill David Montgomery's role over the next few seasons and will hopefully have better line play in front of him to make his stats look better to scouts, and McDonald is reportedly a "freak" based on feedback from behind the scenes at a position (DE/LB/Edge) that the NFL values highly.
StevieISU23 (forums) asks: Rank the home football game dates– Not by the specific team we are playing.
No. 1: October 5 (TCU). Conference home opener in what should be a mild temp. Not too early that you'll walk away with sunburns after standing in the sun for four-plus hours, but not too late that you'll have to pack the Carhartts.
No. 2: September 13 (Iowa). I prefer warm weather to cold weather personally, so that's why this earlier date comes in next. I'm breaking the "don't factor in teams" rule and putting the Iowa game before Louisiana-Monroe the next week. Does that make the game my Super Bowl?
No. 3: September 21 (Louisiana-Monroe). Should still be in the 60s or 70s at this point and even though the opponent is a patsy, it'll still be a fun one to attend as a fan.
No. 4: October 26 (Oklahoma State). Late October should mean that things have settled into the 40s and 50s consistently, which are good football and tailgating temps. It's nice being able to sip on a cold beverage or hot beverage and not feel like either are out of place.
No. 5: November 16 (Texas). November doesn't automatically mean the cold has arrived, but it'd be safe to expect things in the 30s or thereabouts. Make sure to wear layers and you'll be good to go after two weeks away from The Jack.
No. 6: August 31 (UNI). You know this game will be played during the day after last year's opening game scheduling debacle. That almost guarantees you'll get back home in the evening as red as the T-shirt you wore to the game.
No. 7: November 23 (Kansas). At this point, the novelty of cold weather tailgating has worn off and the opponent isn't appealing. We can only hope that Iowa State is in the Big 12 title hunt so that can be used as a great motivator to brave the frozen tundra.
Bret44 (forums) asks: Would you rather wear one of Matt Campbell's sweaty ball caps for a month straight, or Ray Lima's game worn jocks for 3 hours straight?
Well, the sweaty ball cap would only be sweaty for what, three hours or so before it dries off and simply becomes a cap formerly worn by one of the best young coaches in college football… Right?
Seems like an easy pick for me. I have no interest in sharing a game-worn garment that has touched places the sun never shines.
KCClone1 (forums) asks: Your top 5 TV shows of all time? I just finished Mad Men and it was excellent. Mine would be It's Always Sunny. The Simpsons. Sopranos. Mad Men. I can't decide #5. GOT, Breaking Bad, Family Guy, Walking Dead, Seinfeld. It might be GOT depending on how it ends.
There are plenty of shows I haven't seen that are traditionally considered among the top shows of all-time, so don't get mad at me for not including an "obvious" one below. If I were to stick with shows that I have completed (or are up-to-date on) myself, the list would look like:
No. 1: The Office.
No. 2: Game of Thrones.
No. 3: LOST.
No. 4: Mr. Robot.
No. 5: How I Met Your Mother.
No interviews, please respect my decision. But, for the record, Breaking Bad and Mad Men are the shows I'm most interested in checking out sooner rather than later.
Sigmapolis (forums) asks: You have a nuclear weapon that you MUST use on a "major" U.S. metro area. I define "major" as anything above one million on the 2018 list here… So the smallest you can go is Tucson, Arizona. You have 53 options. Which one gets it and why?
Tucson, Arizona. Reasoning: I do not like murdering more people if murdering fewer people is an option.
CloneGuy8 (forums) asks: For most of my life, I've only used the front door as that is what I was taught. However, recently I've started using the backdoor more and have been enjoying it. Is it better to use the front or back door when both are an option?
Have a great rest of your week and enjoy the NFL Draft, Cyclone Nation!