Oct 20, 2018; Pullman, WA, USA; Washington State Cougars head coach Mike Leach looks on during a football game against the Oregon Ducks in the second half at Martin Stadium. The Cougars won 34-20. Mandatory Credit: James Snook-USA TODAY Sports
It's Cy-Hawk basketball #HateWeek and Iowa State football just got picked for the freakin' Alamo Bowl, so this is a fun time to tackle some questions from loyal readers like yourself.
Let's waste no time and get right to this edition of the Cyclone Fanatic Mid-Week Mailbag!
DSMCy (forums) asks: Thoughts on the game Thursday? What FRANCON level should we prepare for?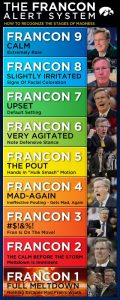 I think FRANCON 1 is legitimately in play for this game. Allow me to explain why.
This Iowa basketball team, ever since it beat Oregon and UConn in Madison Square Garden, has been vastly overrated. That Oregon team (which was ranked No. 13 when Iowa played them) has since lost to college basketball powerhouses Texas Southern and Houston in back-to-back games. The UConn win still looks pretty good, but the Huskies aren't the program they once were and KenPom indicates as much, slating them as the 90th best team in the country currently.
Freshman standout Joe Wieskamp got dinged up in Iowa's game against Michigan State on Monday and is listed as a game-time decision for the Cy-Hawk game. I'd expect he'll play (since it's the #SuperBowl after all), but in the event that he doesn't, things could get real ugly for the Hawkeyes. Outside of Wieskamp, the only real new addition to the rotation for Fran McCaffery's team is his own son, Connor, who is a guard logging just over 21 minutes per game and shooting 43.8% from the field along with a cringe-worthy 12.5% mark from long range. To Connor's credit, he has a nice assist-to-turnover ratio (27 assists to just 7 turnovers on the season), so he doesn't make many mistakes, but I wouldn't define him as a huge threat.
What I'm trying to get at is that outside of Wieskamp (who is questionable to play) and Connor McCaffery, Iowa's team isn't much different than the one that lost to a much poorer Cyclone team last year. The difference between Carver-Hawkeye Arena and Hilton Coliseum may swing a few points in favor of the Hawkeyes this time around but I really like Iowa State's chances to come away with a road victory Thursday night. If Steve Prohm's crew plays to its potential, it could even be a drubbing. Knock on wood.
kentkel (forums) asks: Your most memorable Iowa-ISU basketball game? (Personally, mine was the "Lafester Rhodes" game – I'm old).
I'm sure the Lafester Rhodes game would have been up there for me too if I hadn't still been 5+ years away from being born. Don't feel bad about admitting your age in this instance though – consider yourself lucky that you got to experience Rhodes dropping 54 on the Hawks in real time!
For me, it has to be the 2015 game. That match-up had everything and was one of the classic cases of Hilton Magic fueling a big comeback. Hawkeye Jarrod Uthoff went off for 30 points in the first half and could seemingly hit shots from anywhere in the building. He was well on his way to overtaking Rhodes' performance as the single-most impressive individual outing in the series.
Iowa State was down 43-23 at one point before heading into halftime down 14. The Hawks even got the lead back up to 65-46 with under 15 minutes to play.
Then, the magic happened.
A huge run from the Cyclones evaporated the lead and two Georges Niang free throws had ISU within one point with 53 seconds to play. Mike Gesell missed a jumper for Iowa and on the ensuing possession, Monte Morris made a runner in the lane with 10 seconds remaining. 83-82 Iowa State lead.
Naturally, Uthoff, who had been held to just two second-half points after his eruption in the first half, got one more chance to take the game-winning shot from the top of the key, but the ball clanked off the front of the iron to complete the massive ISU comeback victory. It was an incredibly fun win to experience in person and I had fun revisiting some premature Hawkeye celebration tweets on the one-year anniversary.
Before I move on from this question, I must mention the end to the 2013 game in Hilton, which is probably my second favorite Cy-Hawk basketball memory. I'll just link the video of the closing seconds that features another episode of Mike Gesell NOT coming through in the clutch.
CyJeans (forums) asks: Who is a bigger rival to you in basketball, Iowa or Kansas?
This is an easy answer for me… It's Kansas. It's always fun to win the Cy-Hawk basketball game, but it doesn't equal the importance of the two annual match-ups with the Jayhawks.
Kansas basketball is the evil tyrant of the Big 12 conference. Their regular season title streak is beyond annoying and I'd love for Iowa State to be the team that finally knocks KU off their throne. That would garner a ton of attention from the national media and be a massive accomplishment for the program.
Will it happen this year? Probably not. But a man can dream.
DandyCyclone (forums) asks: We were #blessed with both but if you had to choose one and lose the other would you rather have: 2 years of Michael Jacobson or 1 year of Marial Shayok?
Thank goodness we are #blessed with both as you pointed out!
Faced with choosing one or the other, I think I'd take two seasons of Michael Jacobson just because good big men have been traditionally tougher for Iowa State to recruit to Ames. That's not to say there haven't been some great posts on the team recently (Niang, Ejim, etc.) but Jacobson provides such an underrated value in that he is solid as can be every time he comes into the game. Never once so far this season have I felt that having Jacobson on the floor was hurting ISU on offense or defense. He's quickly becoming one of my favorite players on the team.
Of course, after admitting my love for Jacobson, I must point out that Marial Shayok's contributions haven't gone unnoticed either. His length and therefore his versatility is a big-time asset. If he can cut down on his turnovers just a bit, he will cement his status as one of the best players in the conference this year.
pulse (forums) asks: Who would you rather have shoot a baseline 17' jumper: J-Bev or Marial Shayok?
Yes.
LarryISU (forums) asks: When April rolls around, with regard to MBB will we more likely be saying, "Wow, what a year! Future looks great!" or "What the heck happened? Where do we go from here?" Explain your answer.
With every passing game, I get more and more confident that it will be the former. Allow me to share a tweet that came across my feed the other day:
There are currently 8 teams in the country with top 20 adjO and adjD:
Duke
Kansas
Virginia
Michigan
Auburn
Tennessee
Wisconsin
Iowa State

— gettingwiggywithit (@AlexBerngard) December 4, 2018
The huge difference maker that could propel this Iowa State team to heights it hasn't seen since the early 2000s is that adjusted defense stat. Offense was always a given during the Hoiberg era and the first two seasons of Prohm's tenure. Pairing an efficient offense with an equally stout defense will make it so the Cyclones don't always have to be "on" in order to come away with a victory.
Add in the fact that ISU is ranking so well in AdjO and AdjD and it's all been without four key players for almost the entire season and WOW I'm getting a little hot and bothered.
cyclones500 (forums) asks: On the Surprise-o-Meter, where do you put ISU getting an Alamo Bowl bid over WVU? (1 is "I was almost 100% confident"; 10 is The Opposite). Explain your rating.
I was solidly at a 5 on your scale, so roughly 50/50. West Virginia still has a better national draw than Iowa State at this point and if the Alamo Bowl would have weighted TV ratings higher than anything else, it wouldn't have been surprising to see them take the Mountaineers.
At the same time, I'm not shocked that the traveling reputation of Cyclone fans is what won out. Based on ticket sales reports so far, it's safe to say the Alamo Bowl folks are likely happy with their decision as well.
ISU did decimate West Virginia in the head-to-head this season too, after all, so it's good to see that small detail get some justice in the bowl pecking order even if it was an afterthought in the selection process.
Cycsk (forums) asks: What is your favorite Mike Leach interview?
I have to go with this one on weddings because it happened just a few months after I got married and I found it wildly entertaining. God bless Mike Leach.
cyfanatic13 (forums) asks: Do ISU fans overplay the whole Busch Light thing? Seems like it's run its course as an annoying joke now a la: nut cups, let me mayor coach, does he even sweat, etc. I'll hang up and listen.
Ladies and gentlemen, it's time for an intervention.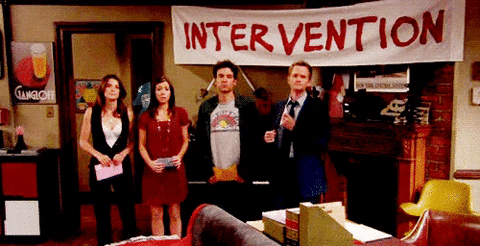 Yes, the Busch Light thing is overplayed.
Look… For the usual cheap beer candidates, Busch Light is my preferred choice. It's perfect for guzzling in copious amounts. Busch Light knows its purpose and it fits that purpose well.
But to all the people who act like it's God's gift to mankind brewed directly from the waters of the fountain of youth? Get out of here.
Let's go back to being a fan base that simply prides itself on drinking BEER – not Busch Light specifically – COLD, HARD BOOZE. The name on the front of the bottle shouldn't matter. If it has alcohol, we need to be known for consuming it. Throw in all non-beer booze as well. Leave no drop un-drank.
Also, going to San Antonio and specifically requesting Busch Light is laaaaaame. It's the equivalent of going to San Antonio and specifically requesting food from Outback Steakhouse. Branch out and try some things that you wouldn't normally get access to at home, for crying out loud.
SHisubvu (forums) asks: What is your favorite Christmas treat?
Beyond the leftover cookies from the batch made for Santa, anything with cinnamon in it inspires good holiday memories. I don't think my family or my in-laws necessarily have a dedicated Christmas food tradition, but for some reason, things with cinnamon just give me that warm and fuzzy holiday feeling. Monkey bread is a great example.
BCClone (forums) asks: Is it socially acceptable to strike up a conversation with people you don't know while at a urinal? I find it awkward and just prefer to do my business in quiet.
Ah yes, we couldn't get through another Mid-Week Mailbag without a question related to the bathroom.
The answer to this question is a resounding "NO." Once you step up and assume the position, your time at a urinal should be yours and yours alone. Head straight forward, no horizontal movements, and remain in complete silence while you complete your business.
Small talk is already bad enough. Don't force it upon others in a situation where a sharp zipper is usually just a couple centimeters away from doing considerable damage.
---
That's it for me this week! December should be a fun month full of Cyclone basketball and lead-up to the Alamo Bowl, so if you have any questions you'd like to see included in an upcoming edition of the Mid-Week Mailbag, feel free to tweet at me (@KFitzy87) whenever you think of a question you'd like to see answered.
Until next time, amigos!