Nov 24, 2018; Ames, IA, USA; Iowa State Cyclones running back Kene Nwangwu (3) runs the football against the Kansas State Wildcats at Jack Trice Stadium. Mandatory Credit: Reese Strickland-USA TODAY Sports

Welcome back to another edition of the Cyclone Fanatic Mid-Week Mailbag.
Last week, Chris Williams asked if I could write something about the K-State rivalry in place of the MWM and let me tell you, the result was spectacular in my humble opinion DESPITE YOU BIG BABIES CLAIMING THE CONTRARY.
I kept the receipts, folks.
For the record, I have it on good authority that about 1/3 of the capacity of Hilton Coliseum ended up checking it out, so either some of you are FAKE NEWS or there are a lot more brave people out there on the interwebs.
But that's not all. We got a ton of good questions for this week's mailbag (so many that I couldn't use them all), but embedded within all of those beautiful questions was THIS:
pulse (forums) asks: Are you going to stop being such a humongous negative sourpuss and stop writing articles like Top 10 Losses by ISU? I'll hang up and listen.
I'm 90 percent sure that "pulse" said this in jest. The problem is, that 10 percent of doubt in my mind got me TRIGGERED enough to make the intro to today's mailbag all about this injustice. Now that Iowa State has gotten over the hump and ended Bill Snyder's reign of terror, all of you babies who definitely didn't read my K-State article can go back and stomach it. You'll live, I promise.
DECADE OF PAIN: Revisiting and ranking 10 consecutive losses to Kansas State
Now that that's been cleared up, we can move on to our regularly-scheduled Q&GT (question and gospel truth) session.
MeowingCows (forums) asks: Describe the feelings you experienced going through the 4th quarter against KSU. Did we just end Bill Snyder's coaching career?
I'll be completely honest – my senses were slightly dulled while watching at home due to some, ahem, coping methods as the Cyclones worked themselves into a 17-point deficit. When Isaiah Zuber ran it in from four yards out to make it 38-21 with less than a quarter to play, the thought to turn off the TV definitely crossed my mind.
Nevertheless, I persevered. Please hold the applause.
It helped that Iowa State's scoring drive after the Zuber touchdown only took 2:04 minutes of game time. Then, just 1:39 later, Mike Rose rumbled into the end zone on the fumble return. Even though 17 points seemed like an insurmountable deficit when it happened, the reality was that ISU only spent a grand total of 3:43 down double digits. The rebound of emotions was swift.
The point that I finally started to believe that the typical Farmageddon tragedy wouldn't happen was the Kansas State offensive possession following Rose's touchdown. That's traditionally a time when Snyder and Co. go on a soul-draining scoring drive to put the game away. Instead, the Cyclone defense forced a three-and-out to set up the eventual game-winning drive.
The Wildcats ended up getting a second opportunity for that signature offensive drive down four points with just under five minutes left, and I was definitely still concerned, but there was also a strange comfort present. I don't know if that was because KSU needed a touchdown or because of all of the momentum the good guys possessed at the time. Thank goodness the drive stalled out and the decade of pain was finally ended.
Regarding Snyder, I think it's a bit odd that he hasn't retired already if he was going to do it after this season no matter what. Perhaps he was counting on beating the Cyclones and making a bowl game since his program had become so accustomed to taking care of business against ISU. Since Kansas State will now be staying home this winter, there's no reason to delay the announcement if he's got his mind made up. Something tells me we haven't seen the last of the vampire.
CyCloned (forums) asks: Does Matt Campbell use the starters for the Drake game or does he start as many senior reserves as he can? Would love to see Mike Warren get the start.
KnappShack (forums) asks: Does this team even want to play Drake? The fans don't seem energized.
My guess would be that the bulk of ISU's starters will only play the first half and the second half will be completely left to the reserves, unless Drake somehow keeps it within a touchdown heading into halftime. We could see Kyle Kempt and Mike Warren get the first drive on offense to thank them for their time in Ames, but I wouldn't expect much else to be different from the norm until the Cyclones build up a cushion.
To answer KnappShack's question, I'll say that I think the general feeling from the fan base is probably quite different from what the players think. While we fans are sitting here wondering if this seemingly surefire win is worth the time, the guys in the locker room are probably just happy to get another chance to put on the uniform and play ball, name on the front of the opponent's jersey be damned. I'm sure Coach Campbell wants his athletes to feel that way too. Anything less is begging for a disaster of an outcome.
UNIclonefan (forums) asks: What is your gut feeling for ISU's bowl game?
cycloneML (forums) asks: What are the chances Hakeem Butler or David Montgomery sit out the bowl game to prepare/rest for the draft?
All signs point to this team heading to either the Alamo Bowl in San Antonio or the Camping World Bowl in Orlando.
A lot will depend on how championship weekend shakes out – does the Big 12 get a team (Oklahoma) in the College Football Playoff? If so, everyone else gets moved up a rung on the bowl pecking order and the Alamo Bowl becomes a real possibility for Iowa State. If not, Orlando becomes nearly a sure thing.
My gut feeling is Oklahoma beats Texas this weekend and squeaks into the CFP as the 4-seed. That sends the Longhorns to the Sugar Bowl and leaves the Alamo Bowl with the choice of West Virginia or Iowa State. I'll go out on a limb and say the Alamo Bowl picks ISU due to the fan base's reputation of traveling well along with the fact that Mountaineer fans may not be as enthusiastic given they were probably dreaming of making the Playoff themselves just a few weeks ago.
No matter where ISU ends up, I expect both Hakeem Butler and David Montgomery to participate, even if they both settle on declaring for the draft after this season. Both should be well-aware that bowl games aren't an every-year thing for this program and since neither are likely to be first round picks, I think they have more incentive to play and ball out to hopefully raise their draft stock in front of a national audience.
cyclone4L (forums) asks: Which Cyclones of the Chizik and Rhoads eras do you think would have most benefitted from playing with Campbell and Co? My top three would have been Rodney Coe, D'Vario Montgomery and Shontrelle Johnson.
I was always a big Shontrelle Johnson fan, so I like him as one of your picks.
Another guy I loved to watch who probably could have been used as a gadget effectively in a Matt Campbell offense is former wide receiver Jarvis West. I bet Campbell could have gotten really creative with some formations and plays to get him in space and use some of his "cut on a dime" ability to the fullest. West played for some baaaad offensive coordinators and a player with his skill set should have been used more effectively.
If I had to pick a guy on defense, I'd go with Channel 10 News himself, Jacques Washington. Washington was a fun safety to watch and had an equally fun personality. I think he could have thrived in the Jon Heacock defensive scheme currently employed and always seemed like the kind of guy that others want to be around.
CyJeans (forums) asks: Who is your November MVP on this basketball team? I think an argument could be made for everyone in the starting 5 to some degree.
You're totally right that you could make a case for anyone in the starting five. However, the player I'd throw my vote for would have to be Michael Jacobson.
Jacobson has exceeded just about everyone's expectations so far and a big way that I determine a MVP-caliber player is to imagine what their team's performance would be like if the player was removed entirely. Without Jacobson, I'm not sure the Cyclones would have won a game in Maui. He played that well in those three days.
Now, you might be thinking "well of course that's the case, ISU would only have freshman George Conditt left inside." That's fair. But you also have to consider how versatile Jacobson has been on offense coupled with how solid he's been on the boards. I'd argue no other big on Iowa State's roster, including Cameron Lard, could fill the exact role that Jacobson has played so far this season. That's why he's so important and my MVP so far.
Dingus (forums) asks: What's your take on the 2019 (basketball) recruiting class? How do you think it stacks up compared to the previous three classes?
It's not the most impressive class on paper, especially compared to last year's haul of prospects, but I think Steve Prohm wrangled three recruits that he believes are a good fit for the program he's building.
Luke Anderson provides the stretch-four mold that is so important for spacing in today's offenses. Having a year to learn from Michael Jacobson next season will be valuable in his development.
Tre Jackson doesn't "wow" you with his athleticism, but he seems like he has a bulldog mentality as a point guard and does what it takes to win. Prohm has a great track record with point guards so I think he sees a lot of potential in Jackson to be the future floor general for the Cyclones.
Marcedus Leech is the most intriguing of the group given his level of athleticism. Before he broke his leg playing pickup ball, forcing him to miss a season in high school, Leech was well on his way to being a 4- or 5-star recruit. Assuming he makes a full recovery by the time he arrives in Ames, he should provide tons of quickness and bounce to Iowa State's shooting guard position.
LurkingClone (forums) asks: Given what we've seen so far from the ISU Women's Basketball team, give your confidence level they make the NCAA Tourney this season. And if so, Sweet 16 or Elite 8 possible? I think Fennelly has a solid team around Bridget this year that will be hard to beat.
At this point I feel confident in saying that Iowa State will reach the NCAA Tournament. Bill Fennelly has done a nice job collecting talent to surround Bridget Carleton and that has made the ISU women much more balanced than the prior few years, which makes them tougher to guard.
The exciting thing is that the team is 5-0, including impressive wins over Auburn and No. 24 Miami, and they've shot just 33.3 percent from beyond the arc so far. I expect that number should rise going forward and some opponents will be left in the dust because of it.
Keep improving on offense and continue playing at a high level on defense (31.2 opponent FG%) and a Sweet Sixteen or better is certainly in the cards.
DSMCy (forums) asks: Assuming no upsets this weekend, who gets the final CFP spot? Does the committee find a way to sneak Ohio State in?
As I mentioned when discussing bowl scenarios above, I think Oklahoma will beat Texas and lock up the fourth and final spot in the Playoff. Honestly, I think that despite what all the talking heads are saying about Ohio State and their chances to crash the party, I think OU is in as long as they win this weekend. The committee knew what it was doing when they ranked the Sooners at No. 5 in this week's rankings, just ahead of the Buckeyes at No. 6.
Beat Texas and Oklahoma will have prevailed over every opponent on its schedule this season. Even if Ohio State kills Northwestern, that Purdue loss will continue to drag them down. And say all you want about Oklahoma's defense – it doesn't matter when you start to envision a showdown between Kyler Murray and Tua Tagovailoa in one of the national semifinals. That game would be insanely entertaining.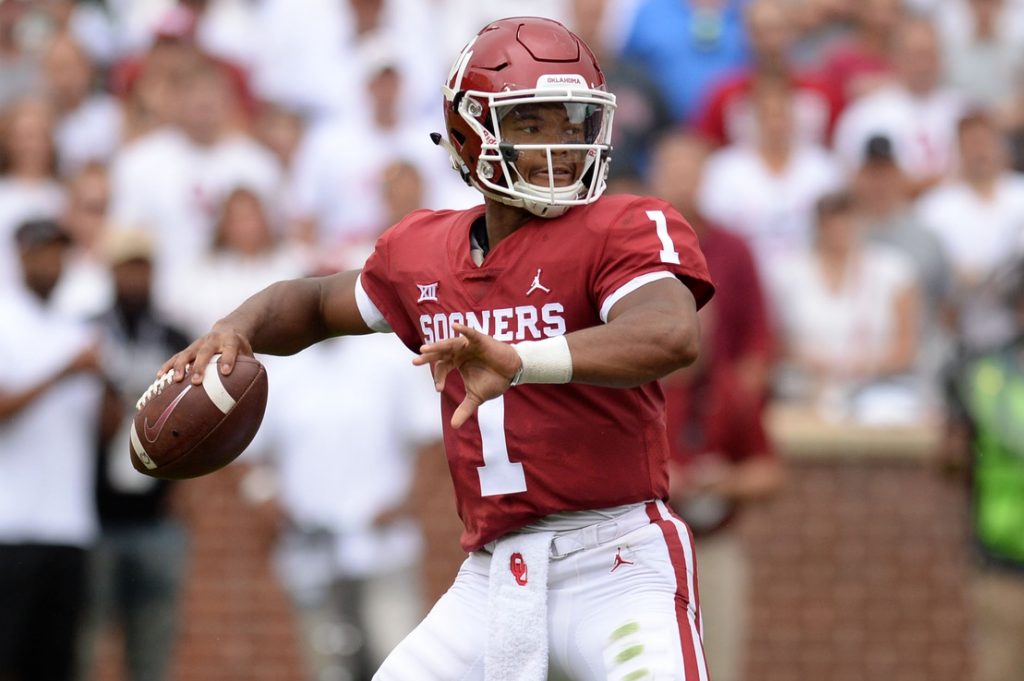 Gunnerclone (forums) asks: If you were forced to live in a crappy state which one would you choose and why? Choices: Mississippi, West Virginia, Maine, Nebraska, Montana.
Of the ones you listed, I'd go with Montana. The thought of buying a ranch in the countryside in Montana actually sounds quite nice for my introverted self. Working remotely (via the power of the internet) would be ideal and as long as I'd have less than a two hour drive to the nearest grocery store, I'd be golden.
TedFlintKansas (forums) asks: Rank the seasons winter, fall, summer and spring, then rank the best seasons for enjoying a beer.
Strictly rating the seasons:
Number 1: Summer. It's cliche, but it's when my wife gets her vacation from teaching 2nd grade and swimming outdoors is an option.
Number 2: Fall. Football, the start of basketball, and the trees are pretty colors.
Number 3: Spring. Warming temps and March Madness, baby.
Number 4: Winter. Cold sucks.
And now, the best seasons for enjoying a beer.
Number 1: Fall. Tailgating, football, and beer just go together. Plus there are some tasty seasonal varieties of booze only available in the fall.
Number 2: Summer. Any time the weather is hot, a cold beverage hits the spot.
Number 3: Winter. Curling up inside next to a nice warm fire with a drink is satisfying.
Number 4: Spring. Eh… Nothing too noteworthy about Spring when it comes to beer. I'll eagerly await the mob of Spring beer drinkers to tell me why I'm wrong.
CloneGuy8 (forums) asks: Is it more fun to fart or burp?
Farting is way more fun than burping because a fart is more versatile and risky than a burp. There are so many varieties of fart since you can (kinda) select the level of audio involved and you never know the level of stench that will accompany it. There's always the possibility of an "accident" happening too, so there's definitely a sense of danger.
Burps are just lame. There's no good way to burp without it being rude. At least with farts, you can try to make them silent and then pass the blame off on someone else in the room. For burps, you just get judged for being uncivilized. #TeamFart
---
Thanks for reading another edition of the Mid-Week Mailbag! Hopefully I made this one long enough that my wife stopped reading before I got to the fart/burp question… I'll see you all back here next week, same time same place!