AMES — Iowa State's striking 76-59 win over Missouri on Friday night was as entertaining of a basketball game as I have watched in Hilton Coliseum in a while.
My lowered expectations had a lot to do with this warm and fuzzy feeling I am currently experiencing. 
That's what happened on Friday afternoon when we learned Iowa State's best player – Lindell Wigginton – will miss the next month or so with a foot injury he suffered in the season-opening win over Alabama State. 
After hearing the news, it was easy to get down on the immediate future of Cyclone basketball. 
Without Wigginton, Iowa State is about to attack a taxing-non-conference schedule minus three starters and a key reserve. 
Solomon Young is out until mid-December at the earliest. 
Cameron Lard and Zoran Talley are suspended at least until December. 
Now Wigginton…
But on Friday night it simply didn't matter. 
Here is my game notebook.

 
1 – How bad is it?
"He's in a cast," Prohm told reporters after the game. "We casted it last night. It's unfortunate. We had an MRI just to see how bad it was. The best prognosis was to put him in a cast. Hopefully, he is just in a cast for a week. We'll take it off and put him a boot. After he's in a boot for a week we will reevaluate the situation. So really I would say right now, I don't have a time frame."
Prohm was unaware as to the specifics of the injury but it appears to be some sort of muscle injury in his foot. A bad sprain is how Prohm described it.
"I think it is a week-to-week thing," Prohm said, noting that Wigginton will for sure miss Monday's game vs. Texas Southern. "To get him back the quickest, we needed to mobilize his foot right away."
2 – So with eight eligible players and four of them being true freshmen, what's Iowa State's best recipe for success against a stacked non-con? 
Offensively, it all starts with the versatile senior Nick Weiler-Babb. 
"With Lindell in our out, I have to be more aggressive," Weiler-Babb said. "Point blank. When Lindell is in there, I still have to be aggressive. I don't think that much changes. It just kind of amplifies."
Weiler-Babb finished with 16 points and six assists to zero turnovers.
As a whole, the young Cyclones only turned the ball over seven times.
Missouri head coach Cuonzo Martin raved about Weiler-Babb after the game.
Weiler-Babb was aggressive going to the basket in the win. He went 8-for-8 from the free throw line. Attacking lane also opened up 3-point looks for his teammates. 
The Cyclones went 8-for-25 from long range.
3 – This group seems to really take pride in defense, which will have to be the case sans Wigginton, Lard and the others. 
"They showed a lot of character and a lot of resolve in that area," Prohm said. "Now we have to build off of it. We still have to be a better rebounding team."
Amazingly, Iowa State forced 25 Missouri turnovers. The Tigers turned the ball over on 34 percent (!!!) of their possessions. The Cyclones had nine steals in the game and outscored Missouri 25-6 off of turnovers. 
Without Wigginton, it's a fact that Iowa State isn't as dangerous of an offensive basketball team. But that doesn't mean that the Cyclones can't out-work the opposition on the defensive end.
4 – The crowd was nuts. 
A Friday night tip against a former Big 8 rival had something to do with it. 
A lot of fans arrived in Ames early to watch the women's season opener, which occurred on Friday afternoon. If you hadn't heard, there's a massive football game tomorrow as well. 
Above all though, there is nothing that Iowa State fans in Hilton Coliseum appreciate more than diving for loose balls and treating every possession like it's the Final Four. 
That's what has stood out to me about this group early on. The passion that it plays with really is impressive.
"You've got four freshmen on the court," Weiler-Babb explained. "You can't tell them to be mellow. It's their first big game in Hilton. You want them to be hyped. I think they did a great job of handling their emotions. They all came through big for us."
My advice to this team: Keep doing what you're doing. Even in a losing effort, fans appreciate this style of basketball and will reward you for it with a packed house all winter long. 
5 – If you're into body language, you've probably noticed how much better the chemistry is with group compared to a year ago. 
The best thing to see is how engaged Lard, Talley, Young and Wigginton were on the bench throughout the game Friday night. They were constantly standing up and cheering on teammates. 
On the floor, the participating Cyclones consistently helped up fallen teammates – and there were plenty of them as this group relentlessly dives for loose balls. 
6 – This young team looks to be very coachable and eager to learn. 
You can see it in Prohm's eyes that he's loving every minute of coaching these guys. 
7 – Tyrese Haliburton is a true freshman who plays like a junior. The lengthy point guard out of Wisconsin always seems to be in the right place at the right time. His eight-point, two assist box score isn't flashy but anybody who watched the game can attest to how valuable he is to this team. 
"He was a big presence out there for us," Weiler-Babb said. "For a freshman to come out there in his first start and be so instrumental to our win, you can't ask for much more from him."
Haliburton had four steals in the win. He's had seven of them on the season. 
"It really starts with his character," Prohm said. "His character is off the charts."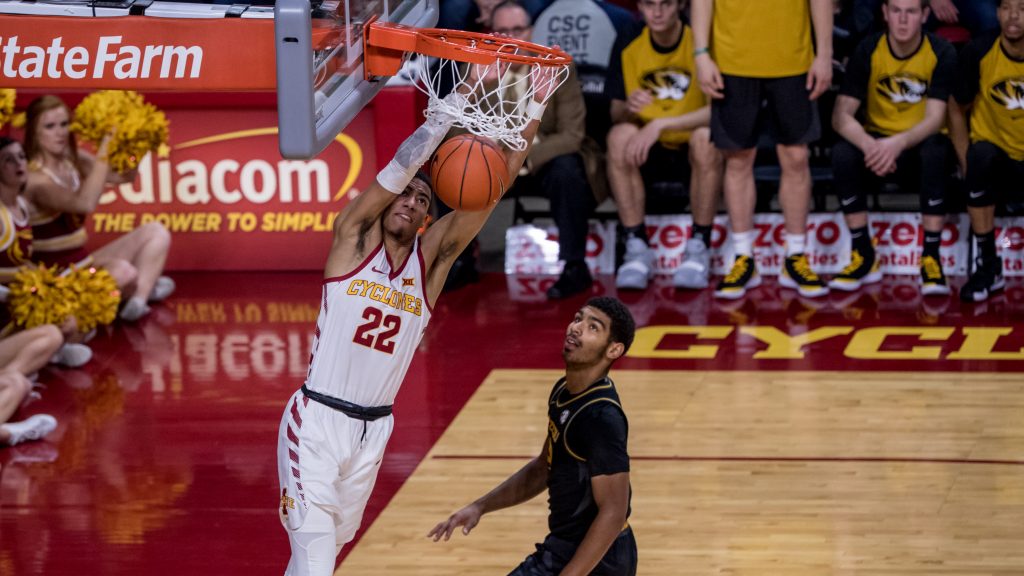 8 – Iowa State didn't shoot a single free throw in the first half on Tuesday vs. Alabama State. The Cyclones shot 35 (made 24 of them) in the win over Missouri. 
Weiler-Babb, Marial Shayok and Talen Horton-Tucker combined to go 22-for-25 from the charity stripe. 
9 – Nebraska transfer Michael Jacobson is more involved in the offense than I anticipated he would be at this point in the season. With all of the early season injuries, I guess it has to be that way. 
Jacobson is just solid. I appreciate a guy who does the little things well. After watching him go 13-for-18 from the field in the first two games of the season, I suspect he is likely more skilled than we thought he would be too. 
10 – Texas Southern – Iowa State's next opponent (Monday night) – is pretty good. The Tigers hail from the SWAC but don't overlook them. They just won at Baylor on Tuesday night by a 72-69 final. 
We'll get a better look at Texas Southern on Saturday night when they play at No. 3 Gonzaga, another Maui Invitational participant. 
Getting up for Missouri was easy for this team. The electricity not only in Hilton Coliseum but around campus set the tone early Friday morning.

For a young team to bring that same energy vs. a low-major program on Monday night will be a great challenge. 
Until then, enjoy a Saturday full of Cyclone football.