In 1989, the Iowa State football team defeated Kansas State by a score of 36-11 in Jack Trice Stadium. It was the Cyclones' fifth consecutive win over the Wildcats and 15th victory in the previous 19 contests between the two agricultural schools from the Midwest.
It was also the only time that ISU has ever been able to claim a winning record against K-State head football coach, Bill Snyder.
1989 was Snyder's first season in Manhattan and he was faced with the gargantuan task of turning around one of the worst Division I football programs in the country. The Wildcats had gone two full seasons without a win prior to Snyder's arrival and had experienced just one season in which they finished above .500 (6-5-1 in 1982) since 1970. K-State ended up only winning one game in Snyder's first season, but even that was a step in the right direction. And when it came to results against Iowa State in particular, "The Vampire" didn't take long to start leeching life from the Cyclones.
From 1990 on, Kansas State has gone 24-4 against Iowa State, including an active 10-game win streak that began while Gene Chizik was still firmly entrenched in Ames. Making matters worse is the fact that during that streak, the Wildcats have only won by double digits one time (41-7 in 2013). ISU has had plenty of opportunities to stop the bleeding, but a seemingly supernatural force has denied them every time.
This weekend, everything points to Iowa State finally being able to end KSU's reign of terror in this rivalry. The Cyclones opened as two touchdown favorites and by all accounts appear to be the better team this time around. And make no mistake, it's still a rivalry despite the painful results of the past decade. In 101 meetings all-time between the two programs, the series record stands at 49-48-4 in favor of Iowa State. That's about as even as it gets despite both teams spending prolonged periods of time beating up on the other.
As we approach this year's meeting between the two land-grant universities, I thought it would be fun – er, uh, interesting – to go back and rate the 10 losses to K-State from the past 10 years. I'll be counting down backwards from the least painful to the most painful losses, in my opinion, that Cyclone fans had to endure. Once you're done reading, be sure to let me know if you agree or disagree!
#10: 2008, Kansas State 38 – Iowa State 30
Since this was the first game to begin the streak, Iowa State fans had yet to build up much grief for the Wildcats. Additionally, ISU had lost its last nine games heading into the match-up, meaning expectations for winning on the road in Manhattan were low.
In what ended up being the final game for head coaches Gene Chizik and Ron Prince at their respective schools, K-State jumped out to a 35-17 lead by the end of the 3rd quarter. The Cyclones scored 13 points in the 4th quarter, including a touchdown pass from Austen Arnaud to R.J. Sumrall as time expired, but that wasn't enough to complete the comeback.
The streak had begun.
#9: 2016, Kansas State 31 – Iowa State 26
In Matt Campbell's debut season, ISU started 1-6 before returning home for this game. With limited success up to that point, the Cyclones' new head coach made the switch to give transfer quarterback Jacob Park the reins to the offense for the first time against Bill Snyder's 'Cats. Park answered the call by throwing for over 300 yards with two TDs against one INT, but Kansas State was largely in control of this one throughout. Iowa State scored two touchdowns and a safety in the 4th quarter, but K-State ultimately prevailed and officially eliminated the good guys from a bowl bid.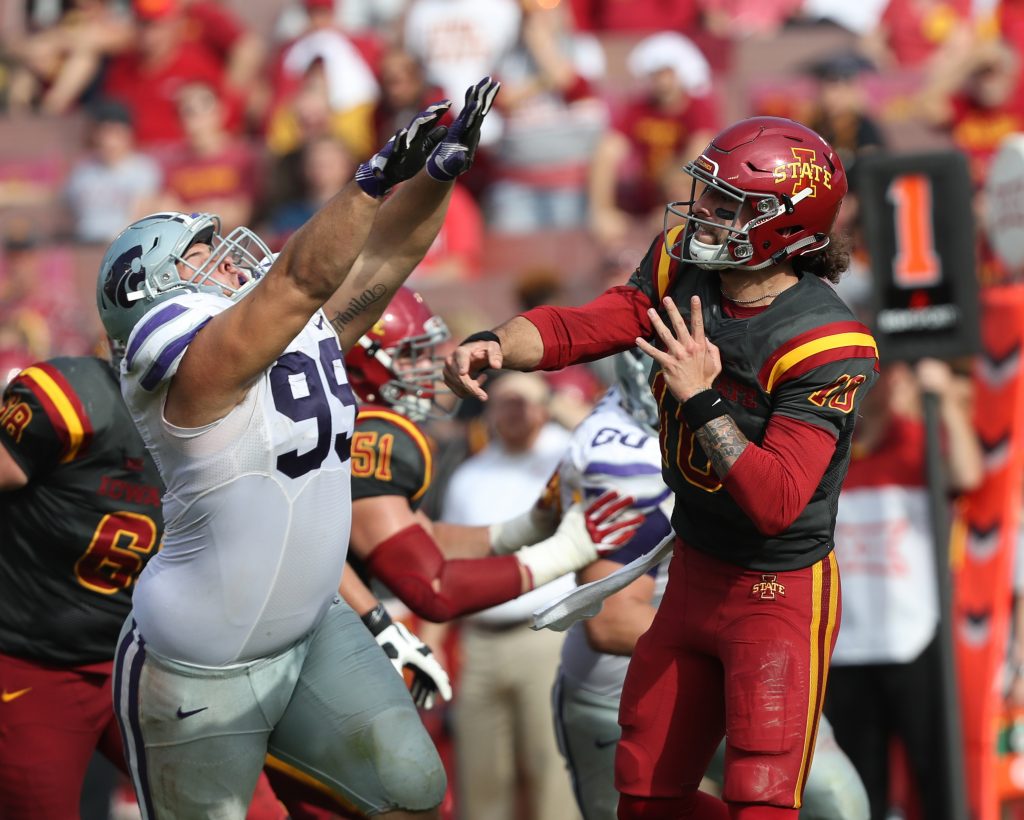 #8: 2013, Kansas State 41 – Iowa State 7
The 2013 season was the beginning of the end for the Paul Rhoads era, and as I mentioned in the introduction of this article, this was the only game between these two teams in the past decade that finished with a margin of victory in the double digits.
Thanks to a dominant effort from a KSU defense that only allowed 248 total yards, the Wildcats blew out the Cyclones. Like 2016 above, this result eliminated ISU from the bowl conversation and the only reason this loss wasn't more painful is because just two weeks prior, Baylor had beaten Iowa State 71-7. At least it wasn't that bad, right?
#7: 2012, Kansas State 27 – Iowa State 21
Returning to Jack Trice Stadium fresh off an upset over No. 15 TCU in Fort Worth, there was quite a bit of hype surrounding this game between the undefeated Wildcats and 4-1 Cyclones.
A touchdown from Jeff Woody cut the Kansas State lead to three points with 12:34 remaining in the game. Leading 24-21, the Wildcats and Heisman contender quarterback Collin Klein manufactured a soul-draining 14-play, 67-yard drive that chewed over eight minutes off the clock and resulted in a field goal to go up six.
The next possession, ISU got the ball with great field position starting at their own 40 yard line, but immediately turned the ball over on downs. About all hope was lost, but the Iowa State defense stuffed Klein on 3rd and 2 to force a punt and get the ball back with one more chance to win the game.
Unfortunately, the offense proved ineffective once again, turning the ball over on four plays in a cruel case of déjà vu. Game over.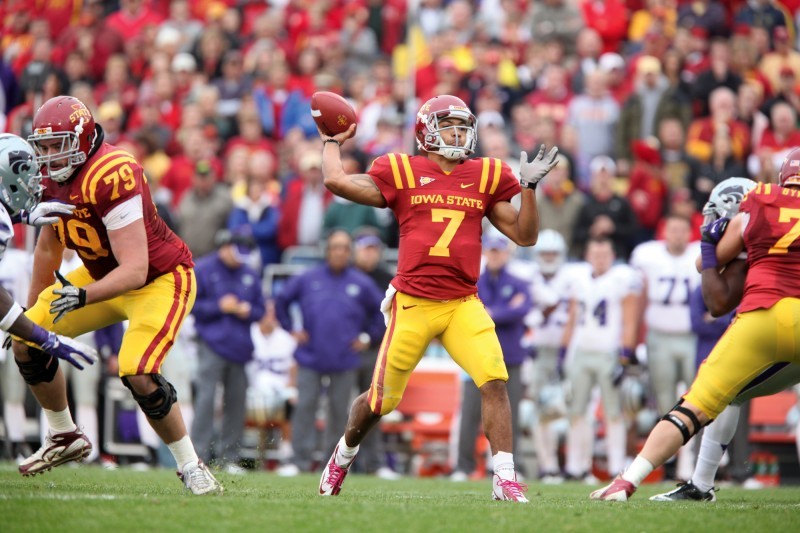 #6: 2010, Kansas State 27 – Iowa State 20
In the final game in Arrowhead Stadium between these two teams, the Cyclones took the lead 20-17 on a Grant Mahoney field goal with 11:26 left in the 4th quarter. K-State answered with a Daniel Thomas rushing TD on a nine play, 83-yard drive.
ISU got the ball back and went a grand total of 17 yards on 11 plays before Austen Arnaud fumbled the ball away on a sack, allowing the Wildcats to kick a field goal and hold on to win 27-20.
You know the games in this streak have featured quite a bit of pain when a game-sealing strip sack falls at number six on this list.
#5: 2014, Kansas State 32 – Iowa State 28
Iowa State carried a 28-20 lead into the 4th quarter of this game. After the ISU defense came up with a big stuff on 4th down to stall out a lengthy K-State drive, an errant Sam Richardson pass was picked off in Cyclone territory and K-State ran it in for a TD four plays later. However, the 2-point conversion failed and the Wildcats remained down two points.
Two forced punts later, KSU got the ball at their own 20 yard line with three minutes remaining and marched 80 yards down the field, capped off by a Jake Waters TD run to go up by four. In its last opportunity, the Iowa State offense managed to drive the ball into opposing territory before Richardson was sacked on 4th down. Another disappointing end for the cardinal and gold.
#4: 2011, Kansas State 30 – Iowa State 23
Facing their third top 10 team in three weeks and just two weeks off the biggest win in program history to that point over No. 2 Oklahoma State, the Cyclones were already bowl eligible and had a chance to move on up the ladder with a big win in Manhattan.
Things were looking promising when Zach Guyer nailed a 43-yard field goal to tie the game at 23-23 with 6:12 remaining in the 4th quarter. However, three minutes later, K-State's John Hubert broke away for a 26-yard TD to take a 30-23 lead.
ISU got the ball back and went 34 yards in 11 plays to set up a 4th & 2 at the KSU 31 yard line with just over a minute left on the clock. Paul Rhoads elected to hand it off to his short-yardage back Jeff Woody, who had been one of the prominent heroes in the victory over Oklahoma State. Unfortunately, a fumble derailed the upset bid and the Cyclones were shipped off to New York for bowl season instead of somewhere warm with a sandy beach.
#3: 2009, Kansas State 24 – Iowa State 23
This game was big because ISU had started 3-1 to begin the Paul Rhoads era and this was the first match-up between both teams after Bill Snyder returned from his three-year retirement.
Iowa State quarterback Austen Arnaud marched the ISU offense down the field in Arrowhead Stadium while trailing 24-17 in the 4th quarter. Arnaud hit wide receiver Jake Williams for a 23-yard touchdown pass with 32 seconds left in the game, leading everyone to think overtime was on the way.
Nope.
Instead, K-State blocked the ensuing extra point attempt to escape with a 24-23 victory. An absolutely brutal way to lose, but it makes total sense when you realize it was the Vampire's powers at full strength coming off three years of rest/hibernation.
#2: 2015, Kansas State 38 – Iowa State 35
The game that essentially sealed Paul Rhoads' fate.
The Cyclones ripped off five first half touchdowns and went into halftime with a 35-14 lead in Manhattan. The streak FINALLY looked like it would come to an end.
However, K-State cut the lead to 35-28 with under 10 minutes remaining, and after that a series of empty possessions from both teams drained the clock down. The ISU defense came up with a huge 4th down stand to get the ball back with under two minutes remaining. With only one timeout left, K-State's hopes seemed to be slipping away. But instead of kneeling, Iowa State elected to run the ball and Mike Warren fumbled, allowing K-State to get the ball back and score a touchdown to tie the game four plays later.
After getting the ball back with less than a minute in the game, quarterback Joel Lanning coughed up another fumble at the ISU 29 yard line. That set up KSU's Jack Cantele for a 42-yard field goal try, which he made to win it for the home team.
That was easily the most gut-wrenching loss against K-State during the streak. At least, until…
#1: 2017, Kansas State 20 – Iowa State 19
The game that made me the most angry I've ever been while watching a sporting event.
ISU's 19-7 lead was cut to 19-14 with 6:07 remaining in the game. Needing to maintain possession and run out the clock, Kyle Kempt led the Cyclone offense to midfield. Faced with a 3rd & 6, Kempt threw a great ball down the seam to Allen Lazard, who got physically harassed by the defensive back guarding him in what appeared to be an obvious game-sealing defensive pass interference when the referees threw a flag.
Instead, the refs discussed the play and elected to pick up the flag, shockingly concluding that there was no foul on the play. This resulted in 4th down and a punting situation for Iowa State. 
Get you a girl who hugs you like Duke Shelley hugs @AllenLazard pic.twitter.com/f9YQHs4Qdt

— Texas Cyclone 🌪🌪🌪 (@TXCyclones) November 26, 2017
After the punt, K-State drove 87 yards in less than two minutes for a touchdown to win 20-19.
Had the Cyclones won this game, they would have won eight games in the regular season for just the second time since the formation of the Big 12 in 1996 (the other was in 2000). To add insult to injury, the non-penalty mentioned above wasn't the only flag that was picked up during the game that would have benefited ISU. For a school that has a history of questionably officiated games, this game is easily on the "WTF" Mt. Rushmore.
To close this article, I'll leave you with a stat that will probably make you angry, sad, shocked, or all of the above. During the current 10-game Kansas State win streak in this series, Iowa State has either held the lead or had the game tied in the 4th quarter in six of the 10 losses. It's incredible they haven't turned at least one of those games into a win.
Then again, when you consider the coach standing on the other sideline for most of those games, you start to realize why. Love him or hate him, Bill Snyder is a heckuva football coach and whenever he finally decides to put down the clipboard for good, ISU and the rest of the Big 12 will breathe a huge sigh of relief. If that time happens to come after this season, a Cyclone win this Saturday would be even sweeter than a hand-written note.