Nov 10, 2018; Ames, IA, USA; Iowa State Cyclones running back David Montgomery (32) is tackled from behind by Baylor Bears safety Verkedric Vaughns (1) at Jack Trice Stadium. Mandatory Credit: Reese Strickland-USA TODAY Sports
AMES — Iowa State (6-4, 5-2) defeated Baylor 28-14 on Saturday in Jack Trice Stadium but the victory might have come at a cost.
During an emotional third quarter, All Big 12 running back David Montgomery was involved in a scuffle that eventually got him ejected for throwing a punch.
Baylor's Greg Roberts reaching over a ref to throw a punch at Iowa State's David Montgomery. Wow. Ejected, obviously. pic.twitter.com/Excycl0PgX

— Max Olson (@max_olson) November 10, 2018
The Big 12's policy on fighting is that instances will be reviewed after the game before handing out punishments. So stay tuned.
Baylor defensive end Greg Roberts was also ejected from the game.
First I would like to apologize to cyclone nation and my team for my actions, Me as a captain should have not reacted the way I did and I sincerely apologize for that!!! But I will defend my brothers no matter what and i stand on that!

— David montgomery (@MontgomerDavid) November 10, 2018
The altercation was the ultimate result of a dust-up that took place a few plays earlier, where Baylor was flagged for a late hit as Montgomery was thrown into a Gatorade cooler – well out of bounds.
Iowa State led Baylor 17-0 at halftime.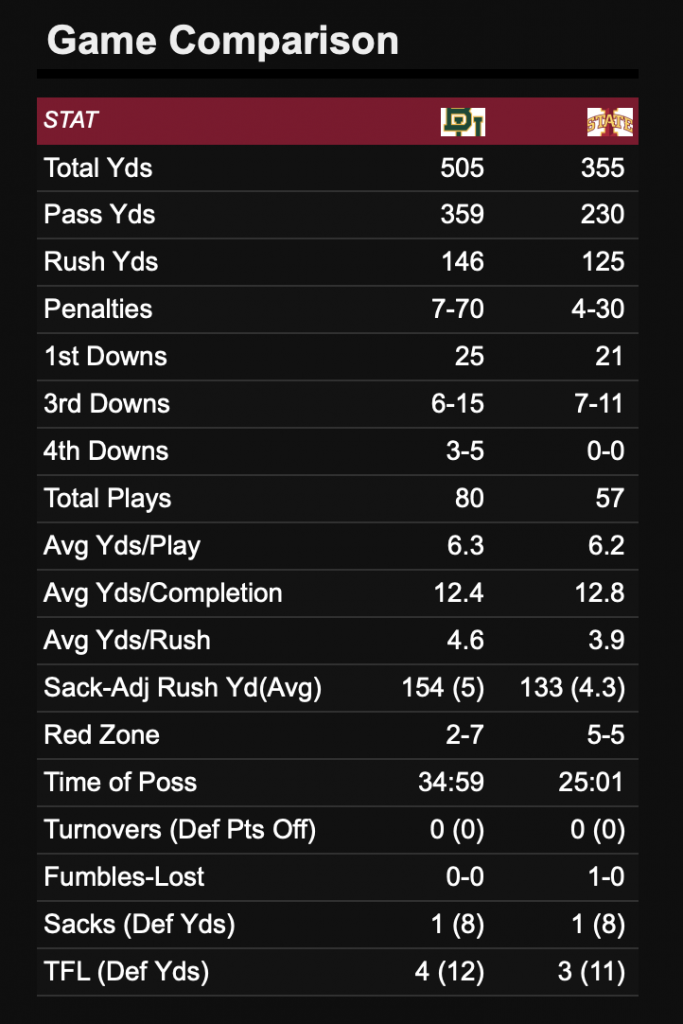 All together, Baylor left a major dent on Iowa State's defense. The Bears gashed what's normally a solid unit for 6.3 yards per play. Baylor compiled 505 total yards but struggled on third down, going 6-for-15 against Jon Heacock's crew.
Iowa State quarterback Brock Purdy might have played his best game as a Cyclone. The freshman completed 18-of-23 passes for 230 yards and a touchdown. He also ran for 56 yards and a touchdown. Purdy caught a 2-point conversation too.
Iowa State has now won five games in a row and is officially bowl eligible, which sets up a major showdown next weekend in Austin. The Cyclones and Texas will go at it at 7:00 p.m. on the Longhorn Network.
Texas is playing at Texas Tech tonight.
Check out CycloneFanatic.com all evening Saturday and throughout the day on Sunday for more on the possible Montgomery suspension and complete coverage of today's game.