Oct 13, 2018; Ames, IA, USA; Iowa State Cyclones show their support for Iowa State Cyclones quarterback Brock Purdy (not pictured) during a game against the West Virginia Mountaineers at Jack Trice Stadium. Iowa State beat West Virginia 30-14. Mandatory Credit: Reese Strickland-USA TODAY Sports
Well, well, well… Just a few weeks ago coming off losses against Oklahoma and TCU, I predicted that Iowa State still had a great shot at getting to seven wins on the season. Now, after beating No. 6 West Virginia on Saturday, the Cyclones are sitting at 3-3 and should be favored to win every game left on the schedule besides the match-up against Texas in Austin.
Huzzah!
While I won't hesitate to pat myself on the back for staying true through the tough times, I can admit when I am wrong. And looking back at last week's Mid-Week Mailbag, I made one very wrong prediction.
"Unfortunately, I don't think (Mike) Warren is ever going to play another meaningful snap for Iowa State, with the one exception being I think he'll be given a drive all to himself on senior day, whether that ends up being against Kansas State or Incarnate Word."
Mike Warren got a few snaps throughout the game against the Mountaineers that were critical in sealing the victory. He didn't get any carries, but blocked when he needed to and I'm happy to say that my prediction from last week was wrong. It was great to see the redshirt senior out on the field again and hopefully he isn't done writing his story in an Iowa State uniform.
The Cyclones are on a bye week, but there's plenty to discuss. Let's get into it faster than Dana Holgorsen can call the Big 12 offices to complain about a field rush.
@JM4CY (forums) asks: What is your favorite thing or memory from a field rushing story?
I was, sadly, one of the students who went home early for Thanksgiving break in 2011 and wasn't able to be part of the field rush after the upset of No. 2 Oklahoma State on that fateful November night, which is probably the single most iconic field rush in Iowa State football history. But I was there for when the students rushed the field in the 2011 triple overtime victory over Iowa as well as a few instances of court storming during the early years of the Fred Hoiberg era. I was also in attendance at the TCU game last year and Saturday's win over West Virginia, which both featured field storms (though I opted to take in the scene from my seat in the upper deck for both occasions).
The best part about rushing the field, in my opinion, is the organic burst of positive energy that accompanies it. It's an immediate release of emotion where everyone there (besides the opposing team, ahem, Mr. Holgorsen) bands together to celebrate a big win. I was listening to the Sports Fanatics on KXnO last night and I believe Chris or Ross described it as the "good side of mob mentality," and that's totally true.
Beyond that, if I had to pick a specific thing about a field storm that I particularly enjoyed, I'd go with Marchie Murdock randomly deciding to lead the band post-TCU last year. That was a great case of a senior having some fun and it's always good to see the players themselves let loose after a big win.
@cykowboyz (Twitter) asks: Do you foresee Charlie Kolar passing Chase Allen on the depth chart after Saturday's performance?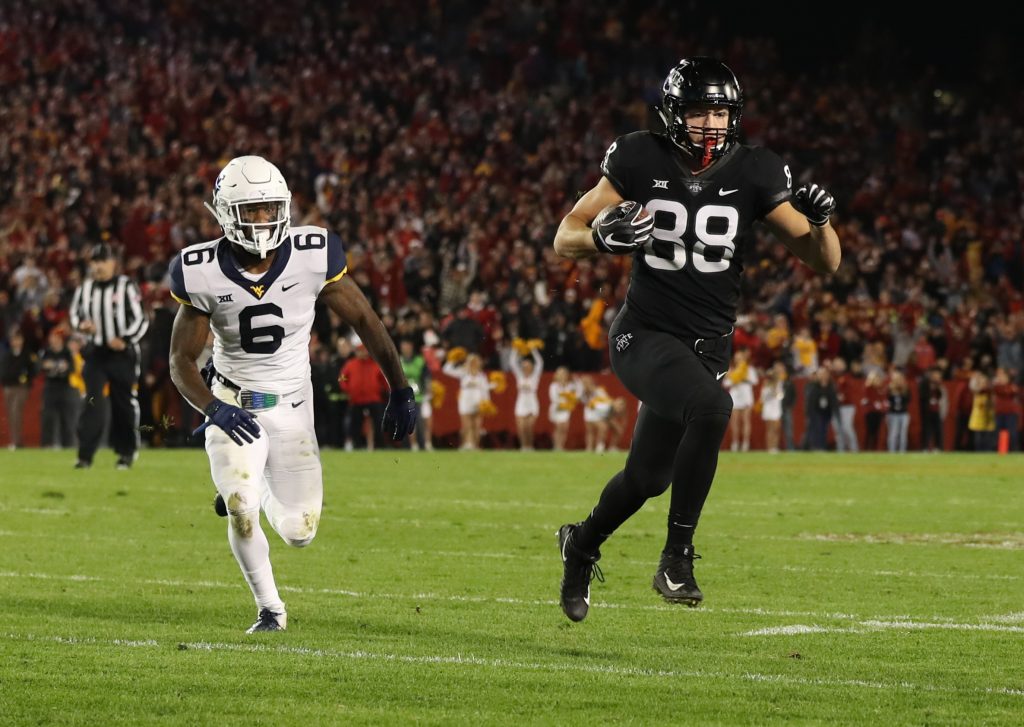 "Pass" – probably not. Though I do think he's certainly made the case for more of a tight end by committee and I wouldn't be shocked to see the coaching staff work in more two tight ends sets featuring both in the future.
It's easy to see why the coaches were high on the tight end group heading into the season. Allen was solid in the few opportunities he got last year and was looking improved before he injured his groin against Oklahoma, Kolar made a couple huge plays against West Virginia, and Dylan Soehner's blocking skills should be utilized to pave the way for Brock Purdy for years to come.
The tight ends are in the discussion, along with the defensive line, for most improved position group since Campbell and his staff arrived in Ames.
CyJeans (forums) asks: Brock Purdy had another strong showing on Saturday. Especially given his experience level, what do you see as his biggest weaknesses going forward?
What concerns me about Purdy is his durability, as is the case for any mobile quarterback. There have been a few cases where he's absorbed contact that wasn't necessary and he'd do himself a favor by picking spots to slide instead of lowering his shoulder.
That's the shift that a lot of athletic quarterback recruits have to deal with when they make the transition to high-level college football. The defenders are much bigger and faster than they were in high school and that means they can use Newton's laws to their advantage. The good thing is I think Purdy will adjust sooner rather than later – he seems like a bright kid.
jay moe (forums) asks: If Kyle Kempt is healthy and able, who trots out to play QB on the first offensive series?
Purdy, no doubt in my mind. With all due respect to Kyle Kempt, Purdy has taken the offense to a level that we haven't seen in a long time thanks to his dual-threat ability and my guess is we haven't even seen it reach its full potential yet.
I feel a bit bad for Kempt because I'm sure he was very excited to be granted an additional year of eligibility and had planned on this year being his grand departure from college football. Now, he has to take a back seat thanks to the emergence of a freshman with moxie and that's gotta be frustrating to some degree even if he won't show or admit it publicly.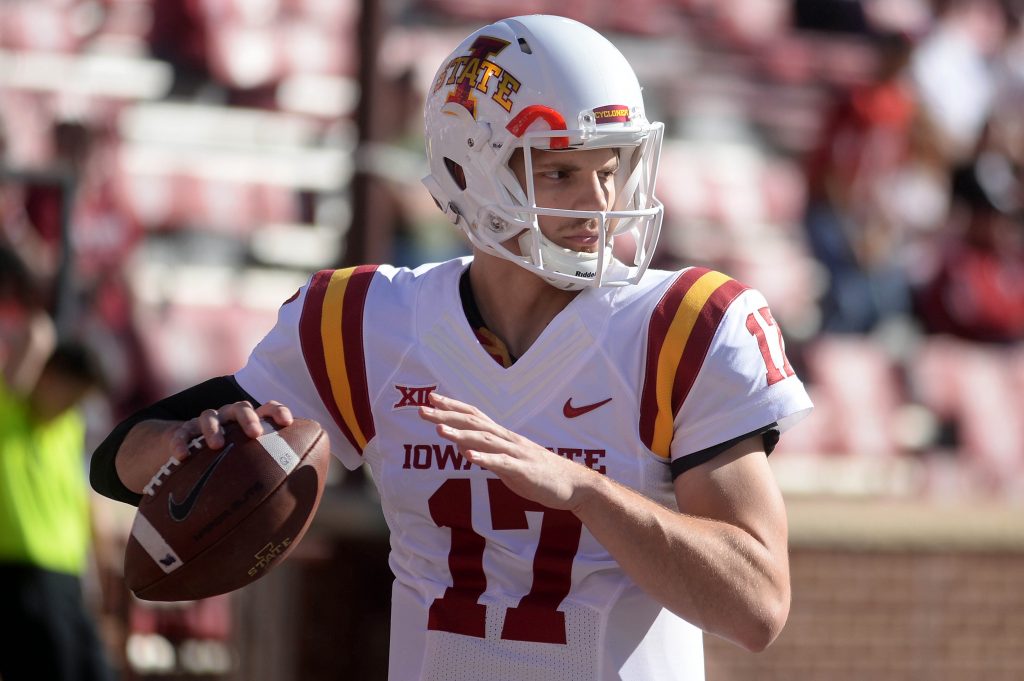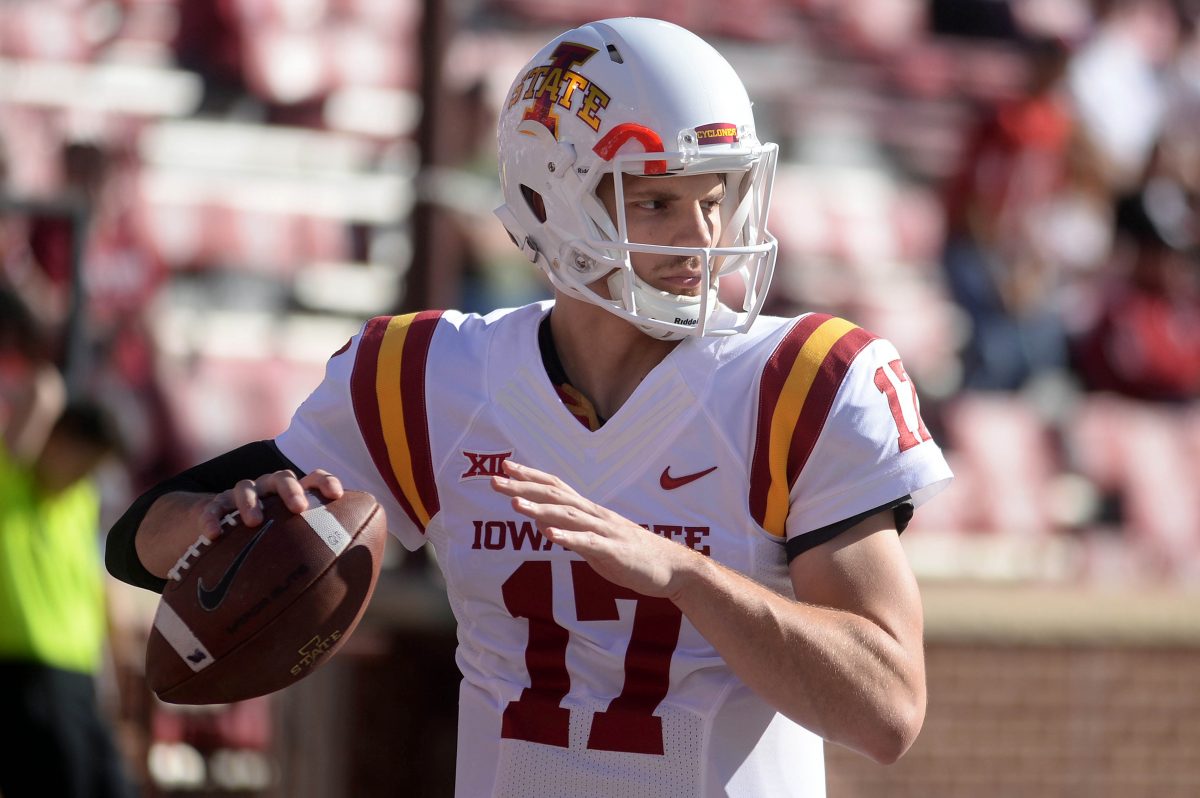 Nevertheless, Kempt needs to be ready to step in again once he's healthy, because you never know when an injury will strike. Knock on wood.
mtowncyclone13 (forums) asks: Based on what we've seen so far, what's our record if we A) played SDSU and B) started Brock Purdy?
If ifs and buts were candy and nuts, we'd all have a merry Christmas…
This is a tough one. I'd like to be able to sit here and say that the Cyclones would be undefeated, but that's a stretch.
I think it's safe to say that SDSU would have been a win even though they're a talented FCS team. That's 1-0.
I can't bring myself to say that ISU would have beaten Iowa even if Purdy had started and even if they'd had the "shake off rust" game against the Jackrabbits. Would it have been more likely? Sure. But winning in Kinnick is tough. 1-1.
The actual Oklahoma game result was more on Iowa State's defense than it was the offense, so while Purdy might have made a positive impact, it still would have been tough to keep up with the Sooners and Kyler Murray. 1-2.
Akron – win. 2-2.
The TCU game though… Woo boy, I think Purdy would have made a world of difference and that game probably would have been a win had he made the start at QB. At the end of the year, I predict we'll all look back and circle the TCU loss as the one the Cyclones should have had, and Purdy probably could have gotten a W. 3-2.
Thus, my answer is 5-2 since theoretically the results from the past two games wouldn't have changed. 5-2 with wins against TCU, Oklahoma State, and West Virginia and losses only to Iowa and Oklahoma would probably have the Cyclones ranked in the No. 15-20 range of the AP poll.
What could have been…
Cyforce (forums) asks: If needed could Jamie Pollard squeeze seven figures out of the budget to retain a defensive coordinator?
Could he? Sure. Would he? I highly doubt it. There were only 15 assistant coaches in the nation making seven figures in 2017 according to this chart. Only one of those 15 assistants was from the Big 12, and that's Texas' defensive coordinator Todd Orlando. Texas has money to burn.
Jon Heacock is surely due for another raise, even after recently receiving a raise during the off-season to make $650,000 annually. I could see him getting bumped to a cool and tidy $750,000 in the not-so-distant future. He's worked wonders for the Cyclones' D.
@thekatchman (Twitter) asks: Black uniforms – yes, no, or need red/white mixed in for some "pop?"
@BACyclone (Twitter) asks: What is your idea for the next cool uniform combo?
Black uniforms = YES. The result of the game may be influencing my perception a bit but I thought they looked sharp.
A couple combos I'd like to see:
White helmet, cardinal jersey, white pants.
Chrome helmet, black jersey, black pants.
I want to say the last time we saw the white/cardinal/white combo was the 66-10 victory over Texas Tech in 2016. That was the game Joel Lanning went beast mode for five rushing touchdowns and the Iowa State defense stopped Pat Mahomes in his tracks. The combo looked okay then, but I think it would look much better with the style of the new jerseys.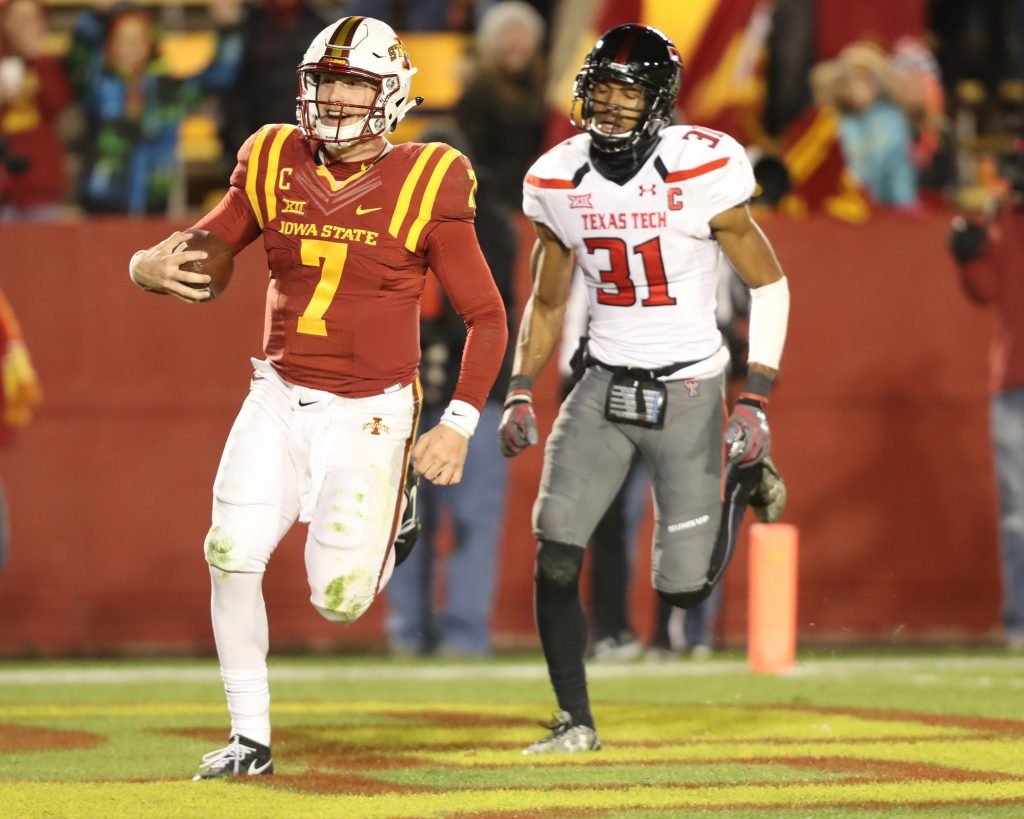 As for chrome/black/black, about the only game I could see it being used for the rest of the season is against Kansas State. I don't think ISU would break it out against Texas Tech since the Red Raiders already wear a lot of black and red, and I don't think Baylor or Incarnate Word are high-profile enough. Breaking the vampire's hold over our football program using the power of the black jerseys would be mighty fun, though.
@tonyriz65140915 (Twitter) asks: What is the most likely scenario that places our Cyclones in the Big 12 title game?
I saw this image in my Twitter feed yesterday morning… Shout out to @SwessBall for the original tweet.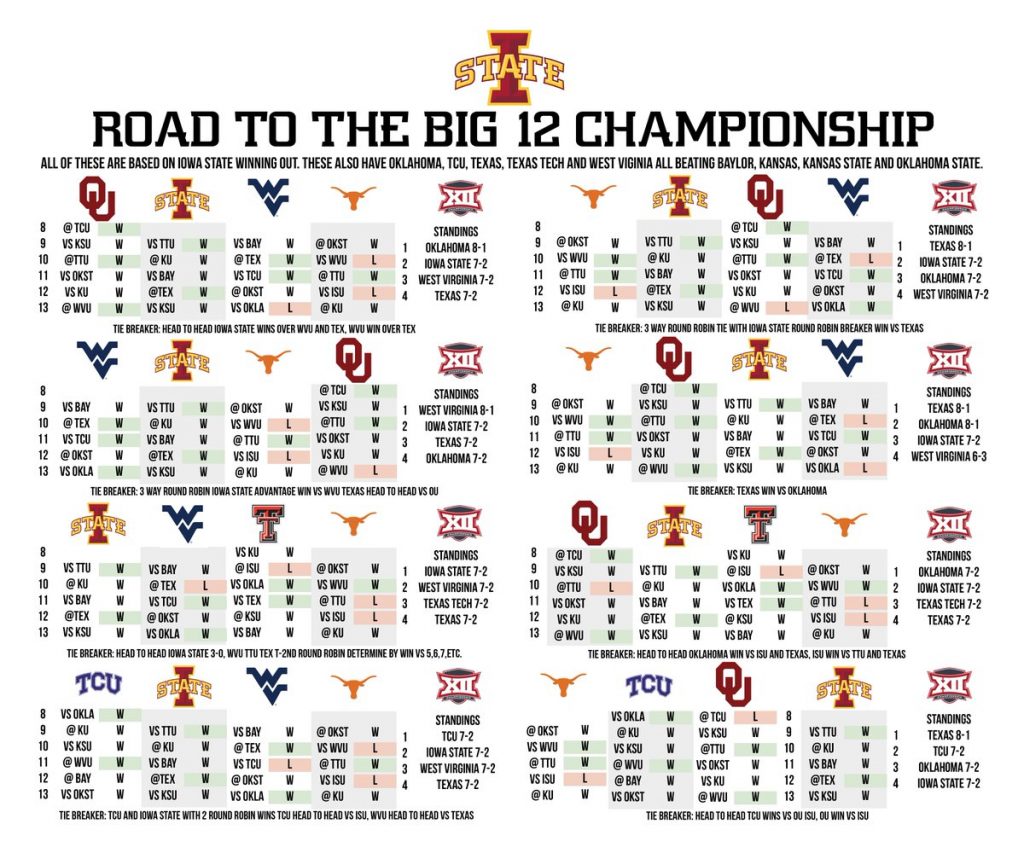 So first and foremost, Iowa State needs to win out. After that, they need the rest of the championship game contenders to falter somewhere.
I don't foresee Oklahoma losing any remaining game on their schedule other than possibly the West Virginia game in Morgantown. That eliminates the bottom four scenarios.
That means everything comes down to the Mountaineers and the Longhorns. Since all of the scenarios have Iowa State beating Texas in week 12, Iowa State would hold the tiebreaker over both of them should either finish tied with two losses in the conference.
Of the four scenarios in the top of the graphic, three of them put the Cyclones through to the championship game. I don't have much faith in West Virginia after Saturday, but I think they could clip Oklahoma in that final game since the Sooners' defense leaves a lot to be desired. Thus, my answer of the most likely situation where ISU makes the Big 12 title game is the upper right one. Texas wins out other than the ISU game, Oklahoma wins out other than the WVU game, and West Virginia wins out other than the UT game.
Yay for that classic Big 12 round-robin schedule where everyone beats each other up and the CFB Playoff doesn't matter.
bsaltyman (forums) asks: Would you rather have two years of Lindell Wigginton or four years of Matt Thomas?
Let's put down their per-40 career stats side-by-side so far:
Wigginton: 20.3 PPG, 41.4 FG%, 40.1 3P%, 66% FT%, 3.4 APG, 4.5 RPG, 1.1 SPG, 0.5 BPG, 3.6 TOPG
Thomas: 13.3 PPG, 47.7 FG%, 40.1 3P%, 81.5 FT%, 2.1 APG, 4.9 RPG, 1.0 SPG, 0.2 BPG, 1.3 TOPG
Looking at the stats, I was actually surprised Thomas didn't have better per-40 averages. Though what they do show is what most fans would guess – Wigginton scores more, but is less efficient than Thomas.
A lot will depend on what Wigginton does this year… Does he blow up, make a name for himself, and generate some good pub by going in the 1st round of the NBA Draft? Or does he have a solid year contributing, but isn't necessarily asked to do as much as he was last year and even plays second-fiddle to a guy like Marial Shayok or Talen Horton-Tucker?
For now, I'll take four years of generally efficient play from Thomas as that style of player helps a program's stability. However, Wigginton has the chance to change my answer by year's end if he generates some free marketing for Iowa State basketball through his talent and athleticism.
Daserop (forums) asks: If Cyclone Fanatic was a pro wrestler, what would its intro song be?
Cyclone Fanatic as a whole? Hmm… "Smoke on the Water" and "Pumped Up Kicks" are good options, but I have to go with this banger:
I'll let you decide if I'm trolling or not.
DandyCyclone (forums) asks: You're Stanz for a day, Freaky Friday style. What do you do?
Someone already stole my answer in the questions thread… Number one on the list would be to dunk a real basketball since I'd be 6-foot-7. I used to be able to dunk a volleyball but couldn't ever get a good enough grip to do a real throw-down.
Beyond testing my athletic abilities, I'd probably try to think of something to do to mess with Jared for when we un-Freaky Friday'd. Maybe I'd plaster his apartment with Celtics posters or make a few Facebook Live videos expressing my love for and heartbreak over the Uber girl he never actually ended up going on a date with.
And, of course, I'd treat his dog Lolo to a doggy spa day on Jared's dime. You deserve it, Lolo.
BCClone (forums) asks: If you could go back and give your 18+ year old self one piece of advice, what would it be and what age would you be then? You can't say things like the winning Powerball numbers or bet on this team to win.
I'm just seven years removed from being 18, but that seems like a long time ago at this point.
The advice I would give myself, as well as anyone who is 18 years old right now, would be to stop caring so much about what everyone else thinks about you. That doesn't mean drop all standards and be rude to people – it means don't feel like you need to limit yourself from doing things you want or love to do because you're worried about other people judging you.
Do things that make you happy and make those you care for happy and don't worry about what anyone else thinks. Chances are they don't actually care, and if they do, you shouldn't care about what they think because they aren't important anyway.
coolerifyoudid (forums) asks: You were just invited to a Halloween party and have 15 minutes to come up with a costume. You don't have time to do the full body paint that you were planning on. What do you do?
I buy a cheap pair of sunglasses from the nearest convenience store, tie them to a string and wrap it around my wrist. Once at the party, people ask me what my costume is.
I toss the sunglasses attached to the string right at them. They flinch as I tell them:
"I'm Throwing Shades"
madguy30 (forums) asks: The pic of Xavier Foster at the game showed him in the middle of the frenzy of the ISU community celebrating something great. Is the sense of community truly stronger than other places, and how much do you think that sense of community influences players' decisions to come to Ames?
Iowa State fandom is stronger and different from other places because traditionally, Iowa State hasn't experienced much success. That means when the Cyclones do something great, everyone rallies behind it with more enthusiasm than the "big" fan bases that have seen their teams reach the mountain top multiple times.
It's evident when Kansas City gets flooded during the Big 12 Tournament every March. It was evident when Memphis the city turned cardinal and gold for a bowl game against Memphis the college.
Additionally, Jamie Pollard has done his best to ensure that the culture surrounding the ISU athletic programs is one that is family-friendly. You don't have to be old enough to see a R-rated movie to watch our coaches speak in post-game pressers, and programs like the Jr. Cyclone Club help turn kids into life-long fans.
Other fan bases might mock Iowa State because, in most cases, the Cyclones have never "been there." But that's also some of the special sauce that makes the community so tight. One day, ISU will "be there," and when they do it will be a sight to behold.
To answer your question, I think the blend of "never been there" passion coupled with the family-oriented atmosphere is extremely appealing for some recruits. Everyone has different interests, but if you love a challenge and want to have fantastic support in your pursuit to conquer that challenge, the Iowa State community is second to none.
---
2,500+ words later, this week's MWM is finished! Thanks as always to everyone for providing some great questions. Enjoy the bye weekend!