Sep 22, 2018; Ames, IA, USA; Iowa State Cyclones running back David Montgomery (32) breaks the line of scrimmage for a Cyclone touchdown against the Akron Zips at Jack Trice Stadium. Mandatory Credit: Reese Strickland-USA TODAY Sports

After a one-week hiatus, the Mid-Week Mailbag is back and eager to cure you of whatever it is that ails you. That's right – doctors have recently begun prescribing the MWM for conditions such as back pain, mood swings, Cyberchondria, and even ED (don't Google that, kids).
Iowa State was able to take down Akron on Saturday even though the offense once again looked shaky at times. This week, the Cyclones will travel to TCU for the conference road opener. The Horned Frogs are fresh off getting smacked around by #TexasIsBack and certainly remember losing in Ames last year, so they should be up to the challenge.
Let's field a few football questions to begin before diving into some of the off-topic stuff you weirdos want me to answer.
@austin10fabian (Twitter) asks: How have win/loss total expectations changed from the beginning of the season if at all?
That certainly depends on what your own win/loss prediction was, but for me, things haven't changed at all.
I had Iowa State at 7-5 in the regular season. Most reasonable people would have guessed the Clones would be 2-2 right now with wins over South Dakota State and Akron. Yes, the Iowa game was winnable and yes, ISU beat Oklahoma last year, but those two games were toss-ups at best and neither could be counted on as a W.
Barring the biggest upset in college football history (yes, I said it), Incarnate Word should be a dominant win in December and by all intents and purposes, the Cyclones are 2-2 right now. That means there has to be five wins left scattered throughout the rest of the schedule, which looks like this:
@ TCU – Tough, but winnable. Beating Gary Patterson isn't easy even if the Horned Frogs don't look as sharp as past years. Probable Loss
@ Oklahoma State – Texas Tech just thumped the Cowboys at home. This is a game that appears easier than it did before the season. Probable Win
vs. West Virginia – Will Grier is legit and the Mountaineers are probably the best team left on the schedule. At least this one is in the Jack. Loss
vs. Texas Tech – This is a game most people probably checked off as a win before the season. Now, it looks like it could be a good battle. However, Matt Campbell has had Kliff Kingsbury's number so far. Probable Win
@ Kansas – The Jayhawks might be improved, but they're still Kansas. Win
vs. Baylor – Should be a win, but won't be a cake walk. Probable Win
@ Texas – Tough to count on this game as a win even before the Longhorns handled TCU. Probable Loss
vs. Kansas State – *recalls last year* *has seizure* ???Wizard???
I doubt my predictions will hold entirely to form, but it wouldn't surprise me to see Iowa State go into the K-State game with five wins. Beat the Wildcats, and that should mean seven wins if business is taken care of against Incarnate Word.
RedBlooded (forums) asks: I see a lot of websites have us power ranked 7th in the Big 12. Is Jared nervous about possibly getting a Bill Snyder tattoo?
For reference…
From my estimation, he's not that nervous yet. But if the Cyclones lose to both TCU and Oklahoma State to begin the conference schedule 0-3, you best bet he'll begin moisturizing his chest every day in anticipation.
FinalFourCy (forums) asks: Will Brock Purdy get significant reps in a Big 12 game this year, assuming no more injuries to Kyle Kempt or Zeb Noland? If he's that much of an upgrade as a mobile QB, would he make a difference in helping this OL and therefore offense?
Considering the situation that Purdy was inserted for against Akron, my lean would be yes, he will get significant reps in a Big 12 game this year. The easy answer would be to guarantee that it comes against Kansas when Iowa State is up big late, but I think we'll see him in a game or two against tougher competition as well.
It's odd that we haven't seen Re-al Mitchell at all this year since it sounded like he would serve as a change-of-pace option heading into the season. There's a small chance that Purdy has performed so well with his arm and his legs at practice this fall that he's leaped Mitchell and taken all or a chunk of that role.
That said, I'd still be surprised if Mitchell went the whole season without seeing significant reps himself at some point. It's just tough to say when exactly, given this is the first season that the ISU staff has had to strategize using the revamped redshirt rules.
NOTEBOOK: Nwangwu's flash, Assalley's accuracy and Kempt's progress
cyclones500 (forums) asks: Based on this week's AP top 25, which is the most overrated team and which is most underrated?
Alabama most overrated.
KIDDING.
Kentucky getting thrown in straight to No. 17 after their win over Mississippi State surprised me a bit. I haven't watched them play at all yet this year, but I wonder if them being 2-0 in the SEC (wins over Florida, MSU) gives them a bit more credit in the voters' eyes than they deserve.
On the flip side, I think Michigan will finish the season ranked higher than No. 14. The Wolverines still have to play at Wisconsin, vs. Michigan State, at Penn State, and vs. Ohio State (DAMN!) but they flat-out embarrassed Nebraska to the tune of 56-10, which isn't easy to do even in a down year for the Huskers. Jim Harbaugh is due for a year where he wins the big games.
Oh, and speaking of Nebraska…
coolerifyoudid (forums) asks: On a scale of Carrot Top to Mitch Hedberg, how funny is Nebraska's 0-3 start? Also, predict their final record.
Yeesh. It's been a rough start to the Scott Frost era, to say the least. I bet a lot of ISU fans in western Iowa who are subjected to Husker talk radio have gotten a lot of cheap entertainment over the past few weeks.
Nebraska has three games against ranked teams left on its schedule. All of those will be losses. That leaves Purdue, Northwestern, Minnesota, Bethune-Cookman, Illinois, and Iowa. Not exactly murderer's row, but the make-up game against B-CU is about the only one you can confidently pick the Huskers to win out of those six.
They won't be as bad as they looked against Michigan all season, but Frost and Co. can already pretty much kiss a bowl game goodbye. I think they're staring down the barrel of 3-9.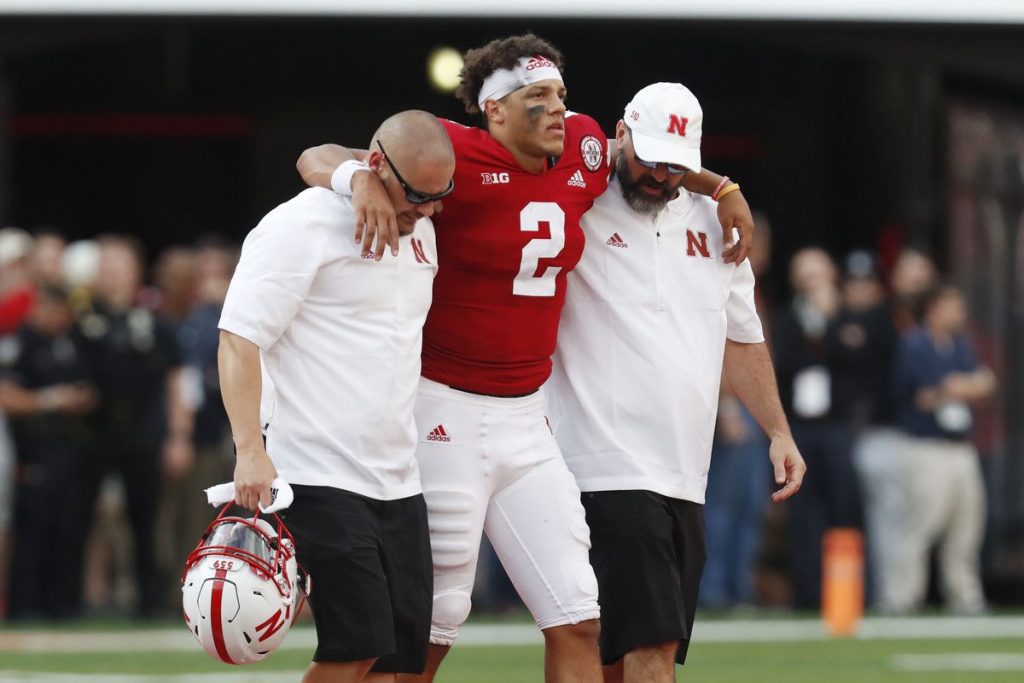 ForbinsAscynt (forums) asks: Hilton % full for NBA preseason game?
I doubt it's a capacity crowd, but I bet the game will draw more than 10,000 fans. That's the 13 NBA fans in Iowa (Brent Blum and Jared Stansbury included) plus a lot of Cyclone fans who want an extra chance to buy a Clone Cone.
srjclone (forums) asks: What is the best national or state park you have ever been to?
This is a great question. Unfortunately I've probably been to fewer national and state parks than a lot of people, but not due to lack of interest.
I've been to one official national park and it isn't really one of the parks you go to in order to become one with nature… The Gateway Arch in St. Louis. I did that whole experience during an 8th grade TAG field trip and thought about giving it another go with my wife when we went to a Cardinals game a few years ago. However, after I explained the process of going up the arch to her (they cram you into these very small "trams" and drag you up there to a chorus of clanging metal over the course of a minute or two), her claustrophobic self shockingly had little interest.
A few of the national parks I want to make my way to eventually include Yellowstone, Yosemite, Redwood, and Zion. I'm sure pictures don't do them justice even though they all look amazing.
As for state parks, a couple of my faves are Ledges and Honey Creek. Ledges because it's easily accessible from Ames and is a great place to take a walk, and Honey Creek because Rathbun Lake is close to where I grew up. For state parks I haven't visited, I'd say Maquoketa Caves is at the top of my bucket list.
Gunnerclone (forums) asks: You are forced to take up one bad habit for a year. Which do you choose: Smoking cigarettes, chewing tobacco, or driving without a seat belt.
Driving without a seat belt simply because I've been driving for a decade now and have never been in any kind of collision.
Yes, that could change in an instant even if I actively try to drive the safest I ever have, but I'll take my chances with that over taking up one of the alternatives that I have no interest in and could leave lasting long-term side effects.
BCClone (forums) asks: I bought a box of girl scout cookies last year. It was some 40 year old lady selling them from the back of her minivan, she had several cases of cookies. They looked like girl scout cookies, but I was nervous about an older woman selling them in a church parking lot randomly and this seemed to be several weeks after normal cookie sales time. I let my wife eat them since I was concerned, she is still alive. Think the cookies are fine or should I have the wife be the tester another season?
My guess is this woman is either the mom of a girl scout who happened to have a lot of cookie inventory left over somehow, or she bought a bunch from the girl scouts and is flipping them for a profit. You might argue the latter is shady or unethical, but it's simply capitalism. Thus, either way, you get the green light from me to continue purchasing these black market cookies.
Just be ready to weather the emotional and literal s***storm when your wife discovers it was all a prank and the cookies were laced with laxatives.
CarlHungus (forums) asks: Which restaurant gives you the runs? For me it was King Buffet.
This MWM sure took a turn.
Weirdly enough, some of the places that commonly give other people trouble like Taco Bell and Huhot don't affect me at all. But the past few times I've eaten McDonalds, things have taken a turn for the worse. The golden arches have begun to betray me.
But that won't stop me from slurping down McDonalds sweet tea, which is basically liquid crack-cocaine.
---
Thanks again to everyone who submitted questions for this week's Mid-Week Mailbag! If your question wasn't answered, be sure to listen to this week's episode of Stanz & Fitz as we might answer it there instead.
Until next week!