Well ladies and gentlemen, everything fell into place last week and Iowa State was able to pull off the victory in Stillwater. That's good news for the Cyclones and good news for me, because instead of everyone asking about which offensive coordinator Matt Campbell should hire, I get to write about Brock Purdy, who will be the first to bring stability to Iowa State's quarterback position since Zeb Noland Kyle Kempt Joel Lanning Sam Richardson Grant Rohach Jared Barnett Steele Jantz Jerome Tiller Austen Arnaud.
Let's dive right in to today's Mid-Week Mailbag with a question about Our Lord And Savior, Brock Purdy.
Cardinal and Gold (forums) asks: With film to watch on Brock Purdy, what will WVU do defensively to throw off our young QB's game?
I'm not the person to ask about specific schemes the Mountaineers are likely to use on defense, but I'd guess we will see a lot of pre-snap movement while Purdy runs through the snap count during this weekend's game. Anything West Virginia can do to make Purdy make the wrong read will be attempted. Look for a lot of safeties creeping up toward the line of scrimmage before dropping back into coverage, as well as delayed blitzes involving linebackers to bring pressure.
tim_redd (forums) asks: It seems like the first start for every Cyclone QB is awesome. Why don't we just recruit 14 QBs every year?
Now that's thinking outside of the box. I like it though… Just start a process of recruiting tons of high school quarterbacks. Preferably quarterbacks that are as athletic as possible. Then, after each quarterback makes a start or two, you can phase them out and have them transition into playing another position since their "Cyclone QB magic" time will have run out. It's fool-proof.
Kidding, of course.
DandyCyclone (forums) asks: Will we see the all black uniforms this Saturday vs. West Virginia?
I haven't heard anything official yet, but the stars have seriously aligned for Saturday to be when the team breaks out the black unis. Night game? Check. Coming off a big road win over a top 25 team? Check. Going to be on national TV? Check.
I mentioned on Stanz & Fitz this week that a gray and rainy day might make the black uniforms look even more cool.
What I'm not looking forward to is, if the Cyclones lose, all of the people who will begin seriously yelling to never wear the black uniforms again because they're bad luck. It's going to happen, mark my words. Unless Hakeem Butler drops a game-winning pass in the end zone in the 4th quarter and comments in the post-game presser about how he would have caught the ball, but saw a black uniform and was distracted because he thought it was a demon sent from hell………. THEN and only then can you start an anti-black uniforms campaign.
JM4CY (forums) asks: What would you take – Iowa State's total points on Saturday or Dana Holgorsen's total hairs left on his head?
If Purdy plays as well as he did against Oklahoma State, give me Iowa State's total points.
coolerifyoudid (forums) asks: Have the "Purdy" puns already supplanted "Dilly Dilly" for most overused and annoying phrase?
Excuse me, sir. Purdy puns Brock.
CyStateOfMind (forums) asks: Will we ever see Mike Warren on the field again? Can't help but be both proud of him and feel bad at where his ISU career went.
Unfortunately, I don't think Warren is ever going to play another meaningful snap for Iowa State, with the one exception being I think he'll be given a drive all to himself on senior day, whether that ends up being against Kansas State or Incarnate Word.
Totally agree with you on the proud + feel bad combo though, CyStateOfMind. Just a few years ago we were all pondering if he'd have four consecutive 1,000 yard seasons after he ripped off 1,339 during his freshman campaign. Then, a new coaching staff came to town, the scheme changed a bit, and David Montgomery emerged as a great talent.
You have to give huge props to Warren for sticking things out. He could have easily transferred to another school, especially after his sophomore season, and gotten a lot more playing time. Even though he has yet to see the field this year and his stats have gone the exact opposite way you'd like to see them progress during his eligibility, I hope he gets a huge ovation when his name is called on senior day.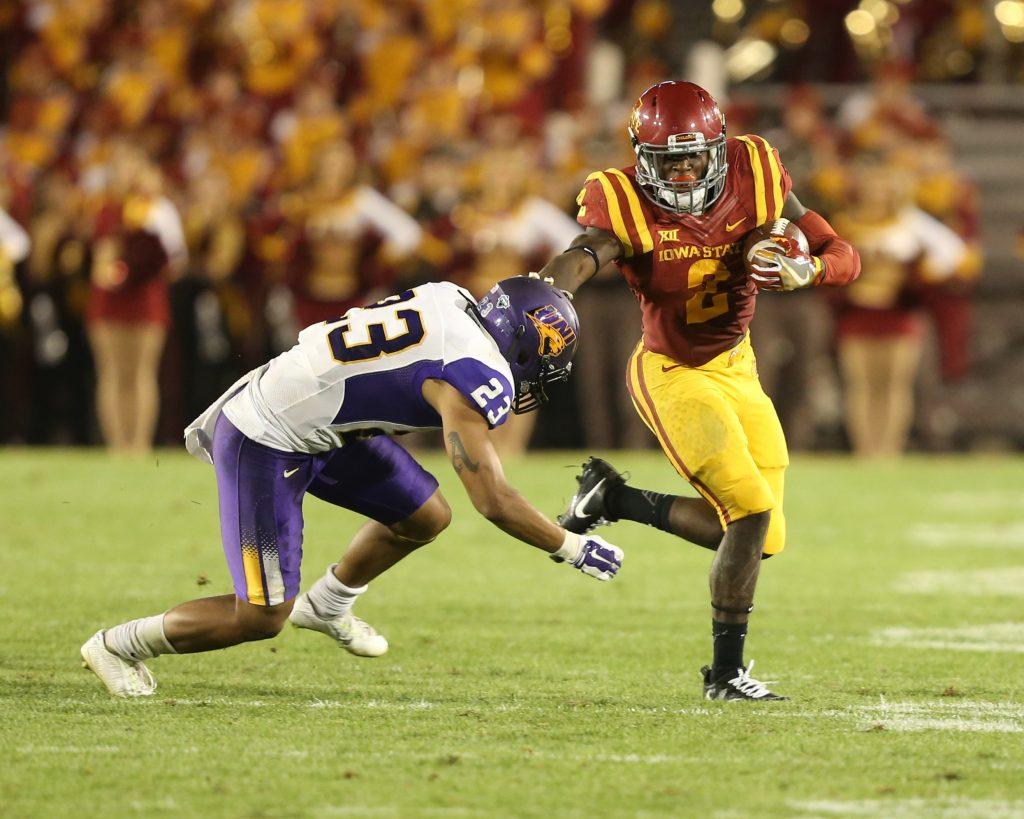 cyclonedave25 (forums) asks: If you could change the outcome of one ISU football or MBB game, which game do you choose and why?
The answer for me is and will always be the game against North Carolina Central in the 2014 NCAA Tournament. Also known as the game that Georges Niang broke his foot.
That team was playing as well as any in the country at the time. They had just blown through Kansas City and won the program's first Big 12 Tournament in over a decade. Niang, DeAndre Kane, Melvin Ejim, and some freshman named Monte Morris were especially gelling at the right time.
Sure, they went on to beat North Carolina in the game after Niang broke his foot, but I'm almost certain they could have beaten eventual National Champion UConn in the Sweet Sixteen had Niang been healthy. As you might recall, Dustin Hogue went off for 34 points and the Huskies won 81-76. It was a particularly inefficient game for Kane and Ejim, who combined to go 9-31 from the field, not to mention Kane's 2-9 clip from the free throw line. Niang's presence surely could have taken some of the load off those guys to score.
If that team would have got past UConn, who won the whole damn thing, then surely you figure the Cyclones could have done the same thing. Niang's broken foot will forever be one of the biggest "what ifs" in school history.
Sigmapolis (forums) asks: How concerned are you about the following injuries before basketball season – Zoran Talley's broken nose, Talen Horton-Tucker in a walking boot, Zion Griffin's poor knee, George Conditt and Tyrese Haliburton giving each other mono.
Talley should be able to throw a mask on and be fine. THT, from the sound of it, should be out of the boot soon and will also be fine going forward. Griffin's knee is a bit concerning simply because knee injuries often seem to linger or come back down the line, so hopefully he takes it easy and gets back to 100 percent.
The guys with mono are actually the ones I'm most concerned about right now. Mono can linger for months even if you take measures to get rid of it. Depending on how severe the specific case is, it can zap all of your energy and that's not a symptom that blends well with being a Division I athlete. Hopefully those guys keep their lips to themselves over the next few weeks and can get right before the season begins.
CyJeans (forums) asks: Actual question – Which is more likely, Lindell Wigginton is a first round pick this upcoming draft or Brock Purdy starts every game the rest of the year? Ridiculous question – Which is more likely, Lindell wins national player of the year this season or Brock Purdy wins the Heisman sometime over the next four years?
Actual – Wigginton being a first round pick. As much as I'd love to see Purdy perform so well that he gets every start the rest of the season, history says that simply isn't likely. Also, the whole "Kyle Kempt gets the start on senior day" scenario seems likely as long as he's healthy.
The explosiveness that Wigginton has displayed will be a big reason that I think he'll go late in the first round of the next NBA Draft. He's a bit undersized and needs to become a bit more consistent game-to-game, but NBA scouts drool over potential and Wigginton's raw athleticism is something you can't teach.
Ridiculous – Purdy wins the Heisman. This has to do more with the fact that I'm not sure Wigginton will even be the best player on the team this year. He would need to be dominant and put up insane averages – like 25 PPG, 8 APG, 5 RPG – while leading Iowa State to 25+ wins. My guess is the Cyclones will be more balanced than that given the injection of freshman talent and returning contributors like Cameron Lard, Nick Weiler-Babb and Solomon Young.
So yeah, Purdy's got three seasons to win the Heisman. All it would take is for him to lead Iowa State to the program's first double-digit win season while putting up video game numbers. Easy peasy.
BCoffClone125 (forums) asks: Imagine you're in the Big 3 League and have your choice of two former/current Cyclones to join you on your squad. Who are you taking and why? For sake of argument/hatred, say you're playing a team of former Hawkeye players.
Georges Niang is my automatic pick. I need a big man who can score from anywhere on the court AND talk major trash to the opposing Hawkeyes.
For my second pick, I think I'd go with Jamaal Tinsley. Tinsley's game would fit a Big 3 format perfectly since he's a great ball handler. He and Niang would create a mean pick & roll duo while I spot up on the weak side waiting to shoot a 3-pointer after they pull my defender to triple team the other two.
Niang, Tinsley, Fitzpatrick. That's the dream team.
@JayJayCee13 (Twitter) asks: Using current/past Big 12 programs for parts, build your ultimate Frankenstein's monster-esque Big 12 football program. (Coaches, facilities, location, fan base, star players, etc).
To make this a little more fun, I'll try to avoid picking the same school for more than one category (I'd probably pick Texas 2-3 times).
Coaches: Gary Patterson/TCU. Patterson's defenses are always great and I think they do a good job of scheming on offense too even though they haven't had quite as many talented players as other teams in the conference.
Facilities: Oklahoma. Texas' might be a bit better, but Oklahoma's are super nice too and I'm saving Texas for…
Location: Austin, Texas. I've never been there myself, but almost everyone I've seen who's been there RAVES about the city. The location for my ultimate Big 12 program has to be somewhere in Texas for recruiting purposes and I'll take Austin over Fort Worth, Waco, and – God forbid – Lubbock.
Fan Base: Iowa State. Yeah, it's a homer pick, but you can't deny the loyalty of Cyclone fans. I can only imagine how much more amazing this fan base would be if they actually had a powerhouse football program to cheer for.
Star Players: Vince Young, Adrian Peterson, and Michael Crabtree should be a solid QB-RB-WR trio core on offense.
Gunnerclone (forums) asks: Rank your breakfast carbs – Pancakes, waffles, french toast, cinnamon roll, favorite sugary cereal.
This is going to be controversial.
No. 1 for me is french toast. You get the maple syrup that pancakes and waffles also provide but it's delivered via bread with a delicious coating of egg and sugar. There's something about that marriage that just works.
No. 2 would have to be waffles, with a stipulation. If waffles are undercooked (they wilt when you hold one up) or overcooked (basically becomes a frisbee with dimples) then they are absolutely atrocious. Yet if the delicate balance of a crunchy outside is mixed with a doughy inside, then I would argue that waffles are the most underrated breakfast option. They absorb syrup well and the pattern allows for adding additional toppings without anything rolling off. Pro tip: try waffles with peanut butter, maple syrup, and cinnamon on top sometime. Life changing.
In at No. 3 on my rankings is the classic cinnamon roll. In the taste category alone, I'd argue the cinnamon roll is worthy of the top spot. However, there's no easy way to eat one without some kind of issue… Go in with the hands and you're gonna have to lick your fingers at some point (or use a napkin if you're an ivory tower dweller). Go at it with a fork and that just becomes an arm workout unless the roll is undercooked.
Coming in at No. 4 for me is pancakes. I imagine this is what I'll receive the most backlash about. I just vastly prefer french toast or waffles over pancakes if ever presented the choice. Pancakes, no matter if I make them at home myself or get them from somewhere else, sit in my stomach like a rock. I'd argue they're the french fries of breakfast options in that they exist to "fill in the gaps." Yes, I say that despite the existence of hash browns. Pancakes are overrated, folks. Tell your friends.
Rounding out my list at No. 5 is my favorite sugary cereal, which would have to be Waffle Crisp. I love me a bowl of Waffle Crisp, but the other options available in this ranking are all actual hearty concoctions. Sugary cereal isn't in the same league. The best part about cereal is it's fast and leaves little to clean up. That pretty much wraps up the benefits of cereal over french toast, waffles, cinnamon rolls, and pancakes.
That'll conclude this week's edition of the Mid-Week Mailbag. Muchos gracias to those who submitted questions this week. Let's keep up the momentum and meet back here next week after another big Cyclone football victory!