Iowa Hawkeyes guard Connor McCaffery (30) goes to the basket as Iowa State Cyclones forward Cameron Lard (2) defends during the second half at Carver-Hawkeye Arena.

It's December 12 and we are officially less than two weeks away from Christmas. If you're like me, you're counting down the work days until the holiday and can almost TASTE it, it's so close.
Thankfully, the Mid-Week Mailbag is back again to transport you just a few minutes closer to the upcoming four day weekend. This week, we tackle a slew of topics including the Big Four Classic, Tyrese Haliburton's assists record, Cameron Lard's body language, Matt Campbell's place on the Iowa State Mt. Rushmore, and a few Christmas-related questions near the end. I hope you enjoy!
kentkel (forums) asks: What's your take on the end of the Hy-Vee Big 4 classic and scheduling Drake and UNI for the future?
The Big Four Classic never really interested me that much and I think a lot of people feel the same way. Most people only have true interest in watching one of those four teams every year, so it doesn't make much sense to pack everyone into the same venue and charge more per ticket than you'd regularly see at a game on campus.
I don't know if this is entirely true or not, but it seems like the state of Iowa has this really weird infatuation with giving the smaller schools a chance against the bigger schools. Admittedly, I don't pay near as much attention to college sports in other states, but how many schools across the nation that are the equivalent to Iowa State and Iowa actually make a concerted effort to get their equivalent to Drake and UNI on the schedule year in and year out?
I wouldn't mind seeing the Cyclones and Hawkeyes play Drake and UNI every now and then. However, it definitely doesn't have to be every season. I think every 3-4 years would suffice. Maybe stagger it so it goes Drake, off year, UNI, off year, etc. In that format, I wouldn't even mind alternating venues. Some people like the 2-for-1 idea of two games in Hilton/Carver for every game in McLeod/Knapp, and if teams HAD to play every year (for some unknown reason) then I'd favor that, but if there are some gap years, traveling to Drake or UNI wouldn't be the worst thing in the world.
SCyclone (forums) asks: With Cameron Lard getting back in the rotation, and Solomon Young about to be back, do you see Steve Prohm staying with a 4 guard rotation most of the time?
Once Iowa State's roster is back to full strength, the trio of Michael Jacobson, Cameron Lard, and Solomon Young should take all of the post minutes outside of games where one or more of those guys get in foul trouble. George Conditt has played generally well so far but Young's arrival should provide a much-needed strength boost in the post and negate the need for the minutes that Conditt has logged per game to this point.
If the main rotation includes three posts, we'll certainly see some two-post lineups, but the strength of ISU's roster is definitely in the backcourt and Steve Prohm knows that. In most games, running and gunning will benefit the Cyclones more than stocking up on size, so a 4-out 1-in look should still be more common. A 3-out 2-in lineup will be more feasible with more bodies to rotate in and out, but that's not the style of play that has benefited Iowa State the most when they've played well.
mj4cy (forums) asks: Does Tyrese break his own record?
In other words… Will a record that stood since 1974 be broken again in the next 3-4 seasons?
I'm going to go out on a limb and say yes.
Haliburton has already shown that he has fantastic court vision during his brief career in Ames. He made his 17-assist performance sound like a silly "game inside the game" when he admitted that he had talked to Marial Shayok beforehand about breaking the record.
If the young fella can make it look that easy and do something like that nearly on-demand, then I think he could get 18 assists in a game before he's done. The nice thing (for Iowa State fans) is I don't think he's the type of player who will make the jump to the NBA prior to the completion of his junior season. So we should get plenty more chances to see him attempt to top himself.
Tyrese, if you're reading this, I hereby challenge you to get 18 assists against Drake. Bet you can't – no sir!
Eric Heft talks about Tyrese Haliburton breaking his record for single-game assists in this CFTV. pic.twitter.com/marXOgm5oO

— CycloneFanatic.com (@cyclonefanatic) December 10, 2018
Cycsk (forums) asks: How much stock do you put in Cam Lard's body language?
Spoiler alert: Potentially controversial opinion incoming.
In my opinion, body language is "the window to the soul." Having said that, the window isn't necessarily a clear one to see through. I think that it's dangerous as fans to extrapolate on what exactly is causing subpar body language on the court, but Lard's has always bothered me. Secretly, I was hoping his off-season rehab activities would help cure them indirectly, but it appears that isn't the case.
Look, I get it… Some people are simply different than others in an emotional sense. Lard is obviously one of the guys who wears his emotions on his sleeve. It's just tough to watch when he slumps his shoulders or reacts to things in negative ways because part of winning the mental portion of the game is never letting the opponent know you're flustered. Is doing that necessary for winning the actual result of the game? No… Though I'd say it's certainly a factor while things are playing out.
In closing, I'm not going to "put stock in" Lard's body language meaning there's something negative going on behind the scenes. It could be just the way he reacts to things throughout the flow of a game and there's nothing else below the surface. It's not fair for me or any other fan to assume anything different without further knowledge of the relationship he has with others involved with the team. I just wish he'd get that minor body language detail cleaned up so he looks (and hopefully plays) more confidently in the heat of battle.
CTTB78 (forums) asks: Does Steve Prohm work the press into his game plan now that he has the roster to do it?
I'll predict yes!
That doesn't mean that I think the Cyclones will become 2011 VCU any time soon. However, Prohm knows how deep the team is now, especially with some quality game action under the young guys' belts. It makes sense to throw a press in as a wrinkle every now and then, especially as a surprise tactic during Big 12 play. There's enough depth that guys can take a minute or two if they get winded, which is a nice luxury to have.
I'll be keeping my eye on those first couple conference games against Oklahoma State and Kansas as a preview of how the Cyclones will utilize the press the rest of the season.
scottwv (forums) asks: Which happens first: Regular season Big 12 Championship in men's basketball or football?
Just to be clear, I consider a regular season Big 12 championship in football to be winning the conference title game. If Texas had beaten Oklahoma in this year's title game, no one would have considered Oklahoma the conference champ even though they finished with the best record in the "regular season."
So, under my definition, I think it's more likely that Iowa State football makes the title game and wins it before the hoops team dethrones Kansas and wins the most games during the conference regular season. The football team is already closer as it stands right now and the program appears to still be gaining momentum. It wouldn't be terribly surprising if it happened within the next three years at this rate.
CyCloned (forums) asks: Who has a bigger game against WSU, Montgomery or Butler? Rose or Lima?
Washington State's defense gives up 4.08 yards per rush attempt according to CFBAnalytics.com, which is 46th in the nation. Conversely, they give up 6.87 yards per pass attempt, which is 37th in the nation. Not a huge difference in the rankings, but a slight lean toward being softer against the run. That, coupled with the fact that I think a rested David Montgomery is going to be ready to rumble, makes me think he'll have a bigger game than Hakeem Butler.
The other pick is an easy one for me… I think at the end of the day, Ray Lima is going to be a huge X-factor in getting pressure on Gardner Minshew. Going against the air raid will mean the ball gets spread around a lot and making sure Minshew is uncomfortable should be something Lima can impact on every play. Mike Rose will be tasked with dropping into coverage and could still have a big day – Lima is just more of a sure thing in this instance to me.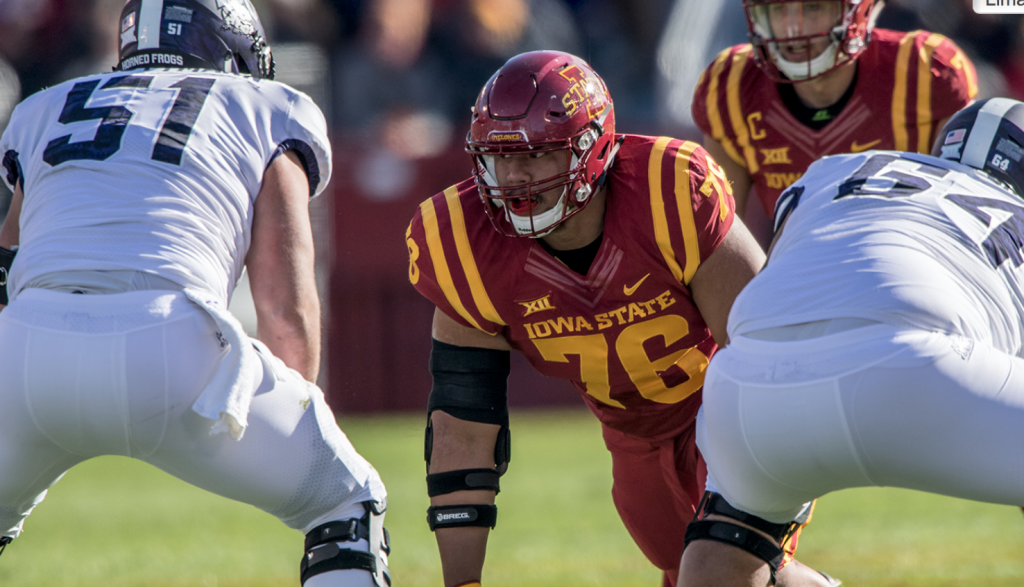 CyJeans (forums) asks: If Matt Campbell wins the Alamo Bowl and gives us a 9 win season, is he in Iowa State Mount Rushmore territory? Follow up, if he sustains the level we are at now and stays another 5 or so years, is there room for anyone else on it?
Are we talking the all-sports Iowa State Mt. Rushmore, or just the football one? An Alamo Bowl win would put Campbell up there already for me in the football one along with Troy Davis, Seneca Wallace, and Dan McCarney. But all-sports is solidly filled in with Cael Sanderson, Troy Davis, Jack Trice, and Fred Hoiberg in my opinion.
If Campbell were to sustain 8-9 win seasons for the next five years, I think I could be convinced to put him on the all-sports Mt. Rushmore at that point. I'm not sure which person I'd take off though… Anyone want to help with the logic there?
LoyalFawker (forums) asks: If there was a college basketball video game equivalent of NFL Blitz would you play it? NFL Blitz is known for letting you preform excessive violent hits after the play is over, in the college basketball version who the first team you'd play against just so you can beat the living crap out of after each basket?
Your first question is rhetorical.
The answer to the second question is easily the Iowa Hawkeyes given the chippy nature of last week's game.
If there are any kids reading this, just know that I don't condone violence, but I wouldn't hesitate to have some fun with "intentional fouls" against Connor McCaffery or Cordell Pemsl. I don't think Hawkeye fans would turn down the chance to take some cheap shots at virtual Michael Jacobson or Marial Shayok either.
Only in a video game, of course.
LurkingClone (forums) asks: Favorite winter cocktail to enjoy while watching a Cyclone basketball (men's or women's) game at home with your significant other?
My favorite cocktail to share with my wife while relaxing and watching the tube is a Moscow Mule. I realize that isn't necessarily a "winter cocktail" though, so you inspired me to do some Googling to see what I'm missing out on.
This list popped up in the results and I haven't tried anything on the list, but the top three cocktails I'd like to sample would be:
– Mulled Malbec (but only if someone else makes it for me – sounds like a bit of a pain to prep)
– Concord (I'm a fan of grape juice and grapefruit)
– Angry Jolly Juice (cinnamon/apple/brown sugar sounds like it would taste like the holidays)
coolerifyoudid (forums) asks: Which Christmas song annoys you the most?
What other song (not including Boomer Sooner) annoys you the most?
The most annoying Christmas song for me is "Santa Baby" and it isn't even close.
It's got whiny, selfish lyrics and every time it comes over the radio while going Christmas lights watching this time of year, I want to change the channel. It doesn't have a good hook of any kind, has a terrible beat, and is just overall a terrible tune. There's nothing redeeming about it.
Branching outside of the Christmas realm, I abhor just about everything Imagine Dragons simply because they get massively overplayed nowadays. I don't think their songs are all that bad compared to a lot of the stuff in today's music scene, but after the 83rd time hearing "THUNDER, FEEL THE THUNDER, LIGHTNING AND THE THUNDER" I start hoping that I will actually get struck by lightning.
My all-time least favorite song? Probably "Cruise" by Florida Georgia Line. I don't like country music, and the song represents everything I hate about the genre. Predictable lyrics (talking about a truck, a girl's clothes, "back road", etc.), a really annoying twang sound, and generally not creative at all.
To be fair, I know a lot of country music fans don't like FGL either. I believe Chris Williams has deemed them "douche country" and that term is perfect. Please know that if you willingly listen to any FGL song I will not hold back in judging you.
CloneGuy8 (forums) asks: In the song 'I saw mommy kissing Santa Claus', do you think the kid's dad was just dressed as Santa, or was Santa giving it to the kid's mom?
Song for reference:
You mean to tell me that the dad in this situation dressed up as Santa Claus AFTER the kids went to bed?
I'm calling B.S.
The only reason a father would dress up as Santa Claus would be to do it for the enjoyment of his kids. Unless, of course, the mom has a thing for guys dressed up like Santa… But that seems a little too peculiar.
No, what I think happened is the mom is clearly having an affair with another guy. Dad is upstairs in dream land and the other guy came over to have a little "fun" with the mom. He probably dressed up like Santa for the very reason that plays out in the song… The kids are anxious for Christmas and come downstairs to see what's going on. If they see mommy kissing Santa, they'll tell dad in the morning and he'll think it's all just a funny joke. If they see mommy kissing another guy, the gig's up.
Clever move by the mom and the guy she's having an affair with to pull the Santa disguise off and fool the kids.
---
Thanks as always for reading the Mid-Week Mailbag and submitting questions! Be sure to come back next week and bring even more holiday-related questions so we can make things as festive as possible. Shalom!