Jan 3, 2017; Lawrence, KS, USA; Kansas Jayhawks head coach Bill Self reacts to play during a basketball game against the Kansas State Wildcats at Allen Fieldhouse. Kansas won 90 to 88. Mandatory Credit: Denny Medley-USA TODAY Sports
Earlier this week, I put out my too-early power rankings for the YMCA Capital City League. That exercise inspired me to do some more research on Iowa State's Big 12 brethren. That exercise inspired me to write the column you're about to read which holds my too-early Big 12 power rankings.
I know five-ish months still stand between us and the start of college basketball, but the NBA Finals have been trash and I'm in denial about the end of the basketball season. So, I sat down and looked ahead to the start of next season because I'm a sick human being and I don't want to face the reality of a world without basketball even if it is only for a few months.
You can direct any disagreements you might have with these rankings to my director of complaints, Kevin Fitzpatrick (@KFitzy87) on Twitter.
1 — Kansas Jayhawks
Could it really be anyone else?
Until someone topples the Jayhawks from their 14-year perch, it is hard to enter a season with anyone else sitting at the top of the Big 12. Sure, Kansas lost some key pieces from its Final Four run last season, but its list of additions is stacked with big-time talent.
Headlined by Memphis transfers Dedric and K.J. Lawson, Kansas will add three sit-out transfers to this year's mix and a trio of top-35 recruits in the 2018 class. Former Illinois Mr. Basketball and Cal transfer Charlie Moore proved to be a capable scorer as a freshman for the Golden Bears and both of the Lawsons were in double-double territory every night for the Tigers in 2016-17.
Plus, the Jayhawks return some major contributors in Udoka Azubuike, Marcus Garrett and Mitch Lightfoot. I'm sure there will be a growth period while the backcourt fully meshes, but I fully expect to see Kansas competing for the national championship – not just another Big 12 title.
2 — Kansas State Wildcats
I was definitely mostly kidding when I acted like the driver of the Bruce Weber hype wagon last fall. He is a pretty easy target for criticism and I would be lying if I said I don't have a folder titled Bruce Weber reaction gifs in my iPhone's photos app.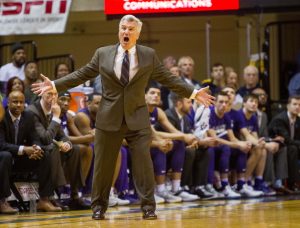 Right now, it is pretty damn hard to find any way to criticize Weber or his team entering this season. The Wildcats bring back basically everyone and would have brought back literally everyone from their rotation if Ahmaad Wainwright hadn't let a passenger shoot out the window of a car he was driving.
Barry Brown, Dean Wade, Kamau Stokes, Cartier Diara and Xavier Snead are all returning to Manhattan and combine to make Kansas State the (on paper) most likely team to knock off the rival Jayhawks in 2018-19. They're the last ones to truly come close when they split the title with Kansas in 2012-13.
Maybe Bruce Weber really is elite?
3 — West Virginia Mountaineers
The Mountaineers will be faced with replacing Jevon Carter, one of the best players in program history, and Daxter Miles, the team's second-leading scorer a year ago, but the cupboard is far from bare for Bob Huggins.
Esa Ahmad returns for his senior season hoping to build on his 10.2 points per game. Sagaba Konate reportedly impressed scouts during his time testing the NBA waters and will continue to be one of the best interior defenders in the country. Plus, Lamont West and James Bolden round out West Virginia's group of top returning scorers.
The Mountaineers also add the nation's No. 24 recruiting class headlined by Derek Culver, the No. 78 recruit in the class, and Wisconsin guard Jordan McCabe.
West Virginia will be a tough out again in the league even if some of the faces are new.
4 — Iowa State Cyclones
Few teams have as wide of a range they can be placed in these rankings as the Cyclones.
A path to topping Kansas and winning the league isn't outside the realm of possibility to those of us who closely follow the program, while an outside observer could make a case for Iowa State entering the season as one of the league's bottom-dwellers.
Lindell Wigginton returns with a stated mission of being one of the best guards in college basketball. He has all the talent to do so and the supporting cast necessary to make some serious noise on the college basketball landscape this winter.
Virginia transfer Marial Shayok gives Wigginton a highly-skilled and versatile running mate in the backcourt. Nebraska transfer Michael Jacobson will be a welcome addition of depth to the Cyclones' frontcourt which is already pretty salty with Cameron Lard and Solomon Young returning.
Throw in one of the best recruiting classes in school history, led by versatile four-star prospect Talen Horton-Tucker, a handful of other key rotational returners such as Nick Weiler Babb and it is hard to see the Cyclones missing the NCAA Tournament for the second year in a row.

5 — Texas Longhorns
The next two teams in my rankings probably have the biggest holes to fill entering this season. Mo Bamba will be a borderline top-five pick in the NBA Draft later this month and leaves a huge hole in the middle of Shaka Smart's lineup.
Luckily, the Longhorns have recruited really well in recent years and Jericho Sims should be more than capable of coming close to filling Bamba's shoes as a sophomore. Kerwin Roach returns for what feels like his 600th year of eligibility and Dylan Osetkowski will continue to be one of the league's most dislikable players for opposing fans.
Sophomore Matt Coleman should only improve in year two as Smart's point guard. If he doesn't, four-star point guard Courtney Ramey, the headliner of the Longhorns' recruiting class which ranks No. 8 in the country, will push him for minutes right away.
There won't be a high-level, lottery type talent like Bamba on this year's Texas team, but they should be deep, experienced and really talented.
6 — Oklahoma Sooners
The Trae Young show is over in Norman and that should lead to a considerably quieter year for Lon Kruger's crew.
Christian James and Brady Manek both averaged double-figures a year ago while Rashard Odomes and Jamuni McNeace give the Sooners two more solid returning rotation guys. McNeace will also be crucial in the process of filling the hole left by Khadeem Lattin's graduation.
The biggest question mark for Oklahoma entering the year will be how quickly graduate transfer additions Miles Reynolds (Pacific) and Aaron Calixte (Maine) mesh with the rest of the roster. Both players averaged more than 13 points per game last season and shoot better than 37 percent from behind the 3-point line.
I could see the Sooners being pretty dang good but the graduate transfers will probably end up as the biggest keys to replacing Young and until we see them all together it is tough to put them in the league's top half.
7 — TCU Horned Frogs
The way the Horned Frogs' 2017-18 season ended could probably be seen as a disappointment after returning everyone from the program's run to the NIT title the previous season. But, it is easy to understand why things changed for TCU in the middle part of the year following the loss of Jaylen Fisher to a season-ending injury.
Now, Fisher is back alongside senior point guard Alex Robinson to combine for one of the more talented and experienced backcourt duos in the league.
Replacing the production of Kenrich Davis and Vlad Brodziansky will certainly be tough, but the additions of four-star forward Kaden Archie and 6-foot-10 center Yuat Alok, the No. 2 JUCO prospect in the country, should help cushion the blow.
TCU basketball has certainly changed a lot in the two years since Jamie Dixon took over in Fort Worth. This year's team will have potential again and it will largely be hinged on what Fisher and Robinson are able to do.
8 — Texas Tech Red Raiders
While other teams lost players more singularly important to their success and failures (i.e. Texas and Oklahoma), nobody lost more cumulatively than the Red Raiders. Chris Beard's squad returns only one of its top six scorers and do-it-all guard Keenan Evans is one of those losses.
Jarrett Culver is the program's top returning scorer at 11.2 points per game. Brandone Francis, Norense Odiase and Davide Moretti give Beard three more returning rotation guys, but it is a newcomer who will grab most of the headlines entering the season.
South Dakota graduate transfer Matt Mooney was one of the top players in the Summit League last season and brings some high-level scoring ability. St. John's graduate transfer Tariq Owens will also be heavily relied on to cushion the program's losses from last year's team, as will four-star forward Khavon Moore, the No. 51 player in the 247Composite rankings.
Beard has been highly impressive since taking over in Lubbock two years ago, but this is probably the year when we learn the most about his coaching chops.
9 — Baylor Bears
I originally had the Bears 10th considering they lost their top four scorers from a year ago, but Chris Williams changed my mind when he reminded me of Scott Drew's coaching prowess. Drew is tasked with replacing most of his frontcourt from a year ago as Jo Lual-Acuil, Terry Maston and Nani Omot are all gone.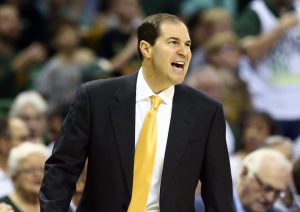 Most of the Bears' ability to bounce back from the frontcourt losses plus losing Manu Lecomte will fall on the shoulders of rotational returners King McClure, Jake Lindsey, Tristan Clark and Mark Vital.
Luckily, Baylor will finally have the skills of Yale transfer Makai Mason available following his sit-out year due to transfer rules. The last time we saw Mason, he was helping knock the Baylor team he nows play for out of the NCAA Tournament in 2016.
Matthew Mayer is a top-100 prospect who will likely have to fill some sort of role for Drew's team as a true freshman.
I won't count the Bears out from being good because somehow Drew always has a good team, but there are too many question marks at this point for me to put them much higher on this list.
10 — Oklahoma State Cowboys
The Cowboys lose only two rotational players, but those two losses are big ones. Jeffrey Carroll and Mitchell Solomon were cornerstones of Oklahoma State's program for four years and now they've both moved on from college basketball. Plus, Kendall Smith is gone after being the team's second-leading scorer in his one season as a Cowboy.
That leaves Tavarius Shine as the team's top returning scorer at 9.7 points per game entering his senior season. Lindy Waters, Cameron McGriff, and Thomas Dziagwa all give Mike Boynton something to work with as far as returning rotation players.
USC-Upstate graduate transfer Mike Cunningham should give Boynton's team an immediate boost at the point guard spot after averaging 13.7 points and 3.0 assists per game as a junior. The program's high school recruiting class isn't anything to write home about, but it has several guys who could potentially help the Cowboys right away as true freshmen.
Boynton certainly has some pieces to work with, but it is hard to see them anywhere besides in the bottom two or three of the league at this point.