Dec 10, 2016; Lawrence, KS, USA; Kansas Jayhawks guard Frank Mason III (0) drives the basket as Nebraska Cornhuskers guard Glynn Watson Jr. (5) defends during the second half at Allen Fieldhouse. Kansas won 89-72. Mandatory Credit: Denny Medley-USA TODAY Sports
Non-conference slates are coming to a close in college basketball and once again, the Big 12 will enter league play as the highest rated conference on KenPom.com. The league might not be quite as top heavy as last season, but top-to-bottom it might be the deepest it has been in years.
There isn't a team in the conference that can be circled as a win right now. 
Oklahoma State has made a resurgence with star point guard Jawun Evans and new head coach Brad Underwood running the show.
TCU is clearly improving in its first season under Jamie Dixon.
Even Kansas State, who many expected to be the league's worst team during the preseason, has just one loss entering conference play.
I compiled pre-conference play Big 12 power rankings based on non-conference strength of schedule and a few other factors. So here they are:
1 — Kansas – 11-1
The Jayhawks have been nearly as good as advertised during the first few months of the season. They have solidified themselves as a national title contender and proved it in a win over Duke early in non-conference play.
The only blemish on KU's record came in a season-opening loss to Indiana.
Frank Mason III has made it clear that he is a national player of the year candidate while leading Bill Self's squad in scoring (19.7 points per game) and assists (5.8 assists per game). Devonte' Graham has been almost as good scoring 12.6 points and dishing 4.4 assists per.
Freshman phenom Josh Jackson has poured in 15.6 points per game during the team's non-conference slate, which ranks No. 91 in strength of schedule on KenPom, and leads the team with 6.5 rebounds per game.
Kansas sits at No. 6 in KenPom's adjusted offense and adjusted defense metric. Only three other teams (Duke, Kentucky and North Carolina) are in the top-10 in both categories.
2 — Baylor – 12-0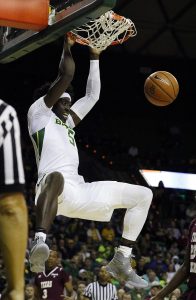 The Bears are potentially the nation's most surprising team after non-conference play. Scott Drew's squad quickly rose up the ranks after starting the season outside the polls, but wins over Louisville, Oregon and Xavier have helped them move into the top-5.
Center Johnathan Motley has led the Bears' offense, which ranks No. 13 on KenPom, with 16.0 points per game while also corralling 8.7 rebounds per game. Miami transfer Manu Lecomte has emerged as the team's floor general while leading in assists (5.4 assists per game) and scoring 11.6 points per game.
Al Freeman (12.7 points per game) and Jo Lual-Acuil Jr. (10.6 points and 7.5 rebounds per game) have also stepped into big roles during the early part of the season.
3 — West Virginia – 11-1
Bob Huggins' squad played one of the worst non-conference schedules in the country, its strength of schedule is ranked No. 349 on KenPom, but a win over Virginia shows this team has what it takes to play with anybody this season.
Esa Ahmad (12.9 points per game) and Nathan Adrian (10.5 points per game) are the only two players scoring in double-figures, but that isn't overly surprising. The Mountaineers continue to win with the same blueprint that's been successful the last several seasons.
There isn't really any clear star player, but collectively the team comes together to make a very solid unit. That's especially true on the defensive end where they rank No. 4 in adjusted defense.
4 — Iowa State – 8-3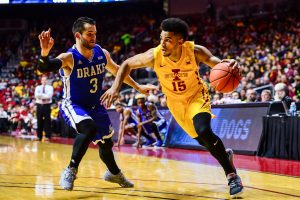 The Cyclones have been up-and-down during the first two months of the season, but have showed they have the potential to play with anybody when they are up. The win over Miami (FL) is one of the best in the league so far this season (at least based on KenPom rankings) and they were able to battle top-10 Gonzaga until the final possession.
A home loss to Cincinnati and road loss to in-state rival Iowa has put a sour taste in some Iowa State fans' mouths, especially after the team's offensive performances in those losses. The Cyclones are No. 46 in adjusted offense so far this season, which is much lower than where the program has been the past few years.
The team's four senior guards — Naz Mitrou-Long, Monte Morris, Deonte Burton and Matt Thomas — are all scoring in double-figures, led by Mitrou-Long at 15.3 points per game. Morris is second in the league in assists (5.7 per game) and Burton has snagged 8.0 rebounds per game during the first 11.
5 — Oklahoma State – 10-2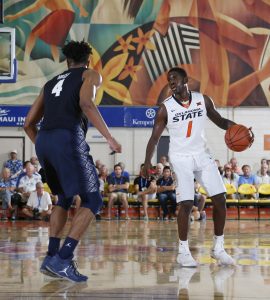 Led by the league's leading scorer, Jawun Evans at 20.2 points per game, the Cowboys have made a resurgence in the first year of Brad Underwood's tenure in Stillwater. Wins over Wichita State, UConn and Georgetown headline the team's non-conference slate that ranks No. 202 in strength of schedule on KenPom.
Jeffrey Carroll has scored 16.2 points per game and leads the team with 7.3 rebounds per game. Seemingly timeless Phil Forte III has scored 13.1 points per game during the team's first 12, which only includes losses to North Carolina and Maryland.
6 — Texas Tech – 11-1
Chris Beard's squad has five players scoring in double-figures entering conference play and the No. 26 adjusted offense on KenPom. Although, that came against the No. 347 strength of schedule in the country.
Zach Smith has been one of the league's better all-around players during the first two months while scoring 12.3 points and grabbing a team-leading 7.5 rebounds per game. Keenan Evans is scoring 13.4 points per game and Anthony Livingston is adding 13 points per game of his own.
The Red Raiders, whose best non-conference wins came against Rice and Richmond, will open their Big 12 slate against Iowa State on Friday (5 p.m.) at Hilton Coliseum.
7 — Oklahoma – 6-5
This ranking is based on potential as much as it is on-court performance during the team's first 11 games. The Sooners have the third-highest ranked strength of schedule (No. 174) in the league so far this season and a win over Clemson to bolster their resume.
Jordan Woodard is scoring 17.6 points per game and leads the team with 3.6 assists per game. Lon Kruger's squad has struggled in close games with their losses to Wichita State, Memphis, Auburn and Northern Iowa all coming by less than five points.
Christian James (12.4. points per game) and Rashard Odomes (10.1 points per game) have been solid while trying to help replace the production left behind by last year's stellar senior class that included Big 12 player of the year Buddy Hield.
8 — Texas – 6-5
The Longhorns are one of the youngest teams in college basketball, ranking No. 339 in experience on KenPom. That fact leads to believe Shaka Smart's squad will be more worrisome in February and March than they were in November and December.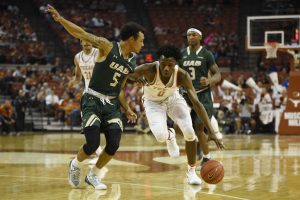 Sophomore Tevin Mack leads the team with 15.8 points per game while another sophomore, Kerwin Roach Jr., has added 10.8 points per game and a team-leading 2.9 assists. Freshman forward Jarrett Allen leads the team with 6.6 rebounds per game and has scored 10.1 points during his first season in Austin.
A win over Alabama is the team's best during the non-conference slate while they've suffered tough losses to Northwestern, Colorado, Michigan and Auburn. The team's only other loss, to UT-Arlington at home, is likely the worst one.
9 — TCU – 11-1
The Horned Frogs have played only one team, SMU, in the top-50 on KenPom and it doubles as their only loss. The best win so far during Jamie Dixon's first season came against Illinois State.
Alex Robinson leads the team's offense with 10.8 points and 5.5 assists per game. Kenrich Williams is averaging a double-double so far with 10.4 points and 10.0 rebounds per game.
TCU's strength of schedule ranks at No. 223 and they've played only three teams that rank in the top-100 on KenPom. Although, they beat Washington, and projected NBA-lottery pick Markelle Fultz, twice in one week in November.
10 — Kansas State – 11-1
The Wildcats have the second-worst strength of schedule in the country and their best win came against No. 150 on KenPom Colorado State. Bruce Weber's squad is in the top-45 in adjusted offense and defense, but that isn't overly surprising based on their schedule.
Barry Brown leads the team with 12.5 points while Kamau Stokes has scored 10.3 points and dished 4.3 assists per game. They have three other players scoring in double-figures.