Last week's deadline for The Basketball Tournament's (TBT) team application period provided some quality drama, but unfortunately, that drama came at the expense of Iowa State fans.
Overseas Elite, the team that has won TBT each of the past three years, waited until the last 24 hours before the deadline to get their team page and roster uploaded to the tournament's website. In the process, it was made known to the public that former Cyclone DeAndre Kane would be rejoining the team he had been part of in the prior two summers, as opposed to teaming up with the Hilton Magic Legends team comprised of other ISU alumni.
This announcement came as somewhat of a surprise to anyone who had seen Kane's tweet just a week before. In it, the physical 6-foot-5 guard appeared to commit to playing for the Hilton Magic Legends.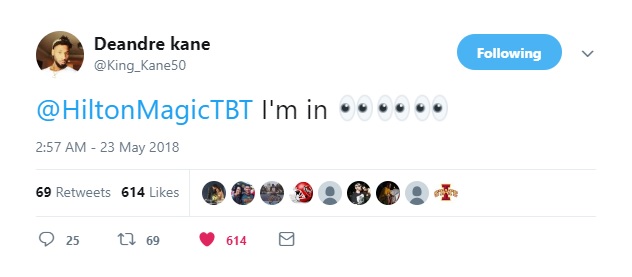 Alas, Kane's addition to the Overseas Elite roster, coupled with his official TBT announcement video, dashed any remaining hope of him suiting up in cardinal and gold.
Even though it certainly hurt to not get Kane, the Hilton Magic Legends still sport a competitive roster that's much-improved over the one that made its debut in last year's edition of TBT.
Headlining the players competing for the Iowa State alumni team is the athletic and versatile Royce White, who won the Big 12 Newcomer of the Year award in his only season in Ames. He'll be flanked by the rim-rattling abilities of Deonte Burton and a slew of other former Cyclones including Diante Garrett, Tyrus McGee, Jameel McKay, Curtis Stinson, Jared Homan, Darrell Bowie, and Bubu Palo. Like last year, the team will be coached by none other than former consensus first-team All-American, Marcus Fizer.
The Hilton Magic Legends earned the right to play this year thanks to another strong showing in the fan voting period. As part of TBT's Midwest Region, the team garnered over a thousand votes to lead the region and was just announced officially as a member of the 72-team field. You can click here to see the full bracket and schedule.
The #TBT2018 bracket is here! 🎉🎉🎉

See the full interactive bracket at https://t.co/nF2TvyqxT1 pic.twitter.com/SEoyoIWW6g

— TBT (@thetournament) June 6, 2018
Hilton Magic Legends Schedule and TV Channels
The single elimination format of TBT makes it a lot like the NCAA Tournament. Below, you'll see the potential schedule for the Hilton Magic Legends as long as they keep winning.
Games in Columbus, Ohio
1st Round – vs. Illinois BC. July 21, 2018 at 8:40 p.m. CT. WatchESPN.
2nd Round – vs. TBD. July 22, 2018 at 5 p.m. CT. ESPN 2.
Games in Atlanta, Georgia
Round of 16 – vs. TBD. July 27, 2018 at 8 p.m. CT. ESPN.
Round of 8 – vs. TBD. July 29, 2018 at 2 p.m. CT. ESPN.
Games in Baltimore, Maryland
Semifinals – vs. TBD. August 2, 2018 at 8 p.m. CT. ESPN.
Finals – vs. TBD. August 3, 2018 at 8 p.m. CT. ESPN.
Breaking Down the Midwest Region
Who will emerge from the Midwest Region? Will @ScarletGrayTBT make it two Baltimore appearances in two years? #TBT2018 pic.twitter.com/2U0gcajr84

— TBT (@thetournament) June 6, 2018
First Round
The Hilton Magic Legends' first opponent, Illinois BC, is comprised of players from mostly smaller schools with the exception of Jay Simpson, a 6-foot-10 power forward who went to Purdue. Despite his size, Simpson only averaged 3.8 points in just over 10 minutes per game during his two-year career for the Boilermakers.
Across the board, Illinois BC has some length that might give the Hilton Magic Legends a fair test, but there should be a big enough difference in skill and athleticism for the good guys to prevail.
Second Round
Both of Iowa State's potential second round opponents present an interesting storyline. Team Rondo will be coached by 2008 NBA champion and 4x All-Star Rajon Rondo, hence the name. However, Team Rondo's roster is on the small side, with its tallest player (Ike Udanoh) checking in at 6-foot-8. Should the Hilton Magic Legends get Team Rondo in the second round, it will be one of the few opponents that they will possess a size advantage against.
Meanwhile, The Region has one player that Iowa State fans should be pretty familiar with — Stefhon Hannah. Hannah played for the Missouri Tigers in the 2006-07 and 2007-08 seasons and put up averages of 15.1 PPG and 4.8 APG in his career. Even though both of those seasons were in the oft-mocked Greg McDermott era, the Cyclones split with the Tigers 2-2 while Hannah was with them.
Round of 16
To my knowledge, the Zoo Crew are the only team without a connection of any kind to ISU of all the teams the Hilton Magic Legends might play in the round of 16. Because of this, I irrationally want them to lose early-on. Sorry, Zoo Crew.
One of the players on the Jackson TN Underdawgs had the privilege of being coached by Steve Prohm during his entire career at Murray State. Jewuan Long suited up for the Racers from 2007-2012, with his senior season being Prohm's first as a head coach after spending time as an assistant under Billy Kennedy.
The next potential opponent is one that will be sure to generate buzz for as long as they stay alive in the tournament: Team Fredette. Unlike Team Rondo, the namesake for Team Fredette will be suiting up and making an appearance on the court. That person, of course, is BYU legend, Jimmer Fredette. He was pretty good in college as you might recall.
Joining Jimmer will be a trio of players who played against Iowa State during their college careers. Xavier Silas (Northern Illinois, 2009-2011), Dejan Kravic (Texas Tech, 2012-2014), and Devin Williams (West Virginia, 2013-2016) will all be key pieces for Team Fredette.
The Peoria Allstars have more of a state of Iowa connection as opposed to an Iowa State connection. Guard Darian White attended St. Ambrose University in Davenport, alma mater of former WHO channel 13 sports reporter and current CBS Sports analyst Chris Hassel.
Finally, West Coast Ronin possesses a player who's had a fairly recent run-in with the Cyclones in DJ Fenner. Fenner was one of six guys who played for Nevada in their round of 64 bout against the 2016-17 ISU team that featured Monte Morris, Matt Thomas, Naz Mitrou-Long, and Hilton Magic Legends member Deonte Burton.
The Rest of the Midwest
Here are the Iowa State connections for the teams in the upper half of the Midwest region.
Scarlet & Gray (Ohio State alumni)
Two words: Aaron. Craft.
(trigger warning)
A match-up in the round of 8 against Scarlet & Gray would provide Iowa State the chance to get a bit of petty revenge against the NCAA Tournament villain. In addition to Craft, former Buckeye Evan Ravenel also played in that tourney game back in 2013. He logged 13 minutes and scored one point.
One more connection: Scarlet & Gray's Talor Battle played with former ISU shooting guard Chris Babb for two years at Penn State before Babb transferred to Iowa State. Battle is Penn State's all-time leading scorer (2,213 points).
Similar to the Battle-Babb connection, WVW's Tyquane Goard was on the same team at Marshall University as DeAndre Kane in the year before Kane transferred to Iowa State.
Bearcat Jam (Cincinnati Alumni)
The match-ups between ISU and Cincinnati in 2012 and 2015 produced a trio of connections.
Cashmere Wright played against the Cyclones in the 2012 game that Cincy won 78-70. He went for a solid stat line of 14-5-3-3. Meanwhile, Octavius Ellis and Coreontae DeBerry both played in the 2015 game that Iowa State won 81-79 on Abdel Nader's late 3-pointer.
Being that Texas Tech and Iowa State have been in the same conference for a long time, there are obviously many connections to this group of guys. The following players are on the Matadors roster and have gone up against the Cyclones: Jaye Crockett, Toddrick Gotcher, Justin Gray, Nick Okorie, John Roberson, Ronald Ross, and Niem Stevenson.
Always A Brave (Bradley alumni)
The Braves and Cyclones clashed in 2007 with Bradley coming away with the 65-56 win. Matt Salley and Daniel Ruffin both participated in that game, with Ruffin being the main cause for the Iowa State L thanks to his 20 points, seven rebounds, and four assists off the bench.
While no athletes on the Primetime Players have matched up against ISU, assistant coach for the team, Jeff McInnis, was a player on the North Carolina team that Iowa State lost to in the 1994-95 NCAA Tournament. He scored eight points and grabbed eight boards that game.
Big X features a father-son combo with ties to ISU. Andrew Dakich was on the 2013-14 Michigan team that lost to Iowa State in Hilton, though he didn't play. His dad, ESPN sportscaster and radio host Dan Dakich, is a booster for the team and was part of the 1984-85 Indiana Hoosiers squad that beat Iowa State in Hilton 69-67.
In addition to the Dakich duo, Stu Douglass scored two points off the bench in Michigan's 76-66 win over ISU in Ann Arbor during the 2011-12 season. Jon Horford played in the 2011-12 game but didn't score, then tallied four points and five rebounds in the 2013-14 game starting in place of Mitch McGary.
All the Way?
I haven't taken the time to check out the other regions for Iowa State connections (besides knowing Team Fancy in the Northeast region has former Cyclone LaRon Dendy!), but the main one to keep an eye on if the Hilton Magic Legends keep advancing is obviously Overseas Elite with DeAndre Kane. It would be an epic clash for both teams to meet in the finals, as there's obviously some bad blood with the pre-tournament drama that unfolded over the past couple weeks.
Realistically, the Hilton Magic Legends have a great roster and as long as they gel, they should be able to beat any team they play. However, that doesn't mean that they'll waltz their way to the finals either. There are a ton of professional basketball players participating in TBT, and many of them know how to win.
Regardless, it's going to be great to have some basketball to watch this summer, and seeing former Cyclones be a part of the action is the icing on the cake!