WHAT: Iowa State (3-2) vs. Western Illinois (4-0)
WHEN: Saturday, 7 p.m.
WHERE: Hilton Coliseum
TV: Cyclones.tv
1 – This is a sneaky interesting game for Steve Prohm's Iowa State basketball program.
Prohm nailed it in his conversation with the media earlier this week when he explained how just because the Cyclones rattled off three in a row to win the Puerto Rico Tip-Off last week, this thing certainly isn't a well-oiled machine.
After all, just a little over two weeks ago, this team was run off of its prestigious home floor by a Milwaukee program that went on to lose to a DII team a few days later.
"When it's 3 a.m. in the morning and you get beat by Milwaukee and you're talking to your wife at the kitchen table, it's not a good feeling," Prohm said. "Just winning three games doesn't mean things are fixed either totally. It means we're making strides and that's what we have to continue to do and continue to get better. You do that by focusing on, 'Hey, we've got to be good today.' We've got to get Iowa State ready and then we'll be ready for Western Illinois on Saturday. That should be our only focus. Then we'll reset the table. It has to be a constant reminder with these guys. We can't get too far ahead. Every game we've got to be locked in and get them better."
This team has to take that same level of focus and commitment to one another to the floor every night out – not just in desperate situations. With their bellies full of turkey and after hearing how great they are for a week without playing a game, this will be a nice test for the Cyclones when it comes to focus and self-awareness.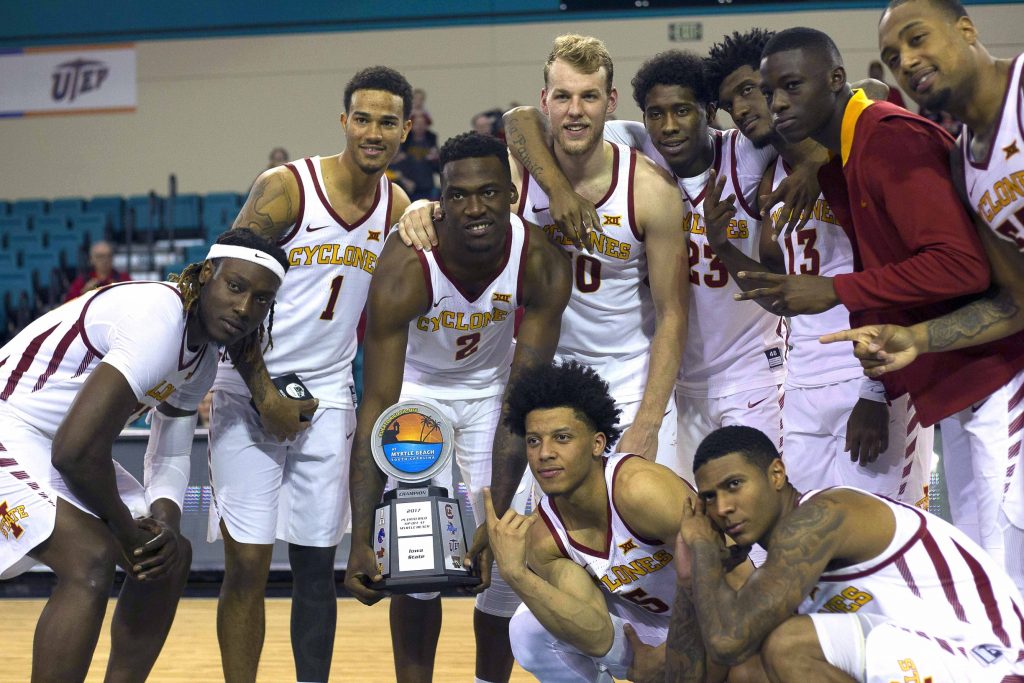 2 – It's been a week full of teaching. 
I know that following the three wins in South Carolina, Steve Prohm was looking forward to being able to work "just on Iowa State" for a good week leading up to the next game.
The Cyclones have been running two-a-days due to the fact that classes have not been in session.
"I like it because we need to get better," Prohm said. "We need to add some things offensively. We need to rep some things offensively. Then defensively we've just got a lot of work to do."
That was Iowa State's focus last week and it likely will be until the Big 12 season rolls around in late December. With a young team, Prohm's top focus is getting his team better and worrying about the opposition second.
3 – Speaking of the opposition…
Here's the scout on Western Illinois, who plays in the Summit League.
— The Leathernecks, who are coached by Billy Wright (in his fourth year), were picked to finished last in this year's Summit League standings. Western Illinois experienced a handful of injuries last season in route to an 8-20 finish while going 5-11 in conference play.
— A 6-foot-6 senior named Dalan Ancrum is a nice player for the Leathernecks. Four games in, he's averaging 25.3 points per game to go with 7.3 rebounds. He's shooting 48 percent from three as well. Ancrum is WIU's leading returning scorer. He averaged 8.0 as a junior.
— According to KenPom.com, Western Illinois has played the 309th ranked strength of schedule in college basketball so far this season. For the sake of comparison, Iowa State's is ranked 113th. KenPom projects an 81-62 Cyclone victory.