What: Iowa State (2-0) vs. Western Illinois (2-0)
When: Saturday, Sept. 15 at 7 p.m. 
Where: Jack Trice Stadium
TV/Radio: Cyclones.TV – Cyclone Radio Network
Keep it real. 
My Cyclone Fanatic Radio co-host Tron Smith uses this phrase quite often when we're on the air. You see when Smith and I co-host Cyclone Fanatic call-in shows, preview shows or whatever, we don't hide the fact that we want Iowa State to do well. After all, you are reading this piece on CycloneFANATIC.com right?
But as Smith likes to say, "we keep it real." Trust me, the three words sound a heck of a lot cooler when Tron says them compared to me. While we want Iowa State to win out there, we also don't want to be cheerleaders – meaning, we want our analysis to be as objective as possible while having the obvious Cyclone slant within it. 
So in honor of Tron ridiculously large biceps, I'm about to "keep it very real" in this Iowa State vs. Western Illinois game preview. You ready? Here we go…
This one shouldn't be close. At all. 
Off-shore betting lines see the Cyclones as a 38.5 point favorite over FCS Western Illinois. That's territory that Iowa State football is not used to. Being that big of a favorite makes Cyclone fans uncomfortable. It's literally foreign to the group of players that will take the field on Saturday evening. Iowa State, a perennial underdog in the behemoth Big 12, is now EXPECTED to lay the wood to an undermanned FCS opponent.
Is this program ready to really give the opposition a whooping when it is expected to do so?
Let's investigate.   
Western Illinois Will Win If…
…Iowa State implodes – and that's no disrespect to the Leathernecks, who enter this game with a 2-0 record. Sure – upsets happen all of the time in college football. Just look at last week when Louisiana-Monroe went into Fayetteville and slayed the mighty Razorbacks of Arkansas.
Appalachian State's triumph over Michigan back in 2007 is one that none of us will ever forget. And as Northern Iowa has shown the Cyclone Nation a few times in Ames that just because a team comes from the FCS ranks doesn't really mean a thing.
But Louisiana-Monroe is a good Sun Belt (FBS) team that will go to a bowl game and has 85 scholarships to hand out every year. At the time, Appalachian State was an elite FCS team while Michigan was down in the dumps (still no excuse maize and blue). Any time that Northern Iowa has beaten Iowa State, the Cyclones have been down while the Panthers were up.
"It's football," said the Big 12's reigning Defensive Player of the Week, linebacker Jake Knott. "It's such a game of inches that sometimes they aren't going to your way no matter what league you are in. Anybody can beat anybody."
This match-up is different than the notable upsets listed above though. Iowa State has what we believe to be its best team since at least 2005 (it might be better than that group too). Western Illinois is 2-0 but the Leathernecks are coming off of a 2-9 mark in 2011.
The ingredients just aren't here for a major upset to occur in my opinion
How could one possibly go down?
That's easy. Turnovers.
"We have won too many games losing the turnover battle," said Iowa State head coach Paul Rhoads. "You're just not going to keep doing that."
Iowa State committed four turnovers compared to Iowa's two in a 9-6 win over the Hawkeyes last Saturday in Kinnick Stadium. 
The Leathernecks have forced five turnovers in wins over Butler and Indianapolis. Meanwhile, Western Illinois' offense has only lost the football two times. That turnover margin ranks the Leathernecks 11th nationally in FCS.
While the level of competition has been quite low so far for Western, that number still tells us that a smart offense and aggressive defense will enter Jack Trice Stadium on Saturday night. It's a defense shaped much like what the Cyclones saw from Iowa a week ago. It's one to take seriously if you're Iowa State. 
If Western Illinois has any chance at all to win its first game against an FBS opponent since 2003 (Eastern Michigan), it's going to have to force a handful of Iowa State turnovers.
More on the Leathernecks…
*** Senior running back Caulton Ray is one of the top rushers in Western Illinois history. He's 100 yards shy of becoming the ninth player in program history to reach the 2,000 rushing yard plateau. Ray has run for 205 yards and two touchdowns so far this season.
*** Western Illinois' quarterback Josh Hudson isn't much of a threat with his legs. Hudson has only accounted for 35 rushing yards on the season. He's tallied 250 yards through the air and zero touchdowns while completing 64 percent of his passes. 
*** Western Illinois head coach Mark Hendrickson is an Iowa native and Northern Iowa graduate. He coached under Hayden Fry at the University of Iowa from 1992 to 1998) . Hendrickson is originally from Richland, Iowa.
His wide receivers coach, Gunnard Twyner, hails from Bettendorf/Pleasant Valley High School. Tight ends coach Derek Moore is from Newton. Two Leathernecks, offensive lineman Nick Eversmeyer (Wapello) and T.J. Palme (Clive) are Iowans as well.
*** I'd like to have Western Illinois junior Pat Smith suit up for the Cyclones. He's my kind of guy – a true specialist. Not that Iowa State needs any help with its punt unit, but Smith is an impressive young man. Last week, he went 3-for-3 on field goals while averaging 43.7 yards on three punts. 
*** The following comes from Western Illinois' media notes for the game…I found it to be incredibly interesting. 
What is a Fighting Leatherneck? Western Illinois holds the distinction of being the only non-military institution to officially have its nickname derived from a branch of the military service. The school began use of the Marine Corps' official nickname, "The Fighting Leathernecks," in 1927 when then-athletic director and head baseball, basketball and football coach Ray "Rock" Hanson was granted permission by the U.S. Navy, based on his status as a Marine Hero, to use the Marine's official seal, bulldog mascot and nickname.
Iowa State Will Win If…
…It shows up and plays sound football.
As I alluded to earlier in this preview, there's really no excuse or reason why Western Illinois should be in this game in the fourth quarter, yet defeat Paul Rhoads' best team at Iowa State.
If Iowa State takes this Saturday seriously, the Cyclones will begin the season 3-0 for the second year in a row. I like the way that senior defensive tackle Jake McDonough is approaching the game.
"It's quite a privilege to go out there," said McDonough. "You only get 12 games. You take each one seriously."
I'm not worried about this group at all. I don't sense even a hint of arrogance within this program. It's a group of guys that is constantly disrespected by pretty much everybody. After having it be done to them so many times, why on earth would this group look past anybody?
I highly doubt that they will. 
Quotable: Jake Knott on being a heavy favorite
"We try to look past any of that stuff. We go out and we know that whoever lines up on the other side of the ball is going to be athletic, strong and physical. We have to be the same and do it a little better than them to come out on top."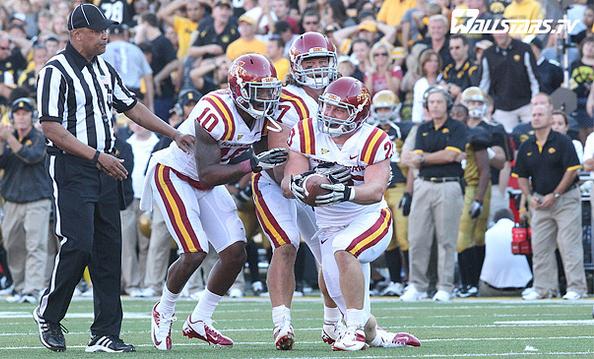 Key Match-Up: Steele Jantz vs. the world
A little much? Maybe. But we all know that quarterback is the most important position on the field. After beginning last weekend's victory at Iowa 10-for-10, Iowa State's signal caller was involved in three turnovers – two interceptions and a miscue on a zone-read with running back James White.
Not that there is a problem – in fact I'm still very much a believer in Steele Jantz (who is currently completing 69 percent of his passes by the way) – but let's just say that Steele needs a little boost from a confidence standpoint after last week. This is a good opportunity for him to do so.
"Steele Jantz played a pretty good football game. Steele Jantz was on fire to start that football game," said Rhoads. "No different than A.J. Klein or Jake Knott trying to do too much or trying to get a little cute, he tried to get a little cute on a read and tried to read a guy off who he shouldn't have any business reading in the first place and made a mistake with it. He understands that. Now it comes back to doing the things that you are coached to do."
According to Rhoads, Jantz took well to coaching early in the week. The hope is that he'll use those mistakes against the Hawkeyes and learn for the future.
"Correctable mistakes. We've already looked at them and have a better understanding," said Rhoads. "The thing that excites me coming out of that is that Steele Jantz understands that and will work to improve that. The exchanged fumble between Steele and James – they pointed the finger at themselves. When you start having that kind of ownership and you're not looking at it as somebody else's fault, you're improving and you're heading in the right direction with your program."
If Jantz indeed was not shaken in that Iowa game then look out. He could start Saturday's game 20-for-20.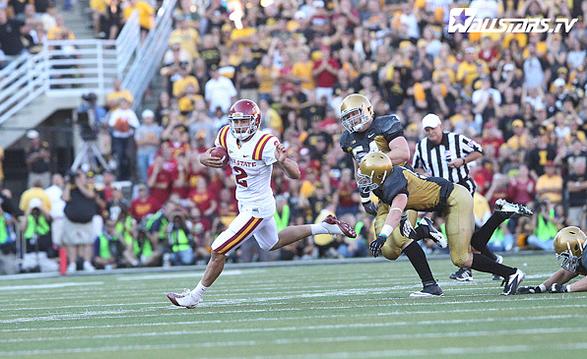 3 Keys to a Cyclone Victory:
Intensity from the start – Big upsets tend to begin by the favorite not putting the underdog away early. Iowa State needs to be up two scores after its first two possessions of the game.
Run the football – After rushing for only 31 yards in the second half vs. Iowa, a 250-plus yard rushing day would be a welcomed sight for Cyclone fans. 
Stay healthy –This really isn't a key to victory for this weekend but for the rest of the season. For the most part (knock on wood), Iowa State has stayed relatively healthy through the first two weeks of 2012. With a bye week in between the Leathernecks and Big 12 play, you'd hate to have anybody go down with something serious in week three. Getting a big lead early will allow some younger guys to get into the game and Iowa State's studs to take a blow on the sideline.
Magic Number:
This week's is 45. That's the difference in average number of pounds between Western Illinois' starting defensive front four (256) and Iowa State's starting offensive line (301).
More Cyclone Storylines:
*** My biggest hope for Saturday is that Iowa State will get a large enough of a lead to get some of its young talent in the game. Guys I'm specifically thinking of are DeVondrick Nealy and the three redshirt freshmen wide receivers. What about getting Jared Barnett some quality playing time at quarterback? If it's bad enough, how about Sam Richardson? 
A few weeks ago, Paul Rhoads noted that playing 12 guys on his defensive line is a morale booster for numbers two and three on the depth chart. Scoring a touchdown would be a special thing for guys I listed above and others as well.
*** How healthy is junior running back Jeff Woody? Will he play on Saturday or take two weeks off before Texas Tech comes to town?
*** Iowa State set an all-time attendance record averaging 53,647 fans per game last season. In its season opener vs. Tulsa this season, 54,931 fans were in attendance. Question: Will over 50,000 of you turn out on Saturday vs. FCS Western Illinois? My guess is yes but it's still something to keep an eye on Saturday evening.
*** I hate to remind you all but Iowa State did miss a PAT last weekend in Iowa City. Junior kicker Edwin Arceo recovered nicely though converting on a 22-yard field goal and barely missed a 57-yard attempt at the end of the half. Will that missed PAT linger into week three? Stay tuned.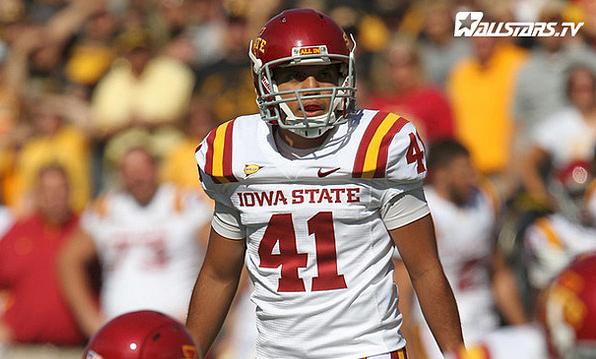 *** Is it bad that I thoroughly enjoy watching Iowa State's punt team walk out onto the field? There's no doubt I'd rather see the Cyclones scoring touchdowns, but junior punter Kirby Van Der Kamp has been nothing short of brilliant so far in 2012. The dude is automatic. The West Des Moines Valley graduate has pinned 10 punts inside the opposition's 20 in only two games. He's currently the top punter in Iowa State history, averaging 43.5 yards per punt. Marc Harris (1993-96) is second on that list at 43.1.
Injury Report
*** Iowa State's starting tight end from the first two weeks, senior Ricky Howard, will not play on Saturday. According to Rhoads, Howard had his knee scoped on Tuesday. Rhoads said that he does anticipate Howard to be back for the Texas Tech game on Sept. 29 though.
*** Rhoads also announced that redshirt freshman defensive end Devin Lemke will miss the rest of the season after undergoing shoulder surgery on Tuesday. Lemke had not played a snap so far this season for Iowa State.
Notebook
*** Did you know: That Western Illinois, located in Macomb, Ill., is only a 244 mile drive from Ames?
However, Saturday will be the first-ever meeting between the Cyclones and the Leathernecks.
*** Iowa State is 36-4-3 in its football history vs. current members of the Missouri Valley Conference.
*** The last time that Western Illinois defeated an FBS team was in 2003 with a 34-12 win over Eastern Michigan.
PREDICTION
For all of the reasons stated above, I like the Cyclones to win this one comfortably.
THE PICK
Iowa State 45, Western Illinois 7