1 – This isn't a fluke. In its current form, Iowa State is a very good football team.
I've covered good Cyclone teams before but even when Iowa State was going to bowl games in the Rhoads era, there were major holes. What I love about this group is that the success is coming from the inside out, specifically on the defensive side on the football. More on that later…
2 – Iowa State is a very well-coached football team. Courtesy of my friend Chris Andringa on Twitter, Saturday marked the first time since 1989 that a Cyclone football team completed a game with zero penalties. That's incredible.
Today was the first time since Nov. 4, 1989 (vs. Kansas State), that @CycloneFB finished a game with 0 penalties.

— Chris Andringa (@cjandringa) October 21, 2017
3 – When it comes to Kyle Kempt, I have been cautiously optimistic over the last two weeks. There was no denying what he had done but still, I wanted to know why this guy had been a journeyman walk-on throughout his entire career (until two weeks ago). What were we missing?
When Kempt threw his first interception of the season on Iowa State's first drive, I knew we would learn a lot about this young man in the coming minutes.
On the next drive, Kempt went 7-for-7, turned the game around and led Iowa State to a touchdown. In three starts, Kempt's completion percentage is 69.74 with seven touchdowns to only one interception.
He is really an incredible story, one that we likely won't have full perspective on until well after the season.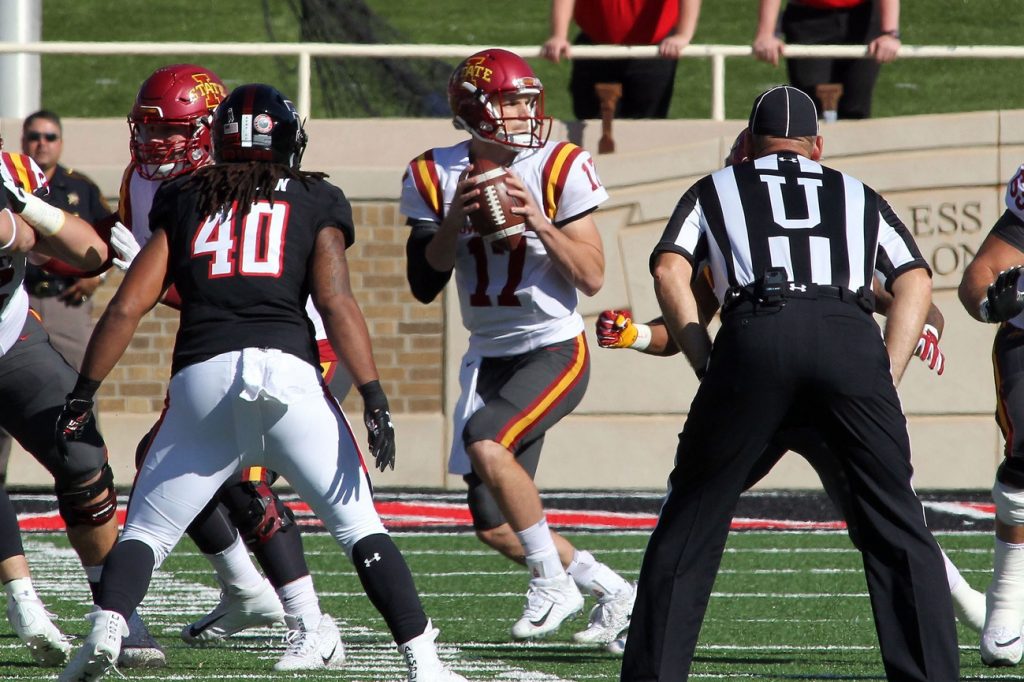 4 – David Montgomery was Iowa State's MVP in this win. 
The defense was phenomenal, but when was the last time that with a lead, Iowa State could hand the ball off to a workhorse running back who could get yards on his own against a good rush defense (believe it or not, Tech is pretty good up front on D)?
Montgomery gives zero craps about humanity when he has the football. He is ruthless to linebackers in the Big 12. After a 164 yard day where he averaged 5.9 yards per carry, Montgomery now 642 yards on the season to go along with eight touchdowns.
As the below graphic will show, he is doing much of it on his own.
Iowa State RB David Montgomery was at it again- forcing 9 missed tackles and gaining 131 yards after contact in the victory over Texas Tech. pic.twitter.com/SCj6VlBdKG

— PFF College Football (@PFF_College) October 21, 2017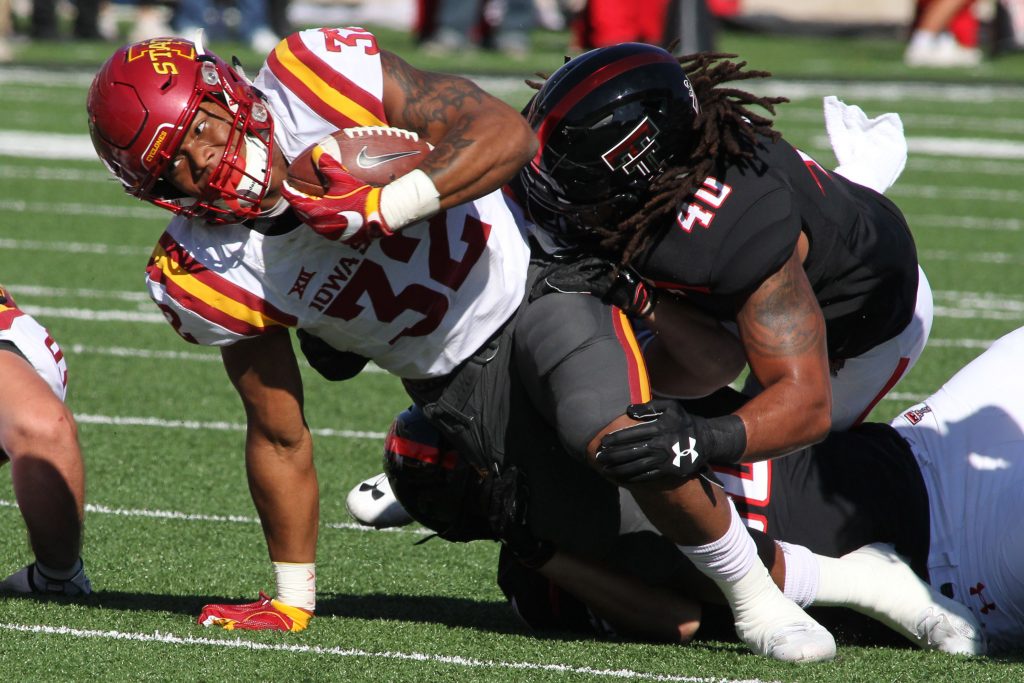 5 – I loved how Tom Manning stayed aggressive even with a double digit lead.
With a three score lead in the third quarter, I can only assume that it would be easy for a play caller to get a little bit conservative. I sensed a hint of that to begin the second half but it didn't stick around. Up 31-13 halfway through the fourth, Iowa State was still taking shots downfield.
It's such a dumb cliche' but the Clones "played to win" down the stretch, which was beyond refreshing. I'm sure if he was watching, Barney Cotton was very uncomfortable.
6 – Matt Campbell has a great feel for specific games.
For instance, Iowa State's second-year coach took a lot of flack vs. Texas for punting in enemy territory. It was a conservative move, but Campbell realized he was coaching in a field possession, defensive type of game.
On the road at Texas Tech? That's a TOTALLY different scenario and the coach responded going for it twice on fourth down, where his team was perfect on conversions.
I like that.
7 – Speaking of Campbell, you've clearly heard about the Kirk Herbstreit tweets by now, right? If not, take a look.
Dear AD's thinking of making a new hire I'll save you your coaching search firm fee-go DIRECTLY to Ames, IA and get Matty Campbell FAST!!

— Kirk Herbstreit (@KirkHerbstreit) October 21, 2017
I don't make up the rules Andy, but let me assure you—enjoy this team and this coach, in particular, while you can. He's gone. https://t.co/gItsOFXH8T

— Kirk Herbstreit (@KirkHerbstreit) October 21, 2017
Let's just tap the brakes,  calm down and analyze this: Does Herby know something or is he just being a troll?
It's probably a little bit of both. What could he know? It's the same thing we have all heard forever.
"Iowa State is a coaching graveyard."
"Iowa State is one of the worst jobs in college football."
"Iowa State doesn't have the resources to compete a a high level consistently."
Meanwhile, higher profile programs struggle to get fans to games while winning eight or nine games a year.
With all due respect to Kirk Herbstreit, he likely has no idea as to what Matt Campbell's personal feelings are about Iowa State and the community of Ames. Maybe the two are close friends and I don't know about it. Maybe the two have talked off the record. I don't know.
I do know Campbell though and he adores Ames.
I'm not promising you guys that he will be here forever but I absolutely do not believe that he is already putting out feelers for a new job.
8 – Speaking of Herbstreit, let's breakdown this College Game Day talk regarding next week's game vs. TCU…
Here's Iowa State's one chance in my opinion: It's the fact that Game Day has never been here. There are only a handful of Power 5 schools that can claim that and if I'm ESPN, I'm thinking, "When is the next chance we will have to get there?"
Maybe they won't even care. I have no clue.
Still, I think the obvious call here is that ESPN will choose a battle of two top five teams in Ohio State/Penn State. I know, I know that Game Day was in Happy Valley this week but assuming the Nittany Lions beat Michigan tonight, that's one of the top games in college football this season.
Again, I think Iowa State's big hope is the great story that this team is playing for first place in the Big 12 and they've never been to Ames. That's the hope.
We'll see. In the meantime, cheer on the khakis tonight.
9 – Let's take a fair amount of time to praise Iowa State's defense.
As amazed as I was with the progress that Iowa State's offset made from game one to 12 last year, what Jon Heacock has done with this group is absolutely incredible.
Think about this: Iowa State has held Texas Tech to 23 points in its last two games vs. the Red Raiders. This is a top 10 offense in all of college football we're talking about here.
Texas Tech averaged 43.7 points per game last year and entered today with an average of 44.83. The Red Raiders have scored a TOTAL of 23 points in its last two outings vs. the Cyclones.
It starts up front, which again, is why I am so bullish on this team. Ray Lima and Vernell Trent have been absolutely incredible this season. I wrote about this in detail last week, which you can read by CLICKING HERE.
My favorite defensive stat from the win: Tech averaged 4.1 yards per play, compared to its season average coming into the game that was 7.19, good for seventh best in the country.
10 – With a 5-2 record and a 3-1 mark in the Big 12, next Saturday's 2:30 kick vs. TCU sets up to be one biggest home games in the history of Iowa State football. Iowa State will be ranked tomorrow for the first time since 2005. TCU, assuming they take care of Kansas, will be in the top five.
With a win against TCU, Iowa State could be in first place in the Big 12 heading into the month of November.
This is as exciting as times have been for Iowa State football in the lifetimes of many of our readers.
Of course, we will cover it like a blanket all week long here at Cyclone Fanatic.