If you've been paying attention to the news at all the last couple days, you've probably heard all about tensions with North Korea and President Trump's not-so-subtle thoughts on the matter. Whether we like it or not, the threat of nuclear war is going to be a big topic over the coming weeks/months/years.
As you race to Home Depot to gather supplies to build your underground bunker and phone your insurance guy to check whether your home is covered for radioactive fallout damage, I thought it'd be a great time to come up with a list of things that I'd like to see Iowa State accomplish before civilization is wiped off the face of the earth.
Should nuclear war actually ever happen, it might signal the end of college sports as we know them. That's why it's essential the Cyclones accomplish the following things before we start seeing mushroom clouds pop up over the horizon.
Now, I must warn you ahead of time… It would have been easy to say, "Win the National Championship in every sport in a single year" and call it good. But what's the fun in that? So I tried to take a semi-realistic approach to this list. All of the following things have either happened before or have been close to being achieved at some point since the University was founded in 1858.
I'll count down from #5 and finish with the event that I most want to happen.
Beat Oklahoma in Football
The numbers aren't pretty. In 81 career games between the Sooners and Cyclones, OU has come out on top 74/81 (!!!) times. But at least that leaves seven wins for ISU though, right?
WRONG. Two of those games were ties. (1936 and 1981 were both 7-7 finals.)
Currently, Oklahoma holds an 18-game win streak over Iowa State. Impressive for sure, but they still have to win five more in a row to match their 23-game streak from 1937-1959.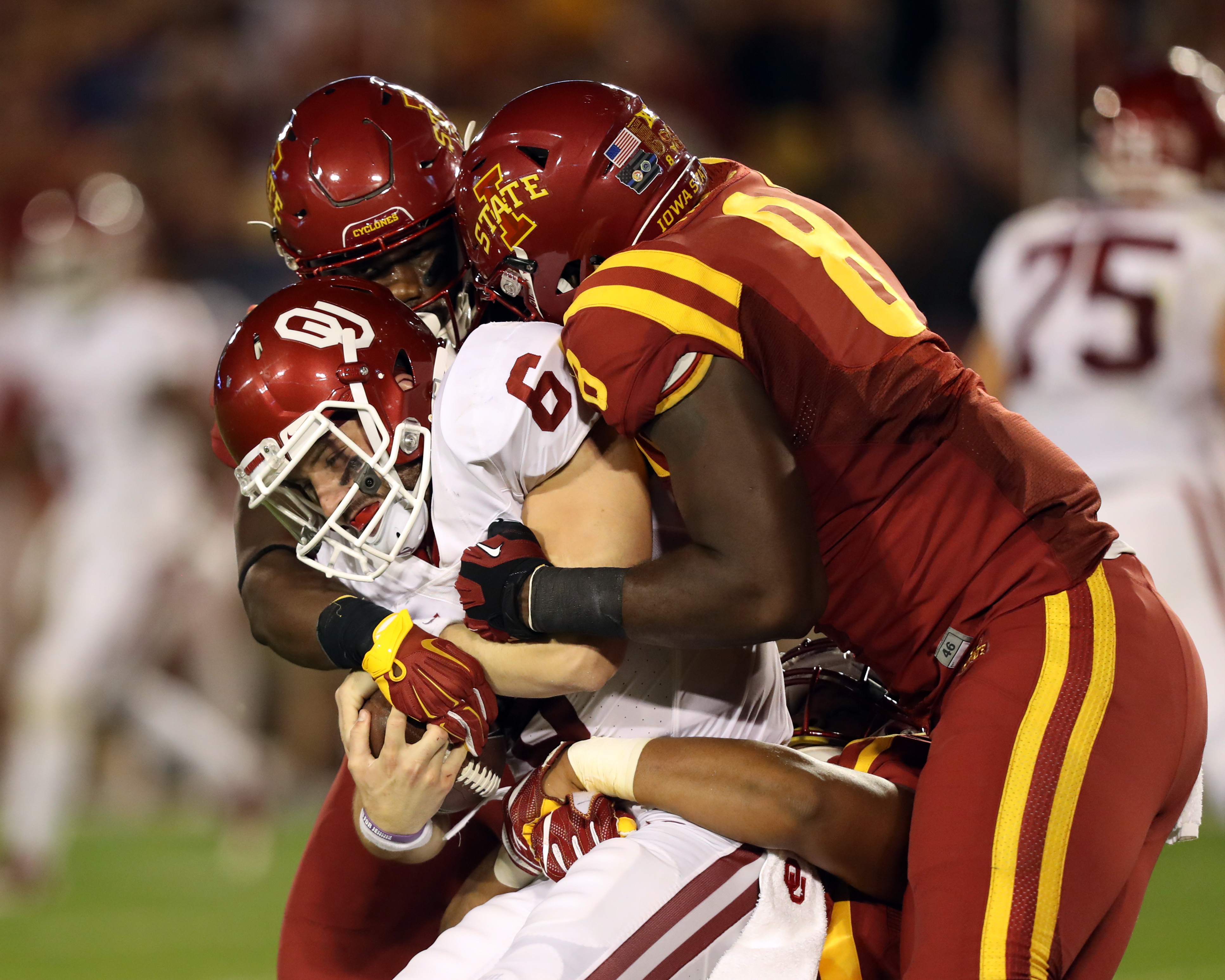 Needless to say, the all-time series between these two teams is about as lopsided as it gets. The last time the Cyclones beat Oklahoma, Jim Walden was the head ball coach, "I Don't Have The Heart" by James Ingram was the number 1 song in the country, and the person writing this story wouldn't be born for another three years.
It's been a long time since October 20, 1990. It'd be nice to see ISU knock off the Sooners at least once before we're all knocked out by nuclear missiles.
Re-Establish the Wrestling Program as a National Powerhouse
There are few programs with as rich of tradition in collegiate wrestling than Iowa State. The Cyclone grapplers have amassed eight National Titles and 17 conference championships (14 Big Eight, three Big 12), not to mention countless individual athlete icons, including Dan Gable and Cael Sanderson.
Recently, however, the program has been through a rough patch. 2009 was the last team conference championship, and last season was especially abysmal for the program's standards. A 1-12 overall record was laughable, and outgoing senior Lelund Weatherspoon was the only Cyclone to record a win at the 2017 NCAA Championships (both Earl Hall and Marcus Harrington lost their first match).
The poor season led to a head coaching change. Out was Kevin Jackson and in was Kevin Dresser, who built Virginia Tech into a formidable program over the course of a decade before being enticed to return to his home state to coach the Cyclones.
It's uncertain when or if Coach Dresser is going to be able to return Iowa State to the heights it once enjoyed, especially with Penn State, Iowa, and Oklahoma State all looking strong as ever. But if he can work some of the magic that he did at VT, then the wrestling world should be on the lookout for the Cyclones.
Break Kansas Basketball's Conference Championship Streak

13. Straight. Seasons.
That's how many times in a row the Kansas Jayhawks have won or shared the Big 12 regular season basketball crown. It's tied for the longest such streak in college basketball, matching the 13 consecutive conference championships for John Wooden's UCLA teams back in the 1960s and 1970s.
Breaking the streak is something that can be accomplished by any of the other nine teams in the Big 12, not just Iowa State. And while I'd be happy to see any of our conference mates knock off KU from their perch, it'd be especially pleasing if the Cyclones were the ones to do it.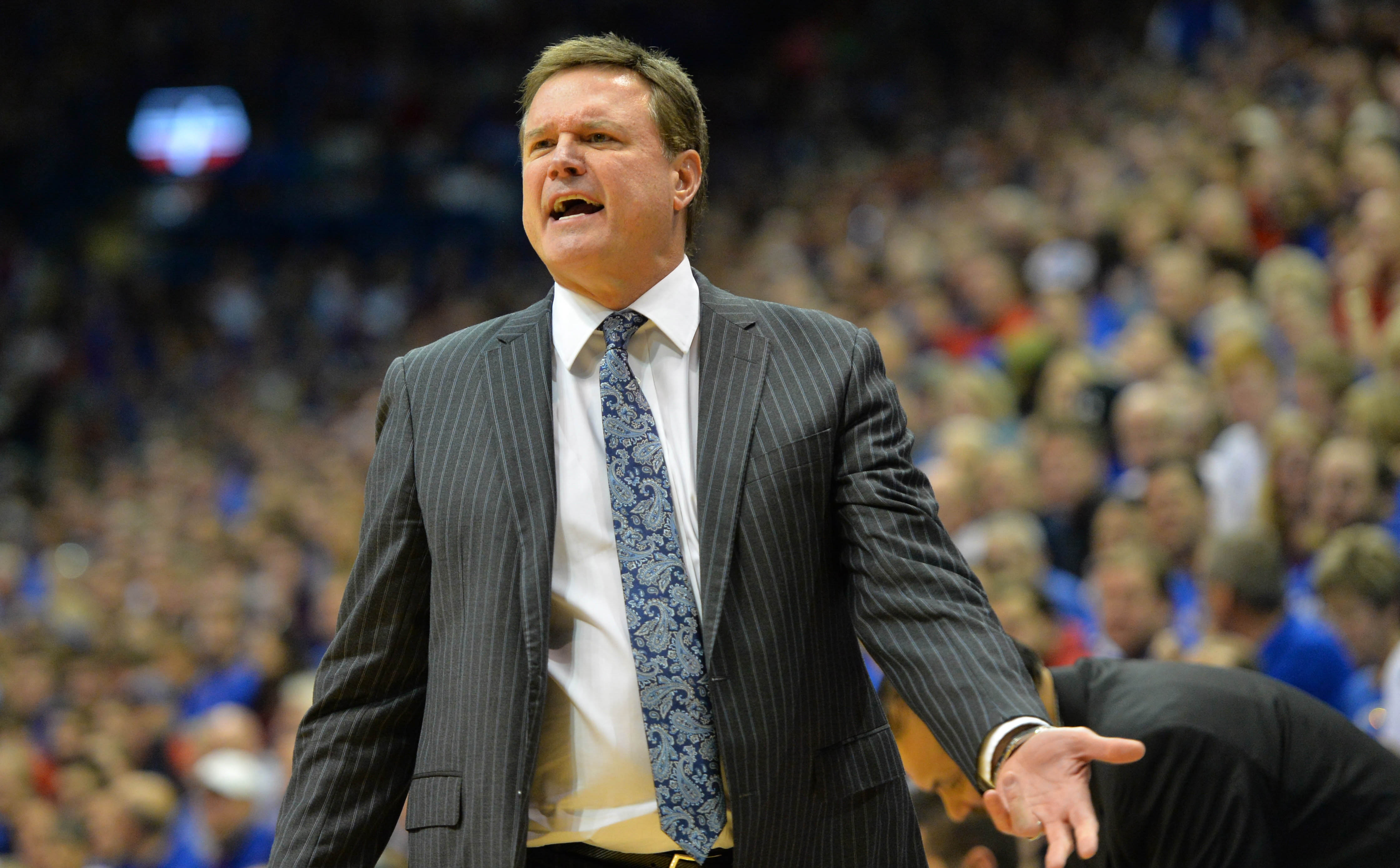 However, this year is going to be tough for that dream to come true. While ISU has some bright newcomers in Lindell Wigginton, Terrance Lewis and Cameron Lard, they're an untested team that will likely go through some growing pains as they gun for an NCAA Tournament berth.
Does that mean they can't win a conference title this season? Not at all. It just means there's gonna have to be a lot of things go right for it to happen. Fingers crossed!
A 10-Win Football Season
The historic struggles of Cyclone football are well-documented. As so eloquently-worded in yesterday's Iowa State preview from Deadspin:
"Plain and simple, Iowa State is a not a good football program—the Cyclones aren't quite the worst of the worst, but they definitely at least share the sought-after title of college football's most mediocre Power Five program. There's a thin line between mediocrity and just simply sucking ass, a la Duke 2000-2008; Iowa State tap dances on this line, as it will occasionally flash its fans with a sliver of light when it strings together a couple five-, six-, or seven-win seasons, only to inevitably follow it by at least three-to-four years of blindly bumping into Kansas and the floor in dark, damp basement of the Big 12."
Ouch. It's harsh, but I can't really argue.
In its 120-year history, Iowa State football has accomplished a 10-win season exactly zero times. That's just sad. In fact, ISU has only reached nine wins twice — in 1906 and 2000.
With the Big 12's round-robin schedule currently in place, it makes it difficult for a program to crawl out of the conference's cellar, let alone go from 2-3 win seasons all the way up to 10. But going 9-3 overall and capping the season off with a bowl victory would be the best Ames has ever seen. Campustown would burn to the ground and thousands of Iowa State students would make the midnight run from Curtiss to Beardshear just to celebrate the madness.
A 9-3 season plus a bowl win doesn't seem like much to ask for if you're a fan of an average college football team, but unfortunately, Iowa State isn't average. Hopefully someday (before nuclear annihilation), they can be.
Make the Final Four
With only the 1944 team being displayed in the rafters of Hilton Coliseum as the lone Final Four participant in school history, ISU is waiting for another group of 'Clones to join them. The basketball program has been much better historically than football, and reaching the pinnacle of the sport is much more attainable. As a diehard Iowa State basketball fan, I most want to see my beloved Cyclones reach the Final Four before the Doomsday Clock strikes midnight.
The closest ISU has ever been to making the Final Four in the NCAA Tournament's modern-day form was in 2000, when Marcus Fizer and Jamaal Tinsley fought their way into the Elite Eight only to fall at the hands of eventual national champs Michigan State. That game featured arguably the two best teams in the country that season, and it took some *ahem* questionable officiating for the Spartans to knock off the Cyclones.
Fast-forward to 2014, and Iowa State once again had a great team and shot to make a run in the Tournament. Alas, an ill-timed Georges Niang broken foot brought down the ceiling of a squad that also featured seniors DeAndre Kane and Melvin Ejim. They made it to the Sweet Sixteen and were defeated by UConn, who like Michigan State 14 years earlier, went on to win the whole damn thing. To this day, many Cyclone fans are convinced Iowa State had a clear path to the Final Four had Niang not broken his foot.
Ideally, we'll get a few more shots to make the Final Four under Steve Prohm's leadership. It's just a matter of time before another worthy squad emerges as a contender, but time may be running out if World War III is on its way!
—
What do you want to see Iowa State accomplish before nuclear war? Leave your wishes in the comments!
Kevin Fitzpatrick can be found in his bunker and also on Twitter: @KFitzy87.