I have been back in Iowa for about 24 hours now after a short trip to Dallas for the annual Big 12 media day event. My mind has since processed a few things so here are 10 quick and final takeaways from the event.
1 – Matt Campbell handles himself like a CEO. It is very different than what I am used to at Iowa State with McCarney and Rhoads being the primary examples. Those guys fit the "old ball coach" mold. Perhaps it is just because of his age but Campbell just doesn't. He wears slim fitting suits, flips over tires in dress pants and is very buttoned up in large interview settings (a lot of coach speak).
I don't know if this is good, bad or what. No clue at all. It's just different. I will say that Campbell is very popular with those in the national media.
This podcast I did with Sports Illustrated/FS1's Bruce Feldman is a good example.
2 – Most media members I talked to do believe that Iowa State is capable of winning six or seven games this year. Besides Joel Lanning unusual move to linebacker, the biggest talking point I heard regarding the Cyclones was the amount of close games Iowa State was in last year but couldn't pull out. Hence the optimism from pretty much everybody.
Iowa State won't change the minds of national folks though until wins actually occur on the field.
3 – Former Iowa State offensive coordinator, Tom Herman really is a superstar. Now the head coach at Texas, Herman is as authentic as they come. I think that's important in the year 2017. Fans have never been more educated than they are today and they can see through BS a mile away. Herman doesn't BS you.
If you have 16 minutes, watch his press conference from Tuesday morning. I am a Herman guy and am admittedly biased towards him, but I thought he nailed it.
4 – I thought that this comment from Herman specifically could be tied directly to what Campbell is going through with a culture change at Iowa State.
"In our first team meeting, I said, 'Raise your hand if you've been on a winning Texas football team,' and three people raised their hand. We have three redshirt seniors, one of them is here today in Naashon Hughes, that were on Coach Brown's last team. So we don't know how to win really well right now. But I think the best way to do it is really to — it's nothing different than what we've done everywhere we've been and that's to compete every day in what we do and make sure there are tangible rewards for winning whatever that competition is. We talk about how we have the student of the week, and that guy gets recognized. We've got T-shirts and all that. We've got — again, everything from off-season conditioning drills, where we have winners and losers, and the winners get to eat a better meal not that the losers, the list of competitions and tangible rewards for winning, but also tangible consequences for losing."
5 – I know that in media circles, I am still the minority, but I am refuse to buy in that Oklahoma won't have a setback after Bob Stoops' retirement.
Lincoln Riley is a first year head coach at the age of 33 years old stepping into a position where the only way this season is a success is if the Sooners make the College Football Playoff.
Brutal.
6 – Mike Gundy's mullet is more glorious than I thought it was. Also, Oklahoma State brought a punter to media days. He was spotted doing the Heisman pose in the hallway of the Ford Center.
Needless to say, Oklahoma State is loose, confident and ready to go.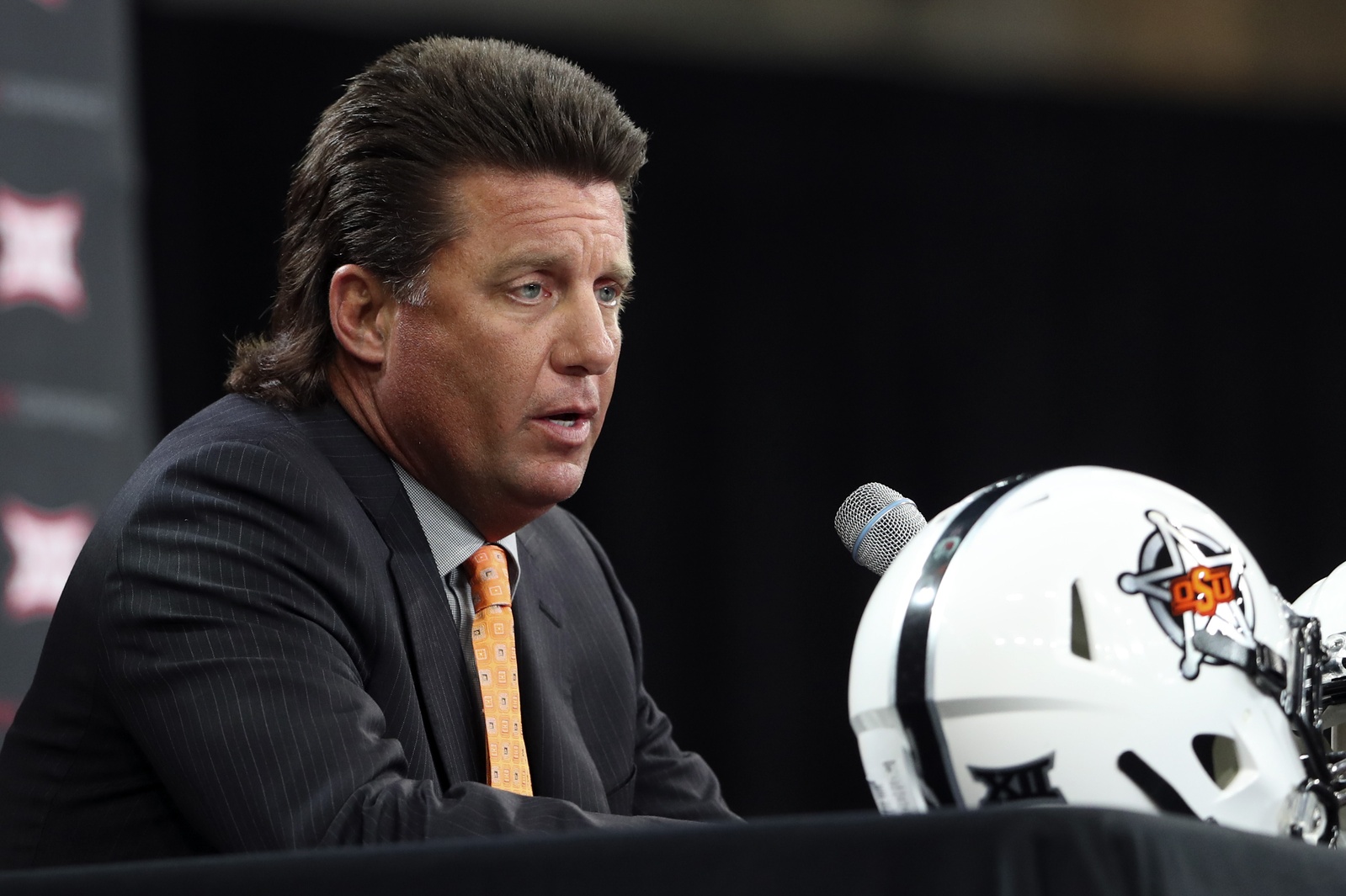 7 – Have I undervalued Matt Rhule and Baylor? I did pick the Bears to finish eighth in the league – notably behind Iowa State. Listen, I think Rhule is a fine coach but I also believe he should have waited another year to get a job that better fits him on the east coast.
The story surrounding the Bears this year is a lack of depth following the scandal. I love the fact that Iowa State gets these guys in November.
My big takeaway from Rhule though: He is an impressive guy who did make me somewhat doubt my original opinion that he wouldn't be a success at Baylor.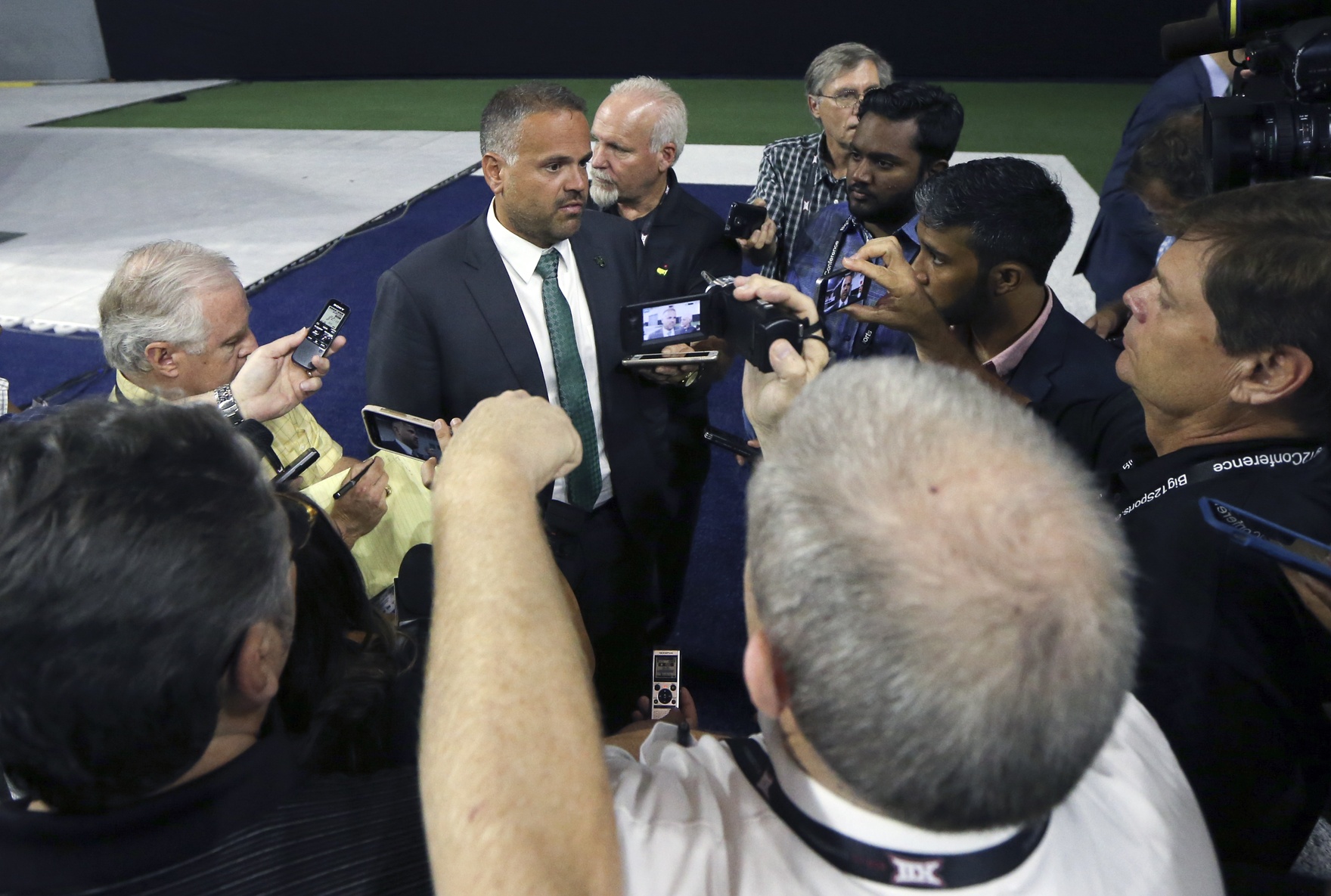 8 – Check out this Q&A between a reporter and Gary Patterson regarding the Big 12 and the College Football Playoff.
Q. Gary, you talk about the power of the Big 12 and your status, but two of the last three years, you haven't put a team in the playoff. You've added the title game. How much — how important is it for this league to start putting a school in the playoff on a consistent basis? And how much do you think the championship game will affect that?
GARY PATTERSON: Well, I think the question you ask is did we have teams that were worthy of being in the playoff? Now, you're talking to the wrong person when who should have been — to me, the Big 12 should have had teams two out of the three times in the playoffs the last couple years. And I wasn't very happy that a team got into the playoffs that didn't have — because I was told, and Baylor was told, that you had to play a championship game to play an extra game to get into that game, and then Ohio State got into the game without playing in their Big Ten Championship game.
So everybody wants to make — I think there should have been a team from the Big 12 that should have been in the playoffs two out of the last three years. So for me, that's just one man's opinion. I'm sure, as a general rule, you're not really doing what you're supposed to be doing unless you're saying something that somebody doesn't like — except at home. I found "yes, dear" works a lot better.
9 – I think that TCU is the most underrated team in the Big 12 this season. Patterson is still an elite coach. Patterson built that program by playing great defense. They will be better on that side of the ball this season and after a year in the system, I anticipate that Kenny Hill to finally step up at quarterback as well.
10 – Many mocked Bob Bowlsby for saying that the Big 12 didn't add a championship game for financial reasons, but for Playoff purposes. I totally believe him.
The added money is nice but if the Big 12 doesn't start putting teams in the Playoff, the league isn't going to survive. This is about survival, not an extra $2 million a year per school.
The Big 12 was told that a 13th game will improve its chances of fielding a team so that's what it did.
In this climate, the only way that the Big 12 will be secure is if it proves it plays some of the best football in the country. The only way it can do that is by playing for championships.
With 10 teams, a title game isn't ideal, but this is the best the Big 12 can do at this time.