Cyclone Fanatic's coverage of the Big 12 media days in Dallas is brought to you by the Iowa Clinic's Men's Center. 
On Sunday afternoon, I will be flying to Dallas for the annual Big 12 media days event. Iowa State is set to be on stage Monday with Joel Lanning, Allen Lazard, Kamari Cotton-Moya and Jake Campos making the trip for the Cyclones.
Yesterday, the Big 12 released its preseason media poll. How did I vote? Here is my ballot with a quick hit on "why" for each.
1 – Oklahoma State – This team should have had 11 wins last year had they not gotten jobbed early in the season. I think that Mason Rudolph will be a top-five quarterback in college football throwing to the best group of wide receivers in the game. I like their schedule too as Oklahoma State gets TCU, Oklahoma and Kansas State all at home.
2 – Kansas State – One last hurrah for Bill Snyder. K-State has 14 returning starters for a program that overachieves on an annual basis. K-State gets TCU, Oklahoma and West Virginia all at home.
3 – Oklahoma – I know I am all alone here but it just smells like a letdown year for this program. Pundits tell me not to worry about Lincoln Riley and I believe he will have a ton of success in Norman over time. But Bob Stoops just handed the keys of a BMW to a teenager. I anticipate some will bumps in the road.
4 – TCU – Gary Patterson, who is perhaps the best coach in the league, has the most experienced team in the league with 17 starters back. Only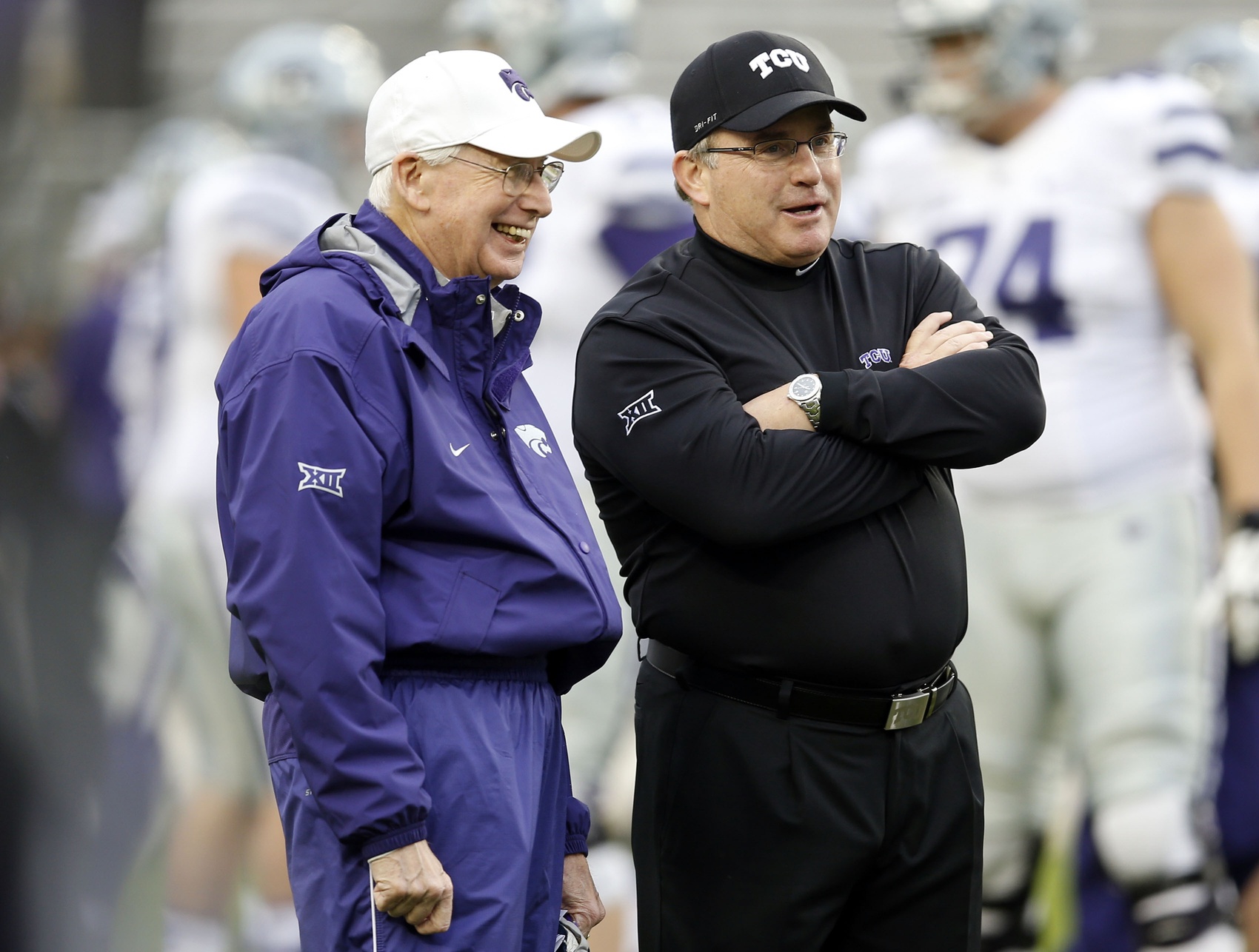 drawback for me is a slate of road games at Oklahoma, Oklahoma State and Kansas State.
5 – Texas – I am a Tom Herman shill and cannot wait to see what he does in Austin.
6 – West Virginia – Dana Holgerson's program vastly overachieved last year but now only have eight returning starters, the smallest number in the Big 12. It will be interesting to see Florida transfer Will Grier at quarterback.
7 – Iowa State – I wrote this column earlier in the week and believe every word of it. I've got the Cyclones at 6-6.
8 – Baylor – I'm going to need to see Matt Rhule have success in Waco to believe it. I just think they will have major depth problems all year long following the scandal. Too many distractions.
9 – Texas Tech – Will this be Kliff Kingsbury's final season as a head coach in Lubbock?
10 – Kansas – I actually really believe in what David Beaty is doing down there. Still a long ways to go but I this looks like a program heading in the right direction. It has a crater to crawl out of though.