There are more than five of them, obviously.
But with the Big 12's media days coming up in Dallas on Monday and Tuesday, now is as good of a time as ever to tackle five big questions leading up to the event. 
In no particular order…
1 – Is Blake Bell capable of beating you with his arm?
In the first two years of his career, the "Belldozer" has only throw 20 passes. He's completed 10 of them for 115 yards, zero touchdowns and an interception.
There's been chatter of Oklahoma adopting a read-option package in 2013 that should help him out, but if Bell's accuracy just flat-out isn't there, what's to stop the opposition from stacking the box if OU is one-dimensional?
If the Sooners want to play for a Big 12 championship, Bell has to be more than a one-trick pony. With Landy Jones at the helm the past two years, he's never really had the opportunity to be anything more than a gimmick type player. His chance has finally come.
2 – Will Kliff Kingsbury turn Michael Brewer into a star?
It shouldn't surprise anybody if he does, or in my opinion, when he does.
Brewer played sparingly behind Seth Doege last season but don't forget that he chose the Red Raiders over the likes of Auburn, Baylor, Clemson, Tennessee, Texas, Arizona State, Kansas and Tulsa to name a few out of high school. 
With studs like Eric Ward and Jakeem Grant returning at receiver, the cupboard is far from being empty in Lubbock. Maybe it will take a year for this Kingsbury regime to work itself out? Maybe it won't. 
But year after year, Tech seems to crank out top-level quarterbacks. I don't see this changing under Kingsbury with Michael Brewer leading the way. 
3 – Will Kansas really go winless three years in a row? 
According to most preseason magazines they will.
I don't buy it though.
The Jayhawks were an eyelash away from being Oklahoma State, Texas and Texas Tech (two overtimes) a year ago. Kansas will have more talent in 2013 and the Big 12 won't be quite as good.
Picking the Jayhawks to go 0-9 in league play is groupthink at its finest. I've got Kansas slotted to pick up two wins in the league in 2013 for what it's worth.
4 – Who voted Kansas State No. 1?
I am a self-proclaimed Bill Snyder guy. I love "the old man."
I fully realize that year after year, the Wildcats surprise everybody. I'm sure they'll probably do that in 2013 too. They will be fine at quarterback. 
But what about replacing nine starters on defense? How about that? Anybody? (crickets) 
This is a good football team and a top-of-the-line program but voting Kansas State No. 1 this season is ridiculous.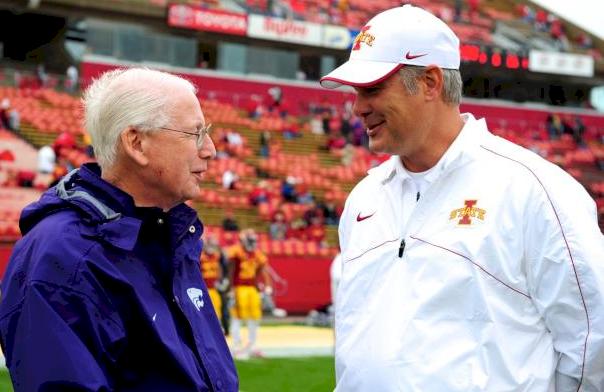 5 – Which Cyclone will put on the best show?
This is by far, the finest crop of talkers that Iowa State has every taken to Dallas.
The combination of Jacques Washington, Jeremiah George and Jeff Woody should host its own talk show. Washington is hilarious. George is insightful and Woody is a future ESPN commentator.
Cyclone Fanatic will arrive in Dallas on Sunday so check out the site all next week for coverage of the Big 12 football media days.