Feb 11, 2017; Ames, IA, USA; Iowa State Cyclones guard Monte Morris (11) drives the ball toward the basket while being guarded by Oklahoma Sooners guard Kameron McGusty (20) in the first half at James H. Hilton Coliseum. Mandatory Credit: Rachel Mummey-USA TODAY Sports
AMES — The final scoreboard showed a convincing 80-64 victory in favor of the good guys but for 30 minutes, that was the most Iowa State game ever.
Feeling the energy of finally being back in Hilton Coliseum for the first time in almost two full weeks, the Cyclones jumped out to an early 10-3 lead on the back of a hot shooting of Naz Mitrou-Long.
Naz was 3-for-3 from long range before the second media timeout.
Then he missed six in a row.
Iowa State went nearly five minutes without a point and Oklahoma took a 29-28 lead.
Timeout…
…And of course, Iowa State ended the half on a 10-0 run.
It was so predictable and everybody in the arena know that Oklahoma began the second half on a run of its own. The Sooners tied it up at 41.
The 15 minute mark of the second half was when the streaky Cyclones flexed their muscles and outscored Oklahoma 39-23 the rest of the way.
"I know the game had a lot of runs but we finished the right way," head coach Steve Prohm said.
It was a successful day for the Cyclones, who needed to regain a little bit of swagger after Tuesday's disappointing loss at Texas.
It wasn't a perfect win, but definitely an encouraging one for multiple reasons.
Five takes on Iowa State's 80-64 win over Oklahoma 
1 – Freshman Solomon Young started his first game as a Cyclone and produced with the opportunity. In 22 minutes, Young was 4-of-5 from the field with eight points and two rebounds.
"I would be surprised if we make another change," Prohm said about the rookie's production. "I think that's a good spot for Solomon. I think he has earned it. I think he has the feel as for what he needs to do for us."
The thing that is exciting about Young is the fact that he is more skilled than anybody thought he would be at this point in his career. With that frame, (6-foot-8, 240-pounds), there is good reason to look forward to watching this young man play over the next three years.
Because of an injury (concussion-like symptoms suffered in practice on Friday), fifth-year senior Merrill Holden did not play.
Fellow fifth-year senior Darrell Bowie saw 12 minutes of work (0-for-4, four rebounds).
I asked Prohm how he would hand out minutes at the five the rest of the season.
"It's matchups, production and are you doing what I ask you to do out there? It's February," Prohm said. "If you're doing what I am asking you to do, you're probably going to play. If you're not, you're probably not helping anybody."
2 – Iowa State's performance on the defensive glass still needs work. 
Oklahoma had 16 offensive rebounds and 14 second-chance points.
"It is what it is," Prohm said. "We have to fight through it. You do that by continuing to try to get stops and making sure you don't turn the ball over. The turnovers kind of offset the rebounding in some way."
Iowa State's two leading rebounders in the game were guards Naz Mitrou-Long and Monte Morris, who each had six.
3 – He has struggled down the stretch of the Big 12 season and maybe even regressed, but every game I find myself watching Nick Weiler-Babb and thinking, "This guy has no idea how good he can actually be."
His 1-for-5, five rebound box score won't blow anybody away but this was the best game that Weiler-Babb has played in a month.
"He could have been 3-for-5. I think he missed two layups," Prohm said. "It was good for him. I wanted to keep Babb out there to maybe give him some confidence so he knew we believed in him. He was good defensively."
4 – Iowa State shared the basketball very well in the win. 
The Cyclones dished out 17 assists on 30 field goals, a 60 percent ratio that Prohm was a fan of.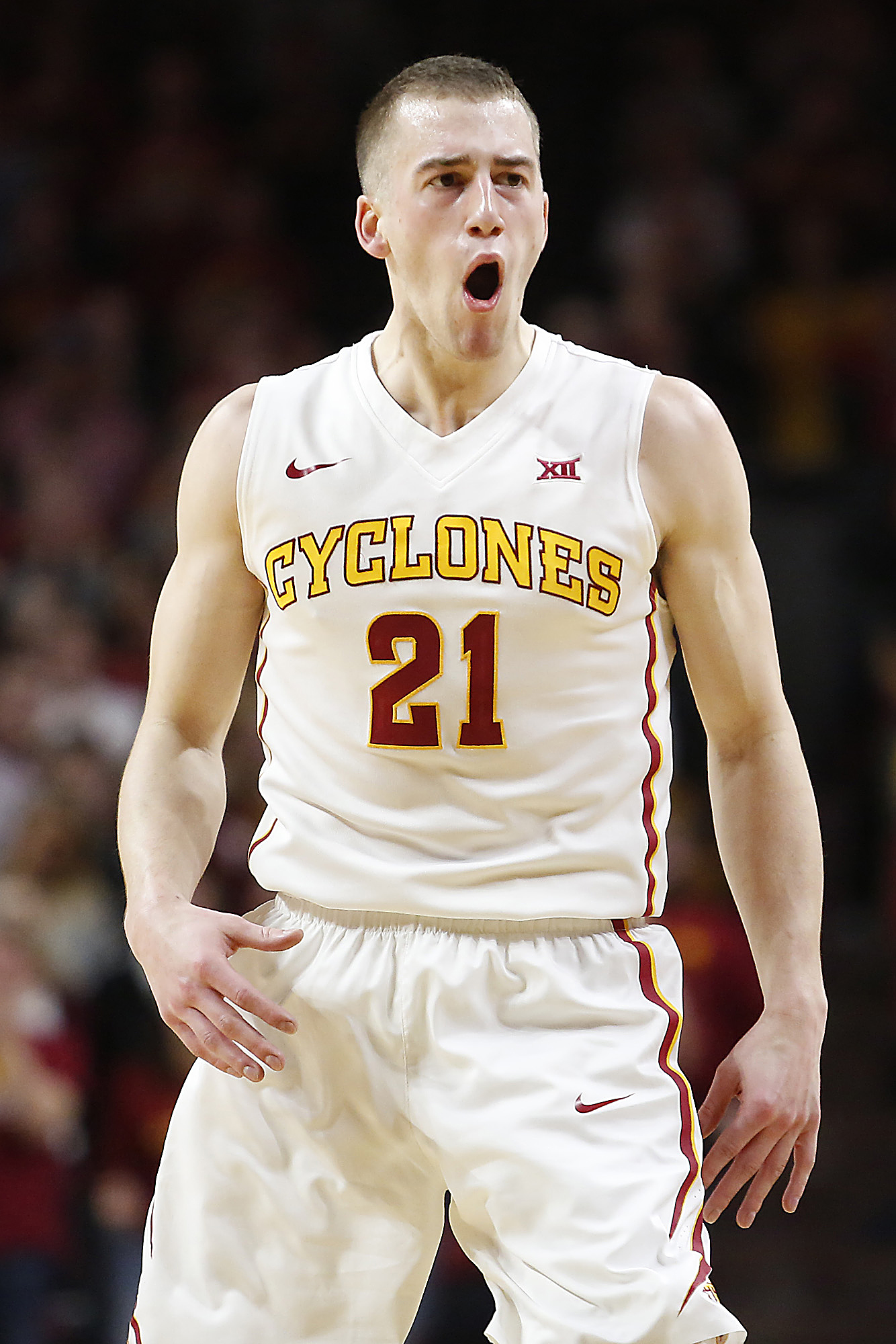 "That's how you're supposed to play," Prohm said. "If we are moving the basketball, if we are running offense, if the ball is not sticking and we're not trying to take guys one-on-one, our stats are really, really good with two ball reversals."
Monte Morris dished out nine assists to zero turnovers. His assist-to-turnover mark is an astounding 74-to-9 in Big 12 play.
5 – Just a little stat for the sake of perception: In three out of the last four seasons, Iowa State sat at 6-5 in the Big 12 on the date Feb. 10.
The lopsided loss to Iowa and the lack of a marquee non-conference win have hurt this team's perception.
Winning at Kansas should make up for some of that.
Heading into next week, Iowa State is alone in fourth place in the Big 12 standings with three of its final six games being played at home.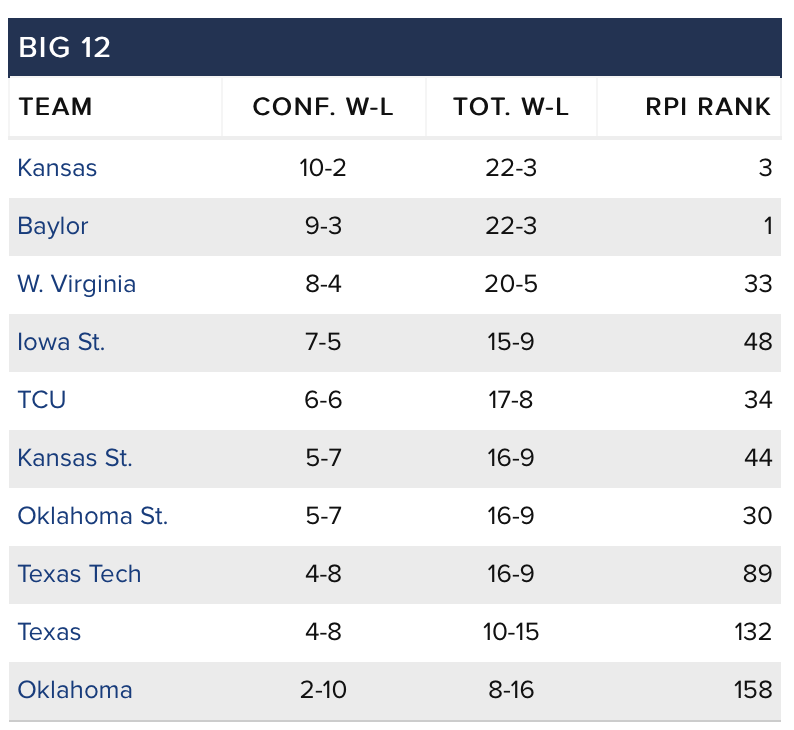 Notebook
*** More fun Monte Morris stats…the senior point guard now ranks third in Iowa State history with 208 career steals. Morris passed THE Fred Hoiberg in Saturday's win. The 208 steals also place Morris ninth in Big 12 history.
*** Matt Thomas is on quite a streak. He's hit at least four 3-pointers in five of Iowa State's last six games. Thomas is 25-for-37 (68 percent) from three (that includes going 0-5 at Kansas) dating back to a Jan. 24 victory over Kansas State.
*** Iowa State committed a season-low four turnovers in the win.
*** Solomon Young was the first freshman to start a game for Iowa State since Monte Morris in 2014.