Nov 11, 2016; Ames, IA, USA; Iowa State Cyclones guard Nazareth Mitrou-Long (15) drives past Savannah State Tigers guard Kamil Williams (50) at James H. Hilton Coliseum. The Cyclones beat the Tigers 113-71. Mandatory Credit: Reese Strickland-USA TODAY Sports
AMES — Monday night's game wasn't the prettiest non-conference tilt vs. a low-major opponent, but Iowa State's 73-55 win over Mount St. Mary's was enough to improve the No. 20 Cyclones to an expected 2-0 on the young season.
If anything, what exactly have we learned about the Cyclones through two games against not-so-great competition?
Not a ton, but enough to know more about this team than we did two weeks ago.
Here are some thoughts on every player on the roster based off of what we have seen so far, with some quotes from Steve Prohm along the way.
Merrill Holden – Inconsistent so far. Holden was a standout in Friday's 113-71 rout of Savannah State (12 points, five rounds and a block) but got into early foul trouble on Monday and only saw nine minutes of action.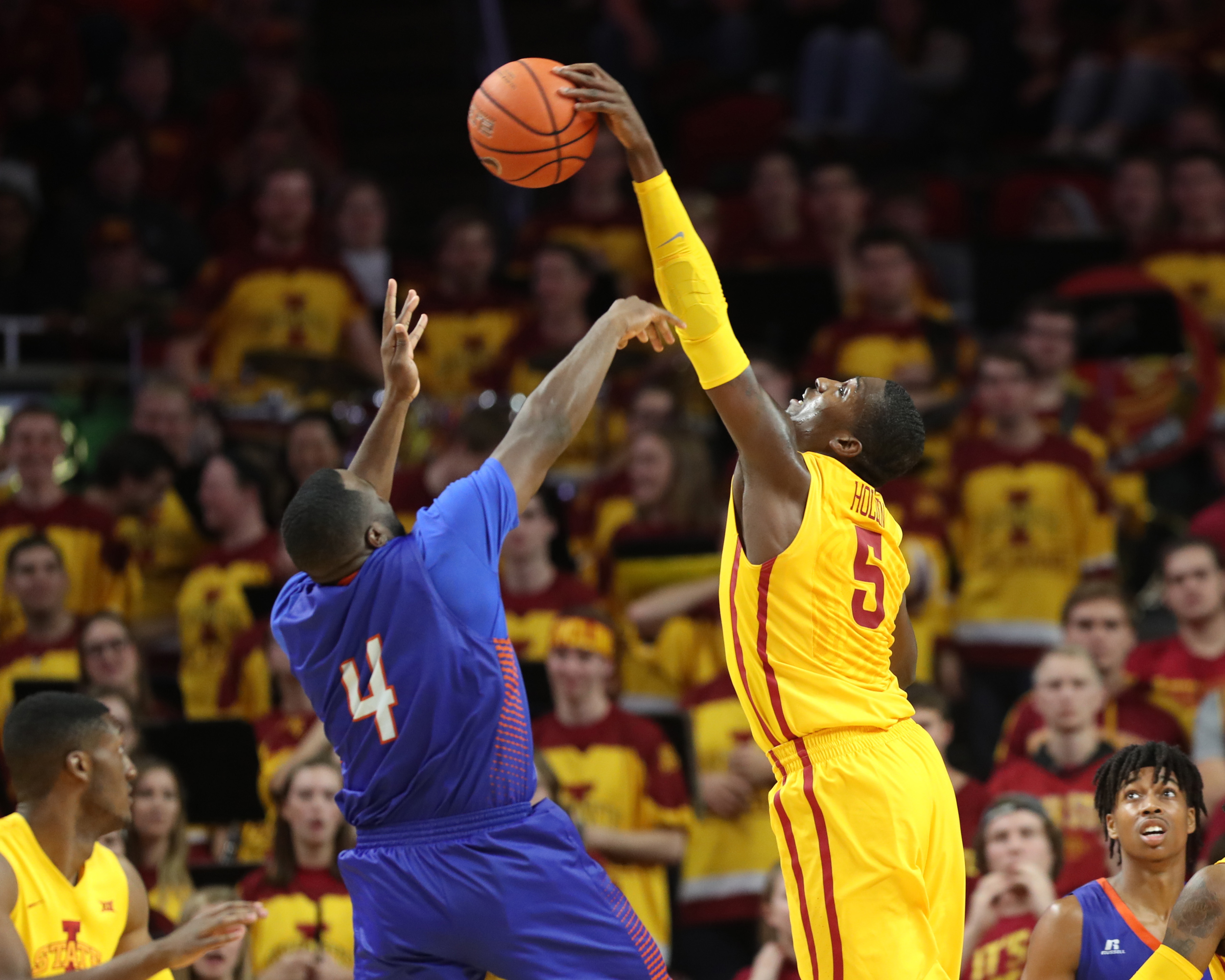 The inconsistency is something to expect early on from Holden and his fifth-year post brother Darrell Bowie. Give these guys some time to get fully acclimated to this level of ball.
"We've got to get him rim-running," Monte Morris told me after Friday's game.
Holden, who averaged nine points and five rebounds per game last year at Louisiana Tech, can be a perfect glue-guy for this specific group of Cyclones. He's just got to get there first. 
Monte Morris – Not surprisingly, the Big 12's Preseason Player of the Year has easily been the best player on Iowa State's roster thus far. Morris was spectacular in the opener tallying 21 points, 11 assists, three steals and zero turnovers. He's leading the Cyclones in scoring at 19.5 points per game so far and does appear to be more of an active scorer during his senior season, which is what Prohm was hoping for.
Naz Mitrou-Long – Entering year five of his career in Ames, this is the most aggressive we have seen Mitrou-Long. He's taken 25 shots in the first two games, averaging 13 points along the way. I'm still guessing that Mitrou-Long will eventually lead this team in scoring, although Morris is a dark horse to take that crown as well. Naz has been a bit rusty, which was somewhat expected after he missed the majority of last season with a bad hip.
Matt Thomas – Just solid. That's the most appropriate way to describe Thomas, who is averaging 13.5 points per game. His 3-point percentage (.231) is down early on but that's nothing to worry about. Thomas' rebounding numbers are up this year at 5.5 compared to a career-high 4.4 a season ago.
Deonte Burton – No player has been hyped up by the coaching staff more this offseason than Deonte Burton. It wasn't only Steve Prohm talking Burton up either as his teammates were doing it too. So far, we've seen a visibly trimmed down Burton as a senior who has averaged 8.5 points per game after struggling in the opener. He was a lot better in game No. 2 leading the way with 10 points and 13 rebounds.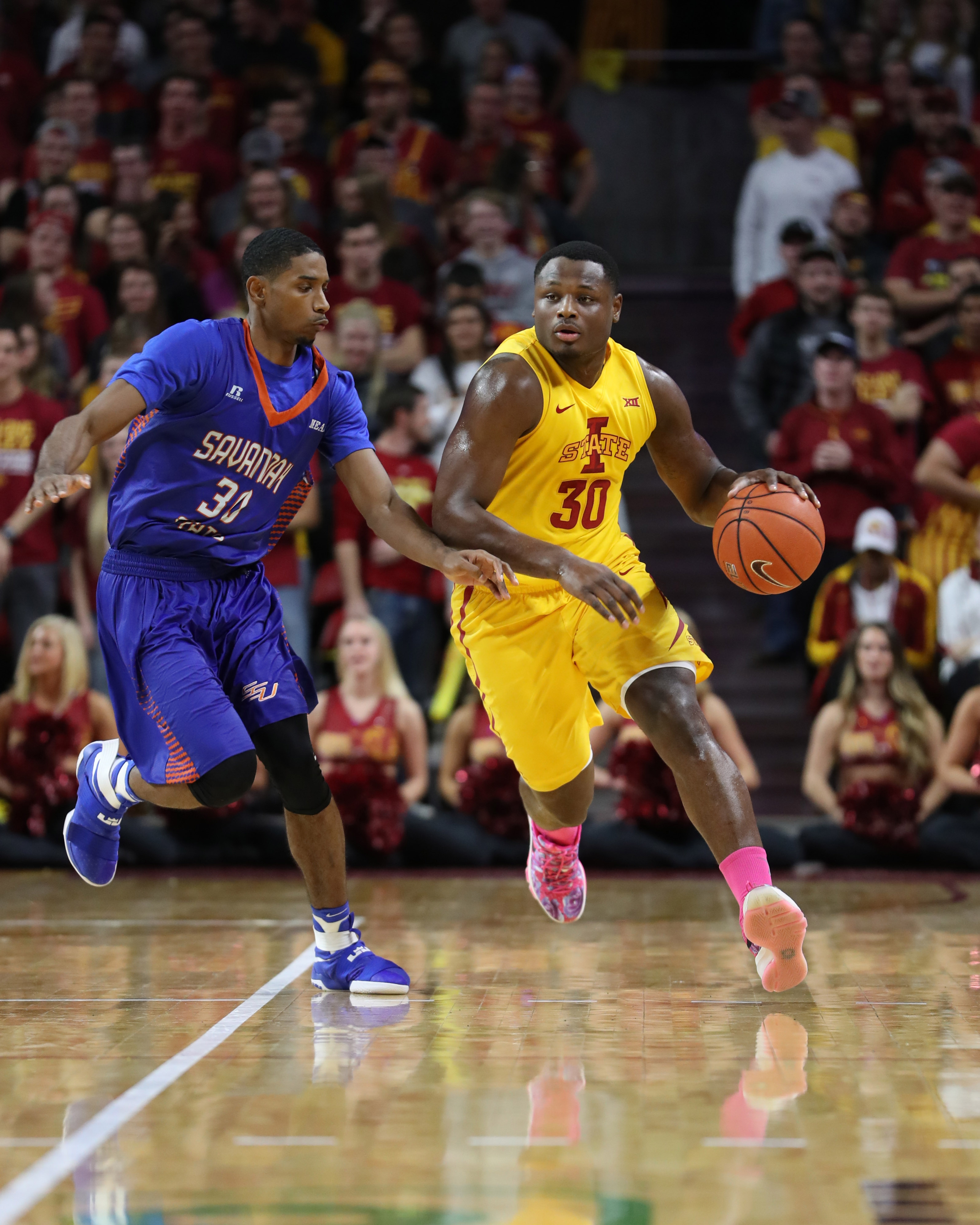 "He has made such great strides," Prohm said. "I am very proud of him, but now he has got to push himself to go beyond that whether if it is shot selection, being in his stance all of the time and being an integral part of our team now and going forward."
After Monday's game, I asked Deonte what the biggest difference has been for him this year compared to last – considering he did not play until the middle of December during his junior campaign.
"I feel like I have more chemistry with the team became I'm not games behind," Burton said. "I'm closer with the team. We've had a lot more time to play with each other. That's the biggest thing, just how close we are."
On media day, Prohm challenged Burton to average a double-double this season. So far, he's at 8.5 and 11.0.
Nick Weiler-Babb – He can do everything and play nearly every position on the floor. I am seriously starting to believe that Weiler-Babb can be a special player for Iowa State down the road.
"I am a big fan of Nick's," Prohm said. "He is a guy who should offensive and defensive rebound for us. He can dunk. He can get one or two of those a game. He's very versatile. I am a big fan. If he can bring it every night, he is going to be very, very good."
While averaging 22 minutes per game, Babb is at eight points and six rebounds per early on. He has the ability and opportunity to be one of the top sixth-men in the Big 12 this season. 
Donovan Jackson – He's off to a slower start than most would have expected. Jackson just looks like he's playing at another speed out there compared to his more experienced teammates but trust me guys, this guy can ball. Give him a little bit of time. Jackson is going to have one of those break out games when we all look at each other and say, "Where did this guy come from?" before too long.
Darrell Bowie – A similar story to Holden's, although Bowie has been more consistent. 
He might be the most underrated player on this team. People tend to forget that before Bowie went down with a shoulder injury at Northern Illinois his junior year, he was averaging 14 points per game.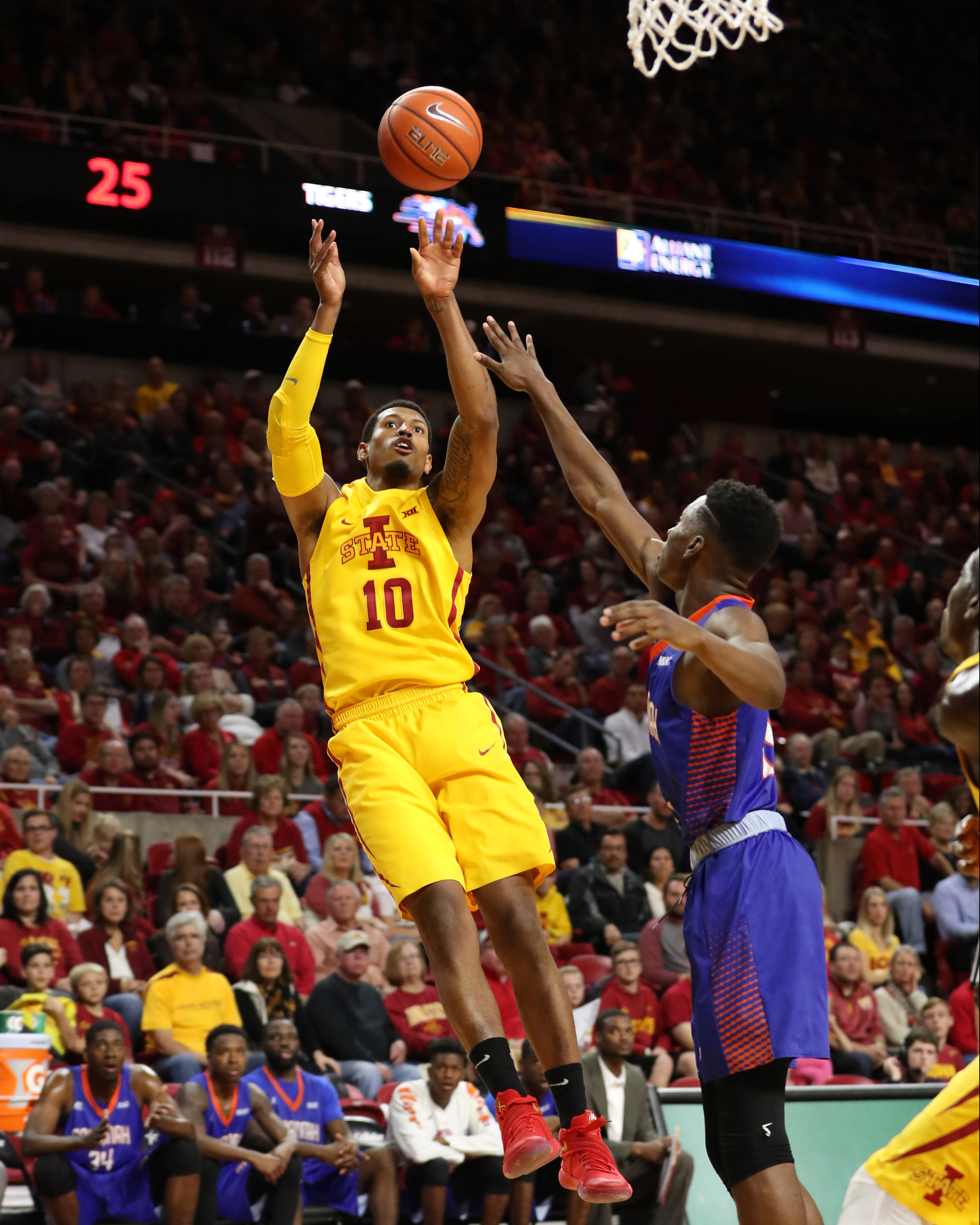 "Great energy and great activity," Prohm said. "The one constant you see on him is he is constantly rebounding the basketball. He needs to continue to bring that energy and activity. We need to get him finishing around the basket a little bit more. That's something we will talk to him about and work with."
Bowie is quietly averaging eight points and eight rebounds per game.
Solomon Young – Lots to write about with this young man…
He is going to be a crowd favorite at Iowa State. That's a promise. 
Right now, he's fouling a lot. Young fouled out in 14 minutes during the opener. He collected four fouls in 11 minutes Monday night.
Young has clearly caught the eye of Prohm during practice though as he has been in the rotation early and often during both games. He's been incredibly active, collecting 5.5 rebounds per game while not seeing a lot of time.
Simeon Carter – On Monday night, he served game one of a three game suspension for a violation of team rules. He's clearly behind Young – a true freshman – on the depth chart though. Carter played four minutes and had six points in the opener.
Jakolby Long – His offensive game clearly needs some work but Long has a Big 12 body and was recruited for his abilities on the defensive end of the floor. Has a reputation as a hard worker around the basketball office.