Jan 17, 2017; Athens, GA, USA; Vanderbilt Commodores guard Matthew Fisher-Davis (5) shoots the ball as Georgia Bulldogs forward Mike Edwards (32) defends during the first half at Stegeman Coliseum. Mandatory Credit: Dale Zanine-USA TODAY Sports
Iowa State is set to take on the Vanderbilt Commodores in Nashville at 3 p.m. on ESPNU on Saturday. Here are three points and a couple notes on the SEC/Big 12 Challenge matchup:
1 — This Vanderbilt team scares me.
On paper, that might be somewhat surprising considering the Commodores' 9-11 record entering Saturday's game. That said, Vanderbilt has shown during its first 20 games that they are capable of playing with some of the better teams in the country.
They hung tough at home against No. 4 Kentucky before losing by six points. They upset No. 25 Florida in Gainesville just last Saturday. Their record doesn't really show it, but that's largely due to inconsistency.
I honestly feel like this just isn't a very good matchup for Iowa State.
Led by junior forward Matthew Fisher-Davis who averages 16 points per game and shoots 38 percent from 3-point range, the Commodores fire up more than 25 3-pointers per game. In fact, 46.2 percent of Vanderbilt's shots this season have been from behind-the-arc, which is the 12th-highest number in college basketball.
"Having a chance to get a nice road win for your resumé is nothing you can complain about," Iowa State senior guard Naz Mitrou-Long said. "It's going to be a great test. They had Kentucky beat the majority of the game so it's no gimme."
Defensively, the Commodores and first-year head coach Bryce Drew (the younger brother of Baylor head coach Scott Drew) will primarily employ a zone scheme similar to the one used by the Bears.
Now, Vanderbilt's roster hasn't quite mastered the unorthodox zone quite yet, but it is a different look compared to a lot of the other teams Iowa State will face.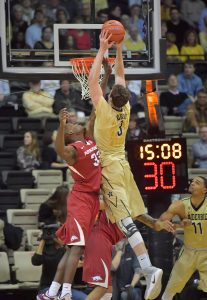 "The zone that Vanderbilt plays does mimic Baylor's zone," Iowa State head coach Steve Prohm said. "I played Bryce in the past at Valparaiso and their zone was really good at Valpo. It was big and really, really long across the frontline. I don't know if the zone is where he wants it at right now. Obviously, Baylor's been doing it for years. This is his first year doing it with these guys."
The anchor of the Commodores' zone is 7-foot-1 senior center Luke Kornet, who is averaging 13.2 points per game and leads the team with 36 blocks this season. He will likely be the toughest matchup for the Cyclones as he is capable of playing down low then also stepping out to shoot the 3-point ball at a 38 percent clip.
2 — Turning them over 
It isn't any secret that creating turnovers has become a staple of Iowa State's defense, but that could go to another level in this game. Vanderbilt is 184th nationally in turnover percentage and averages 12.8 turnovers per game despite being 299th nationally in tempo.
The Commodores also aren't overly adept at crashing the offensive glass so there might be an opening for the Cyclones to create some extra possessions in this game.
Being able to create those extra possessions has been crucial for Iowa State, especially when they've played small or gone to their four-guard lineups.
"We've got to manufacture some things defensively if we are going to play small," Prohm said after the Cyclones' win over Texas. "We've got to be aggressive whether it's ball-screen defense, whether that's three-quarter court pressure, switching, just different things like that to keep people in front of us."
3 — I'm really not much of a fan of the SEC/Big 12 Challenge.
Actually, maybe it would be better to say I'm not a fan of the timing of it. I get that the leagues want to be "different" but I don't really see a benefit from playing this thing in January for anybody besides ESPN.
Under the old structure when the challenge was played during the traditional non-conference schedule, Big 12 teams would get one weekend off during conference play. That weekend could be used to recruit and get the team rest.
Now, instead of getting a break from the grueling Big 12 slate, we get wonderful matchups like LSU visiting Texas Tech or Texas going to Athens to take on Georgia. Sure, Kansas going to Rupp Arena to face Kentucky will be cool but nationally, that's the only game anybody is talking about from the SEC/Big 12 Challenge.
What's the point of being "different" when all it does is take away a valuable weekend to get on the recruiting trail or recuperate?
"I'm just two years into the league but when you get around those older guys it's just understand the rest and how you've got to treat your team right now," Prohm said. "We're halfway through the league but when you're home-and-home night-in, night-out with every single team in your league, that's a bear. Then you've got to get your guys focused too. Unfortunately, we've been on the road the last two years. If we were home this weekend, I might like it a lot more."
I understand the concept behind having the SEC/Big 12 Challenge and I think it is a pretty cool thing. I just think it would better serve its purpose if it was played in November or December.
A couple notes…
*** Iowa State is 2-1 all-time in the SEC/Big 12 Challenge and 4-3 overall in conference challenges.
*** In five career games against SEC opponents, Monte Morris has a 6.6 assist-to-turnover ratio (33 assists-to-5 turnovers).
*** Prohm is 0-3 all-time against Bryce Drew.
*** Iowa State has faced Vanderbilt more than any other SEC team that wasn't formerly a member of the Big 12. This is the eight meeting between the two schools with Iowa State leading the series 4-3.
*** The Cyclones won the last matchup between the teams 80-79 in Nashville in 1985 behind 33 points from Jeff Grayer and 22 points from Jeff Hornacek.