Jan 28, 2017; Nashville, TN, USA; Iowa State Cyclones guard Nazareth Mitrou-Long (15) is defended by Vanderbilt Commodores guard Payton Willis (1) and guard Riley LaChance (13) during the second half at Memorial Gymnasium. Vanderbilt won 84-78. Mandatory Credit: Jim Brown-USA TODAY Sports
Entering Saturday's game in Nashville, 46.2 percent of Vanderbilt's shot this season had been taken from behind the 3-point line. They took that reliance on the 3-pointer a step further against Iowa State by attempting 58 percent of their shots from 3-point range.
If you just look at the stats from the game, you might think the Cyclones won. They shot a better percentage from the field. They made more shots. They forced the Commodores into more turnovers.
The biggest difference was the Commodores knocked down 13 shots from deep, seven of them during the second half, and went 21-of-26 from the free throw line to beat the Cyclones 84-78 in the SEC/Big 12 Challenge.
"At this level, I don't care who you're playing, in a major five conference with guys so good you've got to be on point every single time," Iowa State point guard Monte Morris told the Cyclone Radio Network. "And tonight we didn't do that in the second half. First half we did but guys got strung out."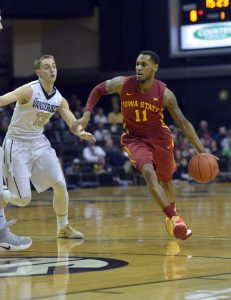 Morris, who passed Jeff Hornacek as the program's all-time leader in assists during the game, was spectacular once again while scoring 25 points on 10-of-17 shooting and dishing out three dimes. His backup, junior Donovan Jackson, was almost as good while scoring 16 points and hitting four 3-pointers.
Despite missing their first six shots of the game, the Cyclones built an 11-point first half lead behind stout defense and high-paced transition offense. The ball was moving and Iowa State was taking advantage.
After the under-eight media timeout in the first half, Vanderbilt's offense came alive and the Cyclones' went quiet. The Commodores worked their way back to tie the game heading into halftime.
"We started slow and then we responded and at the first media we were up 9-8," Iowa State head coach Steve Prohm said. "We were really defending at the beginning and getting out in transition. Fortunatley, they missed a couple shots too but we were able to get it going in transition. That's how we need to play. Then the last eight minutes of the first half we really broke down defensively. They started making shots."
While the Cyclones were able to easily find shots for large portions of the second half, they struggled to get stops on defense. The Commodores shot 59 percent from the field and 7-foot-1 center scored 16 of his 21 points after the halftime break.
Vanderbilt was able to find open shot after open shot while the Cyclones scrambled defensively and became stagnant offensively.
"We had some opportunities where we had some good looks and we didn't make them," Prohm said. "During the second half, if you give up 60 percent shooting from the field, it's going to be hard to win anywhere."
While the Cyclones looked flat in the second half, Vanderbilt was playing with energy.
It was another inconsistent performance from a team that has gotten to the point where the only consistent thing about them is inconsistency.
Seniors Darrell Bowie and Merrill Holden combined for zero points, three rebounds and a turnover. Naz Mitrou-Long scored just four points and went 0-of-5 from 3-point range.
At this point, you don't know what you'll get from this team, not just game-to-game, but possession-to-possession. That's a fact that will have to change if they have hopes of finishing strong in Big 12 play, starting Tuesday when No. 18 West Virginia visits Hilton Coliseum (8 p.m. on ESPN2).
"Tuesday's big. You've got to learn from this quick," Prohm said. "Put this one behind us because Tuesday's game is huge. You've got a chance to be third place by yourself in the league. It's a home game and it's against a top-15 team in the country. This is a big one for us."