AMES — Joel Lanning saw the words "Victory Day" sprawled next to the final Saturday on the fall camp schedule and scratched his head.
What was it, something extra? More work? Less work?
None of the above.
ISU's starting quarterback fully absorbed the meaning of the one and a half hour event his new coach, Matt Campbell, brought over from Toledo once he saw the first smile cross a thrilled child's face.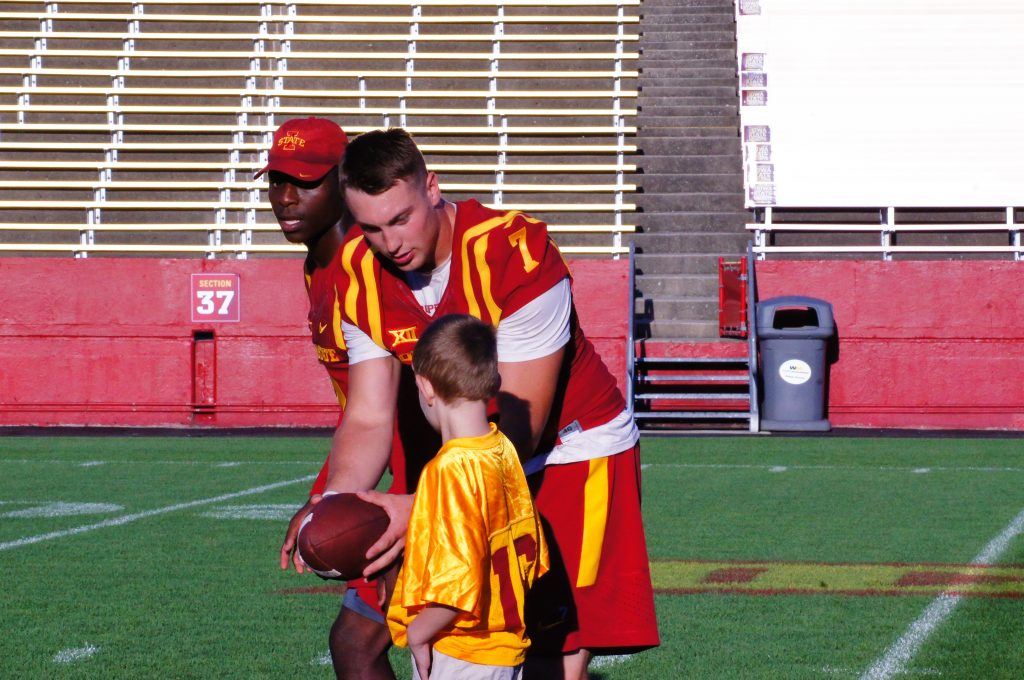 "We didn't know if we had the day off or what it was," Lanning said. "But this was a great night. You couldn't ask for a better night to be out here with these kids."
Nice weather at Jack Trice Stadium? Check.
The broad grins brightening the faces of the 60 children with disabilities who starred on the field? For sure.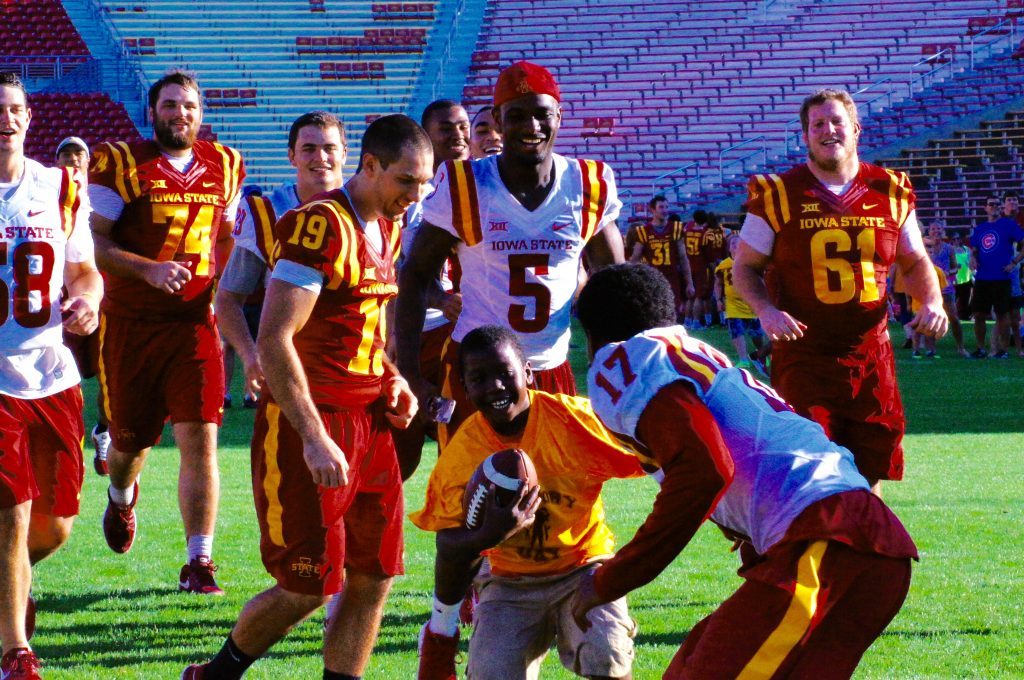 A new tradition under Campbell — complete with the pep band, National Anthem and cheer squad? Definitely.
"The background on this is four years ago somebody asked me to come to a high school to speak at this event," Campbell said. "I was telling somebody the story earlier: it's about a week before the season and I agreed to do it early and it's like anything and you get to the week before the season and somebody said, 'Hey, come do this. Speak at this.' And I went and obviously in the back of the mind I'm like, 'Man, I've got a lot of things going on (but) I agreed to this,' and I went there — it was at Toledo Witmer High School, right next to the university — and it was a phenomenal event. It was life-changing. I said, how powerful would this be for our kids to be able to give this back and be able to make a difference and use ur collegiate platform to do that. So we started it at the University of Toledo."
Now it's been started in Ames.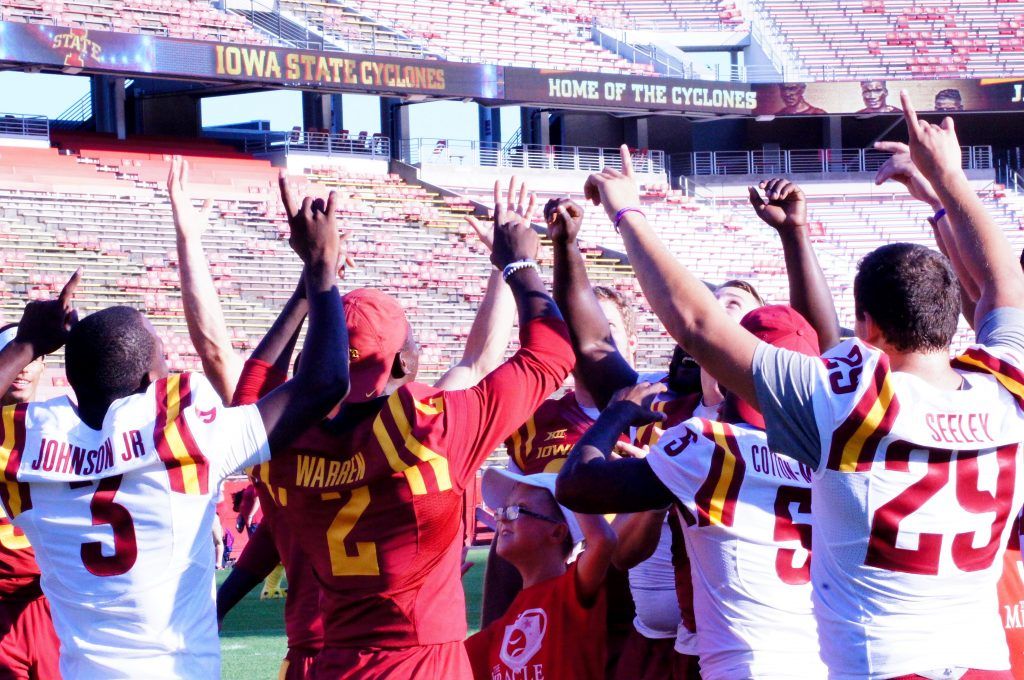 "Hopefully they'll remember this for the rest of their lives," Lanning said. "It's just awesome to give back to these kids because they deserve every minute of it."
Judging by the reaction of attendees  that's a no-dobuter.
"I told our kids and our seniors that one of my greatest goals, winning and losing's really important, but the ability to give more of ourselves than we take from the whole is the number one goal of my program," Campbell said.
That's the secret of "Victory Day." Giving. Laughing. Learning together — one of countless touchdowns at a time.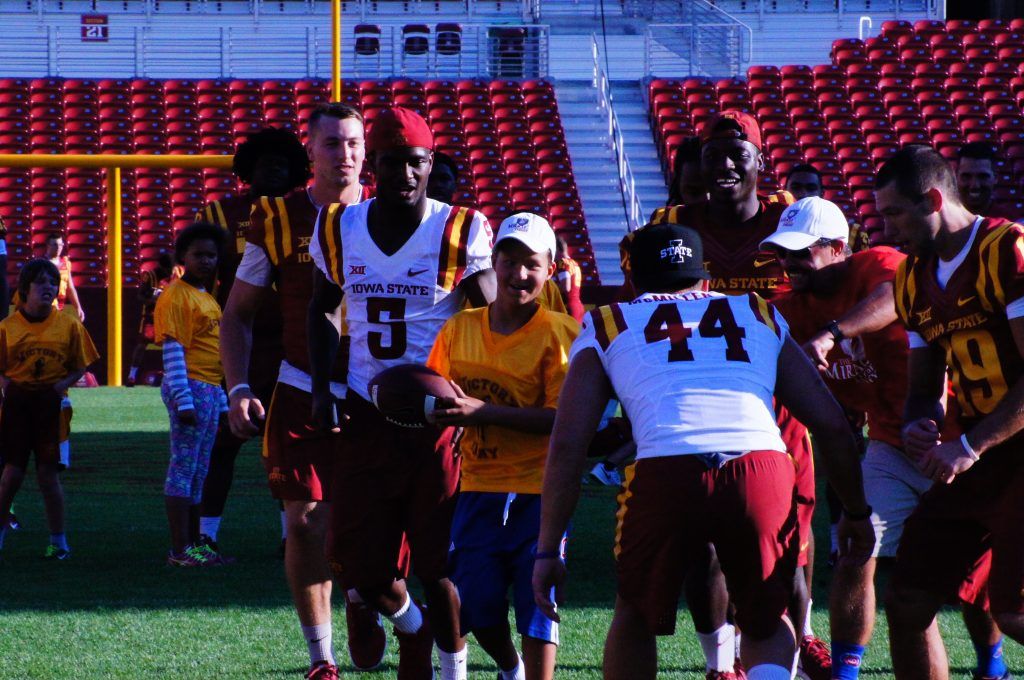 "They'd just been through a long camp and I really didn't tell them about this until today," Campbell said. "It was on the schedule, but I really didn't explain it. You could kind of see a little bit of, 'Oh, man, what do we've got going on?' Then all of a sudden you come out here and our kids did an incredible job. I mean, they were unbelievable tonight. The one thing we've got here is we've got great kids and I've said that multiple times. Just seeing them interact tonight just continues to reaffirm that."