The Cyclones celebrate a Victory Day touchdown Friday night at Jack Trice Stadium. (Rob Gray photo)
AMES — What once may have seemed like just another duty has become a post-fall camp reward.
 When Matt Campbell took the head coaching job at Iowa State more than three years ago, he brought his "Victory Day" tradition with him.
 During the event — the third annual "Victory Day" was Friday night at Jack Trice Stadium — Cyclone players line up and charge downfield, accompanying children and youth with special needs on endless trips to the end zone.
 It's inspiring. It's humbling. It's all smiles — for coaches, players and participants alike.
 "It's an amazing experience," Senior linebacker Willie Harvey said. "It's my third year doing this and it's probably one of my favorite days. … I feel like you become more appreciative of the actual event. Some of these younger guys are probably like, 'Man, this is just a day.' But as you grow older you realize you're really blessed to be here."
 No one failed to scored a touchdown. One participant even unexpectedly pancaked standout defensive tackle Ray Lima — one-on-one.
 "It's probably the last time you'll see that," Campbell quipped.
 Indeed.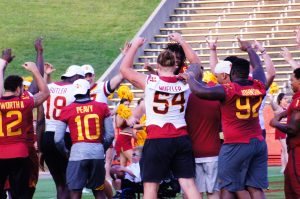 Campbell's seen the mindset of his players shift as "Victory Day" has become a fixture rather than a new obligation.
 It's fun. D-ends become cornerbacks. Offensive players with to defense. All arms are raised after each score as the band plays on.
 "Our older guys, I think, anticipate it and really enjoy it," Campbell said. "And you see the JaQuan (Baileys) and the Hakeem (Butlers) and some of those guys now — David (Montgomery) — now going into year three and you just see their general excitement and expectation for it. … I think that's when you're starting to build a program rather than just a football team and we're a lot closer to at least becoming, leaning more towards that way in the spectrum than we are just a football team and that makes me excited, too."
 ****CAMPBELL ON THE FOUR FRESHMAN SUSPENSIONS
 Campbell announced early Friday afternoon that freshmen Tayvonn Kyle, Jaeveyon Morton, Joseph Scates and Dallas Taylor-Cortez are indefinitely suspended from the program. He said Friday night "that statement kind of said it all" with regard to the suspensions.  
 "The reality from my end of it is we have a standard here," Campbell said. "There's expectations and the consistency of that standard is (something) I evaluate every day in our program. If you're not living by it and one of the things you have to know is it's a privilege to be able to play this sport here, so we'll evaluate it. We'll evaluate them just like we do all of our kids and we'll make decisions down the road."
 ****IT'S BEEN THE MOST PHYSICAL FALL CAMP SINCE CAMPBELL ARRIVED
 Why?
 "I just think it's a maturity thing," Campbell said. "I think the growth of a lot of these kids, they're one year older and stronger and bigger. I think there's an understanding of expectation of how to practice. I think those things have certainly aided in that and almost as a coach you've got to be wary of — you know, sometimes it's almost like war zone in there at days and you've got to just be wary of how much you go against each other. But to come out if it, (A) healthy; (B) excited, I think that's big for this football team and I think at least from a standpoint of being ready to take the next step in the early part of the season, I think this team's ready to do that."
 ****MORE ON MIKE ROSE AND THE FIGHT FOR THE NO. 1 MIKE SPOT
 Campbell called it one of a few extra-strong position battles still wages as fall camp turns to season-opening game week.
 "That's one right now where you go out every day — it's a great battle," Campbell said. "I think you see O'Rien Vance who continues to grow. You see Bobby McMillen who comes back from injury and then you see this Michael Rose. What he's doing — and I talked a little bit about this last night — sometimes wide receivers and DBs, those are skill players. You can run fast, you can run fast. You can catch it, you can catch it. But to be a linebacker and be physically put together like he is and to be able to run and move like he's had the capability and shown, I think that's probably come a little bit of surprise, just that he's so physically mature at this point, but it's great competition. It's great to have depth in your program and now you better come to practice every day, or we're evaluating playing time and I think that's when your program's healthy, rather than the starters just breeze through practice and expect to play on Saturday. Things are a little different here now."
 ****NOW THREE GUYS ARE THE LEADERS FOR THE PUNT RETURN JOB
 Those guys are Tarique Milton, Deshaunte Jones, D'Andre Payne.
 "(They'd) probably be the leaders in the clubhouse for it," Campbell said. "We'll keep reppin' those guys all the way probably until the end. I think when you talk about that, you talk about placekicker. You talk about MIKE linebacker. You talk a little bit a little bit on the O-line, those are things that — and I said this last night — it may even be through the early part of the season until we settle in to really who fits those roles, but that's not a bad thing. I think that's a pretty good thing for us."