AMES — Iowa State wide receiver Trever Ryen received a special message Friday.
It was from a young fan during the second annual "Victory Day," an event which helps students with disabilities learn about football — and score touchdowns. Lots and lots of touchdowns.
"There's this little girl, she remebered me from last year and her family's like, 'Oh, you helped her score a touchdown," Ryen said. "It meant a lot to me. She told me she's going to be standing on the hill the first game when we play UNI, so I'll be looking for her and giving her a high five."
That's eight days away — the Cyclones' Sept. 2 opener against the Panthers. There were plenty of high fives Friday, too. It's what head coach Matt Campbell likes to see.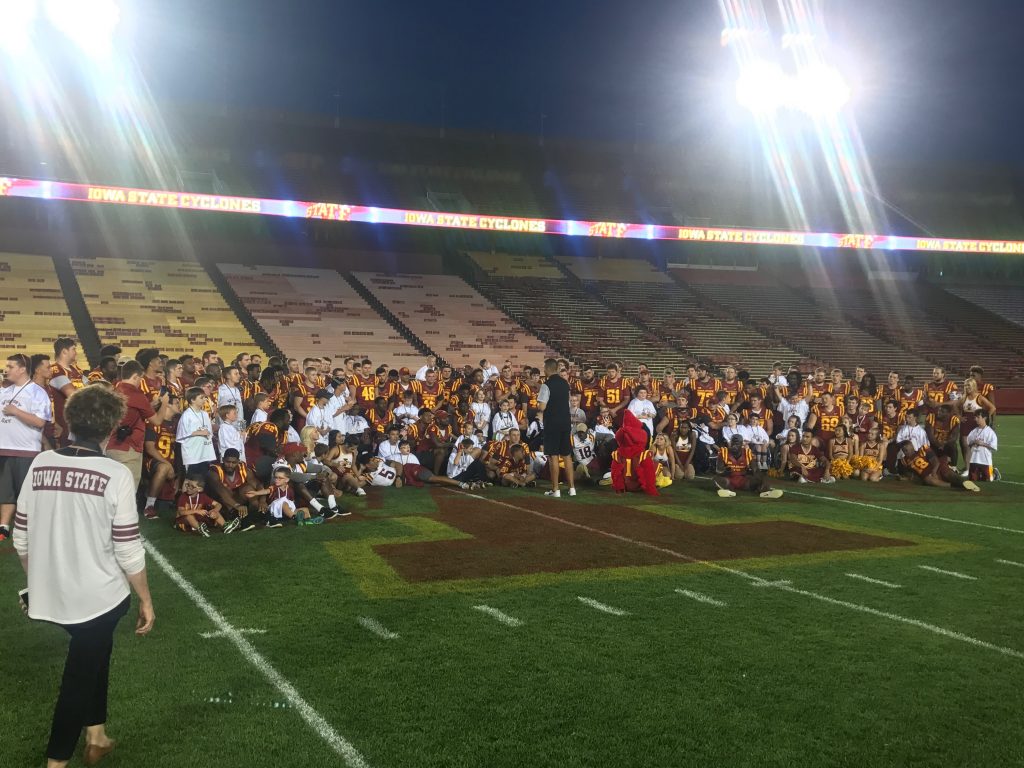 "At the end of the day, it's still a game," Campbell said. "And it's still our job to teach young people — 18 to 22-year-olds — what it's like to be a young man, going into manhood and to give back, make a difference. We're really grateful. I still walk out in this stadium every time and pinch myself that I'm here and a part of it, let alone these kids."
Campbell presided over several "Victory Days" while coaching at Toledo and brought the event to Ames. In year two, there were clearly more young fans in attendance — and more touchdowns, too. Many more.
"You just appreciate it and I think our players really appreciate it," Campbell said. "As much as these guys get a kick out of it, our players — it makes such an impact on them. Ultimately, you hope something like this has an impact on everybody that touches it."
Ryen's felt that impact. He smiled throughout a brief interview as the lights shone on Jack Trice Stadium's turf.
"Giving our time for these guys, it means the world to me and it means the world to them," Ryen said.
 HOW'S TONGAMOA DOING?
Campbell said highly-touted, but recently-arrived defensive tackle Kamilo Tongamoa is orienting himself well to his new community. Tongamoa, a three-star JUCO recruit, arrived in Ames this week and has enrolled in classes.
"I think you take it slow," Campbell said of integrating Tongamoa into team activities. "You make sure, again, it's kind of like Matt Leo. Matt came in and you just try to make sure when he is ready to play, he's ready to play. Instead of trying to rush somebody that's not ready to play to be out there, out of condition — it hurts your football team, number one, then it hurts himself, number two. I think Kamilo, he's in decent shape. I think he weighed in at about 310, so I don't think that's abnormal from what we expected, but he missed about three quality weeks of work, so we're going to have to try to catch him up and we're going to take it one day at a time with him, for sure."
It's unclear, then, when Tongamoa can help Iowa State's defense. Obviously, it won't be soon. But it does appear likely he will improve the group once he's in game shape and familiar with all the schemes, principles and terminology that forms the foundation of defensive coordinator Jon Heacock's system.
"What we've always loved about Kamilo is the fact that he's such an athlete for being such a big kid," Campbell said. "I think when we've seen him work out this week, you're reminded about that. Now how long can he be that good athlete, right now, and what's that going to take to get him into football shape? I'm also a realist there, too. So, like I said, I think that's the thing we love about him. He is athletic and he does impress you with some of his movements and his ability to do that. I think that's what attracted us from the get-go, but I'm just proud of him. I know it was a long road and I know from a lot of different angles there was a lot of pressure on him, but for him to get it done, get what he needed to get done, stay the course — a lot of kids in his situation might have bagged it and never made it here. So I'm really proud of him."