Cyclone Fanatic is counting down the days until Iowa State's season opener against Northern Iowa by bringing you a stat, former Cyclone moment or any other random tidbits every morning to help countdown the days.
No. 5 – Allen Lazard and Kamari Cotton-Moya
It shouldn't come as much of a surprise that the football jersey Iowa State will sell at the bookstore, the stadium and other stores in 2016 is No. 5. I'm sure it makes the decision awfully easy when, arguably, the two best players on the team wear the same number.
Wide receiver Allen Lazard and safety Kamari Cotton-Moya, who were both selected as team captains on Friday, will continue to wear No. 5 during their junior seasons in the Cardinal and Gold.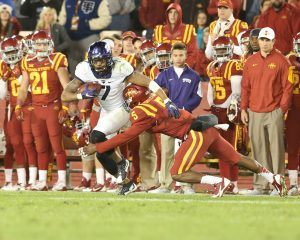 Lazard enters the season on the verge of pushing his way into the Iowa State record books. His 101 receptions and 1,401 yards during his career both sit just outside the top 10 in program history.
He'll likely break the top 10 in both categories within the first few games of 2016, plus he'll jump into a tie for ninth all-time with his first touchdown catch of the season, which would be the tenth of his career.
The Urbandale native could realistically find himself in the top three of all the major receiving categories by the end of 2016 with one season still left to play.
Cotton-Moya recorded 40 tackles, plus 2.5 for loss, in just six games last season before having his year cut short by a hamstring injury. The Bakersfield, Calif. native was the Big 12 freshman defensive player of the year and a freshman All-American after recording 77 tackles, two for a loss, in 2014.