The football recruiting dead period officially starts today, which prohibits college football coaches across the country from contacting recruits until the end of the month.
Iowa State might not have ever been in a better spot heading into the July break and that shows in the team rankings released by every major recruiting service. The Cyclones' 17 commits have them ranked No. 27 by Rivals, No. 29 by 247 and No. 26 by Scout.
Here is how Iowa State's 2017 football recruiting class breaks down heading into the dead period.
Commits
*** Josh Johnson – Wide Receiver – Maumelle, AR
*** O'Rien Vance – Outside Linebacker – Cedar Rapids, IA
*** Tyler Jost – Offensive lineman – Libertyville, IL
*** Devon Moore – Quarterback – Waterloo, IA
*** Colin Newell – Offensive lineman – Ames, IA
*** Angel Dominguez – Defensive End – Lenexa, KS
*** Richard Bowens III – Cornerback – West Bloomfield, MI
*** Jake Hummel – Inside Linebacker – West Des Moines, IA
*** Jeff Nogaj – Offensive lineman – Johnstown, OH
*** Matthew Eaton – Wide Receiver – Pascagoula, MS
*** Caleb Chandler – Offensive guard – Jefferson, GA
*** Octavious Morgan – Cornerback – El Dorado, KS
*** Charlie Kolar – Tight End – Norman, OK
*** Alex Kleinow – Offensive tackle – Iowa City, IA
*** Jordan Ulmer – Defensive back – Bellevue, MI
*** Deven Lamp – Defensive end – Cedar Hill, TX
*** Quran Hafiz – Defensive back – Jacksonville, FL
Where they are from…
*** Iowa (5)
*** Michigan (2)
*** Kansas (2)*
*** Texas (1)
*** Georgia (1)
*** Illinois (1)
*** Mississippi (1)*
*** Ohio (1)
*** Oklahoma (1)
*** Arkansas (1)
*** Florida (1)
* Both these numbers count Octavious Morgan and Matthew Eaton as prospects from where their junior college is located.
The Cyclones have been very successful recruiting within the 500-mile radius (pictured below) a lot of college football coaches talk about. The Cyclones have picked up nine of their commitments from inside the radius and tight end Charlie Kolar, a Norman, Okla. native, is just outside.
*** Inside 500-mile radius (9)
*** Outside 500-mile radius (8)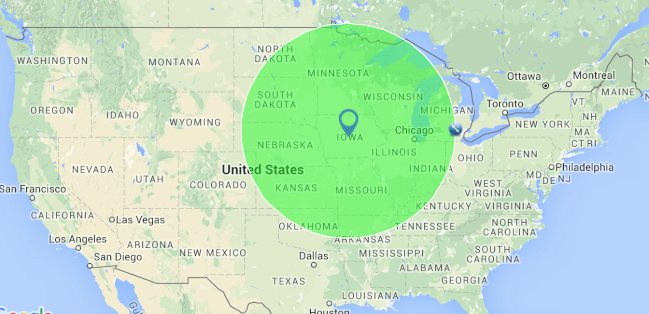 Key Commits
Caleb Chandler
Certainly the diamond of Iowa State's offensive line class so far. The 6-foot-5-inch, 285 pound, offensive guard spurned offers from Florida, Louisville, Missouri, Mississippi State and a host of others to commit to the Cyclones after a weekend visit in mid-June. He's rated as the No. 21 offensive guard prospect in the country by Scout.
Josh Johnson
The 5-foot-10-inch, 175 pound, wide receiver is rated as the No. 1 pass catcher in Arkansas by Scout and has been committed to the Cyclones since late March. He's seen interest from Michigan and has an offer from Notre Dame, and probably isn't done picking up offers. 
He'll likely be one of the toughest commitments to hold until February just based on how much interest he could draw.
Octavious Morgan
Regarded by some as the top JUCO defensive back in the country, Morgan committed to the Cyclones after visiting the same weekend as Caleb Chandler. The 6-foot, 195 pound, cornerback picked off six passes and made 56 tackles during his freshman season at Butler Community College.
He also held offers from Baylor, West Virginia and a few others.
Devon Moore
The quarterback of the class will always be key, especially when that quarterback was the first commit in the class. The 6-foot-4-inch, 220 pound, lefty only has a handful of offers but has been very impressive on the camp circuits.
He's rated as the No. 18 dual-threat quarterback in the country by 247 and has been the one of the kingpins in commits' efforts to recruit other prospects.
Richard Bowens III
The fastest 300-meter hurdler in Michigan high school history committed to the Cyclones back in April. He's drawn interest from Michigan State and Wisconsin of late and has received offers from Minnesota, Iowa and a handful of other schools.
The 6-foot, 170 pound, speedster is ranked as the No. 37 cornerback in the class by Scout.
Quran Hafiz
The newest Iowa State commit told the coaching staff the night before the dead period then announced on July 1st. The 6-foot, 170 pound, cornerback also held offers from Virginia Tech, USF, Minnesota, Duke and roughly 25 other schools. 
He's ranked as the No. 77 cornerback in the class by 247.
Diamonds in the rough
Alex Kleinow
This in-state offensive tackle hasn't exactly been a hot name on the recruiting trail but a leg injury during his junior season has prevented a lot of schools from fully evaluating his talents. The 6-foot-6-inch, 285 pound, prospect committed on the spot after earning an Iowa State offer a few weeks ago.
He reportedly impressed ISU offensive line coach Tom Manning during the program's second Big Man camp. He recently picked up a third-star from Scout and is rated as the No. 86 offensive tackle in the class.
Charlie Kolar
This big tight-end has been drawing comparisons to 2016 Iowa State signee Chase Allen, and is a deadly pass catcher at the high school level. The 6-foot-6-inch, 225 pound, prospect is rated as just a two-star by Scout but, he's anything like Allen, it wouldn't be a bit surprising to see his stock rise quickly after his senior season.
Jeff Nogaj
Nogaj has been described to me as a guy that just doesn't care much for the recruiting process or anything involved with it. He doesn't go to camps, he doesn't really tweet and after making his commitment to Iowa State in April, he's stuck to it fully.
The two-star's only other offer is from Toledo and that came after attending a Rockets' camp. Who were the coaches that saw him? You guessed it — Matt Campbell and Tom Manning.