I can't say I was surprised when I saw that four-star offensive guard Caleb Chandler had tweeted his intention to decommit from Iowa State on Tuesday.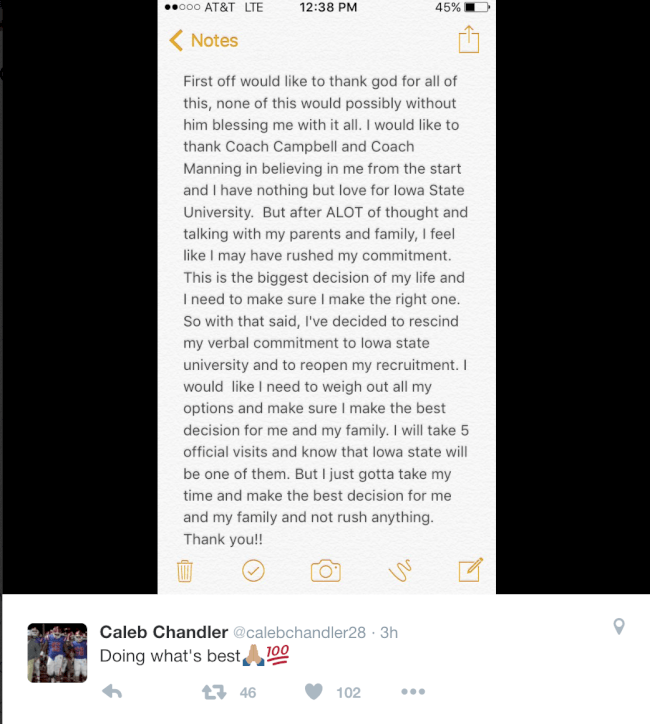 It isn't that I think the Jefferson, Ga., native won't end up at Iowa State or that the Cyclones have no chance with him. I still think Iowa State is in a very good position to land the 6-foot-5-inch, 300-pound, prospect rated as the No. 21 offensive guard in the class by Scout.
With that said, I'll admit I was thrown off when Chandler made his commitment after a weekend visit to Ames last month. He had told me in May that his plan was commit after his senior season, and I don't think even he expected the process to move so fast when he got to town for his visit.
That's why it wasn't a surprise when he cited rushing into his decision as one of the key reasons for his decommitment. 
This is a kid that has offers from some of the sport's blue-bloods, a list that now includes Miami (FL) after they offered on Tuesday, and hadn't even taken visits to most of those schools yet.
Iowa State will almost certainly be on Chandler's list of official visits this fall so there is no reason to hit the panic button yet. The Cyclones are still in a very good spot with Chandler, and their class is in a solid enough spot that they can handle losing a commitment in early-July.
The Cyclones' class still sits at No. 31 in the Scout team rankings with their 16 commits.
Decommitments are part of the game in recruiting, especially when you start talking about highly-rated prospects. This will simply be part of the process if Iowa State continues to recruit at a high-level.