Karl Chevrolet gives you peace of mind when you purchase a GM Certified Pre-owned vehicle. We have been the #1 GM Certified dealer in the nation for 10 consecutive years. Before you make your next purchase, come see why more people nationwide drive a Karl Chevrolet Pre-owned vehicle than any other dealer-There is a difference, Come see why TODAY!! 
Small-ball is a basketball buzzword, and a trendy one at that. The Golden State Warriors started the craze and it hasn't come close to slowing down. The whole game is starting to get smaller and is less dominated by giants.
The trend could be coming to Iowa State next season. A loaded backcourt combined with frontcourt questions have put the Cyclones in position to rely on a lineup made up almost entirely of guards.
Monte Morris, Donovan Jackson, Matt Thomas and Naz Mitrou-Long would be the four no-brainers in a four-guard starting lineup with Nick Weiler-Babb and Jakolby Long coming off the bench. They would be asked to space the floor, drive and kick, shoot 3-pointers and, presumably, run in transition at a high pace.
The question: Who takes that last spot?
The way I see it, the Cyclones have six, or four depending on eligibility, solid guys that could fill that spot successfully. Deonte Burton, Solomon Young, Simeon Carter, Darrell Bowie, Emmanuel Malou and Cameron Lard all have the skills to fit in nicely with a four-guard lineup.
A small lineup surrounding Burton would be very intriguing. His ability to attack off the bounce would likely be enhanced by having the floor spaced with four solid 3-point shooters. He would also be capable in pick and roll/pop situations with all four of the other players on the floor.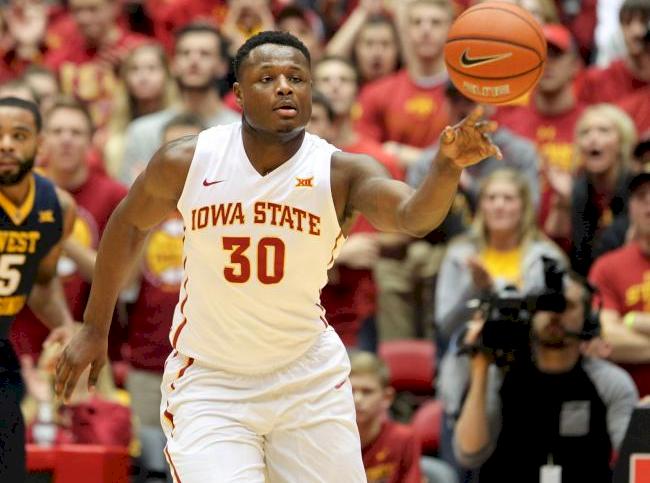 Burton can be a pretty dynamic passer when he is on, plus there would already be two natural point guards on the floor with Morris and Jackson. This lineup would have the potential to run fast and put up some big-time points.
On the flip side, that same lineup could have significant holes defensively. There would be questions about rebounding and low post defense so it could depend on Burton improving as a defender during the offseason.
Young, Carter, Bowie and Lard all seem to fit similar roles in my mind. They can be used heavily as screeners in the pick and roll with all four of the guards. Hopefully, they would be able to bring additional rim protection.
They also wouldn't have to score all that much. They could just play a role as a screener, rebounder and defender allowing the four guards to have free reign.
Malou is likely the most intriguing guy out of the group, but who knows at this point if he will make it to Ames. His ability to pick and roll or pop could be deadly to Big 12 defenses. 
He would also be a good option in the short corner/dunker's spot surrounded by the four guards that can shoot, drive and pass. His 6-foot-9-inch frame would make up for some of the length lost defensively by playing four guys 6-foot-4-inches or shorter.