Karl Chevrolet gives you peace of mind when you purchase a GM Certified Pre-owned vehicle. We have been the #1 GM Certified dealer in the nation for 10 consecutive years. Before you make your next purchase, come see why more people nationwide drive a Karl Chevrolet Pre-owned vehicle than any other dealer-There is a difference, Come see why TODAY!!
AMES — No whispers. All focus. As good as playing at Hilton Coliseum is — and it's a treat, as all Iowa State players will attest, sometimes getting away from the friendly confines can tighten bonds and strengthen productivity.
 It's hard to fully explain, but it is easily quantifiable: The No. 14 Cyclones enter Wednesday's 8 p.m. Big 12 road test at Texas Tech riding a three-game win streak as visitors in a foe's arena — the first such in-conference run of success away from Hilton since the 2004-05 season.
 Why?
 "I think when you go on the road you know that you have each other," said ISU's most improved player, Matt Thomas. "You don't have the support that we do out here at Hilton, so you really have to play as a team and we've kind of taken that mindset in to most of our road games this year and really stuck together as a team, played together. And we've played some of our better games of the season on the road, so that just shows how close we are as a team right now."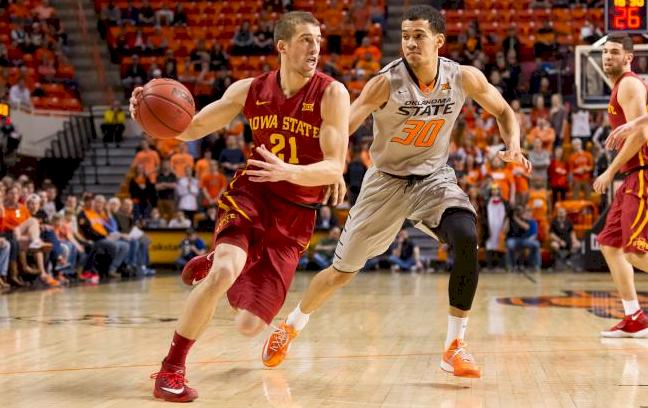 Close and thin. ISU (17-6, 6-4) will play the Red Raiders (13-9, 3-7) without big man Jameel McKay.
 The 6-9 senior's indefinite suspension stretched to two games this week. He's apologized for an incident that occurred in practice last Thursday and met with Cyclones coach Steve Prohm, who hopes to reintegrate his team's leading rebounder into the lineup when Texas comes to Ames for a 7:30 p.m. Saturday tip.
 But for now, All-American forward Georges Niang will play the five spot, an area on the court in which the versatile 6-8 senior thrives.
 Niang collected a conference season-high nine rebounds in Saturday's 64-59 win at Oklahoma State while scoring 16 of his 18 points in the second half. 
 "Obviously you miss Jameel blocking shots at the rim and finishing around the rim, but I just think it introduces a new lineup that we can use and was effective the last game," said Niang, the only Big 12 player in the top 15 in scoring, rebounding and assists. "Early on I wasn't worth anything in the first half and coach told me I was the five and I needed to start playing like one. So I think when he did that it sort of introduced a new lineup that we can use that's pretty darn effective."
 Tech will test that lineup. Job one for the Cyclones will be controlling streaky guard Toddrick Gotcher, who torched them with five 3-pointers in last season' 78-73 upset at Lubbock. The Red Raiders may be struggling, but a little confidence at home can go a long way — as game video from last year demonstrates.
 "I know it got out of hand early and then we were able to get it within (three) I think really late and may have missed a shot down (three), but I know we got it really close," Prohm said. "The 3-point line. Gotcher's a big key. He's the one guy that can really change the game I think from a perimeter standpoint, from the 3-point line."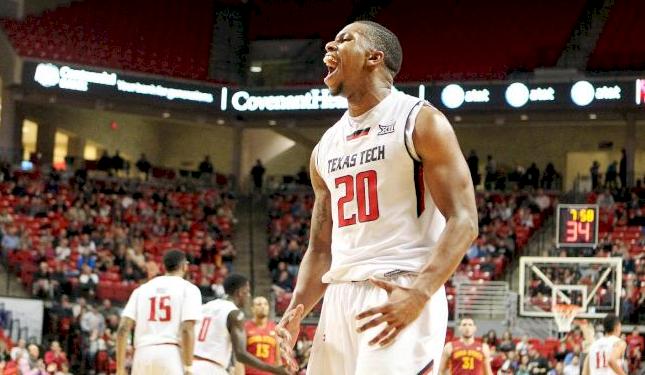 Zach Smith adds a shot-blocking presence inside (1.5 blocks per game) and Devaugntah Williams (11.6 points) is a capable slasher and finisher. Three of the Red Raiders' seven Big 12 losses have come by four points or less, so their struggles in the W-L ledger are merely cosmetic and close to being solved. They go hard from the tip to the final horn and toppled Texas earlier this season. 
 "They're a really good team," said Niang, who scored 14 points in ISU's 76-69 win over Tech at Hilton. "They're always really well-coached and a lot tougher than years in the past. They're hungry for wins and we're going have to take them extremely serious like we take every other opponent."
 Especially on the road, where the Cyclones have dropped two of the last three to the Red Raiders. 
 No screaming fans are there to nudge you forward. The floor won't shake because of crowd noise. All the energy must be produced from within — a kinetic force that could help propel ISU back into regular season title contention, with tough road matchups with Baylor, West Virginia and Kansas looming down the stretch.
 "I don't think you take for granted any wins in this league on the road," Prohm said. "I think just being on the road sometimes you can get away from things — your focus level, it's kind of you against the world a little bit and that's how it's going to be for us. We've got four more road games. Four and four. We've got four more road games and four at home. So our focus has to be good because we've got to get a couple of these road games and our guys know that."
 KENPOM SAYS…: Buckle up. The stats guru predicts a 77-75 ISU victory, with the win probability set at an unstable 58 percent.
 TRUST IS KEY FOR MORRIS: Don't look now but two-time record-setting assist-to-turnover ratio king Monté Morris is knocking on the door for a third straight trip to the top of the nation's standings in the key stat.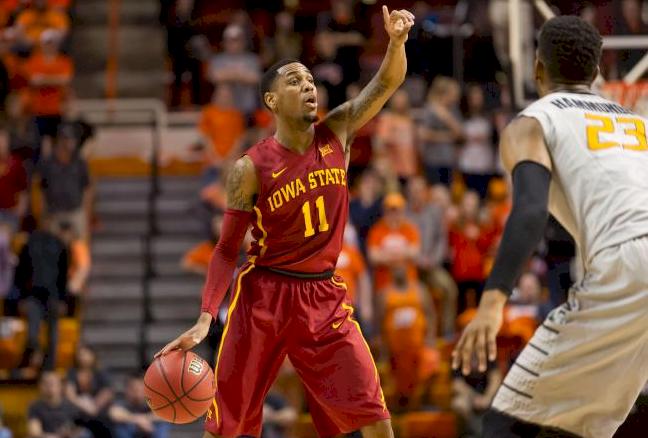 Morris, a 6-3 junior, ranks second nationally in assist-to-turnover rate at 5.26-to-1. He trails Trey Pinkney of Stephen F. Austin (5.83-to-1) and has more assists (163) than any other player ranked in the top 25 in terms of assists vs. turnovers.
 Appreciate him, folks. Floor generals like him don't come around very often.
 "I'm just playing basketball and my teammates make good shots," said Morris, who is also on pace to notch career highs in scoring (14.9). minutes (37.3), field goal percentage (51.1), rebounding (3.9) and steals (2.0).  "Assists don't come easy but my guys, they put in a lot of work, man. I just trust them to make shots and they've been doing that for me down the stretch and when they're among shots, it takes a lot of pressure off me to just play calm, collected and everything's been going smooth."